The wealth that Luxembourg experiences today is due to the presence of the steel industry. Although its golden years are far gone because of the steel crisis which occurred in the 1970s, it is still a contributing part of the total economy for this small European nation.
In 1960, the share of GDP held by the steel industry reached 30%. In 1980, that percentage had declined to 12%. In 2011, the Luxembourg steel industry was just 2% of total GDP.
Crude steel production has been decreasing in recent years as well. From 2010-2013, the production of crude steel in Luxembourg went from 2.55 million tons to under 2.1 million tons. In 2018, the industry has been averaging about 190,000 tons of steel per month.
Interesting Luxembourg Steel Industry Statistics
#1. The largest steel company in the world is part of the Luxembourg steel industry. Named Arcelor, it was formed with a merger between Aceralia, Usinor, and Arbed. In 2006, the company would merge with Lakshmi Mittal to create ArcelorMittal. In 2016, this company was responsible for 6% of the world's steel. (The New York Times)
#2. In 2015, ArcelorMittal announced that its core EBITDA dropped by 32% from the year before, to $5.2 billion. In 2016, the company failed to clear $5 billion. (Fortune)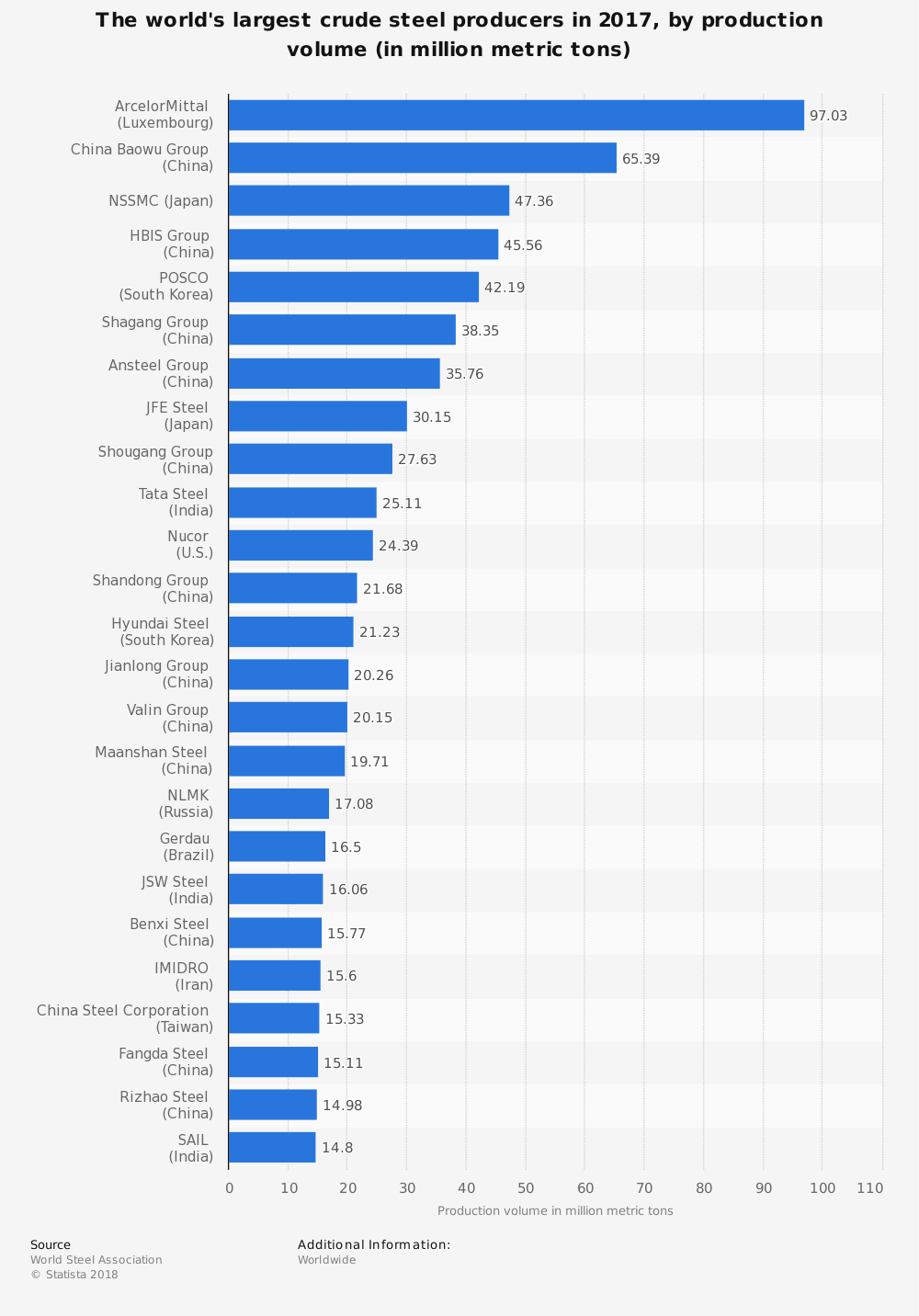 #3. To further reduce debt, the company announced in 2016 that is would sell its 35% stake in Gestamp Automacion, an automotive steel specialist based in Spain, which was valued at EUR 875 million. This started as a joint venture which was formed in 1998. (Fortune)
#4. ArcelorMittal announced that their net debt at the end of 2015 was $15.7 billion. (Fortune)
#5. Despite these challenges, Luxembourg continues to have the highest GDP per capita in the world today, at EUR 80,000. That is three times higher than the EU 28 average, though cross-border workers regularly contribute to the economy without being counted as part of the population. (Luxembourg Chamber of Commerce)
#6. ArcelorMittal currently operates in 20 countries on 4 different continents. Domestically, the company operates 11 manufacturing sites which support the steel industry of the country. (Grand Duchy of Luxembourg)
#7. Current revenues for ArcelorMittal are $68.67 billion in 2017, achieving operating income of $5.43 billion. Net income reported by the company was $4.57 billion. (ArcelorMittal Corporate)
#8. In 2017, ArcelorMittal employed over 198,000 people globally. (ArcelorMittal Corporate)
#9. Including all other steel companies within the industry (there are 3 in addition to ArcelorMittal), there are about 4,770 workers who are currently employed in the Luxembourg steel industry. This represents about 1.5% of the national employment opportunities which exist. In 1995, there were 7,131 workers employed by the industry, representing 3.6% of employment opportunities. (EuroFound)
#10. Collective agreements within the Luxembourg steel industry provide worker's rights to about 95% of the current direct employment positions which exist. (EuroFound)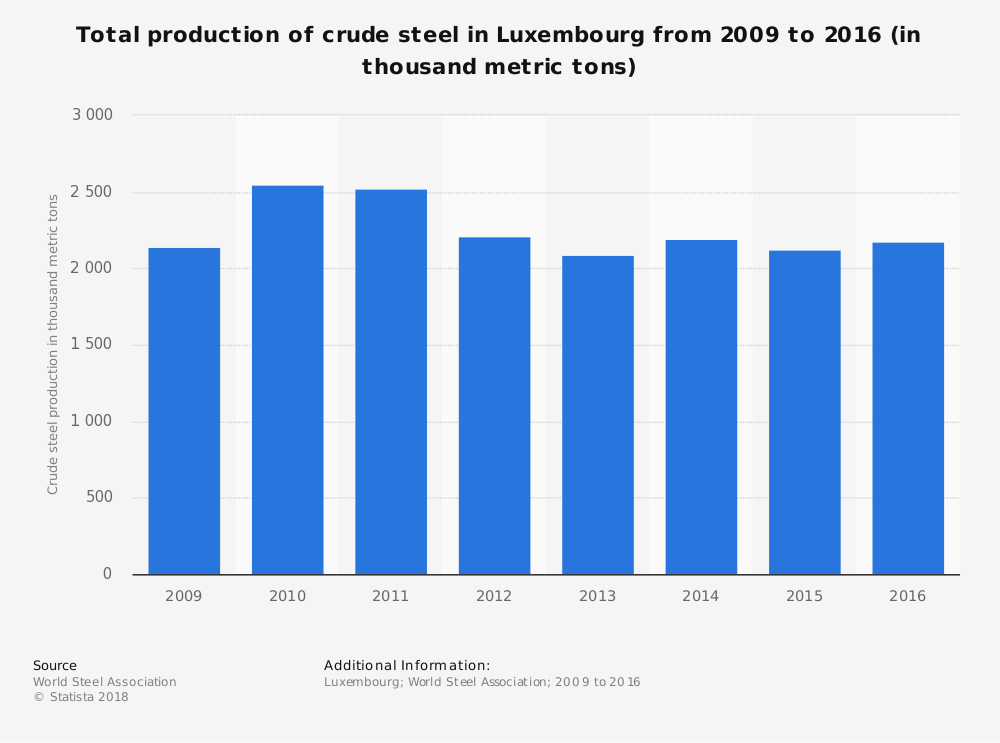 #11. Activity in all steel sectors throughout Europe grew by 1.7% in 2016. This was slightly below the GDP growth experienced by the EU-28 of 1.9%. (European Steel Association)
#12. EU apparent steel consumption grew by 3.2% in the EU-28 in 2016. Total stock reductions during the year were slightly lower than they were in 2015. (European Steel Association)
#13. Total imports of steel to the EU-28 rose by 9%, reaching the highest levels since 2007. This was fueled by strong growth and demand for domestic steel mills in the EU-28, including the Luxembourg steel industry. (European Steel Association)
#14. Total deliveries of finished steel products saw slight gains in 2016, increasing by 0.5%. In the EU-28 markets, the gains were 1.6%, while export markets saw a decrease of 6.2%. (European Steel Association)
#15. Total flat product deliveries to the EU-28 market increased by 1.2%, although total flat deliveries remained unchanged from 2015 figures. (European Steel Association)
#16. Worldwide annual melting production for stainless-steel products rose to 45.8 million tons, which was a year-over-year increase of 10.2%. EU producers increased stainless steel melting by just 1.6%, providing 7.3 million tons to the global figure. (European Steel Association)
#17. EU imports reached a record market share of 24%, but this came at the cost of EU domestic deliveries. Chinese steel imports to the EU-28 fell by 19% in 2016. (European Steel Association)
Luxembourg Steel Industry Trends and Analysis
Profits are plunging in the global steel industry. Uncertainty from the United States regarding steel tariffs, along with questionable steel quality from major exporters like China, have kept markets reduced for new steel. In 2016, ArcelorMittal announced a plan to raise $3 billion through share issuance as a way to reduce debt caused by the overcapacity that China has, which drives down global prices.
China set an export record for steel in 2015, with 112 million tons flooding the global stage. For perspective, the export amount was equivalent to the entire total of North American steel production. This caused the prices for steel to reach 12-year lows in 2016.
By the end of 2020, ArcelorMittal has the goal to return their core profit EBITDA to above $85 per ton. In 2016, it stood at $62 per ton. Achieving these goals is questionable, as steel consumption has fallen flat, with strong North American demands offset by declines in Brazil, China, and Eastern Europe.
Until uncertainty is removed from the steel market, the Luxembourg steel industry is going to continue struggling. Even though its foundation is built upon the largest steel company in the world, that may not be enough to save the industry