Alcohol has been used as an antiseptic since at least the 14th century. It became widely used in the 1800s and has evolved into a portable product called hand sanitizer today. Hand sanitizer is a disinfecting liquid. The goal of using this product is to reduce the number of infectious agents that could be on the hands.
Within the hand sanitizer industry, you'll find several different product combinations available. Most products contain a combination of ethanol, isopropyl alcohol, or n-propanol. For a hand sanitizer to be effective, it must contain a minimum of 60% alcohol. Some versions may contain up to as much as 95% alcohol.
Top brands within the hand sanitizer industry include 3M Company, Procter and Gamble, Unilever, GOJO Industries, and Best Sanitizers.
Important Hand Sanitizer Industry Statistics
#1. The United States is the largest market for the hand sanitizer industry. Sales in the U.S. account for more than 25% of the global revenues the industry is able to generate. (Global Industry Analysts)
#2. For the 5-year period ending in 2016, the hand sanitizer industry in the United States grew at an annualized rate of 4.7%. (IBIS World)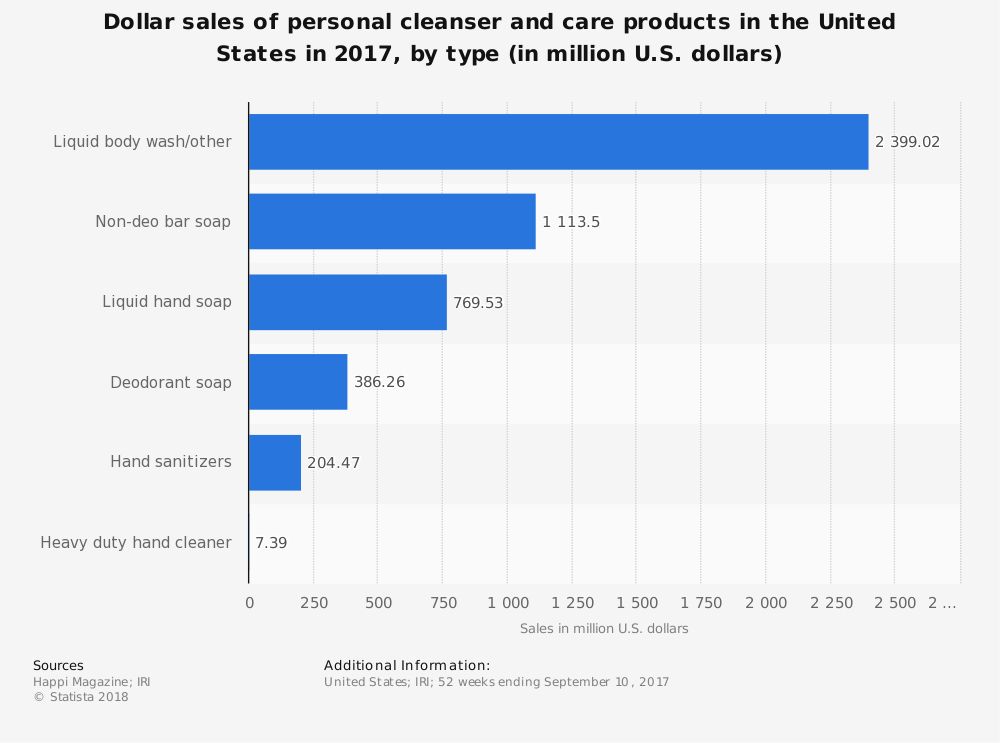 #3. The current estimated value of the U.S. market for hand sanitizer sales is $195 million. Just 9 businesses are currently active in the manufacturing of hand sanitizer, accounting for the direct employment of fewer than 300 people. (IBIS World)
#4. Disease outbreaks which occur globally drive sales of hand sanitizer products upward. During the ebola outbreak that occurred, single-year revenues for the industry grew by almost 7%. (IBIS World)
#5. Sales of hand sanitizers rise for all retailers during the influenza season in the United States. Convenience stores saw a sales increase of 37% for hand sanitizer products. C-Stores in the U.S. account for about $18 million of the industry's revenues. (Convenience Store Decisions)
#6. The sales of professional-use hand care products grew at 3.6% in 2015, creating more than $1.5 billion in revenues at the end-user level. Instant hand sanitizer sales within this market grew at a pace of more than 5%. (Clean Link)
#7. For the 12-month period ending in March 2015, the Canadian market sold a total of 5.88 million units of hand sanitizer. (Statista)
#8. The overall sales of hand-care products are forecast to grow at an annualized rate of 4% through at least 2020. Instant hand sanitizers are forecast to continue growing at a 5% pace through that year. (Advertising Specialty Institute)
#9. In the United States, just 1 in 5 households reports that they currently purchase at least one hand sanitizer product each year. In 2012, U.S. households spent an average of $173.5 million on hand sanitizer products. In 2009, more than $300 million was spent on hand sanitizer. (Market Watch)
#10. Hand sanitizers have an expiration date up to the amount of time testing has indicated the effectiveness of the product can last. Within the current industry, the standard shelf life of a hand sanitizer is between 2-3 years. (Clean Link)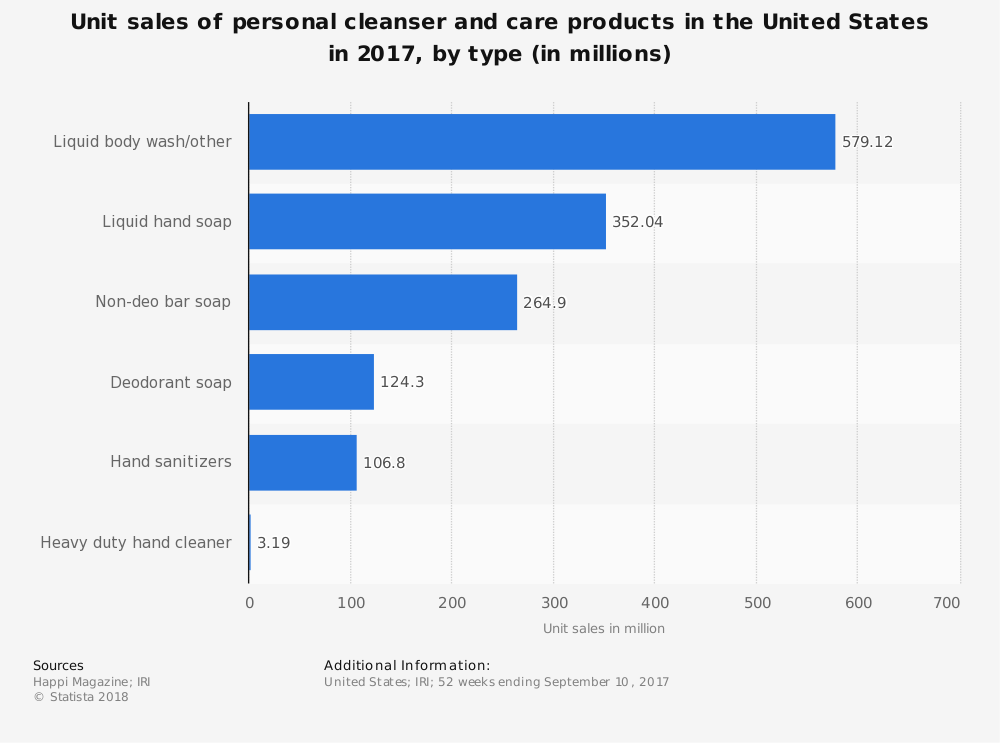 #11. If the amount of antibacterial agents in a hand sanitizer drop below 90% of the stated level, then it is considered to be an expired product – whether it has reached its printed expiration date or not. (Clean Link)
#12. The global hand sanitizer market could reach a total value of $1.8 billion by the year 2023. If it is able to accomplish this, then it would represent a CAGR of 10.6%. (Business Wire)
#13. By 2025, some forecasts place the hand sanitizer market value at $2.9 billion by 2025. This would represent a CAGR of 12.9%. (Facts Week)
#14. Gel hand sanitizers account for 35% of the revenues which are generated by the hand sanitizer industry. (Facts Week)
#15. In the coming years, the Asia-Pacific region is expected to achieve the highest rates of growth for the industry, while the North American market is expected to continue holding the largest market share for the industry. (Facts Week)
Hand Sanitizer Industry Trends and Forecast
The first modern hand sanitizers began to reach the market in 1988. The first products were specifically made for the healthcare industry as a replacement for soap and water. In those first days for the industry, it was a struggle to generate revenues. According to the San Francisco Chronicle, lackluster sales were because of a general lack of understanding of the product.
Today, if you walk into almost any store, you're going to find a hand sanitizer product. There are travel-size options, industrial-size containers, and healthcare industry-specific sanitizers available. It has even become a product that can be offered as "promotional swag" for brands looking to improve their networking opportunities.
As long as there are germs, there is going to be a need to kill them to prevent illnesses and disease. One of the easiest and most affordable ways to make that happen is through the use of a hand sanitizer product.