Suffering the loss of a mother can be a difficult task. Remembering their day of life can help to renew their memory and keep them near your heart. The following series of birthday wishes for a deceased mother will help to inspire your own personal message and help you to remember this special day that brought them to life.
As long as I love you will live. As long as I live you will be remembered. As long as I love you will be loved.
Grief is not a disorder, a disease or sign of weakness. It is an emotional, physical, and spiritual necessity, the price you pay for love. They only cure for grief is to grieve.
I am looking up today and I trust you are looking down. Because today is your birthday and I am insisting on smiles and not a single frown. I know this is what you would ask for because you always thought of other folks, so look at your smiley family laughing and having a joke.
I still hear your voice and see your face, The best mom in the human race. You loved me through all the highs and lows, How much I miss you no-one but you and I know.
It is so hard on this day to remember you have gone away. I want to give you a birthday kiss but I can only remember the things I miss.
Memory is a way of holding on to the things you love, the things you are, the tings you never want to lose.
My mom such a special lady, Now resting in a place so shady. Today I will spend some special time, Remembering the birthday of a lady who was so fine.
Not a day goes by when I don't think of you, miss you, love you, and thank God that I was blessed to be your daughter. Happy Birthday Mom.
They whom we love and lose are no longer where they were before, they are now wherever we are.
Til we meet again.
Today is your birthday and we would of celebrated in some way. I cannot let it go without some mark of this day. So my dear, this is the place where I will wish you a happy birthday so you will know I still care.
We are the rememberers. The people left behind to keep the one who's gone from use alive in heart and mind. The people left to cherish and preserve a legacy. Yes, we are the rememberers and we will always be.
You will never truly understand something until it actually happens to you.
Preparing for those that are left behind following a family members death can become just as difficult as the grieving process itself. Many thing must be in place and to consider for taking care of those left behind. Dealing with life insurance to estate taxes and other claims and distribution of their estate. The below infographic provides a brief guide to continuing life after the deceased.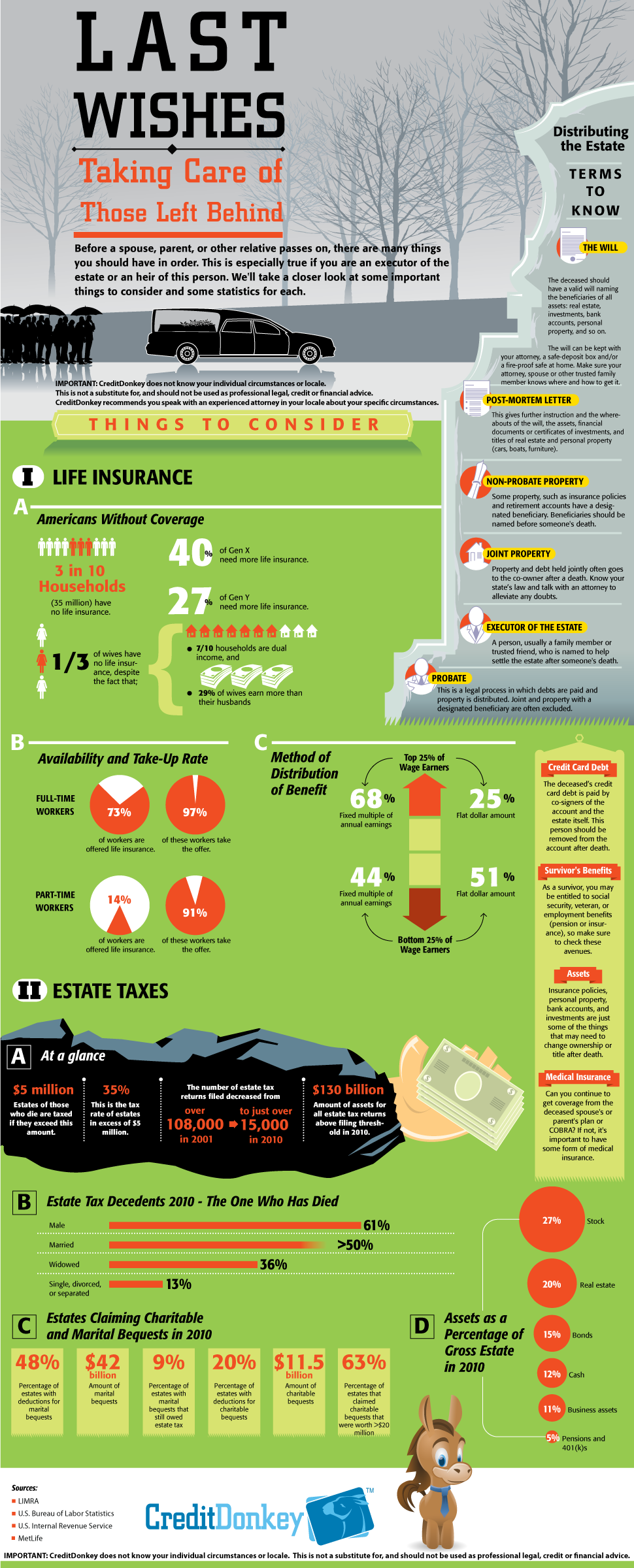 Here our most popular
message posts
that cover just about every occassion.