Manufacturing data from Saudi Arabia indicates that the textile industry within the Kingdom is growing. They are net importers of textile products, however, bringing in $2.8 billion worth of apparel in 2011. In that year, the Kingdom was a Top 15 importer of apparel products in the world.
The statistics of the Saudi Arabia textile industry also show that manufacturers are at a crossroads. There is a need for more employees as opportunities expand, but it is a youthful nation where industrial jobs in a lower-paying sector than oil are not always wanted.
In 2018, the first fashion week ever was hosted by the Kingdom as well. The trend to open up the country to new events, entertainment options, and a viewpoint that is more liberal for the general population is creating new apparel opportunities. Even with these changes, women are still forced to abide by guardianship laws which make their male relatives able to have power over many life decisions.
Please note: Many statistics from Saudi Arabia are outdated or classified under multiple categories. Some growth figures include furniture manufacturing with textile figures without separation.
Important Saudi Arabia Textile Industry Statistics
#1. Operating revenues for the textile industry in Saudi Arabia totaled $2.83 billion in 2015. Since 2010, the industry has added more than $1 billion in operating revenues to their annual receipts. (Statista)
#2. The United States was the top export destination for textiles from Saudi Arabia in 2015, with a total value of $58.5 million The United Arab Emirates were the second-largest importer of Saudi textiles at $56.7 million. They were followed by Egypt ($44 million), South Africa ($37.8 million), and Algeria ($31.9 million). (World Integrated Trade Solution)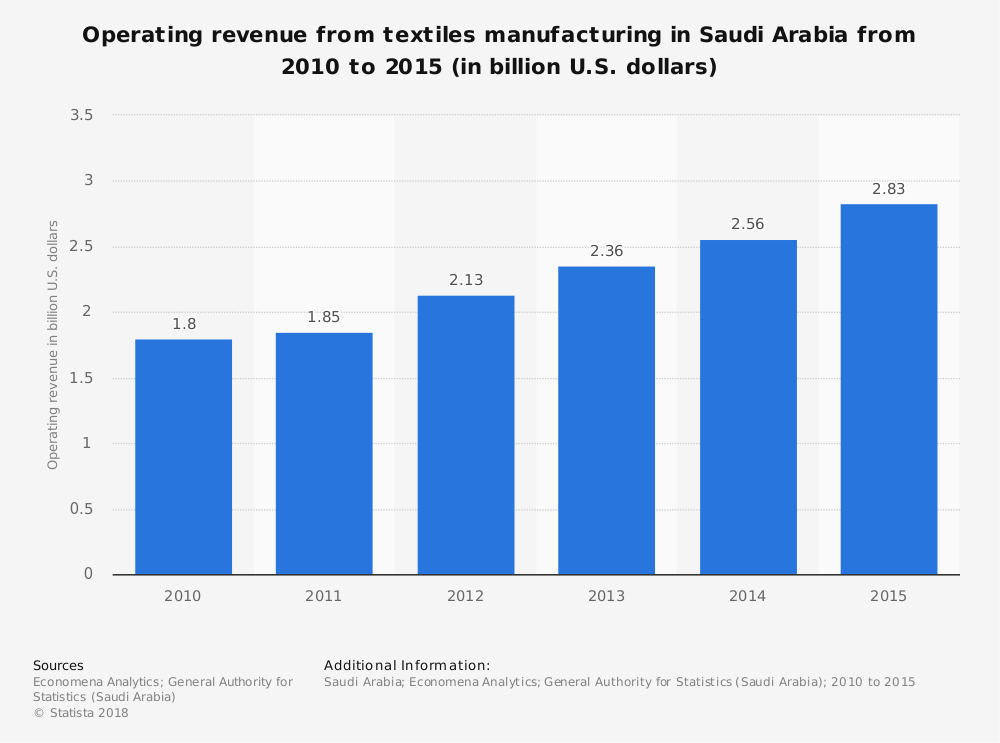 #3. There are currently 100 factories operating in the textiles segment and 106 factories operating in the apparel segment. These two industrial centers have seen growth of 23.4% and 35.9% respectively within the past 5-year period. (General Authority for Statistics)
#4. In the past 5 years, the number of textile factories operating in Saudi Arabia has risen by 19. There have been an additional 28 apparel factories started within the industry as well. (Ministry of Commerce and Industry)
#5. The export of textile and clothing products accounted for 9% of total sales within the export market for Saudi Arabia. The average ratio of exports to total sales in non-oil transforming industries sectors is estimated to be 30%. (General Authority for Statistics)
#6. 15% of the employment opportunities within the industrial sector of Saudi Arabia is within the textiles, wearing apparel, and furniture segment. (General Authority for Statistics)
#7. U.S. clothing exports to Saudi Arabia reached $450 million for the first time in 2008. (U.S. Department of Commerce)
#8. The retail clothing sector in Saudi Arabia earns SR10 billion annually, with many more Saudi shoppers drawn to fashion-related industries since 2012. (Arab News)
#9. The global modest fashion sector has an estimated value of $44 billion, which is the primary target of the textile and apparel industries which are located in the Kingdom. (Forbes)
#10. Muslims spent about $240 billion on clothing purchases globally each year. (Forbes)
#11. Revenues from the fashion segment within Saudi Arabia are expected to reach $1.9 million in 2018. (Statista)
#12. Over 19 million online shoppers are part of the fashion, textile, and apparel retail sectors within Saudi Arabia, with total e-commerce purchases expected to reach $5.7 billion when 2017 estimates are finalized. (U.S. Department of Commerce)
Saudi Arabia Textile Industry Trends and Analysis
Although the textile industry in Saudi Arabia has been growing, the majority of textiles that are purchased domestically are still imported. The population of the Kingdom is relatively young and growing, with a preference for high-end brands. In 2011, the media age in the country was only 26, with 30% of the population 14 years of age or younger. In contrast, a country like Denmark has an average age of 34 and 18% at 14 or under.
This has impacted the way the textile industry has developed within the Kingdom. The industry tends to attract older workers who are willing to engage in repetitive employment that the younger generations tend to consider as unexciting. In 2011, 40% of the top retailers in the world were carving out some type of presence in the fashion market.
There are about 30 malls in Riyadh, 25+ malls in Jeddah, and 10 malls in the eastern provinces. The demand for domestic textiles is present, especially if local manufacturers can associate themselves with the popular high-end brands which the youth in the Kingdom prefer. If these partnerships can be formed, expect even higher levels of growth from this industry over the next decade.