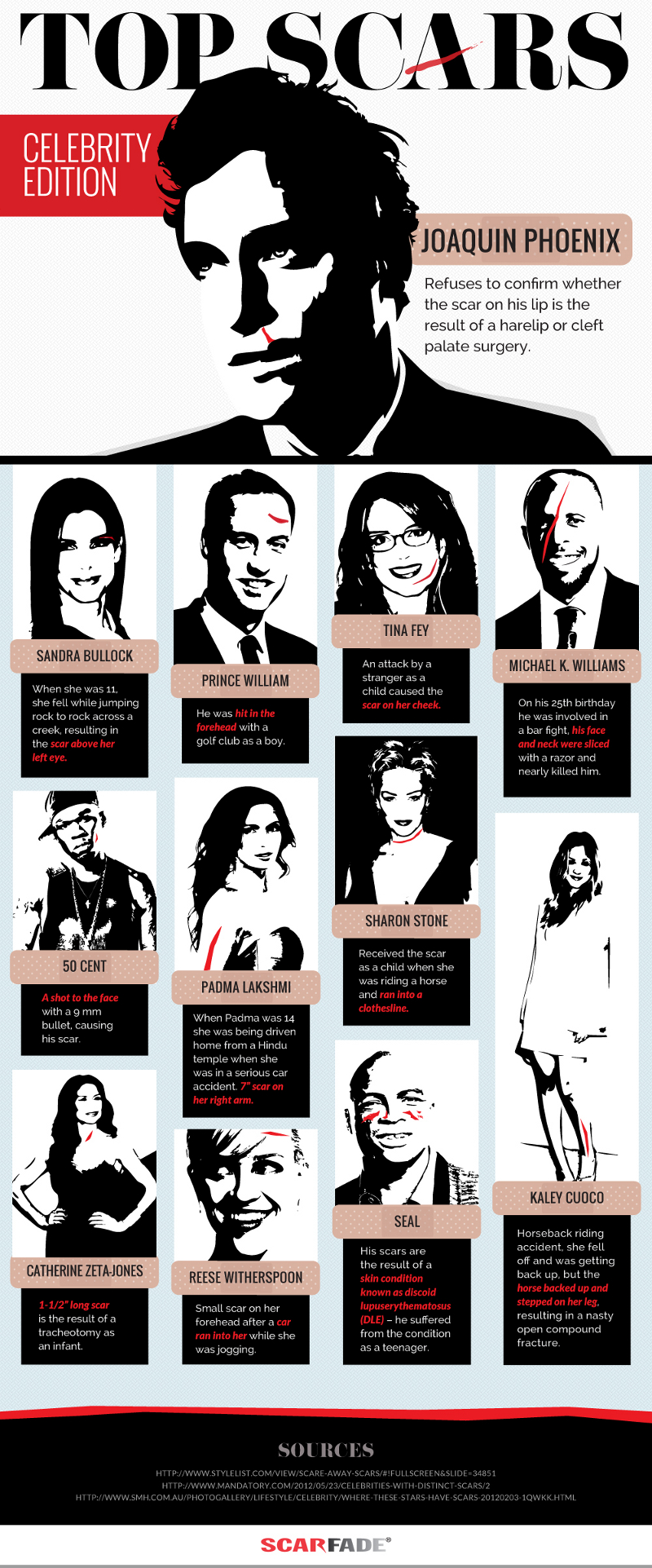 When it comes to blemishes or scars, the last thing that you think of is celebrities. Celebrities seem like perfect and flawless specimens that are simply better than the rest of us. However, they are human and many of them have the cars to prove it. Here is the celebrity edition of top scars, so you can feel like one of them.
Joaquin Phoenix
Phoenix is known for having an eccentric personality, but the scar on his top lip is just as elusive. He shies away from celebrity and most attention and will not comment on his upper lip scar. It may be from harelip surgery or it could be a battle wound from his past, but the world may never know the truth.
Sandy
Sandra Bullock has always been America's sweetheart and been entertaining audiences for years. She has a small scar above her eye from an accident as a child, but it does not get in the way of her supermodel good looks. Her scar simply makes her more relatable and endearing to audiences.
Price of Scars
Prince William exudes nobility and grace, but he also has a noticeable scar on his forehead. An unfortunate accident involving a golf club as a child left him with this permanent blemish, but it didn't keep him from sweeping Kate Middleton off of her feet. Being a Prince probably didn't hurt his case either.
Tina Fey
The entire story of Tina Fey is inspiring and encouraging to young girls that are looking to get into the world of comedy. She endured a horrible attack as a young girl that left her with a long scar across her cheek. However, this did not hold her back and she is now one of the most successful women in all of comedy.
Seal
Seal has excelled in the music industry for many years and his beautiful ballads make women swoon. However, he does not have the stereotypical look of a musical heartthrob. Seal suffered a skin condition as a child that left him with deep and noticeable scars on both of his cheeks. These scars give him and edge and an appeal that many women find attractive. His supermodel wife Heidi Klum was just the lucky one that snagged him first.
Even when we might not think it, celebrities are just like us. They even have the scars and wounds to prove it.