The steps that you take to optimize your blog post for on page SEO can make the difference between ranking at the top of the first page in Google results or being buried in page seven. You took the time to research and write a great article. It only makes sense to spend another twenty minutes optimizing your post so that people can find it when they do a Google search.
When it comes to on page SEO there are 11 best practices that will help your blog posts move towards the first page of Google rankings.
#1 Craft the Perfectly Optimized Title to Receive the Maximum Click Through Rate
The title is by far the most important on page SEO factor of a blog post. WordPress and most blogging platforms will automatically use the title of your post as the meta title. This will be pulled by Google to use as the title of the search result for your post.
The title plays a pivotal role for two reasons.
Google Focuses on the Keywords in the Title for Indexing – When your post is initially indexed by Google, it will begin testing to see if anyone is interested in the post. This is done by including it in the search results for different keyword phrases. The title of a post has the biggest impact on the Google algorithm during the initial indexing phase, and this is specifically in regards to which keyword searches your post will show up for.
The Title Also Impacts the Click Through Rate – Google keeps track of the click through rate of every page that is indexed in their database. If your post gets clicked on more than the competition for a specific keyword phrase, then Google interprets your post as being more relevant to that keyword search. It rewards your post by moving it up in the rankings.
Now that we know why the title of your post is important… let's look at what you can do to make sure your post is indexed properly and gets clicked more than the other results in Google search.
Include Your Exact Keyword Phrase in the First Six Words of the Title
It has been proven that, when all else is equal, a post that has the exact phrase within the first six words of the title will outrank a post that does not. If the keyword phrase that you are trying to rank for is "Advanced SEO Techniques" then you would want to make sure those three words appear in the first six words of the title.
Let's take a look at the title of the post that ranks number one for "Advanced SEO Techniques."
10 Advanced SEO Techniques That'll Double Your Search Traffic
Here is how the title looks in the Google search results…

The tail end of the title gets cut off because Google typically only allows for 57 characters of the title to show in search results.
If the target keyword phrase does not appear in the title of the Google results, then it will also negatively impact the click through rate. People tend to click on titles that have the exact keyword phrase that they did a search for. This is why advertisers on Google Adwords always use the exact phrase of the search as the title of their ad.
In the previous episode of The Blog Millionaire, I listed out the perfect title formula to optimize your title for a specific keyword phrase. Here's the formula again..
[Odd Number] + [Superlative] + [Exact Keyword Phrase]
[11] + [Best] + [SEO Tips for Bloggers]
11 Best SEO Tips for Bloggers
Since it is important to mention again, I will again state that 60% of your posts should have a title that begins with an odd number. An odd numbered titled paired with a list styled post is going to have the optimal click through rate and overall best post engagement.
#2 Create a Meta Description that Teases them into Clicking
The meta description is the text that is seen below your title in Google search.

If you do not write a custom meta description, then Google will pull a excerpt from your article to be used as the description. In the example below, you can see a search result that uses a meta description that was automatically pulled by Google.

This description pales in comparison to the first one, and it barely makes sense. Because the description is read by Google searchers more than 20% of the time, it makes sense to take the time to write a custom meta description for each post.
The easiest way to manage your meta descriptions is by using the SEO Yoast WordPress plugin. Once the plugin is installed, you will have a box that appears below each post when you are logged into WordPress.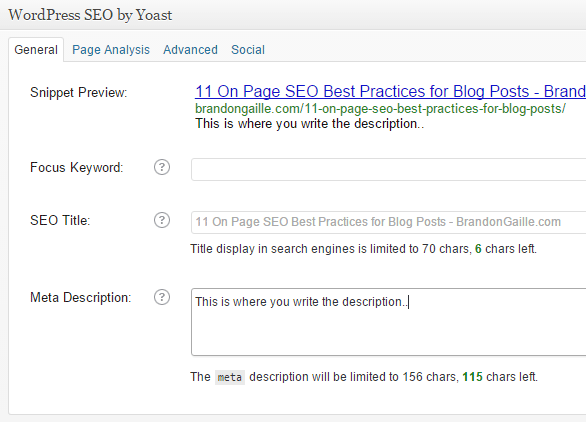 The SEO Yoast meta description box also has a nice reminder of Google's character cutoff point, which is around 156 characters.
When you write your meta description you will want to remember two things.
Include the Keyword Phrase
Although it is not as vital as having it in the title, it still plays a psychological role in communicating to potential clickers that your post is all about what they are searching for.
Create a Tease Using a Truncated Sentence
Google automatically truncates descriptions that are beyond 156 characters. Searchers are used to seeing the (…) at the end of a truncated description. You can use this to your advantage by creating a truncated sentence that teases the key points of the article as your meta description.
Newspapers and blogs have been using this technique for years by using shortened excerpts that appear right beneath the title. It gets people to start reading and then abruptly cuts them off. There is a strong human instinct that drives us to complete these sentences, and it compels us to click on the title to see the rest of the sentence.
Here is an example of how I used this tactic in the meta description of this post…

The first sentence gets them exciting about the article, and the second sentence cuts them off right before they find out "the one tactic that plays the biggest role in SEO." This simple technique can make the difference between ranking #3 or ranking #1.
Just in case your wondering what the difference is between a #1 and a #3 ranking is…
If you added all the clicks that are received from the #2 through the #10 rankings, then it would still be less than the clicks that the #1 ranking receives.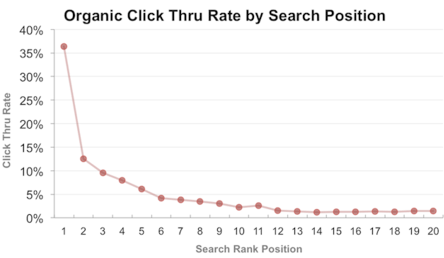 #3 The Wrong Permalink Structure Will Destroy Your Rankings
The permalink is essentially the part of the url that follows your domain name that shows up for a blog post.
A good permalink structure would look like this…
https://brandongaille.com/how-to-write-the-perfect-blog-bio/
A bad permalink structure might look a little like this…
https://brandongaille.com/?p=36101
In WordPress, under settings, there is a link to the permalinks section. Once you get there, you will be able to choose from six options. The setting that performs the best for SEO is the "post name" setting.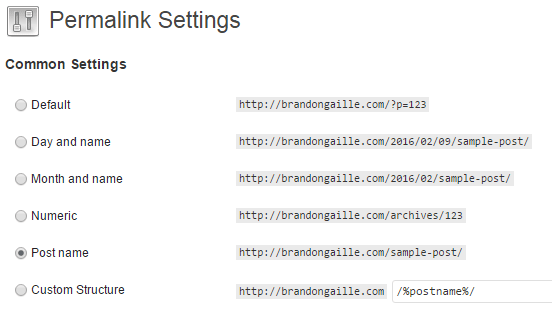 The reason post name performs the best is because it strips away all the non-essential parts of the url structure and focuses everything on the post name.
#4 Keep Your Site Title Simple Because It Is Included at the End of Your Title in Google
Your site title is going to be included in every post's meta title. For the shorter post titles, it will be visible in Google results.

Because of this it important that you keep your site's title short and sweet. The best practice is to use your domain name is less than 20 characters. If it is over 20 characters, then you can use the first letter of each word to create an acronym.
For example…
HealthcareSolutionServices.com = HSS
I prefer to use a bar as opposed to a hyphen between the post title and the site title. However, there are no statistics showing that either way gets better results.
#5 The More Words the Better
There is a direct correlation to longer posts resulting in higher rankings.
I have mentioned the SerpIQ study before, and I will mention it again. The average word count of number one rankings on Google is 2450.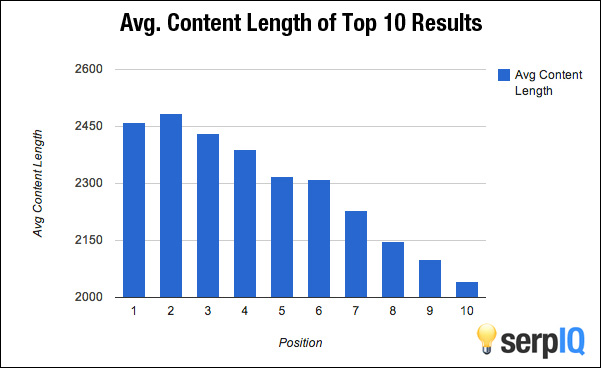 The word count has an impact on two levels. First, Google algorithm keeps track of the word count. It values websites that consistently pump out long form articles with more than 2000 words in them. It also penalizes websites that have too many articles with less than 250 words with what has become commonly known as the Thin Content Penalty.
Secondly, Google keeps track of the average amount of time visitors spend on your site before they click the back button and continue searching. A 2500 word article will keep visitors on your post longer than a 500 word article.
#6 Place Your Keywords at the Beginning and End of the Article
Let me make something real clear. You never want to stuff your post with keywords. This will hurt your rankings and eventually get your entire site suppressed deep down to the bottom of Google results.
The one white hat tactic that has shown to have a positive effect on rankings is to include the exact keyword phrase in a sentence near the beginning and the end of the post. Just find a way to include your target keyword phrase in the natural flow of the article somewhere in the first and last paragraphs.
#7 Use Plenty of Synonyms and Related Words to Improve Your Latent Semantic Indexing (LSI) Score
Whereas you do not have to worry about placing keywords all over your posts anymore, you do need to make a point to use synonyms of the target keyword phrase and related words. If you are writing a 2000 plus word post, then you are most likely going to naturally mention synonyms and related words.
The goal here is to cover as many related key points as possible in your post. For example, my post is about "On Page SEO." Within this article I covered many related topics like; meta title, meta description, keywords, permalink structure, etc. Google's algorithm will recognize that my post is covering a large group of related terms that it deems as positive association with "On Page SEO." As a result, the post gets a high LSI grade and is bumped up a little higher in the search results.
#8 Create Headings and Sub Headings To Make the Post Easy to Scan
When someone gets to your page from Google search they will either start reading the first sentence or scan the headings of your article. That is why it is important to have a great opening paragraph and to hit each of your key points with a bolded heading.
I personally use a bold header 3 for my main points and a bold header 5 for the sub points. I turn each of my main points into a descriptive title that entices the scanner to become a reader.
Here are the first three main header points used in this article..
Craft the Perfectly Optimized Title to Receive the Maximum Click Through Rate
Create a Meta Description that Teases them into Clicking
The Wrong Permalink Structure Will Destroy Your Rankings
Each main header point is essentially the title that drives people to read that section. This not only will turn scanners into readers, but it will also drive the readers deeper into the article.
Google's algorithm also will give you a small bump for having keyword phrases in headings. If you are writing an in depth article, then you will have naturally occurring keyword phrases throughout your headers. I recommend against stuffing your main point headings with keyword phrases. This is a gray hat technique that could harm your rankings down the road.
#9 Name Your Images With Descriptive Keyword Rich Phrases
When you create a post, I recommend using images that are charts, graphs, and infographics. These types of images tend to get shared up to ten times more because they cover interesting stats that are visually appealing.
For each of these images, you will want to optimize them for a specific descriptive keyword rich phrase. This will impact your rankings for standard Google search, and it will help each image get its own independent ranking in Google image search.
Image search is less competitive than standard search because most websites do not take the time to optimize each of their images for specific keyword phrases. There are basically two things that you will need to do to optimize an image.
Image Name
Once you identify the keyword phrase for the image, then you will save it as that phrase and use hyphens to separate the words. If I were to optimize an image for "google organic click through rate statistics by position," then the image name would look like this…google-organic-click-through-rate-statistics-by-position.png
Alt and Title Text
For the alt and title text, I would use the same keyword phrase and capitalize the first letters of each word so that it looks better when it shows up in Google image search.
Google Organic Click Through Rate Statistics by Position
In WordPress, you will be able to add the alt and title text when you add an image to your post.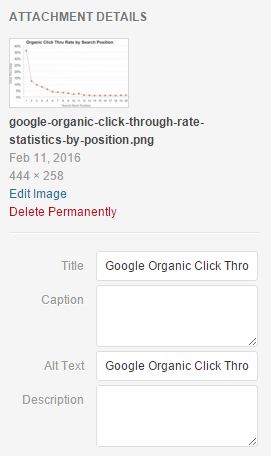 In addition to getting top rankings on Google Images, Moz found that blog posts that used images and videos in a list format ending up receiving over 550% more inbound links.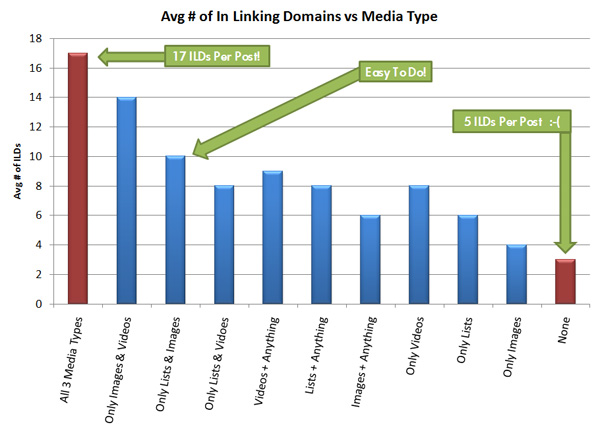 #10 Place a Couple of High Quality Outbound Links Within Your Post
Google favors articles that link to high domain authority websites. When you are searching for statistical charts and infographics to use for your images, then just make sure the source is from a highly recognized website within that industry. This will allow you to link to a quality source when citing where the chart or infographic came from.
#11 Use an Internal Link to Another One of Your Posts that is Directly Related to the Content
A post with a couple of strong internal links will improve your chances of ranking in Google by…
Increasing Average Time on Site – Each internal link needs to be on a topic directly related to material in the post. The best location for these internal links is in the second half of the article. When a Google visitor is driven deeper into your site it increases the average time on site, which is one of the top 5 factors that impact Google rankings.
Google's Algorithm Values Keywords in Internal Links – When you create the internal link be sure to use keyword rich anchor text. If you just link up the text "check out this article," then it will not benefit your on page SEO. The best practice is to use the entire title of the blog post you are linking to for the anchor text. For example… I highly recommend that you take a look at the 25 Proven Ways to Decrease Your Bounce Rate to find out more.
At the bare minimum, you should include one strategically placed internal link in the last paragraph of your blog post. This link will get clicked on 500% more than your standard related posts that show up below the posts on most WordPress blogs.
Watch Today's Masterclass Webinar, "

How I Got to 1 Million Monthly Visitors

," to Bypass the Waitlist for my Exclusive Course & Get Two Bonuses Worth Over $5000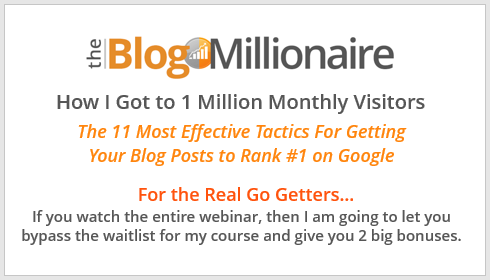 [mc4wp_form id="43544″]
Let's do a quick review of the eleven on page SEO best practices..
#1 Craft a Compelling Title with the Keyword Phrase in the First Six Words Using the Following Formula
[Odd Number] + [Superlative] + [Exact Keyword Phrase]
#2 Create a Meta Description that with a Teasing Truncated Sentence
#3 Use the Post Name Permalink Structure
#4 Keep Your Site Title Simple by Using Your Domain or an Acronym
#5 Write Over 2000 Words for Each Post
#6 Include Your Target Keyword Phrase in the First and Last Paragraph
#7 Use Synonyms and Related Words to Improve Your Latent Semantic Indexing Score
#8 Create a Heading for Each Key Point that Compels the Reader to Dive Into that Section
#9 Optimize the Image Names of Charts and Infographics for Google Image Search
#10 Link Out to High Authority Sources of the Charts and Infographics
#11 Include an Internal Link to a Related Post Using the Entire Title as the Anchor Text
Make a point to implement all of these on page SEO best practices on a blog post within the next seven days. This will allow you to make this part of your process while the information is still fresh in your mind.
Now that you have the on page SEO down. I recommend that you read the 15 Unique Ways to Get High Quality Backlinks so that you can boost the rankings of every post on your blog.