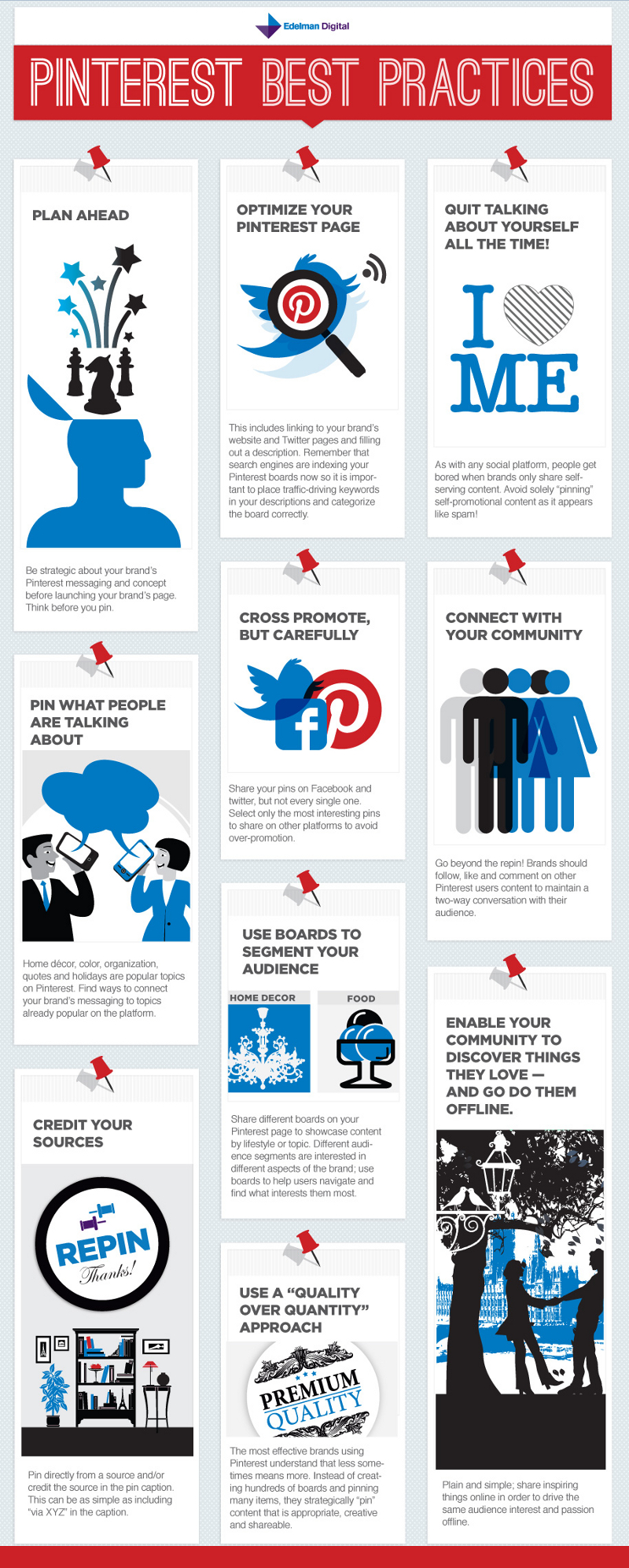 How To Strategically Utilize Pinterest
If you take some time to plan ahead, Pinterest can be an effective social medium to help you network, research, and even increase your customer base. By incorporating your branding into your pins, you can create an awareness of yourself that is deeper than ever before! To do this, however, you've got to use Pinterest wisely. Here's some tips to help you make the most out of your experience on Pinterest:
Keep your boards optimized.
Search engines are indexing your Pinterest boards, so it is important to focus on the standard SEO features of your boards as if it were your own website page. Brand driven keywords, long tail keywords, accurate descriptions, and of course branding are all important aspects of keeping your boards optimized.
Pin valuable content to your boards.
One of the common mistakes people make when using social media to promote items is that they solely promote their own items. This creates an impression on Pinterest especially that your sole interest is in yourself. People will avoid your boards because it reminds them too much of the spam folder of their e-mail.
Be relevant with your pinning.
It's important to keep up with trends on Pinterest because it's what will get your branding some attention. Holidays, inspirational quotes, colors, and home décor are all commonly pinned on Pinterest, so if you can relevantly relate your branding to these items, your messages will carry more weight. In turn, it will garner more attention.
Connect with your community.
Did you know that you can share your Pinterest pins on other social media sites? You may not wish to share every single pin, but a little sharing can help spur some additional interest. In addition, try to follow, comment, and like posts from other brands and people who follow you to help engage them with your brand.
Credit your sources.
Stealing content online is as easy as copying a picture and then posting it without a repin. If people realize that you've posted unoriginal content without crediting the original source, your brand will take a hit in its reputation. The same is true on other social media sites as well. If you don't do a repin, just comment on it to let people know where you got the content.
Post high quality content.
The internet has plenty of places where there are tons of content that is essentially worthless. People don't want to follow another account where they get inundated with stuff. If you pin quality content instead of going for massive amounts of quantity, you'll establish an online reputation and people will seek you out online as they hear about what you've got.
Empower people to do more.
When people are seeking out value, there is no greater value than giving them something to do when they are offline. It could be recipes, adventures in their hometown, shopping recommendations, or even a new craft to try. If people can share their passion with your brand offline as much as they do online, you'll create a relationship that is ready to do some business.