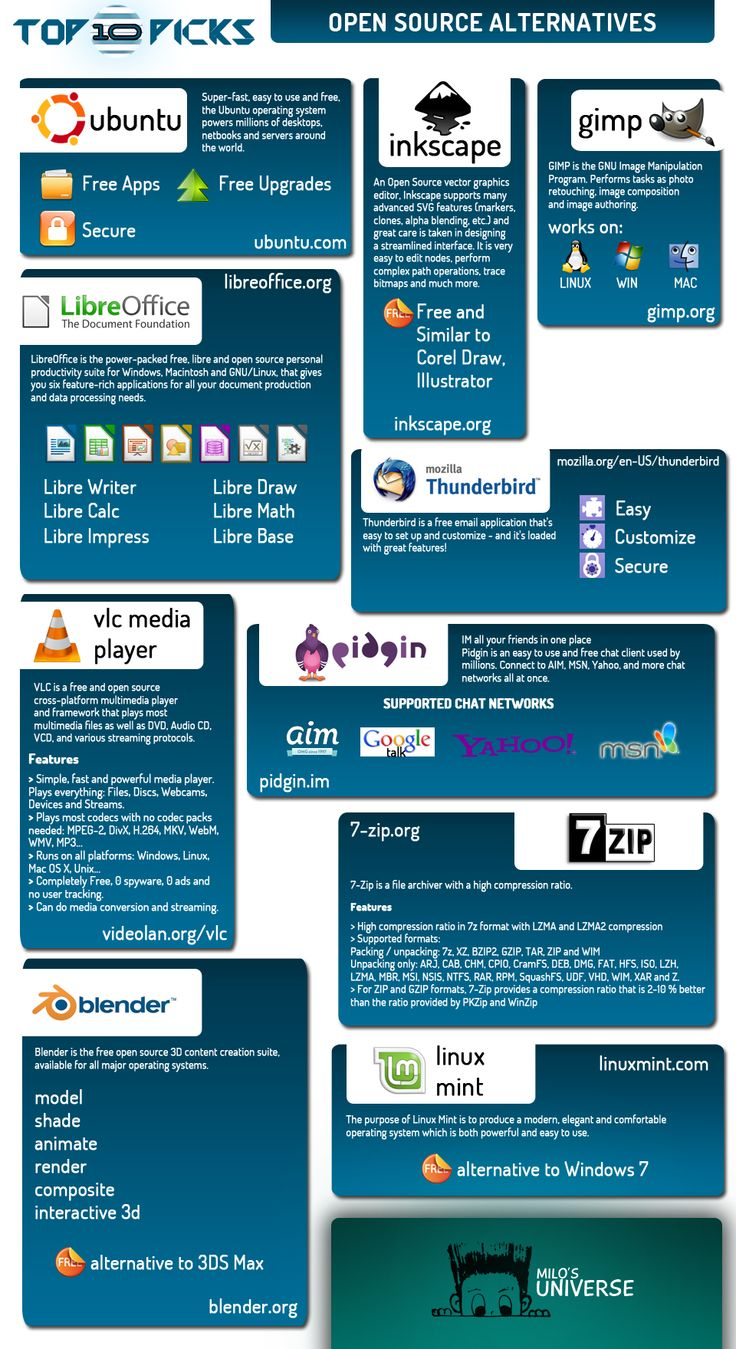 Top 10 Picks Open Source Alternatives
Ubuntu
This an an operating system that is easy to use. It powers millions of PCs around the globe on a daily basis. It has free applications, secure, and free upgrades.
Inkscape
This is a vector graph software that is open source. It supports lots of advanced SVG features, clones, blending, etc. It provides ease of operation in the editing of nodes, performance of complex operations, and the tracing of bit maps.
Gimp
This is the GNU image manipulator program. It is used to perform various tasks on images like retouching, image composition, and image authoring. Gimp runs on Linux, Windows, and Mac.
Liber Office
This is a personal productivity suite for windows. GNU/Linux Macintosh that provides six feature rich application for all document production and data processing needs. The individual applications are Libre Writer, Calculator, Impress, Draw, Math, and Base.
Mozilla Thunderbird
This is an email application that is free and can be set up with ease. It has great features also.
Pidgin
This provides you with a platform to send instant messages to all your friends from one place. It is a free chat client used by a lot of people. It connects with Yahoo, MSN, Google Talk, and other chat networks all at once.
VLC Media Player
This is a free multimedia player that plays most multimedia files as well as DVDs, VCDs, Audio CDs, and streaming video protocols. It is simple fast and powerful. It plays files, discs, webcam, device, and streams of different formats such as MPEG-2, DivX, WMV, MP3, and more. No codec packs are required. It operates on Windows, Linux, and Mac.
7.Zip
A file compressor with a very high compression ratio. It features high compression ratio in 7z format, LZMA, and LZMA2 compressions. It supports the following formats packing and unpacking from 7z, XZ, BZIP2, TAR, WIM, and others. The compression ratio surpasses others by 2-18%.
LinuxMint
A free alternative to Windows 7 that offers a modern elegant and comfortable platform. It is easy to use by all.
Blender
This is a free alternative to 3DS max. Blender is a free open source 3D content creation suite that is made for all major operating systems. It features the following model, shade, animate, render, composite, and interactive 3D.