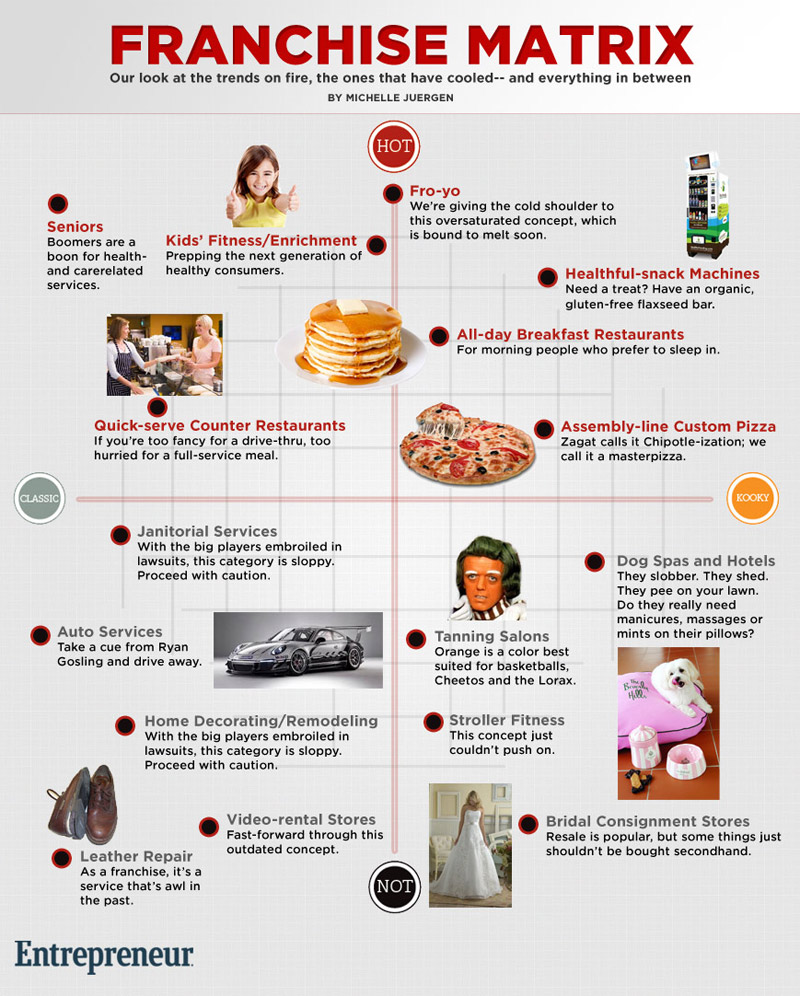 Franchising is big business. Over the last couple of decades hundreds of thousands of franchise operations have opened. You need to do a lot of research, if you are looking to become a franchisee. Choosing the wrong marker or idea to invest your time and money in can be fatal. Read on, to learn about the trends that look promising and the ones going downhill.
The Good
– FroYo. The frozen yoghurt concept is hardly anything new, but the latest concepts and ideas led by brands like FroYo have regained immense popularity. While it is oversaturated in many areas, other places in and outside the US, are untapped opportunities.
– Healthful-snack machines. Looking for a treat? Instead of all that artificial and unhealthy chocolate, get yourself an organic gluten free flaxseed bar.
– Kid's fitness & enrichment. Teach the next generation good habits of becoming health aware consumers.
– Seniors. Healthcare and carer services are ideally suited to the growing senior citizen population.
– All-day breakfast restaurants. The perfect restaurant for morning people (who like to sleep in)
– Quick serve counter restaurants. This is the ideal compromise between a drive-thru and a full-service meal.
– Assembly-line custom Pizza. What do you get when you mix the subway concept with custom pizza? Chipotle assembly-line pizza, or Chipotle-lization as some people call it.

The Bad
– Auto Services. As a franchise model, you are best advised to drive away from this oversaturated market
– Janitorial Services. Lawsuits are flying around between the big players in this industry. Be cautious about entering this type of franchise.
– Home Decorating & Remodeling. This is a similar situation to the above janitorial services, approach with caution.
– Video-rental Stores. This outdated concept has been superseded by online streaming services.
– Leather Repair. As a viable franchise model, this is old idea is stuck in the past.

And the Ugly
– Dog spas & hotels. Do dogs really need massages or manicures? If dogs could talk, even they would tell you this is a passing fad.
– Stroller fitness. As a concept it simply couldn't push on. Best left forgotten.
– Tanning salons. Orange is a color more suited to basketballs and Cheetos. Not the service you want to invest in.
– Bridal consignment stores. Reselling and used item are very popular. But in life there are some things that simply should not be purchased second-hand.