Here are the 400 greatest perseverance quotes of all-time.
"If you are going through hell, keep going."
Winston Churchill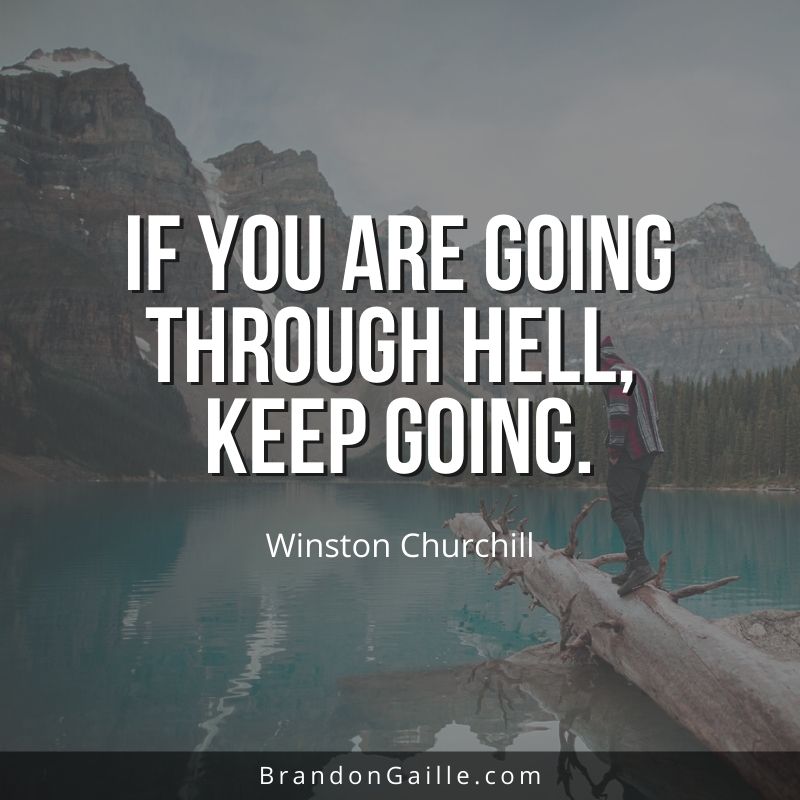 "A man is not finished when he's defeated; he's finished when he quits."
Richard M. Nixon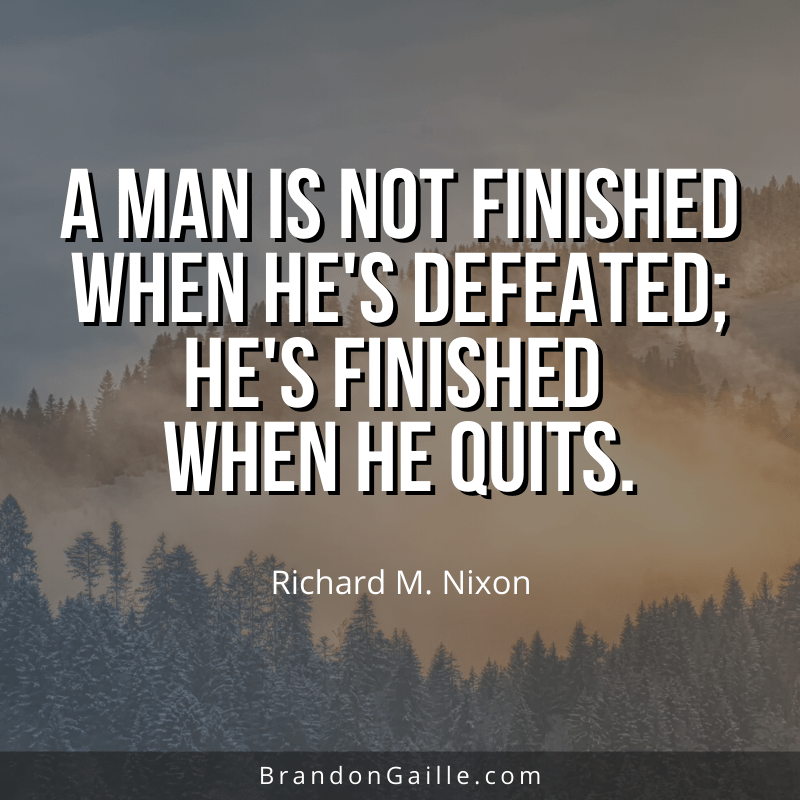 "The last thing to grow on a fruit tree is the fruit."
Tom Bilyeu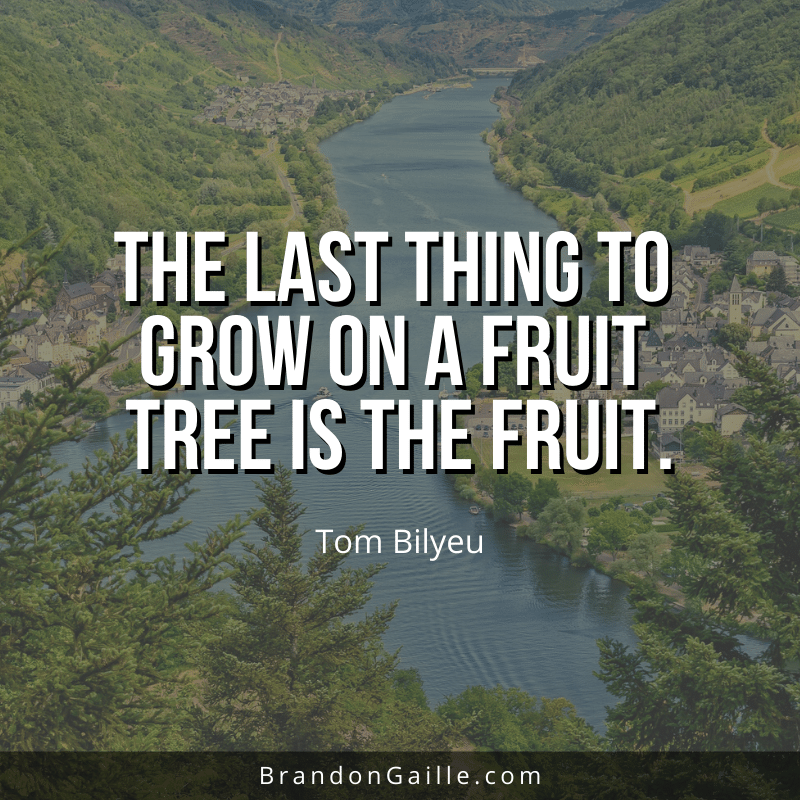 "Fall seven times and stand up eight."
Japanese Proverb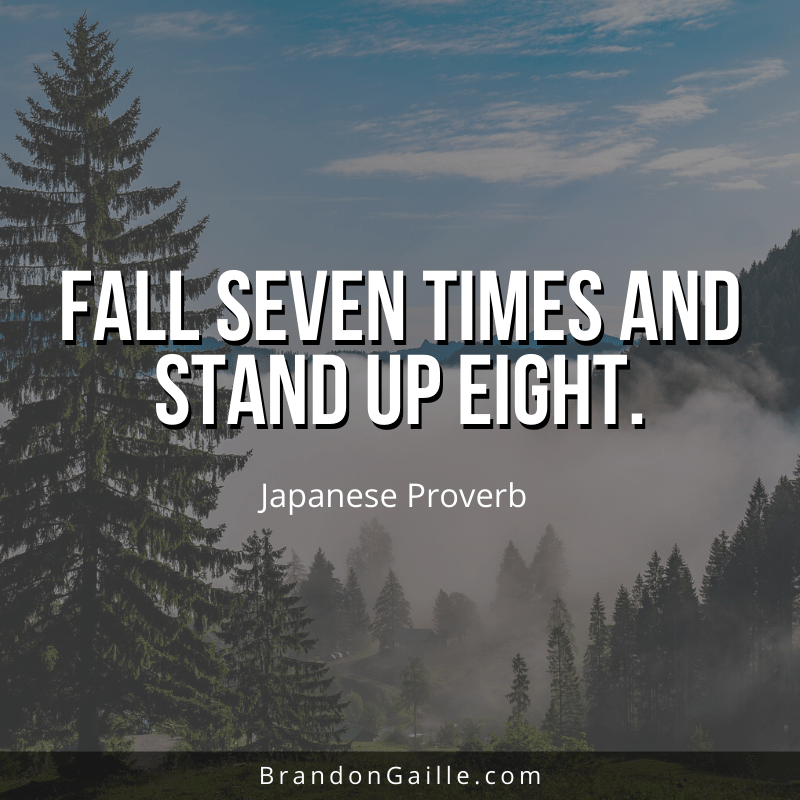 "The less pain we tolerate, the more average we become."
Jack Butcher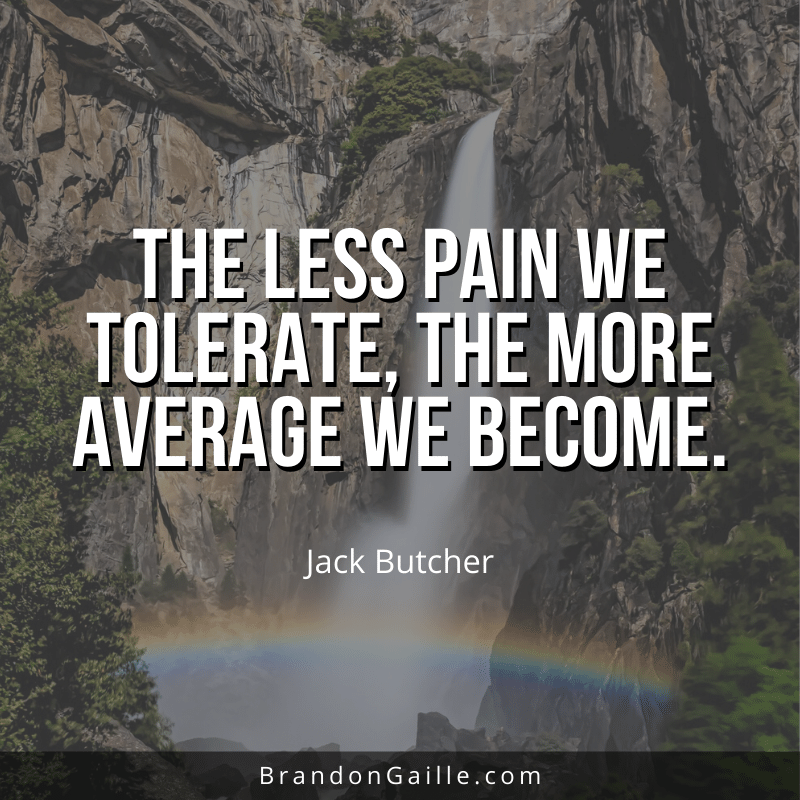 "Never confuse a single defeat with a final defeat."
F. Scott Fitzgerald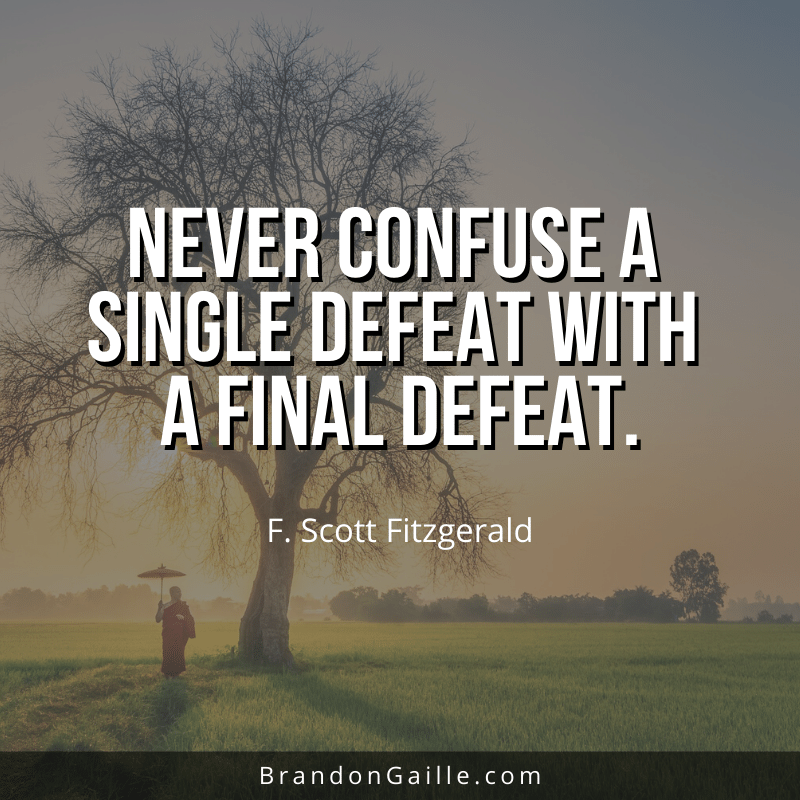 "It's always too soon to quit!"
Norman Vincent Peale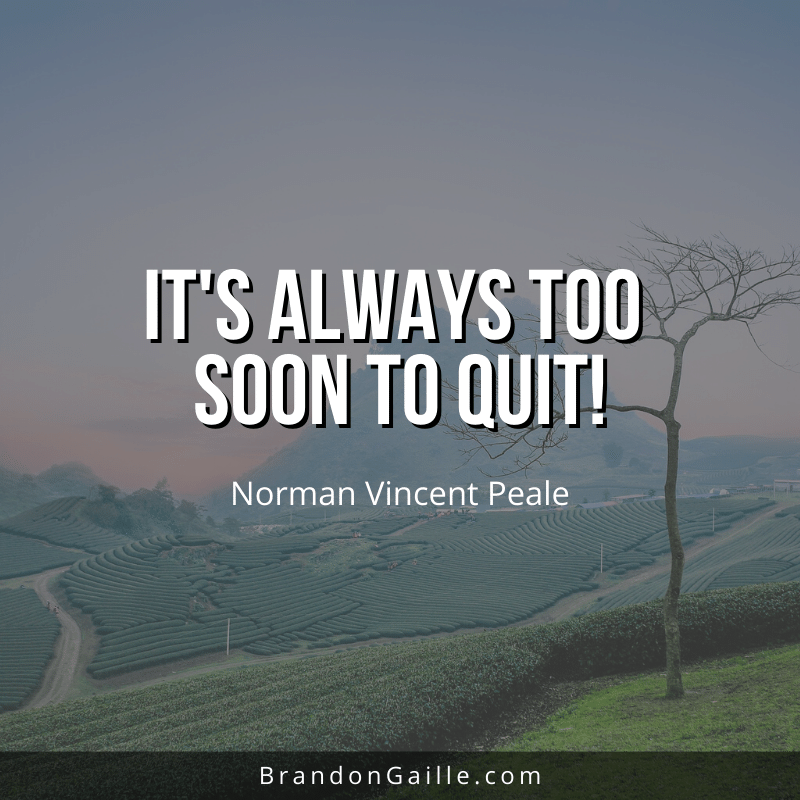 "If you fell down yesterday, stand up today."
H.G. Wells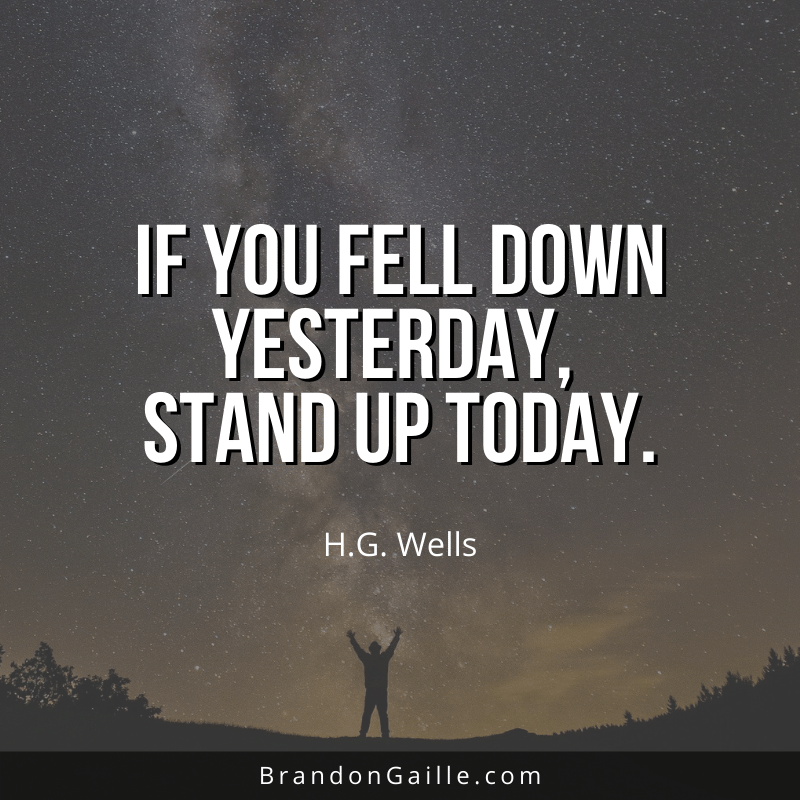 "Champions keep playing until they get it right."
Billie Jean King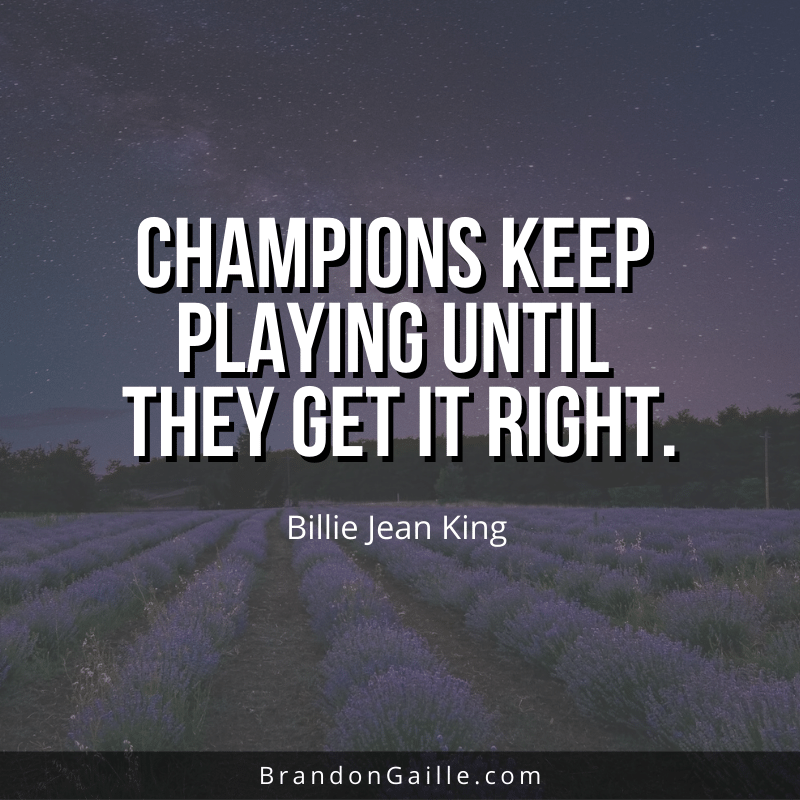 "A winner is just a loser who tried one more time."
George M. Moore Jr.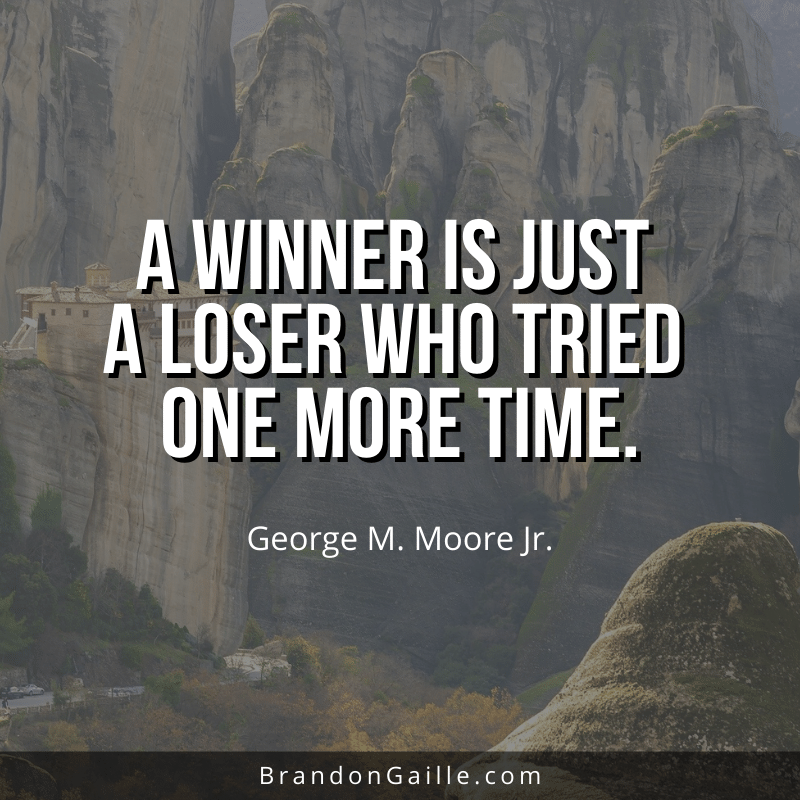 "Every strike brings me closer to the next home run."
Babe Ruth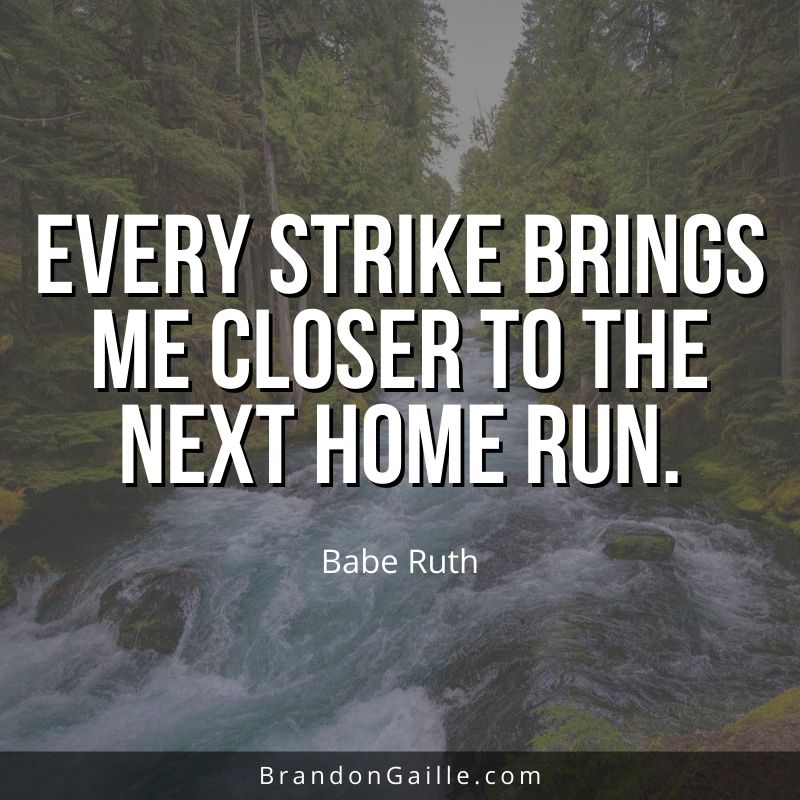 "Well begun is half done."
Aristotle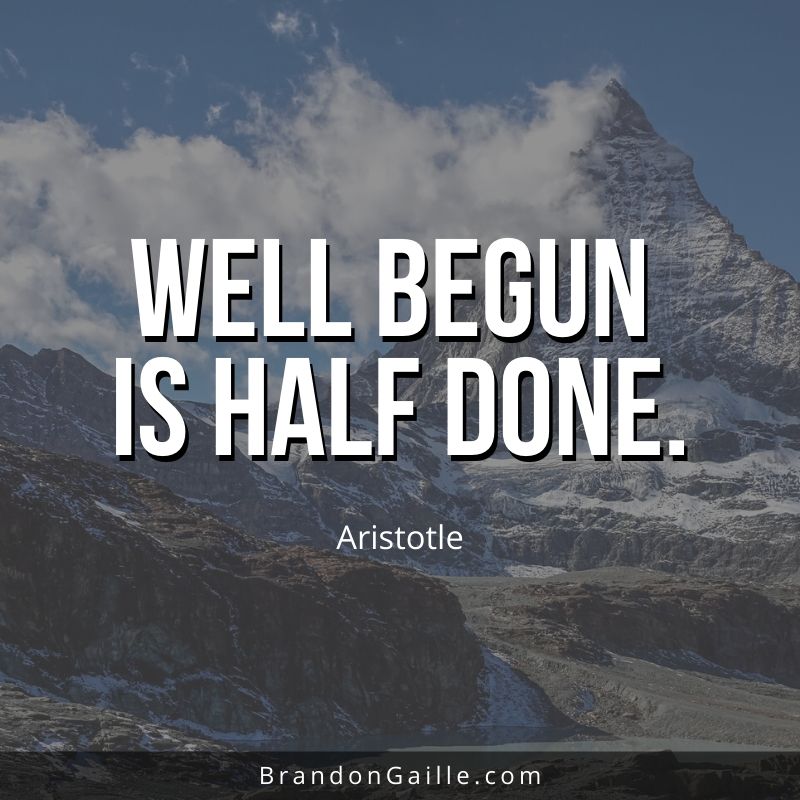 "The only guarantee for failure is to stop trying."
John C. Maxwell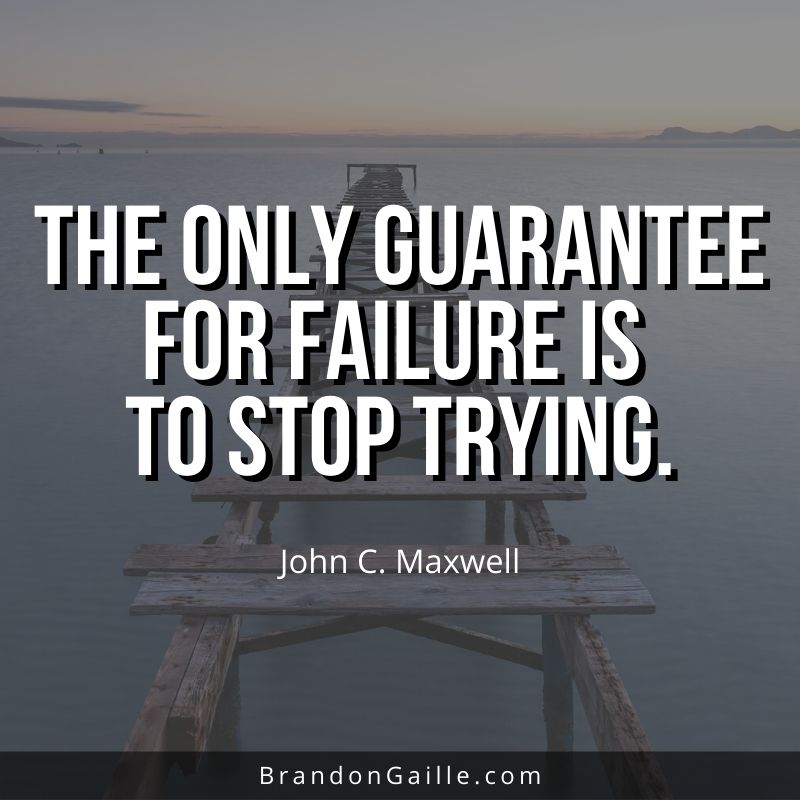 "The seeds of greatness are planted in the daily grind."
Adam Grant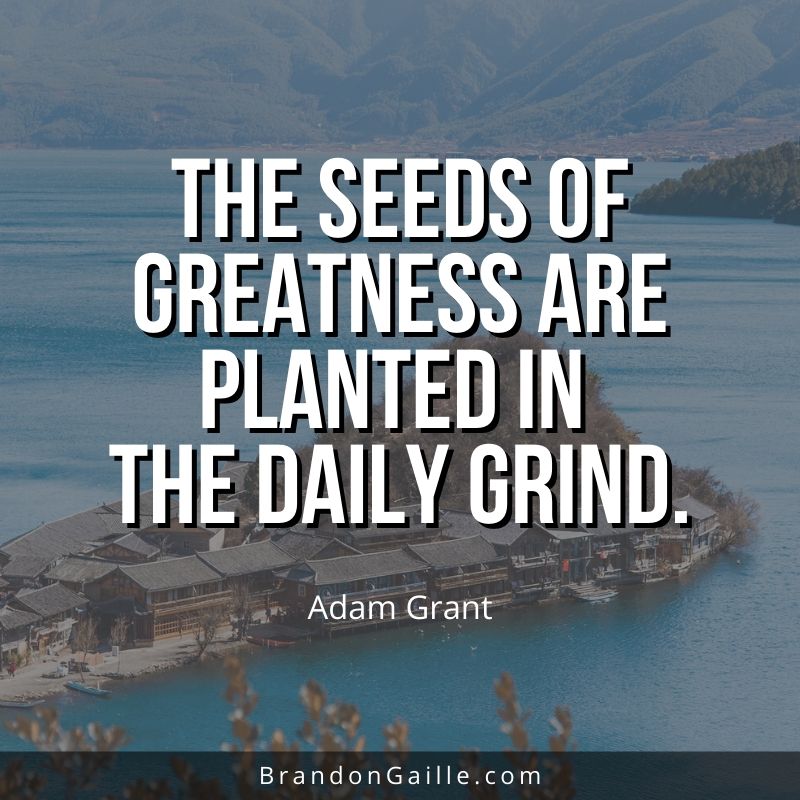 "Never, never, never give up."
Winston Churchill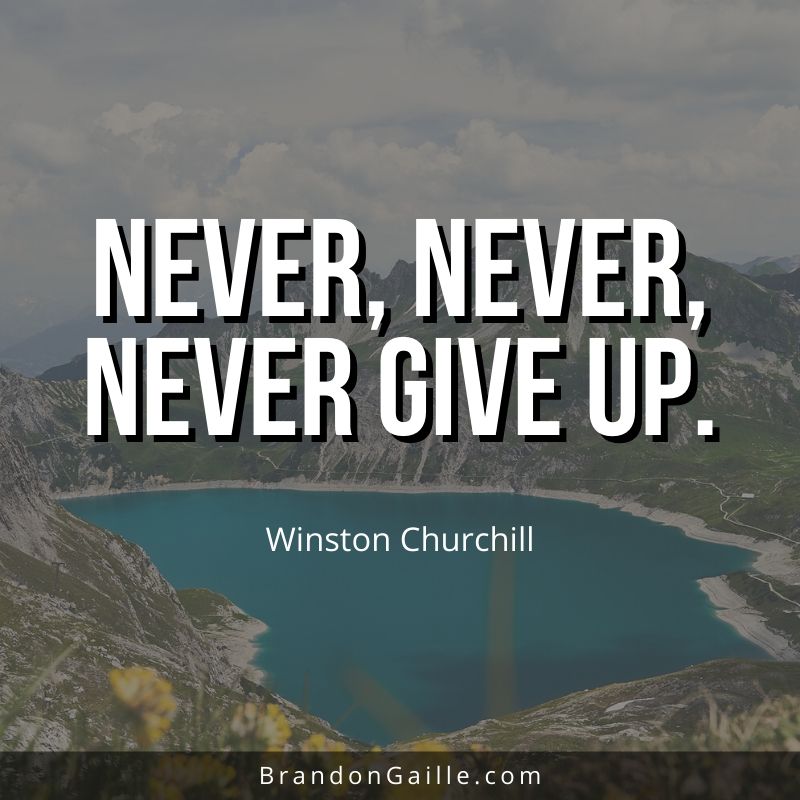 "Every storm runs out of rain."
Maya Angelou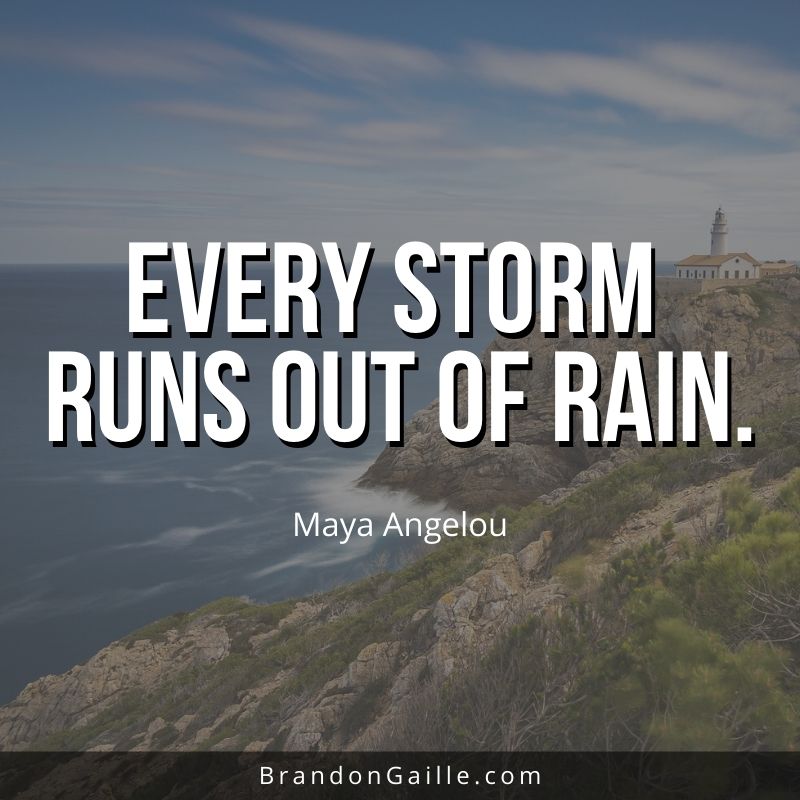 "Success seems to be largely a matter of hanging on after others have let go."
William Feather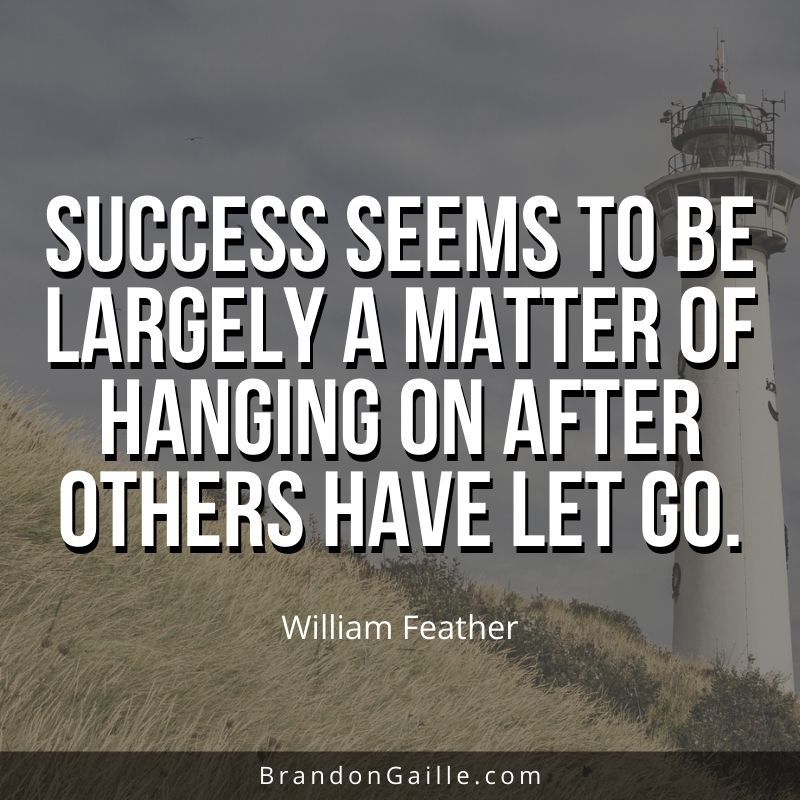 "A champion is one who gets up when he can't."
Jack Dempsey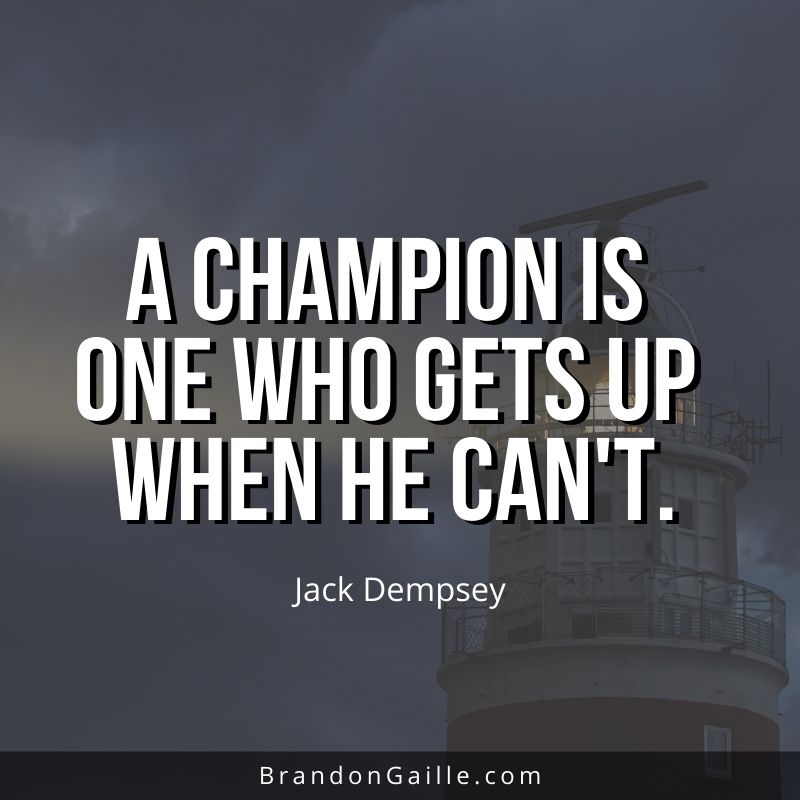 "Defeat is not the worst of failures. Not to have tried is the true failure."
George Edward Woodberry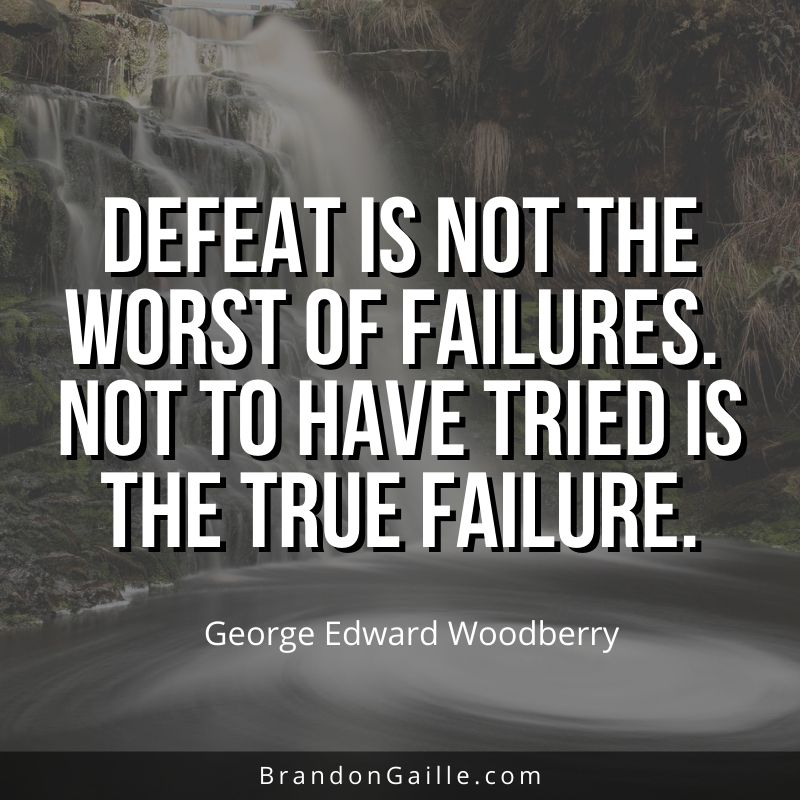 "I don't have talent, so I just get up earlier."
Henry Rollins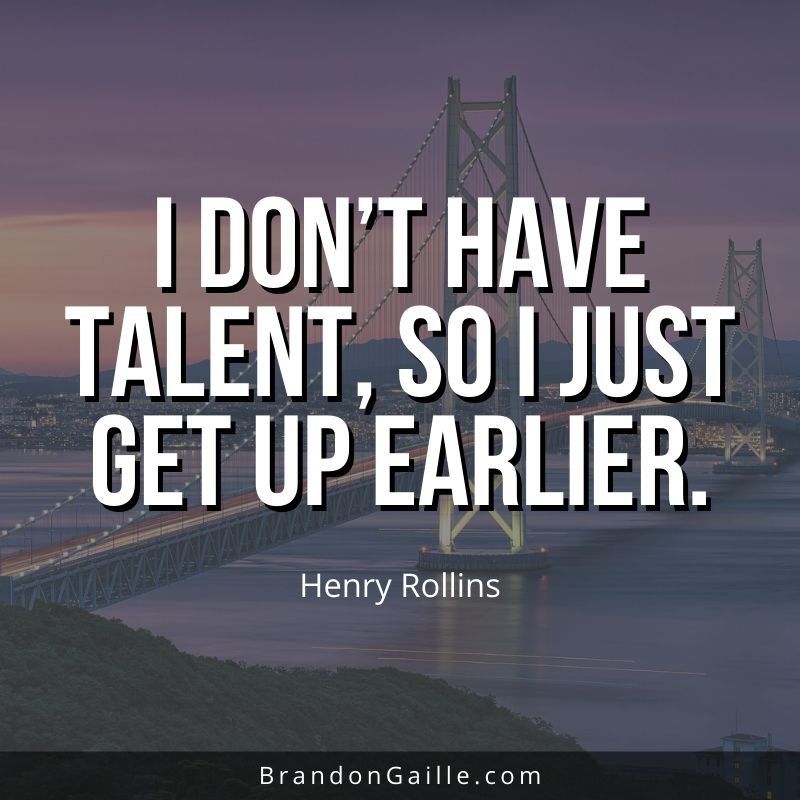 "You can't lose if you don't quit."
Stephen C. Storey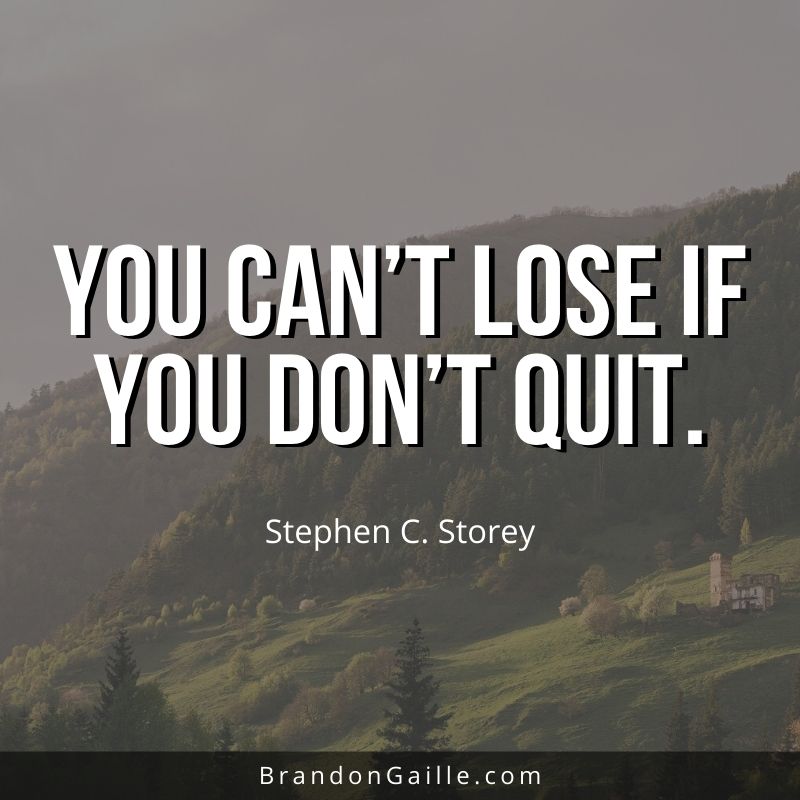 "It's hard to beat a person who never gives up."
Babe Ruth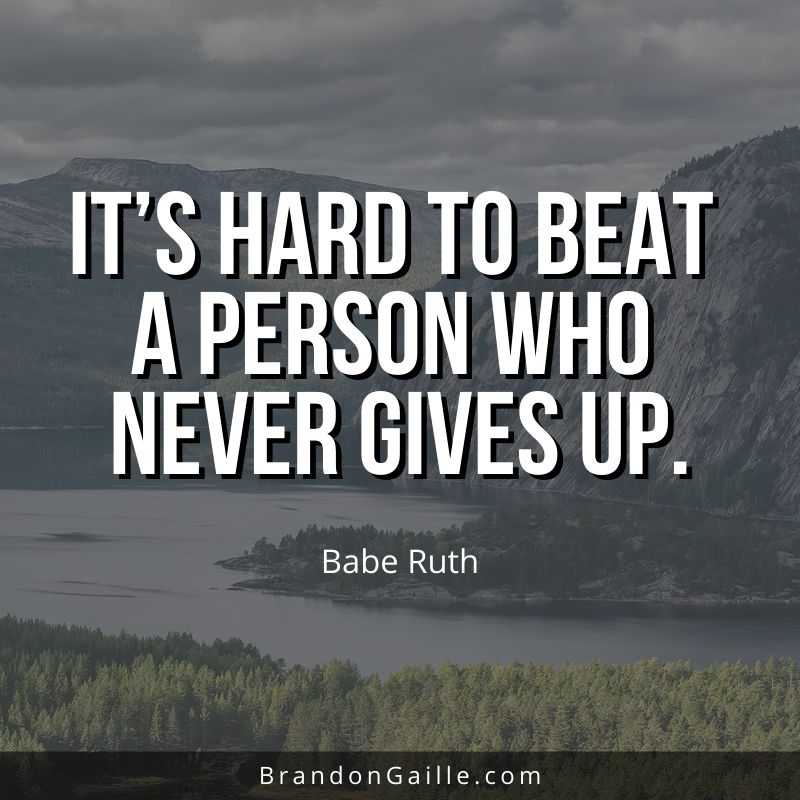 "You can move a lot of water with a thimble."
Martin H. Fischer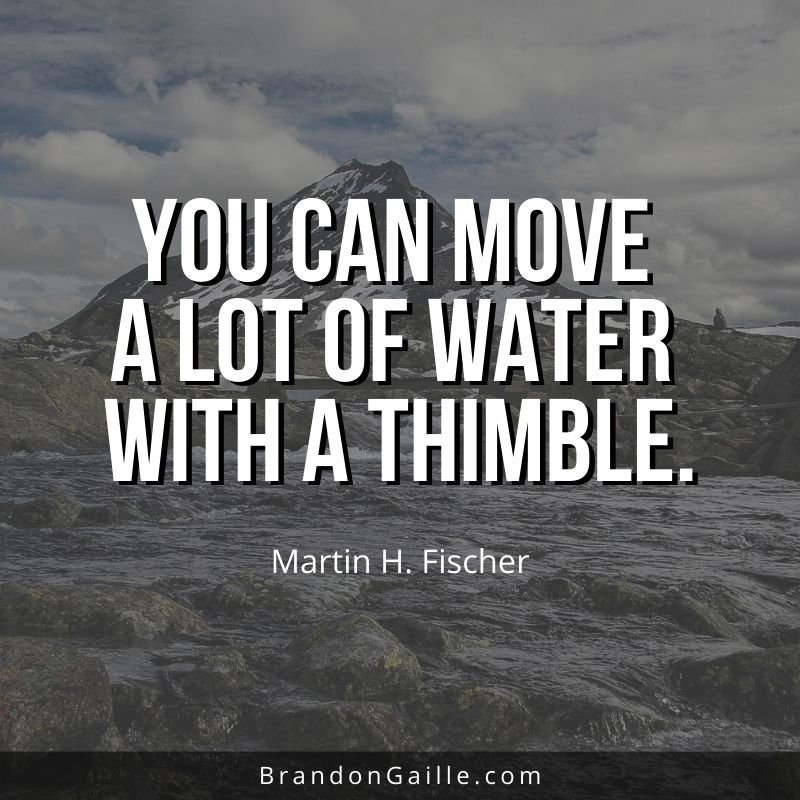 "We make way for the man who boldly pushes past us."
Christian Nestell Bovee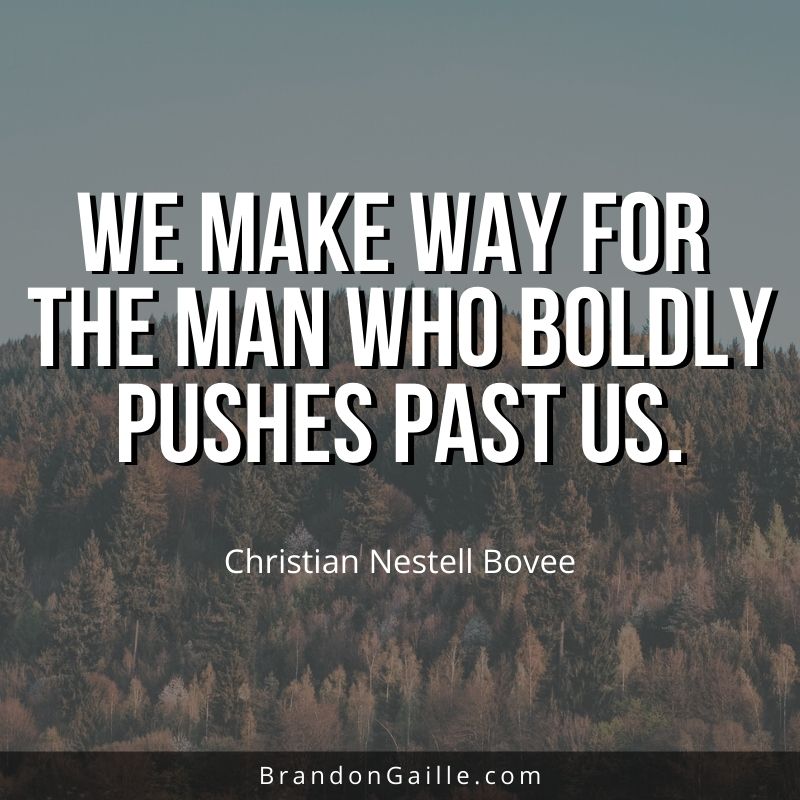 "Success is the sum of small efforts, repeated day in and day out."
Robert Collier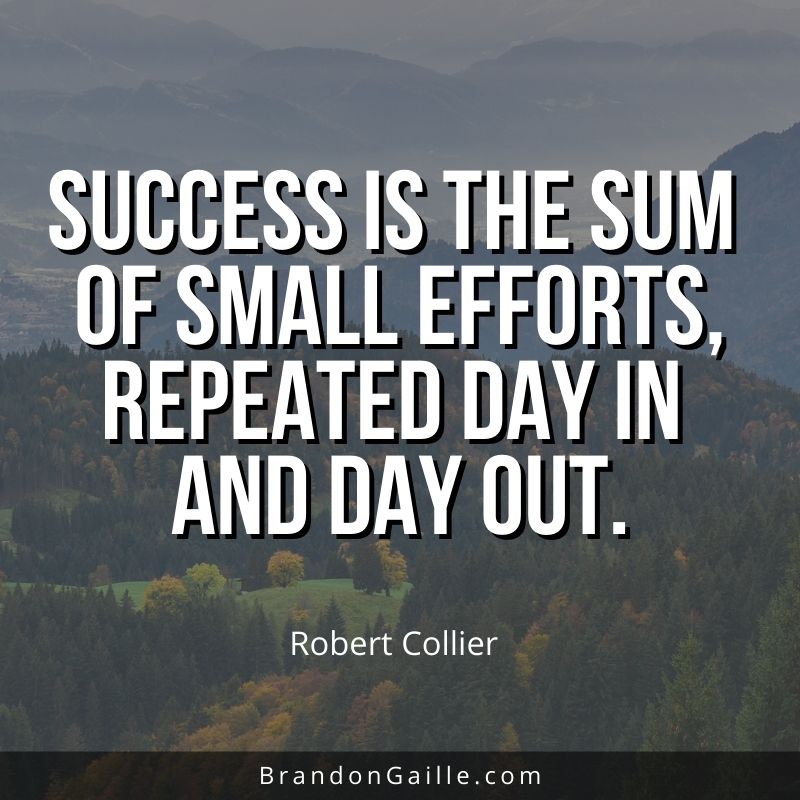 "All great achievements require time."
Maya Angelou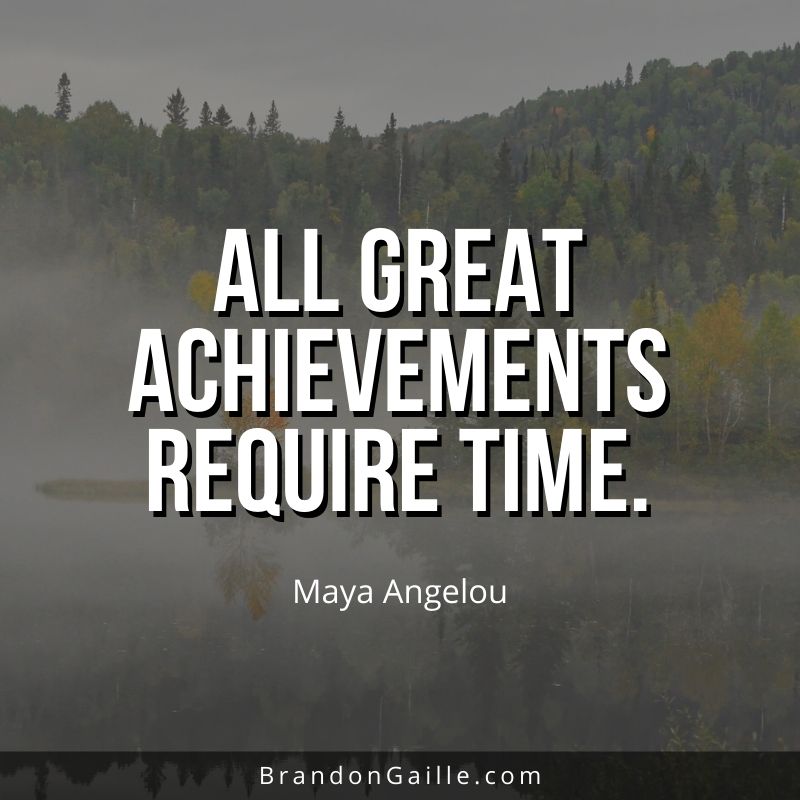 "Character consists of what you do on the third and fourth tries."
James A. Michener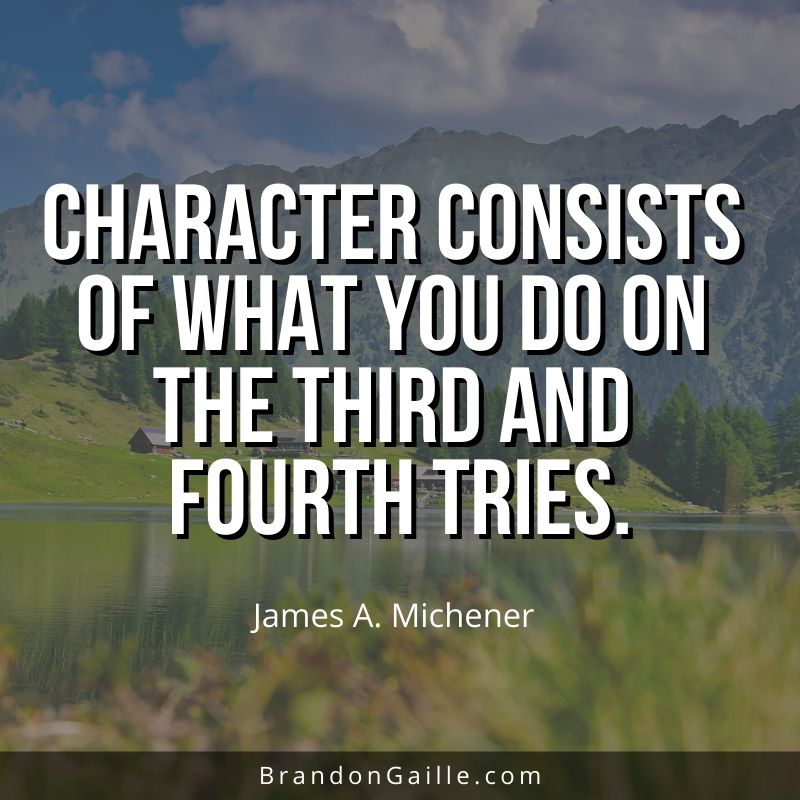 "Through hard work, perseverance, and faith in God, you can live your dreams."
Ben Carson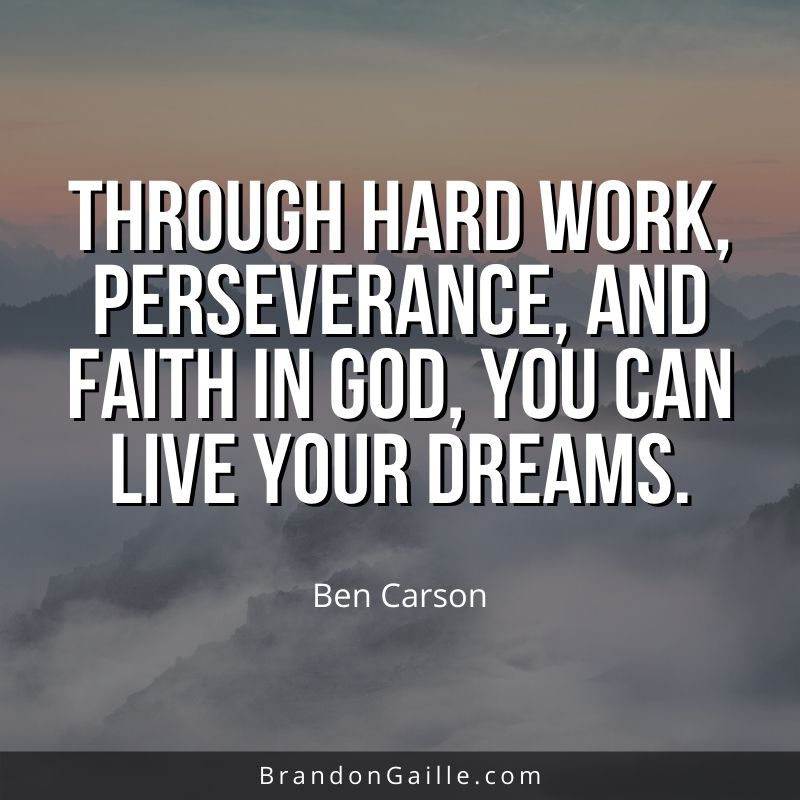 "Giving up is the only sure way to fail."
Gena Showalter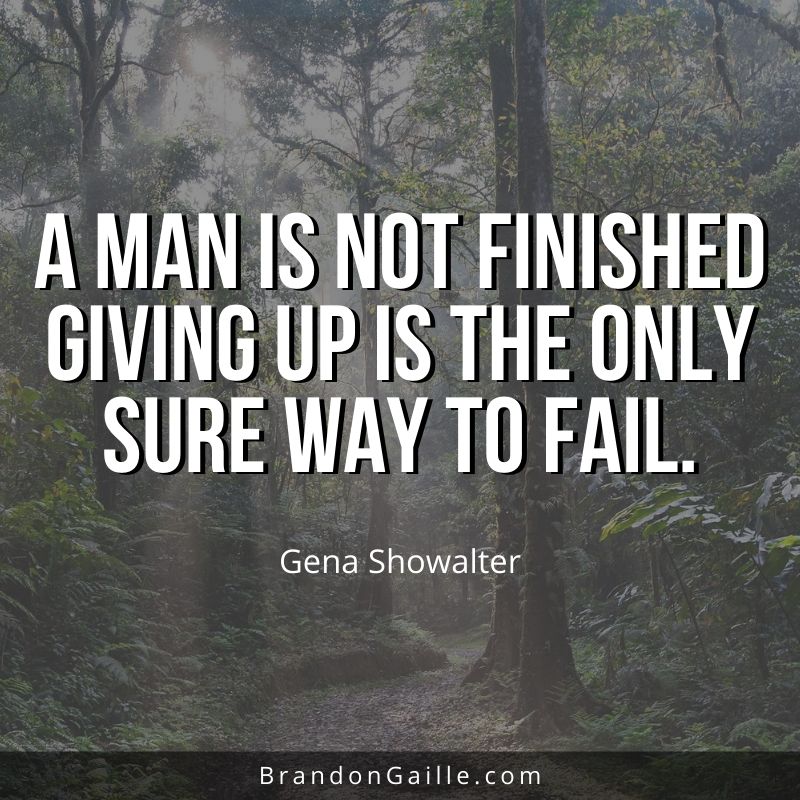 "It always seems impossible until it is done."
Nelson Mandela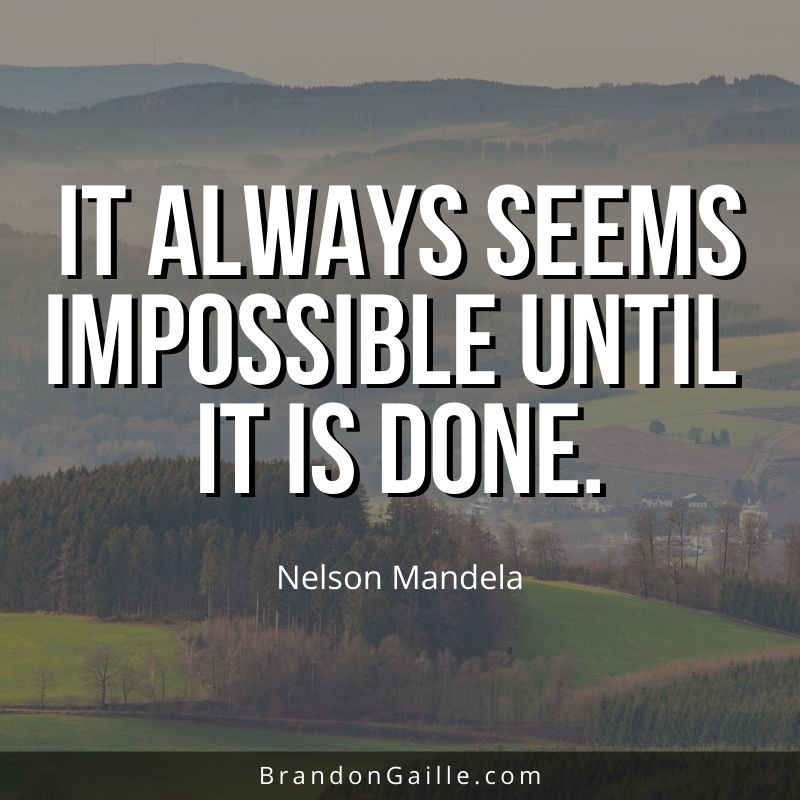 "I am a slow walker, but I never walk back."
Abraham Lincoln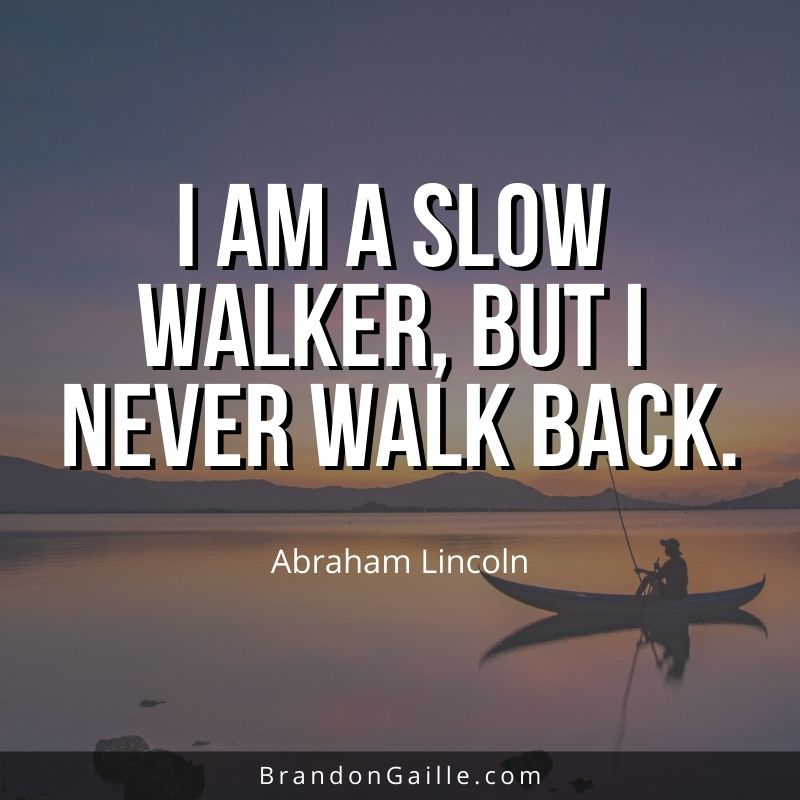 "Burdens are for shoulders strong enough to carry them."
Margaret Mitchell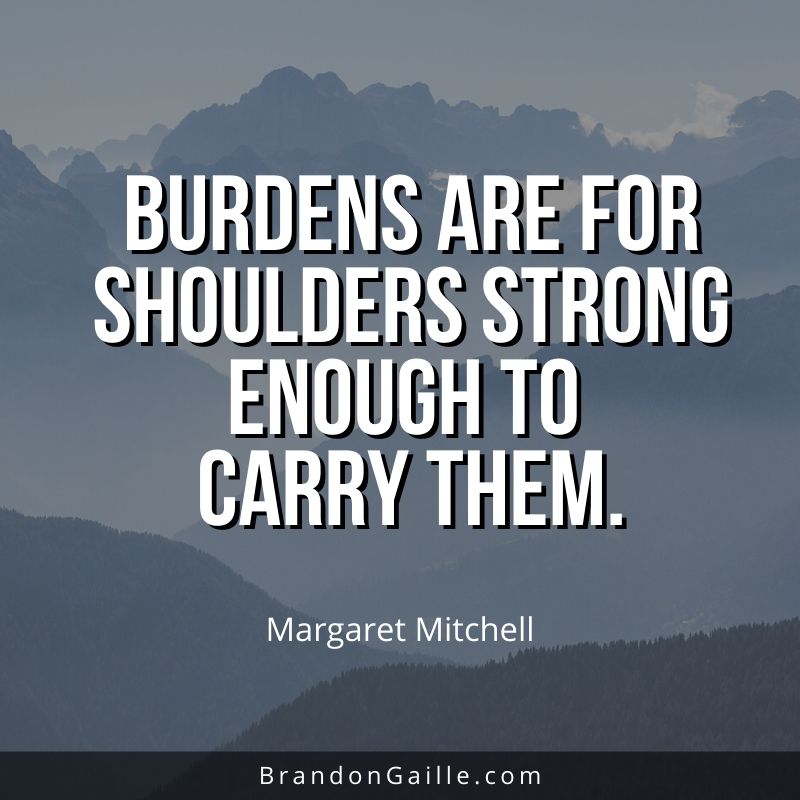 "In case of doubt, push on just a little further and then keep on pushing."
General George S Patton, Jr.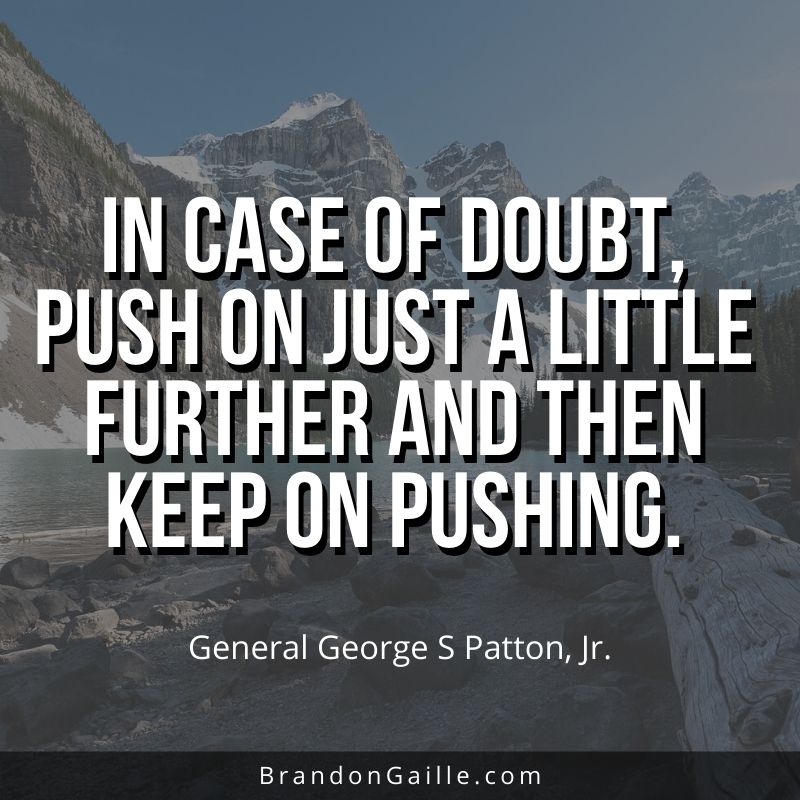 "I believe in myself so much that nothing is going to stop me."
Conor McGregor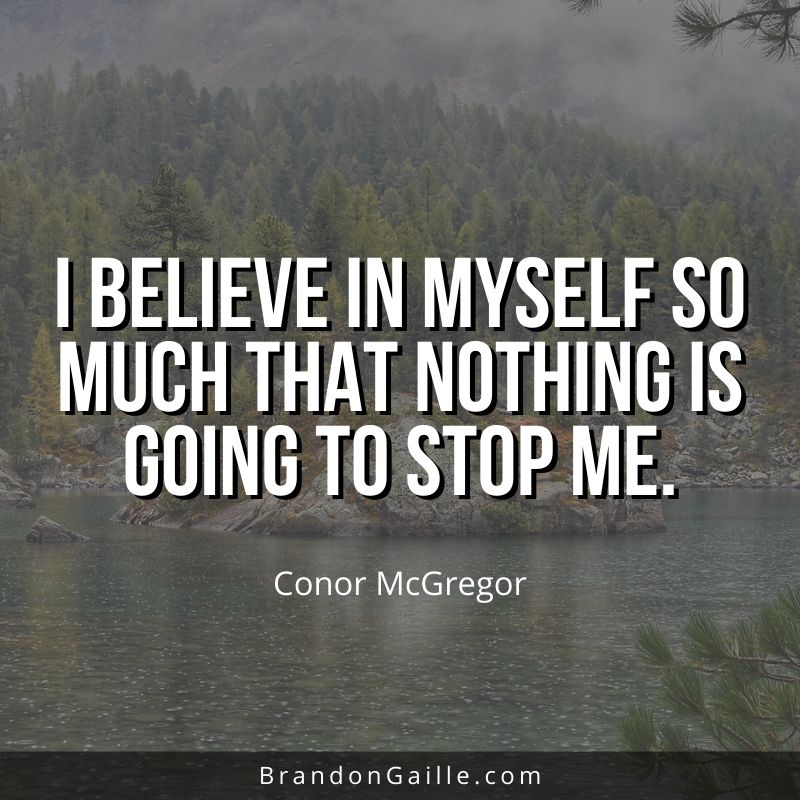 "One may go a long way after one is tired."
French Proverb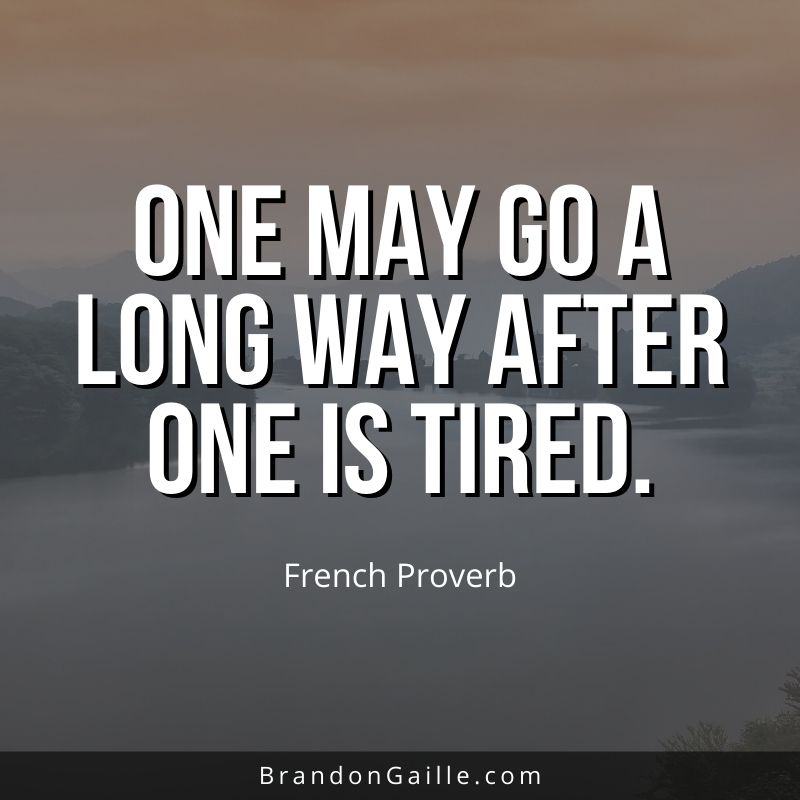 "The key to success is action and the essential in action is perseverance."
Sun Yat Sen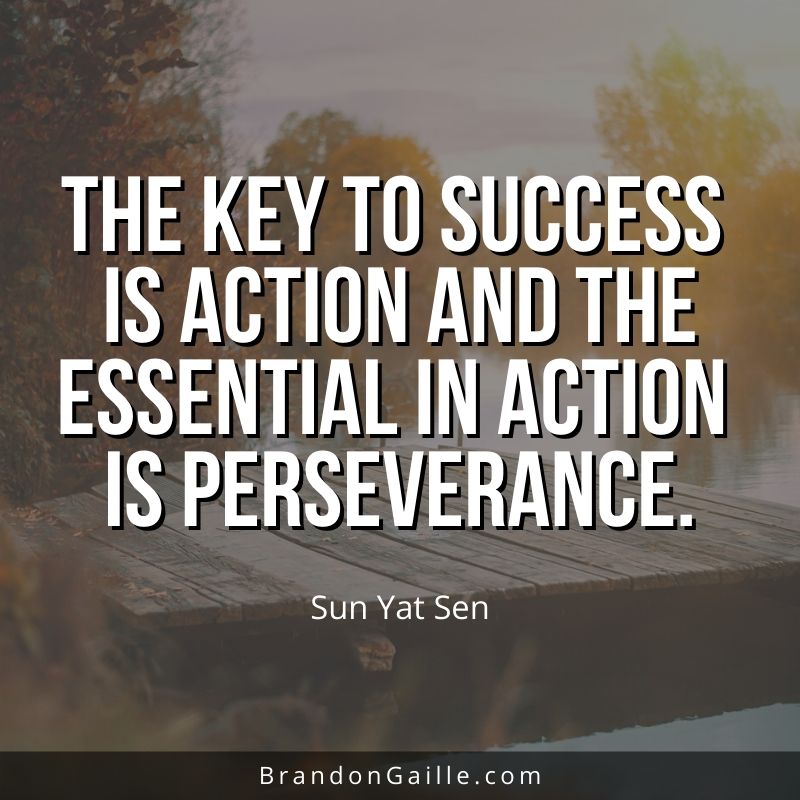 "To do anything to a high level, it has to be total obsession."
Conor McGregor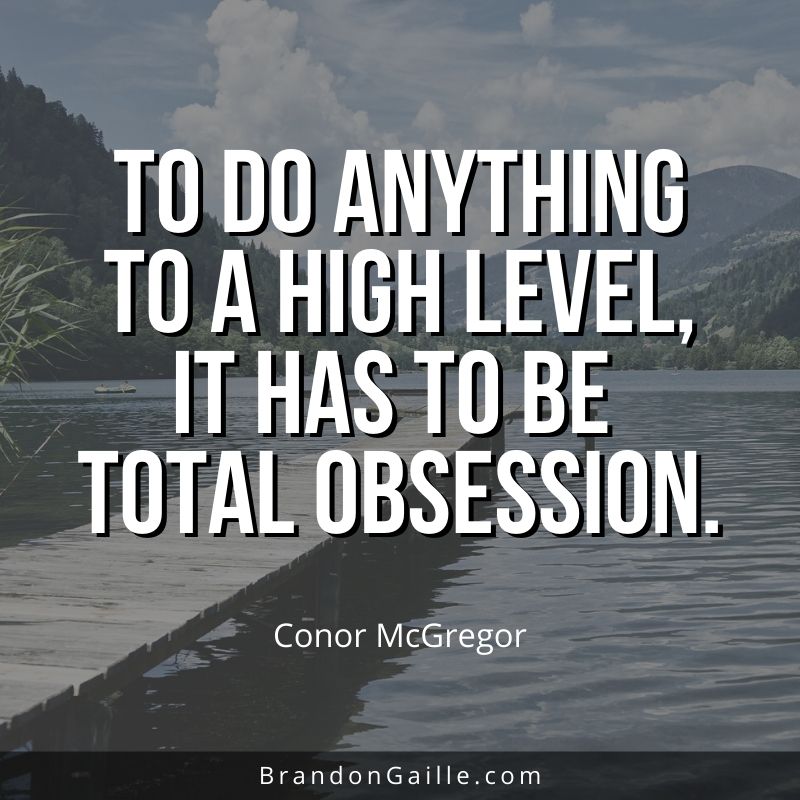 "If it's endurable, then endure it. Stop complaining."
Marcus Aurelius
"Keep trying until you have no more chances left."
Aimee Carter
"I am not talented, I am obsessed."
Conor McGregor
"If you rest, you rust."
Helen Hayes
"The man who moves a mountain begins by carrying away small stones."
Confucius
"A hungry dog hunts best. A hungrier dog hunts even better."
Norman Augustine
"I am not smarter than anybody else, but I can outwork you."
Michael Bloomberg
"A large oak tree is just a little nut that refused to give up."
David McGee
"When things go wrong, don't go with them."
Elvis Presley
"Life is like riding a bicycle, to keep your balance, you must keep moving."
Albert Einstein
"It's not that I'm so smart, it's just that I stay with problems longer."
Albert Einstein
"When you come to the end of your rope, tie a knot and hang on."
Franklin D. Roosevelt
"How long should you try? Until."
Jim Rohn
"Dripping water hollows out stone, not through force but through persistence."
Ovid
"By perseverance, the snail reached the ark."
Charles Spurgeon
"I have not failed. I've just found 10,000 ways that won't work."
Thomas Edison
"Face your life, its pain, its pleasure, leave no path untaken."
Neil Gaiman
"Perseverance is another word for faith."
Earl Nightingale
"Success is stumbling from failure to failure with no loss of enthusiasm."
Winston Churchill
"Perseverance and audacity generally win."
Madame Deluzy
"Endurance is patience concentrated."
Thomas Carlyle
"What defines us is how we rise after falling."
Conor McGregor
"A bad day doesn't cancel out a good life. Keep going."
Richie Norton
"You are the person you have been waiting for."
Joe Dispenza
"Hard pounding, gentlemen; but we will see who can pound the longest."
Duke of Wellington
"Age wrinkles the body. Quitting wrinkles the soul."
Douglas MacArthur
"Perseverance is a virtue that cannot be understated."
Bob Riley
"A wise man will make more opportunities than he finds."
Francis Bacon
"Man matures when he no longer believes discomfort is uncomfortable."
Carlos Del Valle
"Never lose hope. Storms make people stronger and never last forever."
Roy T. Bennett
"You can use the stumbling blocks to build your success."
Lailah Gifty Akita
"The most entrepreneurial trait there is: the ability to persist."
Steve Chou
"To the outside observer, success always seems like magic."
Thibaut
"Persistence pays off."
Noah Kagan
"A battle is won by him who is firmly resolved to win it."
Leo Tolstoy
"Men fail much oftener from want of perseverance than from want of talent."
William Cobbett
"Step one of doing something is believing you can do it."
Sahil Lavingia
"I never gave up, even when people told me I'd never make it."
Bob Wickman
"Impatience with actions, patience with results."
Naval Ravikant
"We will either find a way or make one."
Hannibal
"Your first 10,000 photographs are your worst."
Henri Cartier-Bresson
"Energy and persistence conquer all things."
Benjamin Franklin
"You may have to fight a battle more than once to win it."
Margaret Thatcher
"Paralyze resistance with persistence."
Woody Hayes
"Persistence is self-discipline in action."
Brian Tracy
"Be persevering at the bottom, humble at the top."
Maxime Lagacé
"The will to persevere is often the difference between failure and success."
David Sarnoff
"No conqueror believes in chance."
Friedrich Nietzsche
"What you see as obstacles and avoid is actually the way to your growth."
Bill Masur
"Adversity is always the partner of progress."
John C. Maxwell
"The only lost cause is one we give up on before we enter the struggle."
Vaclav Havel
"You may not hit a home run — but that's no reason to stop swinging."
Dr. Idel Dreimer
"Perseverance is my motto."
Madam C. J. Walker
"Great works are performed not by strength but by perseverance."
Samuel Johnson
"I was taught the way of progress is neither swift nor easy."
Marie Curie
"Success belongs to those who refuse to be defeated by failure!"
Dr. T.P. Chia
"We are made to persist. That's how we find out who we are."
Tobias Wolff
"Persistent people begin their success where others end in failure."
Edward Eggleston
"Whatever honor there is in giving up, I want no part of."
Greg Evans
"Constant dripping hollows out a stone."
Lucretius
"The world makes way for the man who knows where he is going."
Ralph Waldo Emerson
"He conquers who endures."
Persius
"Rejection is a success tax."
Brian Norgard
"To persevere in one's duty and be silent, is the best answer to calumny."
George Washington
"By perseverance everything reaches its target."
Catalan Proverb
"Inner strength isn't 'found' it's created."
David Goggins
"Victory belongs to the most persevering."
Napoleon Bonaparte
"Many strokes overthrow the tallest oaks."
John Lyly
"This entire career path has been everything but comfortable."
Lilly Singh
"Failure hurts but passes quickly. Regret hurts forever."
Shane Parrish
"Perseverance and spirit have done wonders in all ages."
George Washington
"We must have perseverance and above all confidence in ourselves."
Marie Curie
"Never give up just because you failed initially."
Sunday Adelaja
"Persistence is a virtue — as long as you don't carry it too far."
Dr. Idel Dreimer
"Even a snail will eventually reach its destination."
Gail Tsukiyama
"Let perseverance be your engine and hope your fuel."
H. Jackson Brown Jr.
"Growth is overrated. Endurance is underrated."
Shane Parrish
"Never despair, but if you do, work on in despair."
Edmund Burke
"He who does not believe in miracles is not a realist."
Anton Rupert
"The road to perseverance lies by doubt."
Francis Quarles
"If you know something will eventually come to an end, you can handle it."
Karen Harrington
"Saints are sinners who kept on going."
Robert Louis Stevenson
"Steep is the way to mastery."
Eugen Herrigel
"Perseverance and perspective until victory."
Lincoln Diaz-Balart
"If there is no struggle, there is no progress."
Frederick Douglass
"Effort only fully releases its reward after a person refuses to quit."
Napoleon Hill
"We can do anything we want to do if we stick to it long enough."
Helen Keller
"They couldn't catch you if you didn't stop running."
Dennis Lehane
"There was no such thing as defeat if you didn't accept it."
Fay Weldon
"Endurance is the crowning quality, and patience all the passion of great hearts."
James Russell Lowell
"Kites rise highest against the wind, not with it."
Winston Churchill
"If you're willing to bleed a little every day, you may win big later."
Naval Ravikant
"The days without difficulty are the days you do not improve."
Evan Winter
"Real champions fight through adversity."
Conor McGregor
"It does not matter how slowly you go as long as you do not stop."
Confucius
"Failure is only the opportunity to begin again, this time more intelligently."
Henry Ford
"Perseverance, secret of all triumphs."
Victor Hugo
"Perseverance is not a long race; it is many short races one after the other."
Walter Elliot
"Perseverance is failing 19 times and succeeding the 20th."
Julie Andrews
"The secret of success is constancy to purpose."
Benjamin Disraeli
"You have to practice even, maybe especially, when it hurts."
Jeff Goins
"The basis of accomplishment is in never quitting."
Mengzi Meng-tse
"Once you learn to quit, it becomes a habit."
Vince Lombardi
"Dream after dream comes true — or rather is made true by persevering effort."
L.M. Montgomery
"Care the most. Succeed the most."
Maxime Lagacé
"Just because you fail once doesn't mean you're gonna fail at everything."
Marilyn Monroe
"A crowbar is a universal pass key."
Terry Pratchett
"The only way to overcome is to hang in."
Dan O'Brien
"For water continually dropping will wear hard rocks hollow."
Plutarch
"What is now proved was once only imagined."
William Blake
"The best way out is always through."
Robert Frost
"Go as far as you can see; when you get there you'll be able to see farther."
Thomas Carlyle
"It matters if you just don't give up."
Stephen Hawking
"Never give up. Keep your thoughts and your mind always on the goal."
Tom Bradley
"Constant effort and frequent mistakes are the stepping stones to genius."
Elbert Hubbard
"I am a kind of burr; I shall stick."
William Shakespeare
"There is no armor like perseverance."
Sogyal Rinpoche
"Do you want to die, or do you want to die trying? Give up or give it a shot."
Nick Trout
"Big shots are only little shots who keep shooting."
Christopher Morley
"Rivers know this: there is no hurry. We shall get there someday."
A.A. Milne
"Thankfully, perseverance is a good substitute for talent."
Steve Martin
"No great thing is created suddenly."
Epictetus
"Hardships make or break people."
Margaret Mitchell
"Work stamina seems to be one of the biggest predictors of long-term success."
Sam Altman
Long quotes:
"When the going gets tough, put one foot in front of the other and just keep going. Don't give up."
Roy T. Bennett
"One thing we all know, if one does not possess persistence, one does not achieve noteworthy success in any calling."
Napoleon Hill
"I tried always to do better: saw always a little further. I tried to stretch myself."
Audrey Hepburn
"Success is no accident. It is hard work, perseverance, learning, studying, sacrifice and most of all, love of what you are doing or learning to do."
Pelé
"Aligning what you do with who you are requires commitment, effort, and perseverance. But the rewards are well worth it and it will enhance the quality of your life."
Lauren Mackler
"Lots of people limit their possibilities by giving up easily. Never tell yourself this is too much for me. It's no use. I can't go on. If you do you're licked, and by your own thinking too. Keep believing and keep on keeping on."
Norman Vincent Peale
"Nothing in the world can take the place of persistence. Talent will not; nothing is more common than unsuccessful men with talent. Genius will not; unrewarded genius is almost a proverb. Education will not; the world is full of educated derelicts. Persistence and determination alone are omnipotent. The slogan Press On! has solved and always will solve the problems of the human race."
Calvin Coolidge
"No rock so hard but that a little wave may beat admission in a thousand years."
Alfred, Lord Tennyson
"Be the best in the world at what you do. Keep redefining what you do until this is true."
Naval Ravikant
"Don't give up in times of difficulty. Persevere on as there will be an end to these."
Edward Dunedin
"Like an athlete, come to enjoy rigorous practice, pushing past your limits, and resisting the easy way out."
Robert Greene
"Wanting to win isn't enough. You have to go through a process to improve. That takes patience, perseverance, and intentionality."
John C. Maxwell
"Neither evil tongues, rash judgments, nor the sneers of selfish men, nor greetings where no kindness is, nor all the dreary intercourse of daily life, shall ever prevail against us."
William Wordsworth
"In every battle there comes a time when both sides consider themselves beaten, then he who continues the attack wins."
Ulysses S. Grant
"To persevere with the will to understand in the face of obstacles is the heroism of consciousness."
Nathaniel Branden
"If I had to select one quality, one personal characteristic that I regard as being most highly correlated with success, whatever the field, I would pick the trait of persistence. Determination. The will to endure to the end, to get knocked down seventy times and get up off the floor saying, "Here comes number seventy-one!""
Richard M. DeVos
"Adversity, and perseverance and all these things can shape you. They can give you a value and a self-esteem that is priceless."
Scott Hamilton
"If we are facing in the right direction, all we have to do is keep on walking."
Buddhist Saying
"My motto was always to keep swinging. Whether I was in a slump or feeling badly or having trouble off the field, the only thing to do was keep swinging."
Henry Aaron
"Perseverance is an active principle, and cannot continue to operate but under the influence of desire."
William Godwin
"It's perseverance. That's the key. It's persevering for long enough to achieve your potential."
Lynn Davies
"One day, the people that didn't believe in you will tell everyone how they met you."
Johnny Depp
"A hero is an ordinary individual who finds the strength to persevere and endure in spite of overwhelming obstacles."
Christopher Reeve
"People of mediocre ability sometimes achieve outstanding success because they don't know when to quit. Most men succeed because they are determined to."
George Allen
"Anyone can start something. No one quits right before the prize. The middle sets people apart."
Johnny Uzan
"The nerve that never relaxes, the eye that never blenches, the thought that never wanders, these are the masters of victory."
Edmund Burke
"The most important thing is to keep going. The second most important thing is to choose the right direction."
Maxime Lagacé
"Most of the important things in the world have been accomplished by people who have kept on trying when there seemed to be no hope at all."
Dale Carnegie
"You just keep pushing. You just keep pushing. I made every mistake that could be made. But I just kept pushing."
Rene McPherson
"The way that you make people resilient is by voluntarily exposing them to things that they are afraid of and that make them uncomfortable."
Jordan Peterson
"There is genius in persistence. It conquers all opposers. It gives confidence. It annihilates obstacles. Everybody believes in a determined man. People know that when he undertakes a thing, the battle is half won, for his rule is to accomplish whatever he sets out to do."
Orison Swett Marden
"Do not quit! Hundreds of times I have watched people throw in the towel at the one-yard line while someone else comes along and makes a fortune by just going that extra yard."
E. Joseph Cossman
"One should act in consonance with the way of heaven and earth, which is enduring and eternal. The superior man perseveres long in his course, adapts to the times, but remains firm in his direction and correct in his goals."
Tao Te Ching
"How many a man has thrown up his hands at a time when a little more effort, a little more patience would have achieved success?"
Elbert Hubbard
"'Tis a lesson you should heed. Try, try, try again. If at first, you don't succeed – try, try, try again."
William Edward Hickson
"Hasten slowly, and without losing heart put your work twenty times upon the anvil."
Nicolas Boileau-Despreaux
"Courage and perseverance have a magical talisman, before which difficulties disappear and obstacles vanish into air."
John Quincy Adams
"You can't guarantee your success, but you can guarantee your failure. Don't give up, and you cannot fail."
Sahil Lavingia
"A failure is not always a mistake. It may simply be the best one can do under the circumstances. The real mistake is to stop trying."
B. F. Skinner
"Patience and tenacity of purpose are worth more than twice their weight of cleverness."
Thomas H. Huxley
"Ask, 'Why is this so unbearable? Why can't I endure it?' You'll be embarrassed to answer."
Marcus Aurelius
"There are two ways to achieve extraordinary outcomes: 1) Be lucky. 2) Be obsessed. Most people need some combination of both. However, only one of those factors is within your control. Work hard, stay focused, and let the chips fall where they may."
James Clear
"Let me not pray to be sheltered from dangers, but to be fearless in facing them. Let me not beg for the stilling of my pain, but for the heart to conquer it."
Rabindranath Tagore
"Sometimes you must cross a bridge and other times you need to burn it. But, always keep building one and never lose your faith in life."
Dodinsky
"Spring is on the way; summer is on the way; storms are on the way; wars are on the way; sorrow and happiness are on the way; they are all on the way, they are coming! Everything is on the way! Life is a highway; while we are moving on the way, all else is coming towards us! Devil is on the way; the angel is on the way! Stay firm on the way."
Mehmet Murat ildan
"Success seems to be connected with action. Successful men keep moving. They make mistakes, but they don't quit."
Conrad Hilton
"As long as a person doesn't admit he's defeated, he is not defeated — he's just a little behind, and isn't through fighting."
Darrell Royal
"We all experience failure, but mentally tough people realize that failure is an event, not their identity."
James Clear
"If for a while the harder you try, the harder it gets, take heart. So it has been with the best people who ever lived."
Jeffrey R. Holland
"I try. I am trying. I was trying. I will try. I shall in the meantime try. I sometimes have tried. I shall still by that time be trying."
Diane Glancy
"Even the woodpecker owes his success to the fact that he uses his head and keeps pecking away until he finishes the job he starts."
Coleman Cox
"Nearly every man who develops an idea works at it up to the point where it looks impossible, and then gets discouraged. That's not the place to become discouraged."
Thomas A. Edison
"Give yourself fully to your endeavors. Decide to construct your character through excellent actions and determine to pay the price of a worthy goal. The trials you encounter will introduce you to your strengths."
Epictetus
"Many of life's failures are people who did not realize how close they were to success when they gave up."
Thomas A. Edison
"Don't let the fear of the time it will take to accomplish something stand in the way of your doing it. The time will pass anyway; we might just as well put that passing time to the best possible use."
Earl Nightingale
"The path from dreams to success does exist. May you have the vision to find it, the courage to get on to it, and the perseverance to follow it."
Kalpana Chawla
"If you are truly flexible and go until…there is really very little you can't accomplish in your lifetime."
Anthony Robbins
"Give me 100 percent. You can't make up for a poor effort today by giving 110 percent tomorrow. You don't have 110 percent. You only have 100 percent, and that's what I want from you right now."
John Wooden
"Though you may hear me holler, and you may see me cry – I'll be dogged, sweet baby, if you gonna see me die."
Langston Hughes
"As a means to success, the determination has this advantage over talent — that it does not have to be recognized by others."
Robert Brault
"Few things are impracticable in themselves; and it is for want of application, rather than of means, that men fail of success."
La Rochefoucauld
"As I look back on my life, I realize that every time I thought I was being rejected from something good, I was actually being redirected to something better."
Dr. Steve Maraboli
"While I might find pleasure in your approval, your disapproval will not deter me."
Muriel Strode
"It is a fundamental law of nature that in order to gain strength, one has to push one's limits, which is painful."
Ray Dalio
"Every obstacle is a hill, every hill is a training, every training makes you stronger."
Maxime Lagacé
"Three tips for becoming successful: consistency, consistency, and consistency."
Joe De Sana
"Courage doesn't always roar. Sometimes courage is the quiet voice at the end of the day saying 'I will try again tomorrow.'"
Mary Anne Radmacher
"Press forward. Do not stop, do not linger in your journey, but strive for the mark set before you."
George Whitefield
"You may encounter many defeats, but you must not be defeated. In fact, it may be necessary to encounter the defeats, so you can know who you are, what you can rise from, how you can still come out of it."
Maya Angelou
"The magnitude of a progress is gauged by the greatness of the sacrifice that it requires."
Friedrich Nietzsche
"The brick walls are there for a reason. The brick walls are not there to keep us out. The brick walls are there to give us a chance to show how badly we want something. Because the brick walls are there to stop the people who don't want it badly enough. They're there to stop the other people."
Randy Pausch
"To succeed, you must have tremendous perseverance, tremendous will. 'I will drink the ocean,' says the persevering soul; 'at my will mountains will crumble up.' Have that sort of energy, that sort of will; work hard, and you will reach the goal."
Swami Vivekananda
"Persistence. Perfection. Patience. Power. Prioritize your passion. It keeps you sane."
Criss Jami
"When I have fully decided that a result is worth getting I go ahead of it and make trial after trial until it comes."
Thomas A. Edison
"You don't get to choose not to pay a price, you only get to choose which price you pay."
Jordan Peterson
"Failure can teach endurance or timidity. Make it the former. Knowing the taste of failure and risking it anyway…that is courage."
TheStoicEmperor
"If you're focused on the outcome, you're not focused on the process. Sustain success over long periods comes from a fanatical focus on process. You don't need to be perfect, just better than yesterday."
Shane Parrish
"At the end of the day, all you can hope for is to go on. The older I get, the more I realize that just keeping on keeping on is what life's all about."
Janis Ian
"The drops of rain make a hole in the stone not by violence but by oft falling."
Lucretius
"Our greatest glory is, not in never falling, but in rising every time we fall."
Oliver Goldsmith
"Sometimes, struggles are exactly what we need in our life. If we were to go through our life without any obstacles, we would be crippled. We would not be as strong as what we could have been. Give every opportunity a chance, leave no room for regrets."
Friedrich Nietzsche
"Some men give up their designs when they have almost reached the goal; while others, on the contrary, obtain a victory by exerting, at the last moment, more vigorous efforts than before."
Polybius
"Perseverance gives power to weakness, and opens to poverty the world's wealth. It spreads fertility over the barren landscape, and bids the choicest fruits and flowers spring up and flourish in the desert abode of thorns and briers."
S.G. Goodrich
"Life is not about how fast you run or how high you climb, but how well you bounce."
Vivian Komori
"There are only two mistakes one can make along the road to truth; not going all the way, and not starting."
Buddha
"Our greatest weakness lies in giving up. The most certain way to succeed is always to try just one more time."
Thomas A. Edison
"In the confrontation between the stream and the rock, the stream always wins – not through strength but by perseverance."
H. Jackson Brown
"You're not afraid of failure. You're not afraid of success. You're afraid of embarrassment, you want a guarantee that it'll work, and you want it to happen fast. A little patience goes a long way towards getting what you want."
Ed Latimore
"A good choice may go unrewarded for a long time. The best choices tend to provide exponential returns and a hallmark of any compounding process is that the greatest rewards are delayed. Things don't really take off until years later. Keep working. Be patient."
James Clear
"A river cuts through rock, not because of its power, but because of its persistence."
Jim Watkins
"I hated every minute of training, but I said, 'Don't quit. Suffer now and live the rest of your life as a champion.'"
Muhammad Ali
"Everyone wants some magic pill – some life hack – that eliminates the need to do the work. But that does not exist."
Jocko Willink
"Success doesn't happen overnight. Keep an eye on the prize and don't look back."
Erin Andrews
"People are always blaming their circumstances for what they are. I don't believe in circumstances. The people who get on in this world are the people who get up and look for the circumstances they want, and, if they can't find them, make them."
G.B. Shaw
"There is no royal road to anything. One thing at a time, and all things in succession. That which grows slowly endures."
J.G. Holland
"Your most valuable asset can be your willingness to persist longer than anyone else."
Brian Tracy
"You've got to get up every morning with determination if you're going to go to bed with satisfaction."
George Horace Lorimer
"You have to persevere. You have to do it. I have insecurities. But whatever I'm insecure about I don't dissect it, but I'll go after it and say, 'What am I afraid of?' I bet the average successful person can tell you they've failed so much more than they've had success. I've had far more failures than I've had successes. With every commercial I've gotten, there were 200 I didn't get. You have to go after what you're afraid of."
Kevin Sorbo
"Whoever says you can't develop mental toughness or anything else doesn't truly understand the human mind or the human spirit."
David Goggins
"The troubles of our proud and angry dust are from eternity, and shall not fail. Bear them we can, and if we can we must. Shoulder the sky, my lad, and drink your ale."
A.E. Housman
"The man who can drive himself further once the effort gets painful is the man who will win."
Roger Bannister
"Keep the faith, don't lose your perseverance and always trust your gut extinct."
Paula Abdul
"The difference between the difficult and the impossible is that the impossible takes a little longer time."
Lady Aberdeen
"Dreams don't come true because a person does something well once in a while. True success isn't an event or coincidence; it's a lifestyle."
John C. Maxwell
"The most useful form of patience is persistence. Patience implies waiting for things to improve on their own. Persistence implies keeping your head down and continuing to work when things take longer than you expect."
James Clear
"That's what perseverance is. You go through some tough times and you fight through it. And now, it's over. It's over."
Richard M. Nixon
"Today if anything is trying to hold you back, give no attention to it. Get your hopes up, get your faith up, look up, and get ready to rise up."
Germany Kent
"Most people give up just when they're about to achieve success. They quit on the one yard line. They give up at the last minute of the game, one foot from a winning touchdown."
H. Ross Perot
"It's not what we do once in a while that shapes our lives. It's what we do consistently."
Anthony Robbins
"I am not the smartest or most talented person in the world. But I succeeded because I keep going, and going, and going."
Sylvester Stallone
"Always bear in mind that your own resolution to succeed, is more important than any other one thing."
Abraham Lincoln
"The most essential factor is persistence – the determination never to allow your energy or enthusiasm to be dampened by the discouragement that must inevitably come."
James Whitcomb Riley
"Things to remember: 1) The worth of character; 2) The improvement of talent; 3) The influence of example; 4) The joy of origination; 5) The dignity of simplicity; 6) The success of perseverance."
Marshall Field
"Before you dream about the view from the summit, ask yourself if you're willing to keep your head down, focus on the path, and spend your life walking up the side of a very big hill. It takes years of walking to earn a minute at the top."
James Clear
"Great ones are willing to get burned time and again as they sharpen their swords in the fire."
Josh Waitzkin
"Never stop just because you feel defeated. The journey to the other side is attainable only after great suffering."
Santosh Kalwar
"The only use of an obstacle is to be overcome. All that an obstacle does with brave men is, not to frighten them, but to challenge them."
Woodrow Wilson
"No one succeeds without effort…Those who succeed owe their success to perseverance."
Ramana Maharshi
"I did not succeed in life by intelligence. I succeeded because I have a long attention span."
Charlie Munger
"I am not judged by the number of times I fail, but by the number of times I succeed: and the number of times I succeed is in direct proportion to the number of times I fail and keep trying."
Tom Hopkins
"Let me tell you the secret that has led to my goal. My strength lies solely in my tenacity."
Louis Pasteur
"Consider the postage stamp: its usefulness consists in the ability to stick to one thing till it gets there."
Josh Billings
"I've always made a total effort, even when the odds seemed entirely against me. I never quit trying; I never felt that I didn't have a chance to win."
Arnold Palmer
"Permanence, perseverance, and persistence in spite of all obstacles, discouragements, and impossibilities: It is this, that in all things distinguishes the strong soul from the weak."
Thomas Carlyle
"The difference between what we do and what we are capable of doing would suffice to solve most of the world's problems."
Mahatma Gandhi
"If you can't fly, then run if you can't run, then walk if you can't walk then crawl, but whatever you do, you have to keep moving forward."
Martin Luther King, Jr.
"We must undergo a hard winter training and not rush into things for which we haven't prepared."
Epictetus
"There's no talent here. This is hard work. This is obsession. Talent does not exist."
Conor McGregor
"First forget inspiration. Habit is more dependable. Habit will sustain you whether you're inspired or not. Habit is persistence in practice."
Octavia Butler
"Grit is that 'extra something' that separates the most successful people from the rest. It's the passion, perseverance, and stamina that we must channel in order to stick with our dreams until they become a reality."
Travis Bradberry
"If you really want to eat, keep climbing. The fruits are on the top of the tree. Stretch your hands and keep stretching them. Success is on the top, keep going."
Israelmore Ayivor
"It is easy to do anything in victory. It is in defeat that a man reveals himself."
Floyd Patterson
"Perseverance…keeps honor bright: to have done, is to hang Quite out of fashion, like a rusty nail in monumental mockery."
William Shakespeare
"There are two ways of attaining an important end, force and perseverance; the silent power of the latter grows irresistible with time."
Sophie Swetchine
"Vitality shows in not only the ability to persist but the ability to start over."
F. Scott Fitzgerald
"It can take a lifetime to build something worthwhile. Those who stick with it build a legacy without regrets."
Trevor Carss
"Develop success from failures. Discouragement and failure are two of the surest stepping stones to success."
Dale Carnegie
"The lesson of history is that most advances are by a half-step, most progress by partial success."
Robert Brault
"I hold a doctrine, to which I owe not much, indeed, but all the little I ever had, namely, that with ordinary talent and extraordinary perseverance, all things are attainable."
T.F. Buxton
"The price of success is hard work, dedication to the job at hand, and the determination that whether we win or lose, we have applied the best of ourselves to the task at hand."
Vince Lombardi
"I do not think there is any other quality so essential to success of any kind as the quality of perseverance. It overcomes almost everything, even nature."
John D. Rockefeller
"Perseverance is the mother who snuggles her children when they are impatient. Keep calm, everything will be solved. Keep persisting, go ahead."
Alan Maiccon
"Success is the child of drudgery and perseverance. It cannot be coaxed or bribed; pay the price and it is yours."
Orison Swett Marden
"Part of perseverance is knowing what you want. Indecision is as useful as road signs in Spain written in Dutch."
Greg Evans
"What's done is done. What's gone is gone. One of life's lessons is always moving on. It's okay to look back to see how far you've come but keep moving forward."
Roy T. Bennett
"The world doesn't come to the clever folks, it comes to the stubborn, obstinate, one-idea-at-a-time people."
Mary Rinehart
"By persisting in your path, though you forfeit the little, you gain the great."
Ralph Waldo Emerson
"With ordinary talent and extraordinary perseverance, all things are attainable"
Thomas Fowell Buxton
"Have a sense of urgency and commitment – what you do you must do well, with all of your energy, not with a mind shooting off in a hundred direction."
Robert Greene
"Some people want it to happen, some wish it would happen, and others make it happen."
Michael Jordan
"Your biggest break can come from never quitting. Being at the right place at the right time can only happen when you keep moving toward the next opportunity."
Arthur Pine
"You're a winner if you keep your head up. You're a warrior if you keep fighting forever."
Maxime Lagacé
"Endless opportunity is accessible to every man and woman alive. A notebook and a sharpened pencil."
Greg Evans
"There are no secrets to success. It is the result of preparation, hard work and learning from failure."
Colin Powell
"You don't need an easier life, but rather an attitude of perseverance. Attitude precedes outcome."
James Clear
"Perseverance isn't just the willingness to work hard. It's that plus the willingness to be stubborn about your own belief in yourself."
Merlin Olsen
"The key to building endurance: Push on when you feel you can't, and next time that moment will come later."
Sam Sheridan
"Obstinacy is the result of the will forcing itself into the place of the intellect."
Arthur Schopenhauer
"The majority of men meet with failure because of their lack of persistence in creating new plans to take the place of those which fail."
Napoleon Hill
"Perseverance alone does not assure success. No amount of stalking will lead to game in a field that has none."
Tao Te Ching
"All the adversity I've had in my life, all my troubles and obstacles, have strengthened me…You may not realize it when it happens, but a kick in the teeth may be the best thing in the world for you."
Walt Disney
"Adhere to your purpose and you will soon feel as well as you ever did. On the contrary, if you falter, and give up, you will lose the power of keeping any resolution, and will regret it all your life."
Abraham Lincoln
"The ordinary man lives with regrets because he rarely fights until the end. The superior man lives with meaning because he gives everything."
Maxime Lagacé
"The miracle, or the power, that elevates the few is to be found in their industry, application, and perseverance under the prompting of a brave, determined spirit."
Mark Twain
"Good pain comes from pursuit of your goals. Bad pain comes from avoidance of your responsibility. You're gonna hurt either way. May as well get something for it."
Ed Latimore
"Easily mistaken, it is not about a love for adversity, it is about knowing a strength and a faith so great that adversity, in all its adverse manifestations, hardly even exists."
Criss Jami
"Slow and steady often wins because it keeps you motivated. Take on manageable challenges and you'll get frequent signals of progress. Bite off more than you can chew and progress stalls. When you make progress, you want to keep going. When you break progress, you want to stop."
James Clear
"A difficult life spent in hard-work, perseverance, and courage will pave the way for a life of true greatness!"
Avijeet Das
"Doesn't matter what people think. All that matters is results. Let people think you're failing. Just keep your head down and stack those skills and get those results. That's all that matters if you're really going after your goals."
Tom Bilyeu
"I'll admit that it's not easy to get an agent, but becoming successful in anything requires perseverance."
Nicholas Sparks
"Perseverance is the hard work you do after you get tired of doing the hard work you already did."
Newt Gingrich
"History had demonstrated that the most notable winners usually encountered heartbreaking obstacles before they triumphed. They won because they refused to become discouraged by their defeats."
B.C. Forbes
"Unreasonable levels of perseverance get you a lot farther in life than talent."
Robin Sharma
"The extent of the struggle determines the extent of the growth. The obstacle is an advantage, not adversity. The enemy is any perception that prevents us from seeing this."
Ryan Holiday
"Most people never run far enough on their first wind to find out they've got a second. Give your dreams all you've got and you'll be amazed at the energy that comes out of you."
William James
"The will is a powerful ally and desperate enemy. When not subdued by self-control, it becomes a tyrant of selfishness. Under the yoke of self-control however, it is a driving force of perseverance."
Natasha Vanderlinden
"If four things are followed – having a great aim, acquiring knowledge, hard work, and perseverance – then anything can be achieved."
A. P. J. Abdul Kalam
"Perseverance has always just been something that was in me. And it was a tool that came in very handy as a ballerina."
Misty Copeland
"My three Ps: passion, patience, perseverance. You have to do this if you've got to be a filmmaker."
Robert Wise
"The three ordinary things that we often don't pay enough attention to, but which I believe are the drivers of all success, are hard work, perseverance, and basic honesty."
Azim Premji
"I'm not going to get somewhere and say, 'OK, I'm done.' Success is never final; I'll just keep on going. The same way as failure never being fatal. Just keep going. I'm going to the stars and then past them."
Conor McGregor
"Failure after long perseverance is much grander than never to have a striving good enough to be called a failure."
George Eliot
"The rewards for those who persevere far exceed the pain that must precede the victory."
Ted Engstrom
"I frequently-regularly-often trip while reaching for my high ideals. Then I giggle, or cry, and get back up."
Erika Harris
"Never give in! Never give in! Never, never, never, never — in nothing great or small, large or petty. Never give in except to convictions of honor and good sense."
Winston Churchill
"I will persist until I succeed. Always will I take another step. If that is of no avail I will take another, and yet another. In truth, one step at a time is not too difficult. I know that small attempts, repeated, will complete any undertaking."
Og Mandino
"You don't control the outcome. You control the quality of effort you put in. That's what you should hold yourself accountable for."
Shane Parrish
"People take classes on self-help, mental toughness, breathing control…the only way to get tougher is to put yourself in hellacious situations."
David Goggins
"Perseverance is a positive, active characteristic. It is not idly, passively waiting and hoping for some good thing to happen. It gives us hope by helping us realize that the righteous suffer no failure except in giving up and no longer trying. We must never give up, regardless of temptations, frustrations, disappointments, or discouragements."
Joseph P. Wirthlin
"If you don't know yourself, you don't know what you love. If you don't know what you love, you can't persevere."
Maxime Lagacé
"People who are unable to motivate themselves must be content with mediocrity, no matter how impressive their other talents."
Andrew Carnegie
"Think for the future. Dream for the future. Believe for the future. Plan for the future. Work for the future. Fight for the future. Strive for the future. Succeed for the future."
Matshona Dhliwayo
"If you wish to succeed in life, make perseverance your bosom friend, experience your wise counselor, caution your elder brother, and hope your guardian genius."
Joseph Addison
"Keep on going, and the chances are that you will stumble on something, perhaps when you are least expecting it. I never heard of anyone ever stumbling on something sitting down."
Charles F. Kettering
"The difference between a successful person and others is not a lack of strength, not a lack of knowledge, but rather a lack in will."
Vince Lombardi
"You gotta grow, you gotta learn by your mistakes; You gotta die a little every day just to try to stay awake; When you believe there's no mountain you can climb; And if you get it wrong you'll get it right next time."
Gerry Rafferty
"In general, obstacles force your mind to focus and find ways around them. They heighten your mental powers and should be welcomed."
Robert Greene
"Some lean back. But those who lean forward are poised to cross the finish line, first!"
T.F. Hodge
"Genius is divine perseverance. Genius I cannot claim nor even extra brightness but perseverance all can have."
Woodrow Wilson
"Failure is often that early morning hour of darkness which precedes the dawning of the day of success."
Leigh Mitchell Hodges
"Being a founder is hard. Being an early employee is hard. Being a VC is hard. Being a politician is hard. Being an engineer is hard. Being a writer is hard. Being a friend is hard. Being a partner is hard. Being a parent is hard. It's all hard. Life is hard, and then you die."
Sahil Lavingia
"Austere perseverance, hash and continuous…rarely fails of its purpose, for its silent power grows irresistible greater with time."
Johann Wolfgang von Goethe
"What this power is I cannot say; all I know is that it exists and it becomes available only when a man is in that state of mind in which he knows exactly what he wants and is fully determined not to quit until he finds it."
Alexander Graham Bell
"A philosopher once said, 'He who has a why to live can bear almost any how.' I would add, 'He who has a why to lead can bear almost any trial.'"
Leslie Bains
"The people who stick with things for years and never stop almost always win the race."
James Clear
"It is with many enterprises as with striking fire; we do not meet with success except by reiterated efforts, and often at the instant when we despaired of success."
Madame de Maintenon
"Getting ahead in a difficult profession requires avid faith in yourself. You must be able to sustain yourself against staggering blows. There is no code of conduct to help beginners. That is why some people with mediocre talent, but with great inner drive, go much further than people with vastly superior talent."
Sophia Loren
"You aren't going to find anybody that's going to be successful without making a sacrifice and without perseverance."
Lou Holtz
"If you are on the wrong road, progress means doing an about-turn and walking back to the right road; and in that case the man who turns back soonest is the most progressive man."
C.S. Lewis
"Keep it is going! You never can do anything by spasmodic efforts. It's the eternal hammering that does the thing."
Edward Mott Woolley
"Making your mark on the world is hard. If it were easy, everybody would do it. But it's not. It takes patience, it takes commitment, and it comes with plenty of failure along the way. The real test is not whether you avoid this failure, because you won't. It's whether you let it harden or shame you into inaction, or whether you learn from it; whether you choose to persevere."
Barack Obama
"You cannot have everything in the present. The road to mastery requires patience. You will have to keep your focus on five or ten years down the road, when you will reap the rewards of your efforts. The process of getting there, however, is full of challenges and pleasures."
Robert Greene
"Routine, repetition, tedium, monotony, ephemeracy, inconsequence, abstraction, disorder, boredom, angst, ennui – these are the true hero's enemies, and make no mistake, they are fearsome indeed. For they are real."
David Foster Wallace
"Perseverance is more prevailing than violence; and many things which cannot be overcome when they are together yield themselves up when taken little by little."
Plutarch
"You can't go through life, quitting everything. If you're going to achieve anything, you've got to stick with something."
Family Matters (Television Show)
"It's a little like wrestling a gorilla. You don't quit when you're tired. You quit when the gorilla is tired."
Robert Strauss
"Nothing is given to man on earth – struggle is built into the nature of life, and conflict is possible – the hero is the man who lets no obstacle prevent him from pursuing the values he has chosen."
Andrew Bernstein
"To endure is greater than to dare; to tire out hostile fortune; to be daunted by no difficulty; to keep heart when all have lost it; to go through intrigue spotless; to forego even ambition when the end is gained — who can say this is not greatness?"
William Makepeace Thackeray
"If hard work, integrity, thrift, and perseverance have caused you to succeed, then you don't owe anyone an apology for winning."
Dave Ramsey
"Amateurs give up at the first sign of trouble and assume they're failures. Professionals see failure as part of the path to growth and mastery."
Shane Parrish
"Know what you want to do, hold the thought firmly, and do every day what should be done, and every sunset will see you that much nearer to your goal."
Elbert Hubbard
"Going on one more round, when you don't think you can, that's what makes all the difference in your life."
Sylvester Stallone
"If you stand up and be counted, from time to time you may get yourself knocked down. But remember this: A man flattened by an opponent can get up again. A man flattened by conformity stays down for good."
Thomas J. Watson, Jr.
"Looking back over a life of hard work…my only regret is that I didn't work even harder."
H. L. Mencken
"What we do not see, what most of us never suspect of existing, is the silent but irresistible power which comes to the rescue of those who fight on in the face of discouragement."
Napoleon Hill
"It's OK to lose, to die, but don't die without trying, without giving it your best."
Walter Payton
"Through perseverance many people win success out of what seemed destined to be certain failure."
Benjamin Disraeli
"So, what does perseverance mean? It means that one possesses persistence, tenacity, determination, and staying power. This in turn means, when applied to a problem or issue that needs to be resolved, that the individual never gives up, never quits and never sees defeat until the problem, challenge, project, obstacle is resolved to a satisfactory level."
Byron Pulsifer
"Failure is a bend in the road, not the end of the road. Learn from failure and keep moving forward."
Roy T. Bennett
"Hard work is necessary but not sufficient for success. You also need to work on the right things, which means saying no to the wrong things."
Shane Parrish
"The key to success isn't studying. The key to success isn't being rich or coming from a good family or having the right education. The key to success is putting one foot in front of the other, even when you're scared out of your mind. The key to success is never f*cking giving up."
Tom Bilyeu
"Courage is not having the strength to go on; it is going on when you don't have the strength."
Teddy Roosevelt
"The difference between perseverance and obstinacy is that one comes from a strong will, and the other from a strong won't."
Henry Ward Beecher
"Boys, there ain't no free lunches in this country. And don't go spending your whole life commiserating that you got the raw deals. You've got to say, 'I think that if I keep working at this and want it bad enough I can have it.' It's called perseverance."
Lee Iacocca
"I'm convinced that about half of what separates the successful entrepreneurs from the non-successful ones is pure perseverance."
Steve Jobs
"Expect trouble as an inevitable part of life and repeat to yourself, the most comforting words of all; This, too, shall pass."
Ann Landers
"The strongest people aren't those who always win, but those who don't give up when they lose."
Tim Fargo
"I go and look at a stonecutter hammering away at his rock, perhaps a hundred times without as much as a crack showing in it. Yet at the hundred and first blow it will split in two, and I know it was not that last blow that did it, but all that had gone before."
Jacob A. Riis
"But the moment you turn a corner, you see another straight stretch ahead, and there comes some further challenge to your ambition."
Oliver Wendell Holmes
"An inventor fails 999 times and, and if he succeeds once, he's victorious. He treats his failures as practice shots."
Charles F. Kettering
"This I do know beyond any reasonable doubt. Regardless of what you are doing, if you pump long enough, hard enough and enthusiastically enough, sooner or later the effort will bring forth the reward."
Zig Ziglar
"That's what perseverance and mental toughness are all about — how you respond to negative times."
Mark Loretta
"I've got a woman's ability to stick to a job and get on with it when everyone else walks off and leaves it."
Margaret Thatcher
"Desire is the key to motivation, but it's determination and commitment to an unrelenting pursuit of your goal – a commitment to excellence – that will enable you to attain the success you seek."
Mario Andretti
"Don't be ashamed by your mistakes. They only prove that you try hard and never give up."
Riley Czarkowski
"A little more persistence, a little more effort, and what seemed hopeless failure may turn to glorious success."
Elbert Hubbard
"You are judged in this world by how well you bring things to an end. A messy or incomplete conclusion can reverberate for years to come."
Robert Greene
"You go on. You set one foot in front of the other, and if a thin voice cries out, somewhere behind you, you pretend not to hear, and keep going."
Geraldine Brooks
"Life is not easy for any of us. But what of that? We must have perseverance and above all confidence in ourselves. We must believe that we are gifted for something and that this thing must be attained."
Marie Curie
"Our greatest glory is not in never failing, but in rising up every time we fail."
Ralph Waldo Emerson
"Persist and persevere, and you will find most things that are attainable, possible."
Lord Chesterfield
"The difference between the impossible and the possible lies in a man's determination."
Tommy Lasorda
"Real courage is when you know you're licked before you begin, but you begin anyway and see it through no matter what."
Harper Lee
"Accept responsibility for your life. Know that it is you who will get you where you want to go, no one else."
Tim Fargo
"Continuous effort–not strength or intelligence–is the key to unlocking our potential."
Winston Churchill
"Success is not final, failure is not fatal: It is the courage to continue that counts."
Winston Churchill
"Stubbornly persist, and you will find that the limits of your stubbornness go well beyond the stubbornness of your limits."
Robert Brault
"When you think that you are done, you're only 40% in to what your body's capable of doing. That's just the limits that we put on ourselves."
David Goggins
"When you get into a tight place and everything goes against you until it seems that you cannot hold on for a minute longer, never give up then, for that is just the place and time when the tide will turn."
Harriet Beecher Stowe
"Keep away from people who belittle your ambitions. Small people always do that, but the really great make you feel that you, too, can become great."
Mark Twain
"Nobody's a natural. You work hard to get good and then work to get better. It's hard to stay on top."
Paul Coffey
"The real glory is being knocked to your knees and then coming back. That's real glory. That's the essence of it."
Vince Lombardi
"Never think that God's delays are God's denials. Hold on; hold fast; hold out. Patience is a genius."
Georges-Louis Leclerc
"No road is too long to the man who advances deliberately and without undue haste; and no honors are too distant for the man who prepares himself for them with patience."
Jean de La Bruyère
"You have to conquer every obstacle before you can reach the top of the mountain."
Lailah Gifty Akita
"Success comes from curiosity, concentration, perseverance and self-criticism."
Albert Einstein
"When we see ourselves in a situation which must be endured and gone through, it is best to make up our minds to it, meet it with firmness, and accommodate everything to it in the best way practicable. This lessens the evil; while fretting and fuming only serves to increase your own torments."
Thomas Jefferson
"I long so much to make beautiful things. But beautiful things require effort and disappointment and perseverance."
Vincent van Gogh
"A successful man is one who can lay a firm foundation with the bricks others have thrown at him."
David Brinkley
"The less you care about suffering and pain, the higher your chances of success and gain."
Maxime Lagacé
"We truly believe with hard work, dedication and perseverance, we can become the best at what we do. No one wants to become mediocre."
Andy Biersack
"If you can just maintain that consistent energy in one direction, it's incredible what you could deflect over a long period of time."
Hugh Howey
"People often say that motivation doesn't last. Well, neither does bathing — that's why we recommend it daily."
Zig Ziglar
"In spite of everything I shall rise again: I will take up my pencil, which I have forsaken in my great discouragement, and I will go on with my drawing."
Vincent van Gogh
"Obstacles don't have to stop you. If you run into a wall, don't turn around and give up. Figure out how to climb it, go through it or work around it."
Michael Jordan
"If a man has any brains at all, let him hold on to his calling, and, in the grand sweep of things, his turn will come at last."
W. McCune
"I have no consternation; I know what to expect and I know that I can out last the appetency. However long it takes, under unholy extremes I must not fold. A consummation will be accomplished. But not until I think to myself, I can't take much more, and then do."
Greg Evans
"The secret to genius is not genetics but daily practice married with relentless perseverance."
Robin Sharma
"If you have infinite patience and perseverance, success is bound to come. No mistake in that."
Swami Vivekananda
"No is a word on your path to Yes. Don't give up too soon. Not even if well-meaning parents, relatives, friends, and colleagues tell you to get a real job. Your dreams are your real job"
Joyce Spizer
"I was taught to strive not because there were any guarantees of success but because the act of striving is in itself the only way to keep faith with life."
Madeleine Albright
"When you have a great and difficult task, something perhaps almost impossible, if you only work a little at a time, every day a little, suddenly the work will finish itself."
Isak Dinesen
"Decide carefully, exactly what you want in life, then work like mad to make sure you get it!"
Hector Crawford
"The single most important trait for success is grit. If you have grit, there is nothing you can't overcome."
Ed Latimore
"In the realm of ideas, everything depends on enthusiasm…in the real world, all rests on perseverance."
Johann Wolfgang von Goethe
"Never stop fighting until you arrive at your destined place – that is, the unique you. Have an aim in life, continuously acquire knowledge, work hard, and have perseverance to realise the great life."
A. P. J. Abdul Kalam
"One of the most astonishing human traits: our ability to keeping getting up, lugging ourselves around and doing our stuff day after day."
Alain de Botton
"As long as we are persistent in our pursuit of our deepest destiny, we will continue to grow. We cannot choose the day or time when we will fully bloom. It happens in its own time."
Denis Waitley
"Sometimes you feel like giving up, but then you look at other people who have given up, and the results aren't that good."
Robert Brault
"A great performance is not merely one magical moment, but all that preceded it. The 'performance' is not only the winning shot or the bestselling launch, but also the years of practice, the months of planning, the thoughtful strategy, and more. The process is the performance."
James Clear
"Just remember, you can do anything you set your mind to, but it takes action, perseverance, and facing your fears."
Gillian Anderson
"If one dream should fall and break into a thousand pieces, never be afraid to pick one of those pieces up and begin again."
Flavia Weedn
"Perseverance is a great element of success. If you only knock long enough and loud enough at the gate, you are sure to wake up somebody."
Henry Wadsworth Longfellow
"Nothing of great value in life comes easily. The things of highest value sometimes come hard. The gold that has the greatest value lies deepest in the earth, as do the diamonds."
Norman Vincent Peale
"Success is a function of persistence and doggedness and the willingness to work hard for 22 minutes to make sense of something that most people would give up on after 30 seconds."
Malcolm Gladwell
"When I reach the place of my dreams, I will thank my failures and tears. They too, kept me going."
Dodinsky
"Show up. Show up when it's hard. Show up when you're scared. Just keep showing up. Show them your truth. Do it by showing up and not backing down."
David Cancel
"I'm proof that great things can happen to ordinary people if they work hard and never give up."
Orison Swett Marden
"A savage mindset is a conditioned mindset that knows quitting is not part of the plan. It knows that it has to find a way around any and all obstacles to complete the mission."
David Goggins
"Bad persistence: Endlessly doing the same thing with no success. Good persistence: Continuously tweaking your approach until you get results."
TheStoicEmperor
"Motivation can be minimal if actions are easy. Start small and become the kind of person who shows up every day. Build a new identity. Then increase the intensity."
James Clear
"The further the reward from the effort, the thinner the competition. Patience is the gatekeeper."
Johnny Uzan
"Somebody out there thinks you're an idiot. Somebody out there thinks you're brilliant. Ignore them both and carry on."
Jack Butcher
"Your 1st blog post will be bad, but your 1000th will be great. Your 1st workout will be weak, but your 1000th will be strong. Your 1st meditation will be scattered, but your 1000th will be focused. Put in your reps."
James Clear
"The characteristic of a genuine heroism is its persistency. All men have wandering impulses, fits and starts of generosity. But when you have resolved to be great, abide by yourself, and do not weakly try to reconcile yourself with the world. The heroic cannot be the common, nor the common the heroic."
Ralph Waldo Emerson
"Maybe everything comes out all right, if you keep on trying. Anyway, you have to keep on trying; nothing will come out right if you don't."
Laura Ingalls Wilder
"A bend in the road is not the end of the road…Unless you fail to make the turn."
Helen Keller
"Never give up on what you really want to do. The person with big dreams is more powerful than one with all the facts."
Albert Einstein