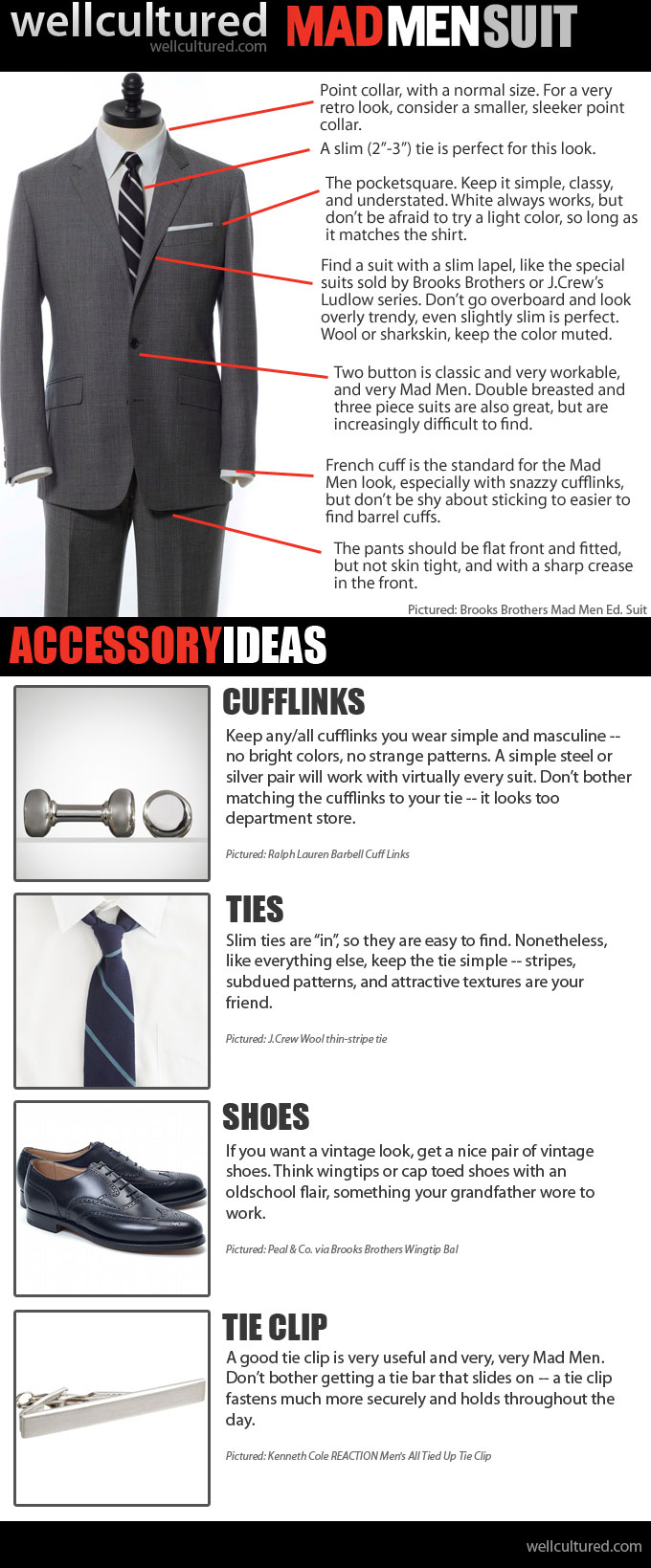 Well Cultured Mad Men Suit
A well cultured and compulsory collection of suits for men especially if you work in the corporate sector. Here are some attributes of a well-tailored men's suit.
• A well cultured men's suit should have a normal sized point collar. A smaller, sleek point collar will make you look a little old fashioned. A slim tie (2"- 3") is a perfect match for this.
• A pocket square adds class to your style. White is a universal color that matches most other colors, nevertheless, trying other colors is not a bad idea as long as it matches the shirt.
• For more trendy looks, go for suits with a slim lapel. Such are designed by Brook Brothers or J. Crew's Ludlow Series. The color should not be too bright, wool or shark skin is suitable.
• A suit with two buttons is ideal and classic. In recent times, it has become increasingly difficult to find double breasted and three piece suits, nevertheless, they are great.
• For great men looks, French cuff links is ideal. You can also make use of others that are easier to find. Trousers should be made of flat front, fitted but not skin tight.
Ideas for Accessories
Cufflinks: they should be as simple as possible with no strange colors and irregular patterns. Ensure it is made of simple steel as that will serve the purpose. They do not necessarily need to match your tie.
Ties: Ties are easy to find, nevertheless, they should be made as simple as possible with simple patterns.
Shoes: A decent pair of shoe is an inevitable accessory. If you want to look a little old fashioned, get an old fashioned shoe along with an old cap which your grand pa used and you will look same.
Tie Clip: This is very useful as it exemplifies your looks. A tie clip is preferred in comparison with a tie bar that slides on as a tie clip will hold on much longer throughout the day.