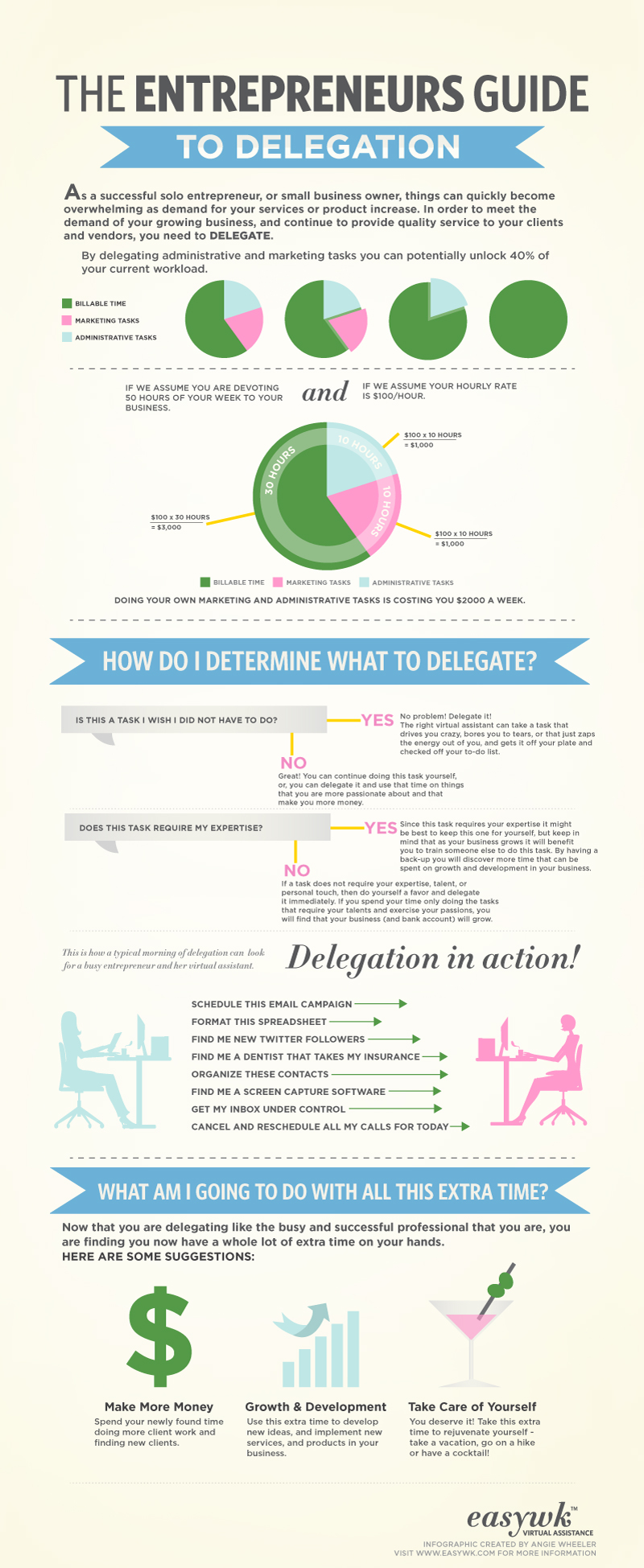 How to Delegate: The Entrepreneur's Guide
Are you a busy small-business owner? As an entrepreneur, it can be tempting to do everything yourself, including billable hours, marketing, communication and operations. However, once your demand increases, you will very quickly find yourself swamped. That's why it's important to delegate!
Delegating tasks may seem like an easy decision, but a surprising number of people have difficulty entrusting other individuals with extra tasks. To help understand what tasks are good for delegation, read on for our simple delegation guide.
Why You Should Delegate
Letting go of control over how a task is done is no easy feat, particularly if it is related to your business or pet project. However, trying to do everything yourself may not only be costing you precious time, but also money. For example, let's assume that you spend 50 hours at work. Of those 50 hours, you spend 30 of them doing work for which you can bill. Then you spend ten hours on administrative tasks, like scheduling, billing and answering the phone. You spend the last ten on marketing, like putting together ads, updating the company blog and maintaining social media accounts.
The key in this situation is that you're only generating hard income for thirty of those hours. While the other tasks are necessary to keep the office running, they can easily be done by someone else. Instead, you could spend those twenty hours out earning more money.
How to Decide When to Delegate
Before handing a task over to someone else, ask yourself the following question: 'Is this a task that I hate doing?' If so, think about whether your skills or expertise are really necessary to make sure it gets completed. If the answer is no, then you can easily find someone to do it for you.
Some examples of tasks that can be delegated include social media management, updating the company website, reformatting a spreadsheet, making sure the bills get in the mail on time, and answering the phone. If your stack of work is starting to look like this, it may be time to hire an assistant.
Furthermore, you can also find willing employees through internship programs, where you can hire young people eager to learn how an office works. While you may have to spend a little extra time coaching them, interns can be very helpful in keeping the office running. Meanwhile, you can devote your energies to landing new clients and racking up billable hours.