After a brain tumor left me physically and mentally disabled, I overcame the odds to regain my health so that I could help my pregnant wife beat breast cancer. Three years later I launched my blog, BrandonGaille.com. Within four months, my business marketing blog had surpassed 100,000 monthly visitors. Less than two years after my first post, there were over 1 million business owners reading my blog every single month. And it continues to grow. Today, I have gone beyond 2 million monthly visitors and am working my way to 3 million.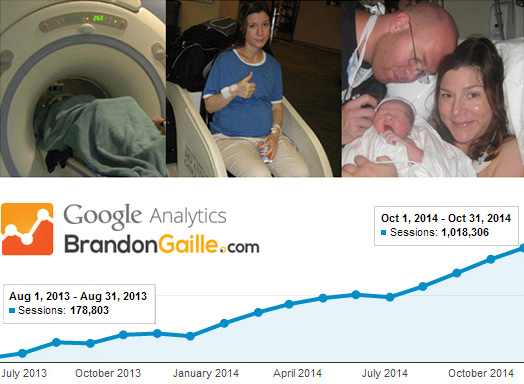 Before I launched my blog, I spent six months studying the most successful blogs across every industry. From my extensive data analysis, I was able to build a system for creating blogs that grew at a ridiculous pace.
Today, I am going to cover the four pillars that are responsible for generating over 45 million page views to my blogs in the past year alone.
The four pillars are…
Keyword Research – Most amateur bloggers fail miserably in this area, and it is because they do not spend enough time mastering the art of keyword research. I will go over my simple system for identifying keyword phrases that will drive targeted organic Google traffic to your blog.
Compelling Blog Titles – The blog title is actually more important than the actual article. If no one clicks, then no one reads. My 3 point formula will make you an expert at crafting blog headlines that drive traffic and social shares.
Engaging Content – Once you get them to click your title, then you need to pull them deep into your post. The average visitor spends over 5 minutes reading my blog posts. In this section, I share the eleven techniques that will allow you to have the same results.
Getting High Quality Links – A couple of high quality links can push every single post of a blog to the top of the Google rankings. There are two strategies that work better than all the rest, and I cover exactly how to execute both of them.
So… Are you ready to learn how to build your blog to over 1 million monthly visitors?
Let's get started.
Pillar One: Become a Master at Keyword Research to Get Top Google Rankings
Keyword research is where the Google rankings battle is won. You need to spend time becoming a master at keyword research. This is what separates the pros from the amateurs. Here are my three secrets that have helped me get over 50,000 page one Google rankings…
1) You Need to Use to SEMRush – This is the most important investment in your blog's future. SEMRush is hands down the best keyword research tool, and it is worth every penny. If you are using anything else for keyword research, then you are doing it wrong.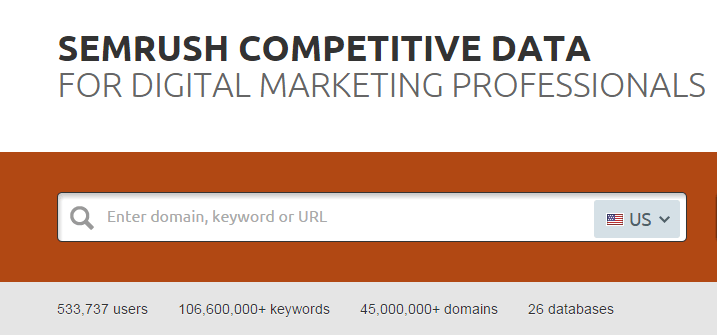 2) Focus on Keyword Phrases With Less than 100,000 Google Results – The chances your blog will rank in the top 3 results for any keyword phrase with over 100,000 Google results are slim to none. It is a mathematical equation at the end of the day. The lower the Google results, the easier it is to get top rankings that will yield residual organic traffic.
Below is a sample of the keyword research results for the word "leadership style." The last column shows the number of Google results, and the highlighted row is the keyword phrase that falls beneath the 100,000 result threshold. SEMRush allows you to download excel spreadsheets with all the data for each keyword you are researching, which will allow you to quickly identify hundreds of keyword phrases that your blog can rank on Google for.

3) Dig Deep to Find Gold – The keyword phrases that will push your blog over 1 million monthly visitors are buried, and you need to put the effort in to find them. Here is the five step keyword research formula I use for all of my blogs.
Brainstorm – Create a list of every possible word that is related to topics that you could write about. Focus on one and two word phrases. If one of your phrases is "email marketing techniques," then parse it down to "email marketing."
Expand – Insert every word from your brainstorm list into thesaurus.com to find synonyms of each word to add to your list.
Research – Type each word from your expanded list into SEMRush and download the spreadsheets for every word.
Compile – Merge all the keywords from the SEMRush spreadsheets into one master spreadsheet. Just copy and paste the data from each download into one spreadsheet.
Identify – Rank the master spreadsheet by the number of Google results from least to most. Delete all of the keywords with zero results, and you will be left with a list of keyword phrases that are ranked by the least amount of competition. Go down the list and mark all the keyword phrases that you can turn into a post title to write about.
Ninety-nine percent of the phrases that have less than 100,000 Google results are long tail keywords. On top of being easier to get first page Google rankings, these keywords have the highest conversion rates. The chart below illustrates the power of the long tail.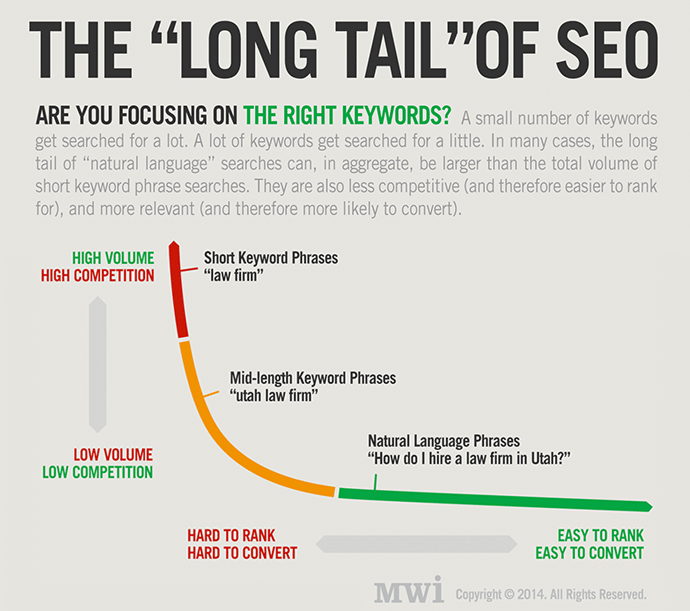 If you do this right, then you will be left with enough keyword phrases to write posts on for then next year. Most importantly, though, these posts will all rank well on Google.
I recommend writing 80% of all your posts on keyword phrases with less than 100,000 Google results. The other 20% can be on more competitive topics that can be highlighted on your home page and sidebar.
Pillar Two: Create Compelling Titles That Drive A Ridiculous Amount of Click Throughs
Once you have the keyword phrases to target, the next step is to make sure your blog post titles get clicked on more than the competition. Here are three keys to creating compelling titles that get clicked more than any other.
1) Use an Odd Number at the Beginning of Your Titles – People like to click on titles with numbers because they like list posts that can easily be scanned.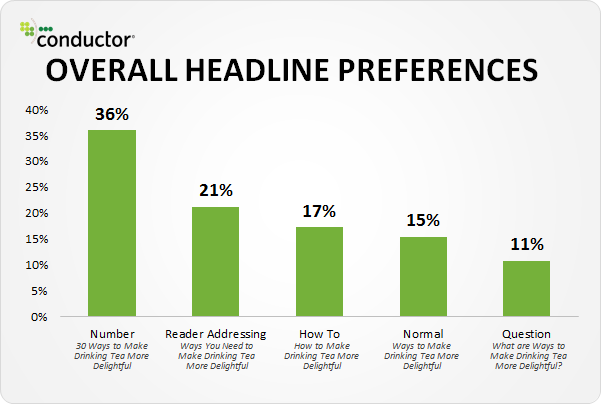 You can see in the screenshot below how titles that start with an odd number dominate Google rankings.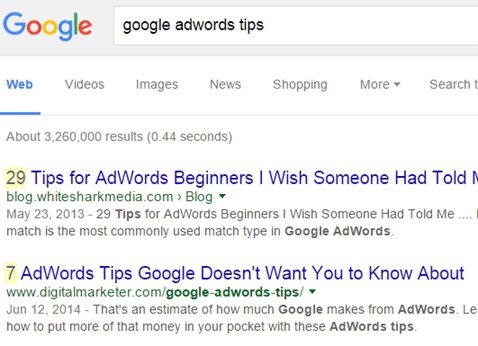 2) Put the Exact Keyword Phrases that You Are Targeting in Your Title – If your keyword phrase is "real estate marketing ideas," then you need to keep that phrase together in your title. Do not alter it or place words in between.
You can see how Google rewards blog posts that use the exact keyword phrase below.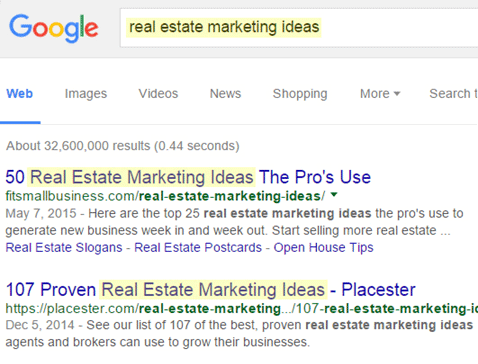 3) Place One Power Word Before Your Keyword Phrase – Power words help your titles stand out from the competition in Google results. One of the most effective power words is free. An example of a post title with a power word would be 13 Free WordPress Social Media Plugins.
Here is a list of 180 of the most clickable power words…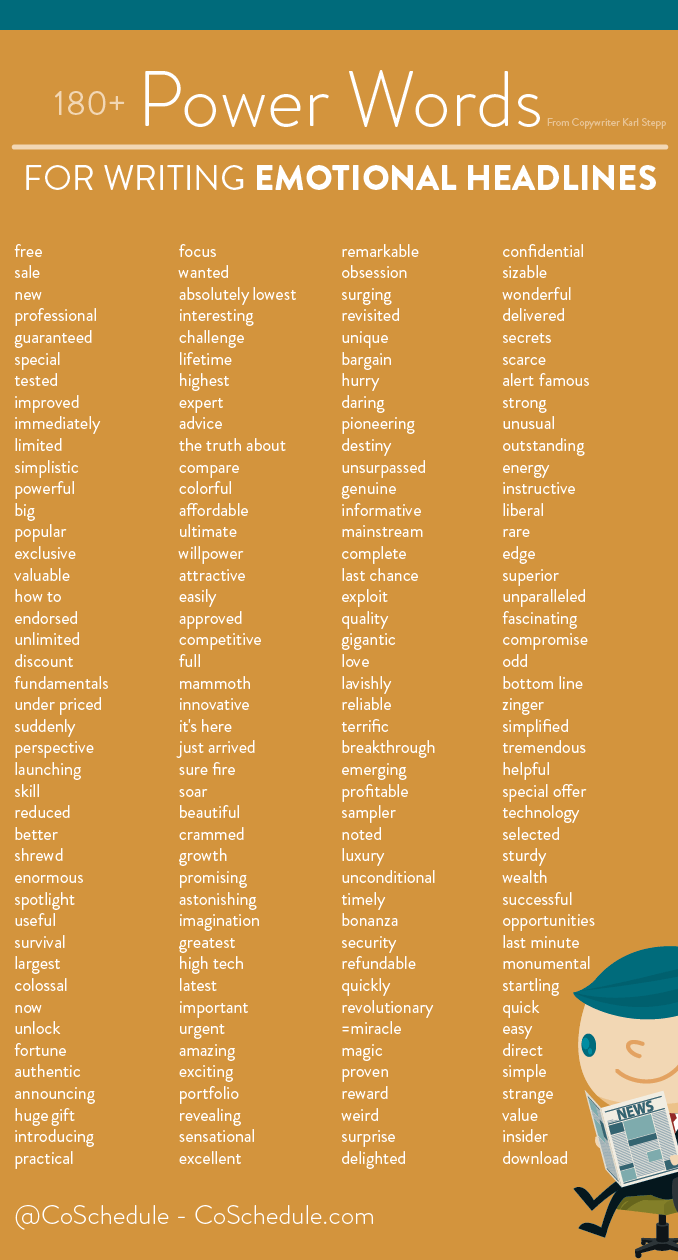 Pillar Three: Pull Readers In With Engaging Content to Increase the Average Time on Page
Google keeps track of how long someone spends on your post until they click the back button. This is a major factor that influences how high your post will rank on Google for different keyword phrases. Here are the top techniques that I use to achieve an average time on page of over 5 minutes.
Format Your Post to Make It Easy to Read
No more than 7 sentences per Paragraph – If a new visitor comes to your post and sees a long paragraph, then they are going to leave. Short paragraphs pull new visitors deeper into the post.
Use Headers, Numbered Lists and Bullets – These three formatting techniques allow visitors to scan through your blog posts to identify if it is worth reading. Each of your headers and subheaders should entice the scanners to want to read more.
Your Font Size Should Be 14pt to 18pt – Over 80% of the top blogs and news sites use a font size between 14 and 18 points. It is easier to read, and it makes the readers feel like they are moving through the article at a good pace.
Set Line Spacing to 130 to 150% – The proper line spacing keeps your words from being crowded to close together and uses white space to frame your content.
Use Black Text on White Background – There is a good reason why 99% of all books ever written use black text on a white background. It makes it real easy to read. You can get creative with colors in your logo and footer.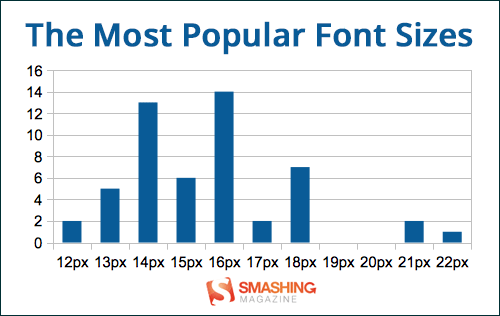 Use Embedded High Quality Visuals Throughout Posts
Place Embedded YouTube Videos in Your Posts – The best practice is to use one to two videos within a post that are directly related to the content. Videos that are between 3 and 20 minutes long will create the most engagement. Be sure to only select videos from YouTube that have a good thumbs up to thumbs down ratio.
Use Embedded Tweets with Images Related to Your Content – Amateur bloggers use stock photos. Pro bloggers use embedded tweets with images. In addition to saving money on stock photos, embedded image tweets will give every image in your post an interactive social component.
End Each Post with an Embedded Infographic – Visual.ly has thousands of infographics that you can embed directly at the bottom of your blog posts. This can easily add another minute to your average time on page.
On top of increased engagement, posts with images and videos have been proven to attract more inbound links.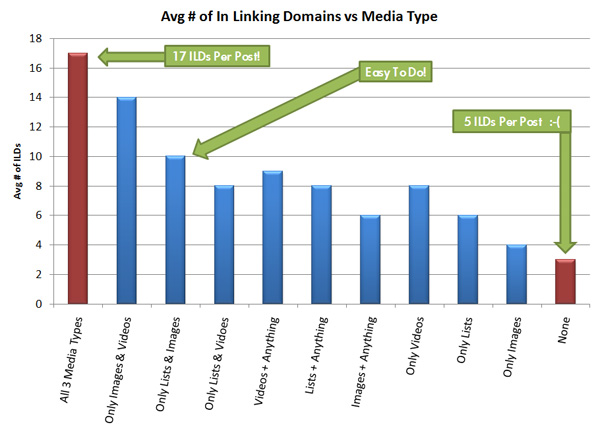 Write Long Form Posts to Give Readers More than the Competition
The Average Word Count of the Top Ranked Results on Google is 2416 – Google loves long form posts. In addition, long form posts contribute to a higher average time on page. Basically, the more content you give them, the longer they will stay on your post.
Long Form Posts Also Get More Social Shares – A 2000 word post gets shared 63% more than a post that is less than 1000 words.
Long Form Posts Improve the Rankings of Your Short Form Posts – Google values domains that consistently write long form posts more than those that do not. If you write at least one 2000+ word post every month, then all of your other shorter posts will also get a boost in their Google rankings.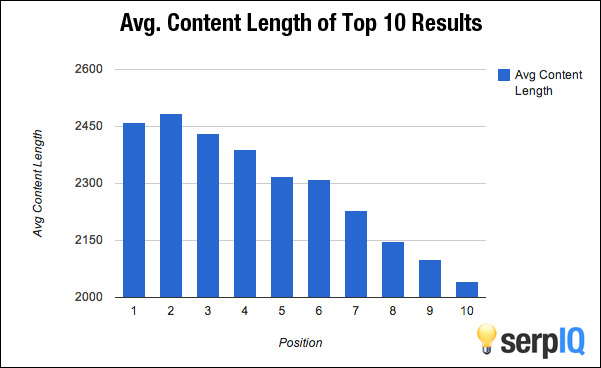 Pillar Four: How to Get Quality Links that Push All of Your Posts to the First Page of Google
Even with all of the changes to the Google algorithm, inbound links still influence rankings more than anything else. Domain-level and page-level link features were recently named the two most influential ranking factors by the top 150 SEO experts in the world.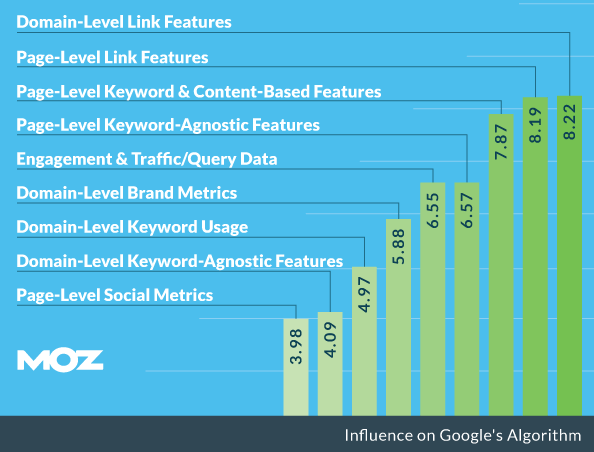 Here are the two link building techniques that consistently get the most high quality links.
Design Infographics that Share Your Best Content
The number one link building technique used by professional marketing companies is the infographic. On top of being an incredible link magnet, infographics also get more shares than any other type of content.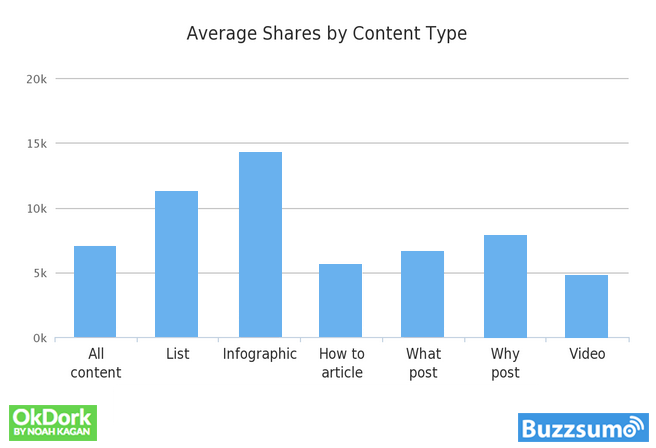 Here are a few keys to effectively using infographics to build high quality links.
Good Design + Good Content = Linkable Infographic – This is a real simple equation that you always want to remember about infographics. You have to have both good design and good content, or no one will ever link to you.
Create One Quality Infographic Per Month – As with most things, quality over quantity usually wins out. That is also the case with infographics. Instead of pumping out a mediocre infographic on a weekly basis, take your time in creating one quality infographic every month. This will also give you more time to promote your infographic to other bloggers.
Use the Guestographic Outreach Strategy – This is by far the most effective way to get bloggers to publish your infographic and link back to your blog. Basically, you will email each blogger offering to write a unique 300 word summary paired with your infographic. This eliminates any work that the blogger has to do, and it allows you to place a link to your blog in the summary.
Post Your Infographic to Visual.ly, Reddit, and Pinterest – These are the three communities that bloggers consistently use to search for new infographics to post on their blogs. For Pinterest, remember to add [Infographic] to the end of your title. For example, your Pinterest title would be 13 New SEO Techniques for Blogs [Infographic]. This makes your pins show up on Pinterest when a blogger does a search for "infographic."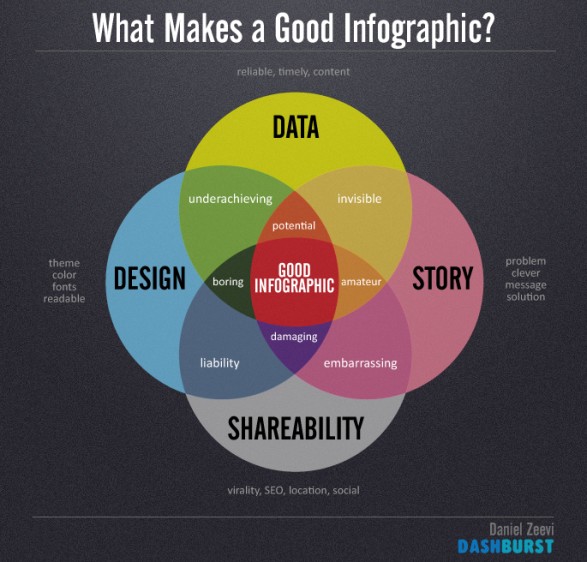 Write Statistics Posts Designed to Get Links from Reporters
Pretty much every marketer knows about using infographics to get links, but very few know about how effective a statistics post can attract inbound links. More importantly, a statistic post acquires links 100% passively.
The way this process works is actually really simple. Reporters use Google, just like us, to find statistics that they can use in their articles. If they find your post and use your stat, then you will get a big fat juicy link back to your blog.
Here is my secret process for using statistics posts to attract high quality links from reporters.
Create a Post Title that is Optimized for Google – Use the same techniques for creating a clickable title that I covered earlier in this post.. Odd Number + Power Word + Exact Keyword Phrase. If your keyword phrase is "social media statistics," then your title might be 25 New Social Media Statistics.
Use Bullets to List Out Each of Your Stats – Reporters are always on a deadline and have little time to spend sifting through articles to find statistics. You will want to list out each of your statistics, using bullets, in groups of 6 to 9 stats. At the end of each group, you will write your commentary. The commentaries will allow you to expand your total word count beyond 1000 words.
Curate At Least 10 More Stats than The Competition – Before you write your statistic post, go through and scan the titles of the first 30 results on Google for the keyword phrase you are targeting (i.e. social media statistics). Identify the largest number in a title and compile at least 10 more stats. If the largest numbered title is 27 Great Social Media Statistics, then your title will be 37 Brand New Social Media Statistics. Reporters, like most people, will click on the title with the biggest number.
I suggest that you come up with a list of every possible statistic that you can write a post on. If you had a social media blog, then you would make stat posts for Pinterest, Twitter, Facebook, Instagram, etc.
This is a powerful technique that continues to pay dividends for me. This summer, my statistics posts attracted high quality links from AOL News and San Francisco's top newspaper.