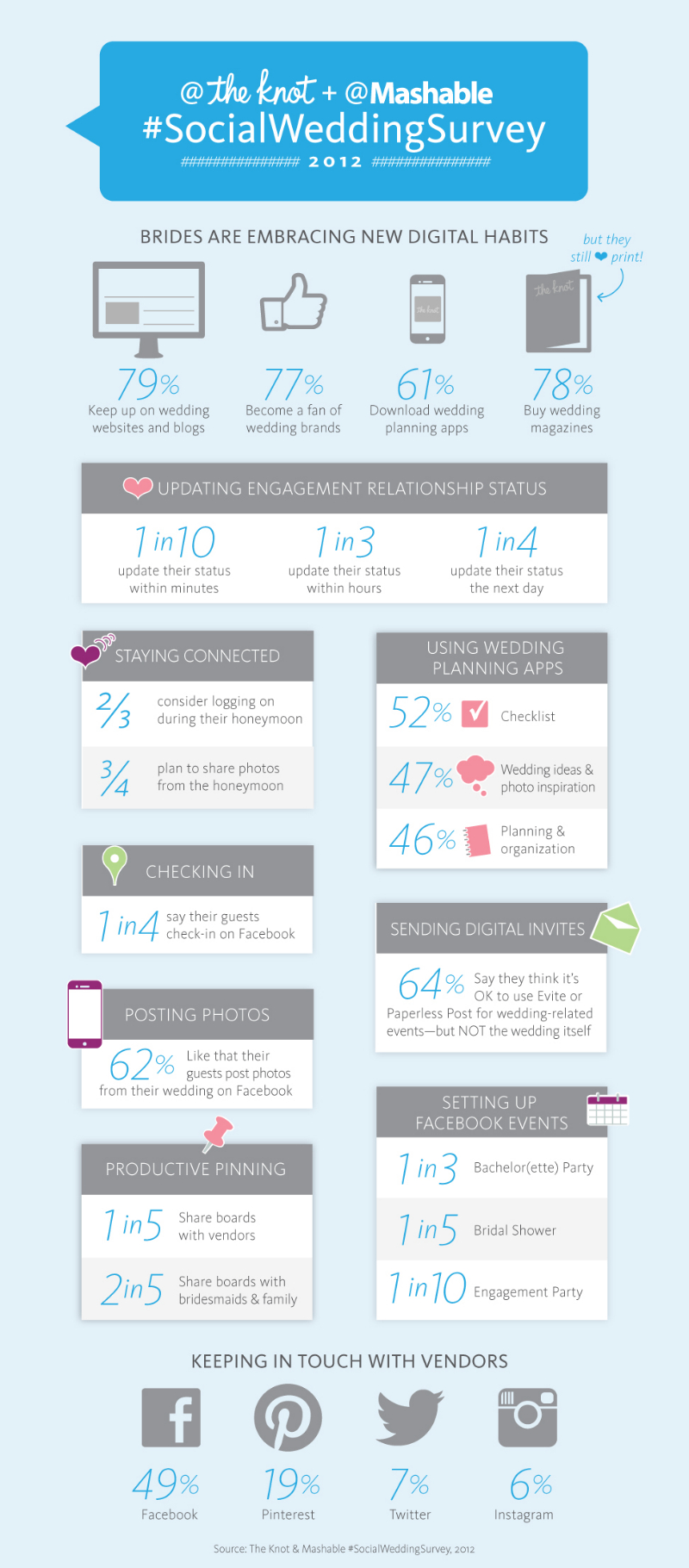 Soon-to-be-Brides Opting to Go Digital for Organizing their Wedding
Based on a wedding survey done with soon-to-be-brides, it was found out that most brides nowadays are turning into the use of digital habits to organize their weddings. Since there are many digital apps offered for special events such as weddings, there are many websites made to offer apps that can help in planning a wedding. Most brides would choose to be updated with the latest about wedding ideas through blogs and websites that are focused on wedding events.
Statistics
As stated in the wedding survey many people are social media users, and about 77% of women out of 100% are choosing to be a fan of popular wedding brands. Out of 100% there are 61% who would choose to download a wedding planning app that can help them in arranging their wedding. Though there are brides who would choose to go digital there are still many brides who prefer to go through magazines where they can get ideas of what their wedding would be.
How Engaged Couples Interact with Social Media
As soon as a couple is engaged, most women would be excited to update their relationship status. There are women who would update their status within minutes after the engagement, there are those who would choose to update after several hours and there are also those who choose to update it the following day. This shows that women have different preferences on how they want to announce their status publicly on social sites after an engagement.
Since people are now updated of the current status, couples should start looking for ways on how they can begin planning the details for their wedding. Due to women's interest on digital devices, most bride-to-be's opt to download certain apps that can help them with their wedding plans. There are brides who would download those that can provide them with a checklist, planning and organizing processes and those apps where they can get inspirations on pre-nuptial photos and other wedding ideas.
How Digital Media is Used for the Planning and Update Process
As a part of their digital habits, as a result from the wedding survey, possible guests who would be invited for the special would check-in on social sites to get updates continuously. To have a modern touch for a wedding, there are brides who would opt to send Evites or digital invites to guests and make it as paperless as possible. This is an easy way of letting guests be informed about the upcoming wedding immediately instead of waiting for invitation cards to arrive.
There are also brides who consider thinking about sharing their photos and happenings during honeymoons as soon as they log on. Bride-to-be's also love to encourage their guests to post any photos from their wedding. This is to share everything that has happened throughout the event.
For most brides, wedding preparation is really tiring so they tend to set up events such as engagement parties, bachelor party and bridal shower online. There are also those who are planning to share boards with wedding service vendors and family members to get some advice and suggestions for the wedding. As they find vendors who can help them arrange the entire event, bride-to-be's choose to keep in touch with them through social media sites, which allows them to have less worries about the wedding preparation.