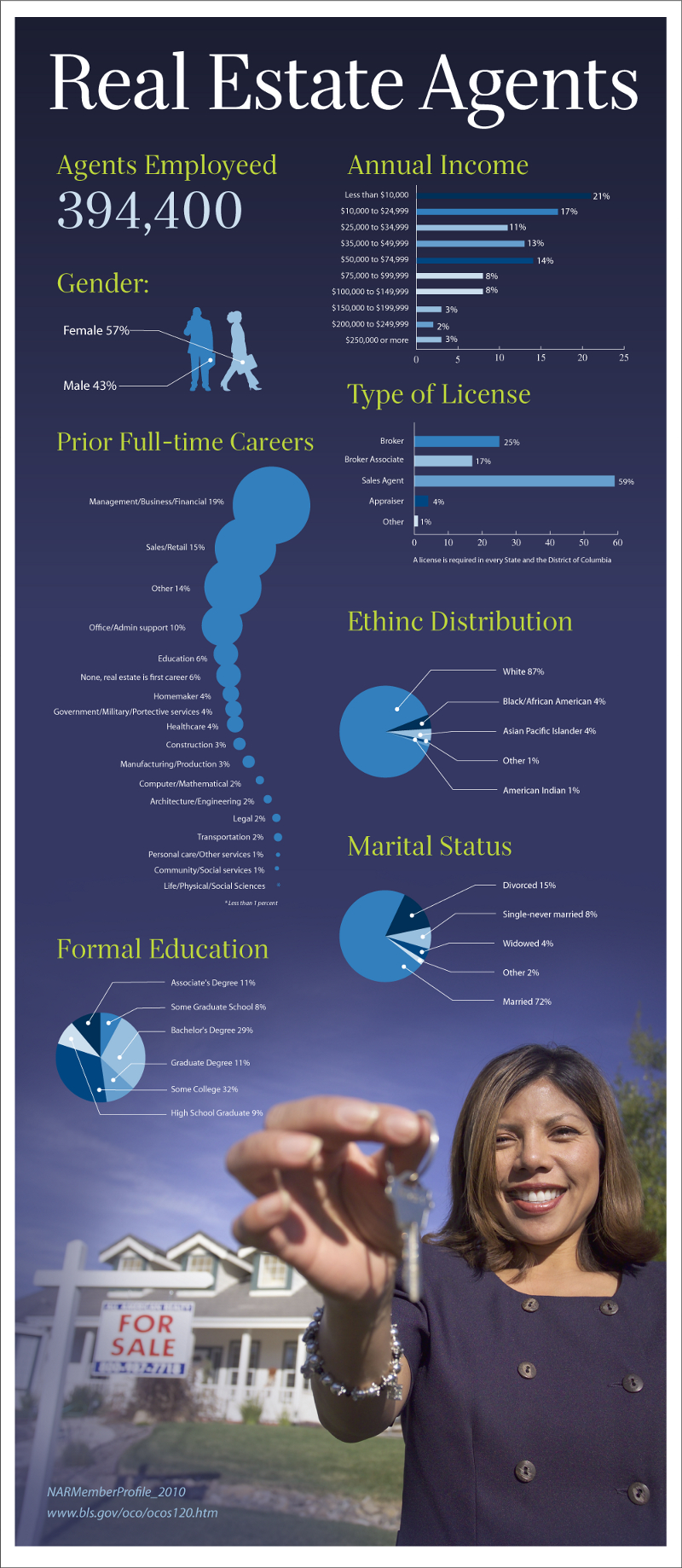 An Analysis of Real Estate Agents
It is estimated that up to 394,400 people are employed in the industry as estate agents. Worthy of note is the significant number of women who are employed under the same sector. Indeed, 57% of the estate agents are women while the rest, 43% are men.
Transplants from Different Industries
It is also interesting to note that the majority of people who work as estate agents have come into the industry from other professions. A majority of the men and women who do such work are those who have previously worked with the financial/business sector at 19%. 15% of the people who work as agents have worked as retailers or sales persons. Virtually, it is like almost every field has contributed a player or two in the housing industry. Only 6 % of people who do this work initially came directly into the sector.
Educational Level
It is also important to note the education dynamics of those who work as estate agents. People who work in this sector widely have tertiary education of some level. However, even with high school graduation, 9% of the workers are very well capable of discharging their duties as agents. Those with college education and bachelor's degrees dominate this field. 32% of agents and another 29% have gone to college and have bachelor's degrees respectively. Associate degree qualification also accounts for 11% of the number of estate agents practicing whereas those who have graduate degrees form 11% of this workforce. Hence, it is obvious that a majority of those who choose to be employed in this field have some level of education. However, even with high school education, many people have been able to execute their roles.
Income
For any person with the intention of ever working in this sector, the annual incomes that people make from these jobs is of utmost importance. A majority of those who work as estate agents earn less than $10,000 each year. On the up side, 3% of the sector's players earn more than $250,000, 2% earn between $200,000 and $249,999 while 3% make between $150,000 and $199,999. 17% of estate agents earn between $10,000 and $24,999.
Licensing
Another crucial aspect in the work of estate agents is their licensing. There are quite a number of license types; the most common one used by these workers is the sales agent license. 59% of the sector's players are licensed as sales agents, 25% as brokers, 17% as broker associates and 4% as appraisers.
Demographic
87% of these professionals are white, 4% are black, another 4% are Hispanic while American Indians account for 1% of the workforce in this sector. Of these statistics, 72% are married whereas divorcees account for 15% of the workers. Those who have never been married are 8% and widowed estate agents account for 4% of the workforce.
What is worthy of note is that even without specialized education in matters real estate, people have been able to find success in this important sector of the economy. With earnings more than $250,000 possible, this then is a profession from which one can make a comfortable living.