Semiconductors are a critical element in modern electronic devices. They make up an essential part of most mobile items that we use today, including tablets, radios, smartphones, and much more. You will also find industry products in personal computers, laptops, and almost every other modern electronic product that we rely upon to be productive today.
Because the semiconductor industry is such an integral part of the products that we use every day, it is a competitive industry which offers an extensive reach around the world. Product sales totaled more than $335 billion in 2015 alone. By 2018, industry revenues reached a record $463.4 billion.
Global semiconductor memory components added another $156.7 billion in revenues in 2018.
You will find some of the biggest global brands working closely with the semiconductor industry to produce products for manufacturing and export. Samsung, Intel, Apple, Texas Instruments, Toshiba, and Qualcomm are all industry leaders. In 2015, Intel generated more than $51 billion in revenues through their semiconductor division alone, representing about 1/7 of the entire worldwide market.
Essential Semiconductor Industry Statistics
#1. The United States imports approximately $53.7 billion worth of semiconductors and related devices each year to support domestic electronics manufacturing industries. (Statista)
#2. The semiconductor industry in North and South America totals about $106 billion each year. (Statista)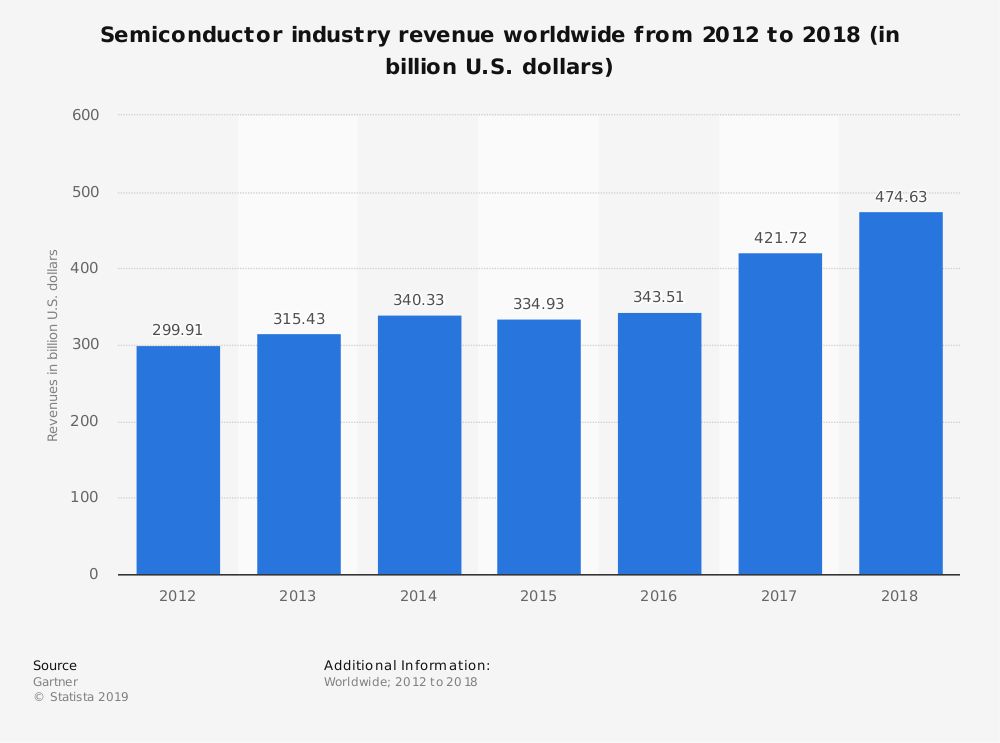 #3. DRAM quarterly revenues for the semiconductor industry average $28 billion, with Samsung generating over 30% of the sales which occur. Micron Group provides another 23% of global sales in this area. (Statista)
#4. Intel currently holds a 76% market share due to their microprocessor division for personal computers. Over 479 million units of graphics chips are sold globally each year. (Statista)
#5. Intel also holds a 13.8% share of global semiconductor revenues, although Samsung currently earns about $10 billion more per year in total revenues. (Statista)
#6. Qualcomm spent over $3.4 billion on research and development in 2017 for expanding their reach into the semiconductor industry. (Statista)
#7. The United States semiconductor industry represents 45% of the global market share, making it one of the most dominant segments in the world today. Products from the industry are the fourth-largest export market in the U.S. behind aircraft, refined oil, and automobiles. (Semiconductor Industry Association)
#9. The semiconductor industry in the United States directly employs about 250,000 people each year. Active firms are also responsible for roughly 1 million indirect employment opportunities as well. (Semiconductor Industry Association)
#10. The semiconductor industry in the U.S. invest approximately 20% of its revenues into research and development, which is one of the highest rates found in almost any sector of the American economy. (Semiconductor Industry Association)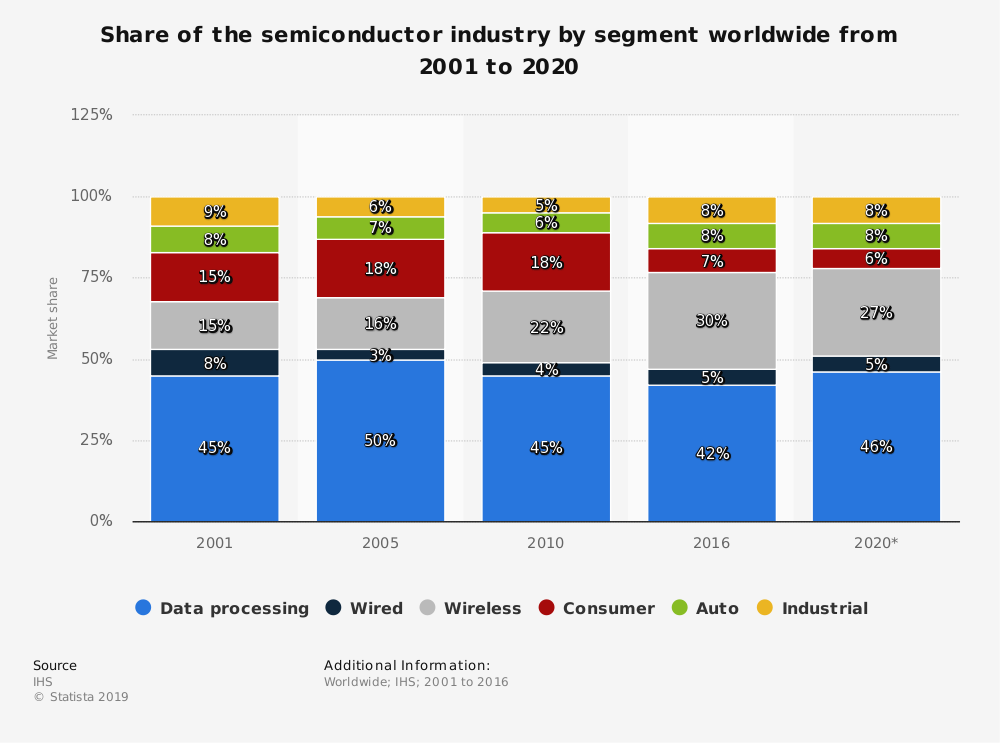 #11. In May 2018, the global semiconductor industry posted its 14th consecutive month of growth that was greater than 20%. In the Americas, the growth rate during that time was over 31%. (Semiconductor Industry Association)
#12. The average hourly wage for workers in the United States who are directly employed in the semiconductor industry is $18.68 per hour, which works out to about $38,800 per year. Employees who are in the 90th percentile of wages can earn approximately $57,000 annually. (Bureau of Labor Statistics)
#13. Texas is the leading state for semiconductor employment opportunities, offering 4,600 jobs that pay an average wage of $17.34 per hour. California offers 3,630 positions, followed by Oregon (3,150), Arizona (1,880), and Colorado (1,230). (Bureau of Labor Statistics)
#14. The highest wages paid by the semiconductor industry in the United States are located in New York State, where employees earn $26.16 per hour. Ohio workers earn $23.20 per hour. They are followed by New Hampshire ($22.90), New Mexico ($22.61), and Massachusetts ($21.95). (Bureau of Labor Statistics)
#15. The largest concentration of employment positions in the United States for the semiconductor industry are located in the Portland, OR and Vancouver, WA, metro area. The employment ratio per every 1,000 jobs is 2.79. The San Jose, CA metro area came in second at 1.62, while Austin, TX, was the only other area with a ratio above 1 at 1.10. (Bureau of Labor Statistics)
#16. Outside of the United States, South Korea holds the largest market share of semiconductor production at 17%. They are followed by Japan at 11%, the European Union at 9%, and then Taiwan at 6%. (Semiconductor Industry Association)
#17. The United States holds a 47% market share of the semiconductor manufacturing equipment segment for the industry, which leads the world as well. It was worth $17.1 billion in 2015. Japan holds a 30% share of the market at a value of $11 billion. The Netherlands is third with a 17% share at $6.4 billion. (Semiconductor Industry Association)
#18. Five regional markets account for 84% of the worldwide sales of semiconductor manufacturing equipment: China, the United States, Taiwan, Japan, and South Korea. (Semiconductor Equipment and Materials International)
#19. Although the United States holds the largest share of the market, China is responsible for consuming 58% of the semiconductors that are produced every year. (Statista)
#20. Circuit and semiconductor manufacturing in the United States has grown in value annually by 1.1% each year since 2014. During this timeframe, the number of active firms in the industry grew by 0.2%, while employment opportunities grew by 0.7%. (IBIS World)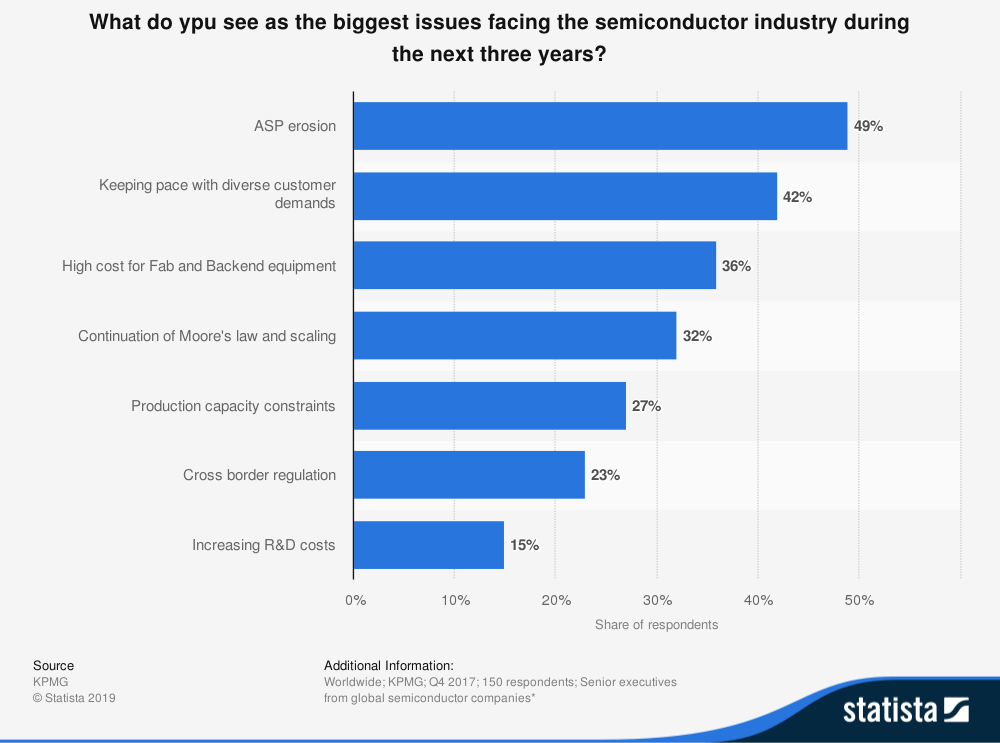 #21. Because of the complexities involved in wafer manufacturing, the cost to build front-end manufacturing facilities that are capable of producing modern semiconductors can be as high as $10 billion, with construction requirements lasting up to 24 months before units can be produced. (Wong and Chanda)
#22. Taiwan currently leads the world in wafer production capacity, holding a 20% market share in this segment of the semiconductor industry. Japan holds a 19% share, while South Korea follows with a 17% portion. China (15%), the United States (13%), and Europe (10%) are significant contributors as well. (Semiconductor Equipment and Materials International)
#23. 95% of the wafer capacity in North America originates from the United States. (Semiconductor Equipment and Materials International)
#24. 40% of the wafer shipments in the global semiconductor industry in 1996 belonged to Japan. In 2016, they held a 19% share of the industry. The United States dropped from a 25% share to 12%. At the same time, countries from the Asia-Pacific region saw their share of the market climb from 22% to 60% when figures from China were included. (Semiconductor Equipment and Materials International)
#25. About $7.5 billion in semiconductor consumption occurs in North and South America each year for consumer goods. Another $6.5 billion is goods supports the automotive industry. Computers ($22.3 billion) and communications equipment ($21.6 billion) represent the most significant end markets for the industry. (Semiconductor Industry Association)
#26. The total value of the American semiconductor industry is $164 billion based on 2016 sales figures. (Semiconductor Industry Association)
#27. In 2016, China produced $65 billion worth of semiconductors, which allowed the industry to supply 33% of their domestic demand for products. The industry hopes to increase output to 80% of domestic demand by 2030. (South China Morning Post)
#28. Integrated device manufacturers (IDMs) represent the largest share of revenues earned by the semiconductor industry, bringing in over 50% of the earnings each year. Fabless brings in $130 billion annually to finish second. Foundry provides $50 billion, followed by equipment manufacturers at $37 billion and OSAT at $27 billion. (South China Morning Post)
#29. The semiconductor memory sector represents approximately one-third of the overall semiconductor market. (WSTS)
#30. Revenue growth for memory chips in 2017 grew by 60% in 2017, making it 500% higher than other significant sectors of growth for the semiconductor industry. Logic chips saw 10.8% growth, while analog saw a 10.2% increase. (WSTS)
#31. With regards to printing capabilities in the semiconductor industry, Singapore holds a 25% market share to lead the world in this segment. Industry firms are also responsible for 11% of the world's share of wafer foundry outputs. (U.S. Department of Commerce)
#32. About 13,000 new engineers and technicians receive training in Singapore each year to help support the domestic and global semiconductor industry. (SEDB)
#33. Over 126 billion square inches of silicon shipments occurred in 2018 to support the manufacturing of semiconductors around the world. In 2000, approximately 5,6 billion square inches were shipped. (Semiconductor Equipment and Materials International)
#34. Revenues from semiconductor silicon wafers totaled $8.7 billion in 2017, helping to support connectivity on mobile and computing platforms. (Mordor Intelligence)
#35. In 2015, semiconductor manufacturers directly employed 181,000 workers in the United States, offering an average wage of $138,100. (Congressional Research Service)
#36. At the end of 2015, there were 94 advanced fabs operating for the global semiconductor industry, 17 of which were located in the United States. 71 of the facilities were located in the Asia-Pacific region, but only 9 of them were operational in China. (Congressional Research Service)
#37. 83% of the primary market for U.S.-based semiconductor firms is located in foreign markets. (Congressional Research Service)
#38. 10 out of the 20 largest semiconductor firms as measured by revenue are headquartered in the United States. (Congressional Research Service)
#39. Global semiconductor sales have increased at a compounded annual rate of 9.5% over the past two decades. (Semiconductor Industry Association)
#40. 27% of the market for semiconductors involved logic devices in 2015. 23% of market sales were for memory devices. Microprocessors made up 18% of all semiconductor sales, while analog devices were responsible for 13% of the market. (Semiconductor Industry Association)
#41. MCOs, which are multi-component semiconductors, are one of the fastest-growing segments of the industry. Although they account for only 3% of global sales and figures are not fully tracked, these products combine two semiconductors into a single unit to reduce space requirements. (U.S. International Trade Commission)
#42. 90% of global DRAM sales come from only three companies: Micron, Samsung, and SK Hynix. (Congressional Research Service)
#43. 87% of the global advanced worldwide fab capacity now exists outside of the United States. The majority of the design work, however, is still performed by U.S.-based computer engineers. (Congressional Research Service)
#44. Intel conducts 70% of its overall wafer fabrication in the United States at facilities in Oregon, New Mexico, and Arizona. (Congressional Research Service)
#45. Significant semiconductor producers are often ranked among the top U.S. corporate patent recipients by the number granted. According to 2015 figures, Qualcomm led the way with 2,900 total patents. Intel followed in second with 2,046, while Broadcom had 1,096. (U.S. Patent and Trademark Office)
#46. European semiconductor firms account for approximately $34 billion in sales each year, which represents about 10% of the overall market during the average year. (WSTS)
#47. Electronic-grade silicon must be at least 99.9999999% pure for it to be a useful product. That means one atom out of 1 billion can be something other than silicon for manufacturers to use the product. (Lam Research)
#48. Between 1996-2009, the semiconductor industry (excluding Intel) had a net negative economic profit of $47 billion in value. Intel by itself had a positive economic profit of $57 billion over that same period. (McKinsey)
#49. Even though they consume over one-third of the global market for semiconductors, companies in China can claim less than 4% of the global revenues in the most lucrative segments of design and front-end manufacturing for the industry. (McKinsey)
Semiconductor Industry Trends and Analysis
Although many of the mobile devices that incorporate semiconductors are reaching a mature stage of their market, there are new opportunities in the developing world to reach new demographics thanks to rising income levels. This outcome is especially prevalent in the Asia-Pacific region where India and China, the world's most populous countries, are seeing an increase in middle class households.
This region is not the only way that the semiconductor industry could see some serious revenue growth in the coming years. Sales of automotive systems that require semiconductors may grow upwards of 70% in the next 5-year forecast. The implementation of the Internet of Things technologies in homes will continue to grow. There are also numerous opportunities in the field of artificial intelligence which will benefit from industry products.
There have been numerous challenges for the industry to face in recent years, from eroded ASPs to an increase in development costs. Market saturation will likely continue to be a problem in many sectors. Ongoing activities in mergers and acquisitions may also create unanticipated instability.
Even with these challenges in place, our future lies in the development of new electronic tools and devices. That means new technologies will continue to rely on the semiconductor industry for many years to come.