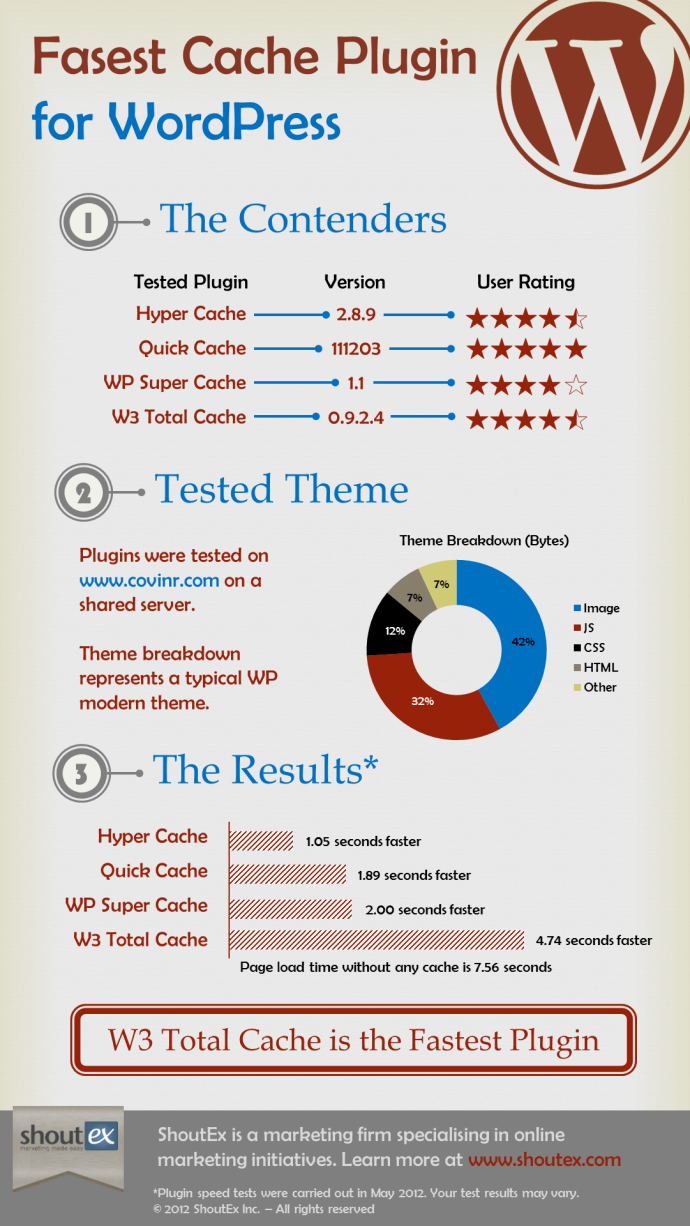 The Quickest Cache Plugin Available For WordPress
Most people have had some sort of blog at one point in their lives, whether it is personal or professional in nature. One of the most popular blog hosting websites is WordPress. In order to keeps your WordPress blog site loading smoothly and ensuring traffic generation, WordPress offers many, many different cache plugins to choose from.
How do Cache Plugins Help?
Cache plugins are tools that are used to speed up loading times on blogs. Currently, WordPress offers an array of cache plugins, but which of these caching plugins are the quickest? Simple. When attempting to determine the quickest cache plugin that is available for WordPress there are four top competitors that a person should examine in order to help them speed up the loading times on their blogs.
Top Cache Plugin Options
These competitors include: Hyper Cache version 2.8.9, which received a user rating of 4.5 stars out of 5, Quick Cache version 111203 which received a user rating of 5 stars out 5, WP Super Cache version 1.1, which received a user rating of 4 out of 5 stars, and W3 Total Cache version 0.9.2.4 which received a user rating of 4.5 out of 5 stars.
Each of the WordPress cache plugins were tried out on www.covinr.com on a shared server to test their loading speed capabilities. The theme that was tested was the modern theme.
The breakdown of the modern theme in which the cache plugins were tested were comprised of 42% image, 32% JS, 12% CSS, 7% HTML and 7% were other types of bytes.
The Plugin with the Quickest Load Time
Results showed that Hyper Cache was 1.05 seconds quicker at loading the website, Quick Cache was 1.89 seconds quicker at loading the website, WP Super Cache was 2.00 seconds quicker at loading the website and W3 Total Cache was 4.74 seconds quicker at loading the website.
However, when loading pages without any cache the loading time is 7.56 seconds. When pairing this loading time with the loading times of the different caching plugins, it became overly apparent that W3 Total Cache was the quickest cache plugin available for loading pages on WordPress.
Consider Your Personal Preference
In the end though it comes down to personal preference of which WordPress cache plugin is right for your page.
However, the results from this lay the foundation for a good argument to be made in favor of the W3 Total Cache plugin. But, user ratings also rate the other contenders pretty closely, so it turned out to be a pretty fair fight after all between the different WordPress cache plugins.
Determine what specific "needs" your page has and weigh each of those "needs" against all the different aspects of each of the WordPress cache plugins to figure out which plugin your page would benefit the most from.