#1. The annual sales revenues generated by the perfume segment of the fragrance industry average $28.95 billion. In the United States, total industry sales reach more than $6.1 billion annually. (Statistic Brain)
#2. 4 out 5 women in the United States state that they use a fragrance product, such as perfume, on a regular basis. (Statistic Brain)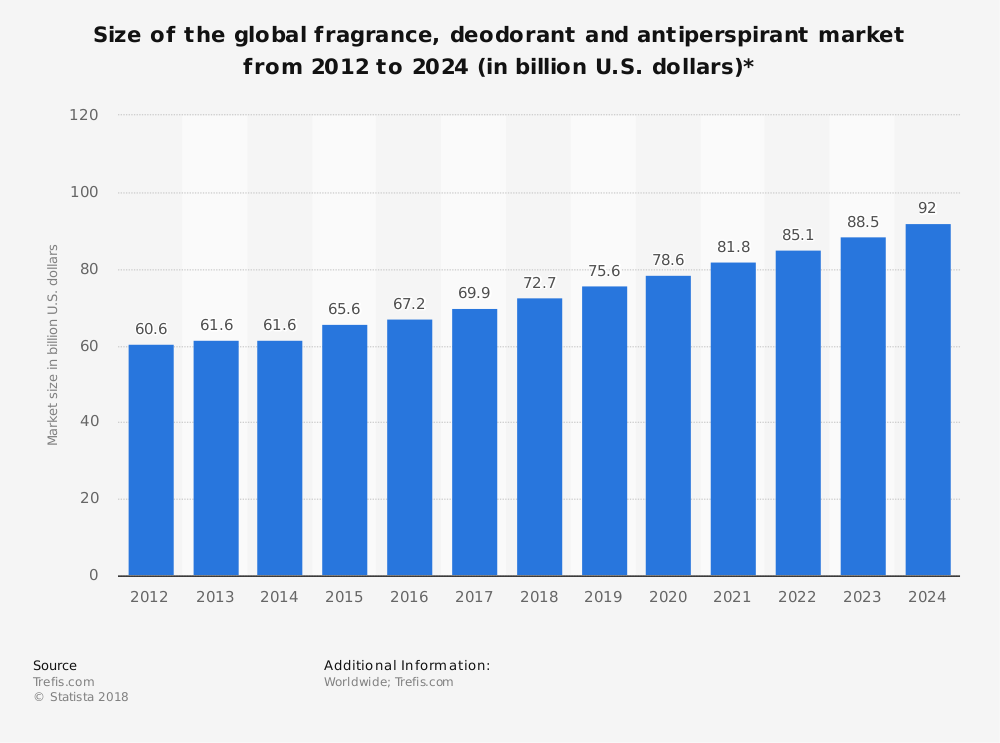 #3. In 2015, department stores in the United States carried more than 1,100 different fragrance brands. In 2002, there were about 750 fragrance brands that could be found in these stores. (Statistic Brain)
#4. 46% of the fragrance industry is composed of designer fragrance brands which are priced at $75 or more. The percentage of celebrity fragrance brands priced at this level, however, is just 1%. (Statistic Brain)
#5. Coty, Inc. currently holds the largest market share in the fragrance industry. In 2015, they were responsible for 13% of the total revenues generated by the industry. (Statistic Brain)
#6. The total sales value of the global fragrance market in 2014 was $46 billion. The United States segment of the market is responsible for about 10% of the total revenues that are generated by the industry. (Statista)
#7. The current value of the women's mass fragrance marked in North America is $465 million. For men, the value of the mass fragrance market is more than $327 million. (Statista)
#8. Gift sets make up 46% of industry-related sales that occur directly to the consumer. (Statista)
#9. The most popular brand of fragrance for women, sold in the United States, is White Diamonds by Elizabeth Taylor. It accounts for 5.5% of U.S. industry sales. (Statista)
#10. Men's fragrance sales and shaving lotions that are purchased in grocery stores or supermarkets account for more than $86 million of the revenues which are generated. The most frequently sold brand of men's fragrance products is Old Spice. (Statista)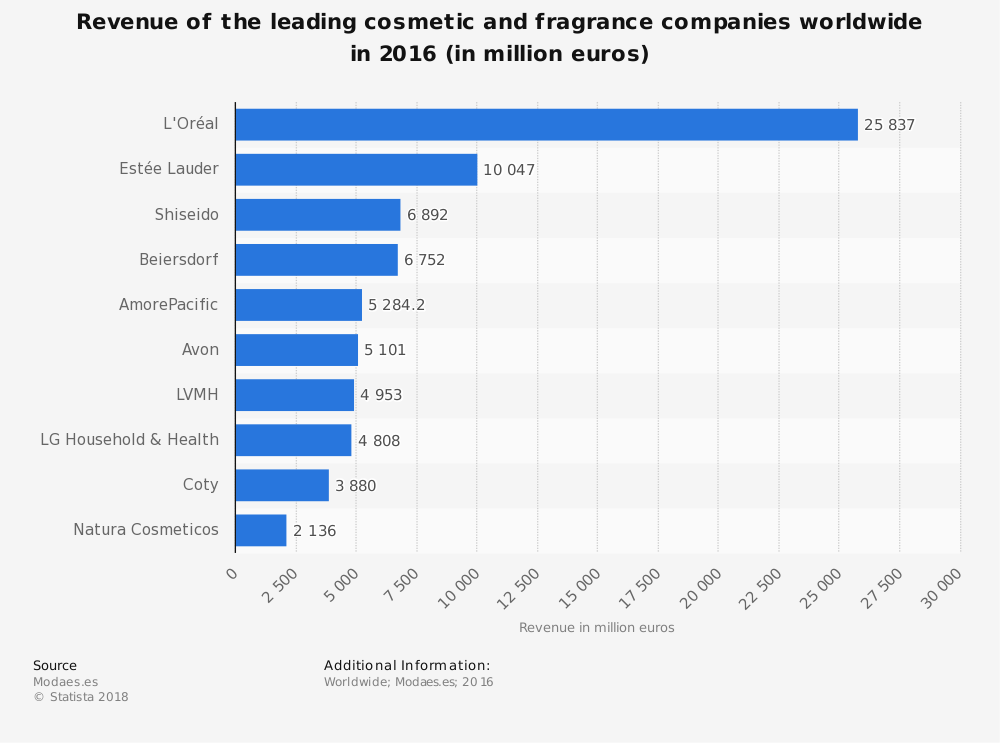 #11. 52% of women report that they have purchased at least one fragrance from Sephora. (Statista)
#12. 32% of consumers in the fragrance industry say that their purchasing decisions are strongly influenced by discounts or promotions when they purchase products in a store. (Statista)
#13. 69% of women who shop online for their fragrances say that they are strongly influenced by the price of the product. (Statista)
#14. 3 out of 4 women report that they wear some type of perfume every day. (Statista)
#15. Perfume and fragrance manufacturing in the United States has a current value of $3 billion. For the 5-year period ending in 2017, the annual rate of growth for the manufacturing sector of the industry was 0.8%. (IBIS World)
#16. There are currently 51 businesses that are involved in fragrance and perfume manufacturing in the United States. Combined, they are responsible for about 1,300 direct employment opportunities.
#17. 49% of the fragrances that are manufactured in the world today are intended for household use. Another 25% is used for personal care products, such as deodorant. Just 21% of the fragrance industry is used for fine fragrances or perfumes. (Squarespace)
#18. North America is the largest global geographic segment for the fragrance industry, accounting for 34% of all revenues. Europe is the second-largest segment, with 30% of industry sales. South America and the Middle East are potential areas for growth, with just 6% of industry sales respectively. (Squarespace)
#19. The four largest companies within the global fragrance industry account for more than 50% of the global market share. The top 10 companies account for nearly 80% of all sales within the industry. (Squarespace)
#20. Perfumes manufactured by the fragrance industry may be composed of up to 22% essential oils. Perfumes labeled as "Eau Fraiche" have just 1%-3% essential oils, which is why it tends to be the cheapest fragrance option offered by the industry. (Squarespace)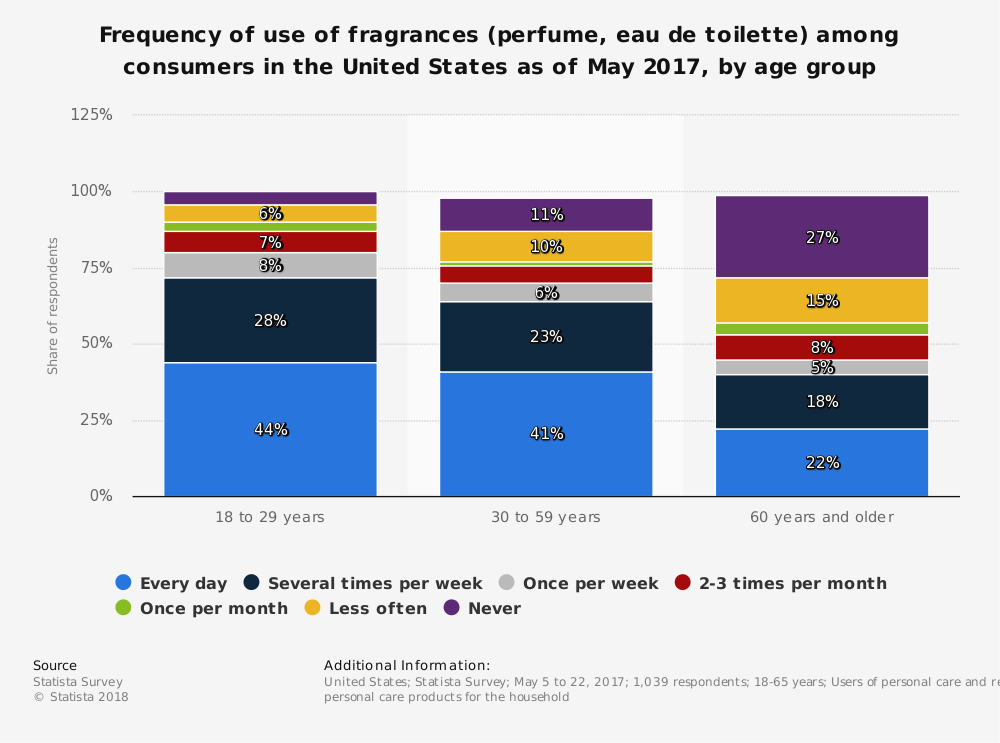 #21. Every year, the fragrance industry launches an average of 400 new products. Within 36 months, only 10% of the products launched will still be on store shelves. (Squarespace)
#22. In 2015, there were more than 100 new fragrances launched within the U.S. market. One of the top 5 best-selling products, however, was Chanel No. 5, which is more than 90 years old. (CNBC)
#23. 33% of consumers who regularly purchase perfume or cologne are loyal to their preferred brand. One out of three purchases that occur in the fragrance industry globally is to replenish an empty bottle of a preferred fragrance. (CNBC)
#24. For women in the United States, they are 35% more likely, when compared to men, to wear a fragrance that is dictated by their moods. (NPD)
#25. Over 30% of women see the act of wearing a fragrance as something that is a "personal treat." It is used as a way to enhance their mood. (NPD)
#26. Women who describe themselves as regular users of a fragrance may purchase something new as often as once per month. Men who describe themselves in a similar way may purchase something new just once or twice per year. (NPD)
#27. The average man shopping for a fragrance will take about 30 seconds to sample and decide if they like it. Women may take up to 6 minutes to complete the same shopping process. (NPD)
#28. Smaller sizes of fragrance have seen the highest levels of growth for the industry in the past 24 months. Sales of perfumes that are 1 ounce or less in size have grown by 16%. Travel spray sales and rollerball fragrance sales have grown by 28%. That is 2-4 times faster than the growth levels experienced by the overall global industry. (NPD)
#29. An estimated $800 million is spent on fragrance marketing by the industry every year. Much of this is spent on television commercials, print media, billboards, and in-store samples. (Bloomberg)
#30. Despite the sales increases experienced by the industry, prestige in-store fragrance sales in the United states have been down 1%, year-over-year, in 2016. Online sales in the prestige category rose by $91 million in the U.S. in 2016. (BBC)
#31. About 1% of industry revenues is being directed toward anti-counterfeiting efforts. More than 80% of fragrance firms in France have reported issues with counterfeit fragrances over the past 5 years. (Ultramatis)
#32. 90% of counterfeit perfumes are sold on the gray market, usually purchased by consumers who know it is fake, but want a similar fragrance without paying the "designer" price. (Ultramatis)
#33. Industry losses that are directly attributed to counterfeit products can be as much as 5% of the annual turnover. (Ultramatis)
#34. The fragrance market in Australia has a current value of $360 million. For the 5-year period ending in 2018, the average annual rate of growth is expected to be 10.5%. (IBIS World)
#35. There are currently 89 firms operating within the fragrance industry in Australia. Combined, they are the responsible for the direct employment of about 1,000 people. (IBIS World)
#36. The Asia-Pacific region is expected to see the highest rates of growth in the next forecast periods, with some estimates expecting growth rates of 20% or higher. Mature markets, such as the U.S., may actually see market declines unless new products are introduced to the market. (Reuters)
#37. The Canadian segment of the fragrance industry has a value of $2 billion and has experienced annualized growth of 10% over the past 5 years. (IBIS World)
Fragrance Industry Trends and Forecast
Growth within the fragrance industry is highly dependent upon the strength of the U.S. dollar. Demand levels are consistently high within this industry. Consumers tend to prefer cheaper, domestic brands when the U.S. dollar is strong. When the greenback is weaker, then imported fragrances tend to be the preference of the consumer.
Changing societal approaches to how perfumes and fragrances are used by men will also create a strong potential for growth within the fragrance industry in the next 5-year and 10-year periods. About 27% of fragrances that are manufactured today are for men. About 63% of men say that they wear cologne "occasionally." 2 out of 5 men have just one bottle of cologne that they use at home.
25% of men say that they never purchase cologne for themselves.
That means global economics, not changing consumer preferences, are the biggest factor to consider when forecasting future sales for this industry. Assuming global economies continue to exhibit stability, then the fragrance industry should achieve its targeted goals.