Convenience stores are small retail businesses which often supply fuel for purchase while providing access to a vast supply of everyday items. You'll find soft drinks, energy drinks, coffee, snack foods, tobacco products, magazines, limited groceries, and tobacco products offered at most locations. Some stores stock local souvenirs or items provided by community providers too.
The first convenience store opened in the United States was located in Dallas, Texas. It first opened its doors in 1927. That one store would become the start of the largest convenience store chain in North America: 7-11. Other leading brand-names in this industry include Speedway, Circle K, and Casey's General Store.
General merchandise sales at convenience stores total about $690 million each year. Some locations supplement this income by providing wire transfer or money order services. The average location records around 5,800 transactions
Important Convenience Store Industry Statistics
#1. There are currently more than 150,000 convenience stores operating in the United States. They provide about $550 billion in total sales each year. (NACS)
#2. Compared to 2016 figures, the U.S. industry rose by 0.3% in location volume, setting a record for the total number of operational convenience stores in the country. (NACS)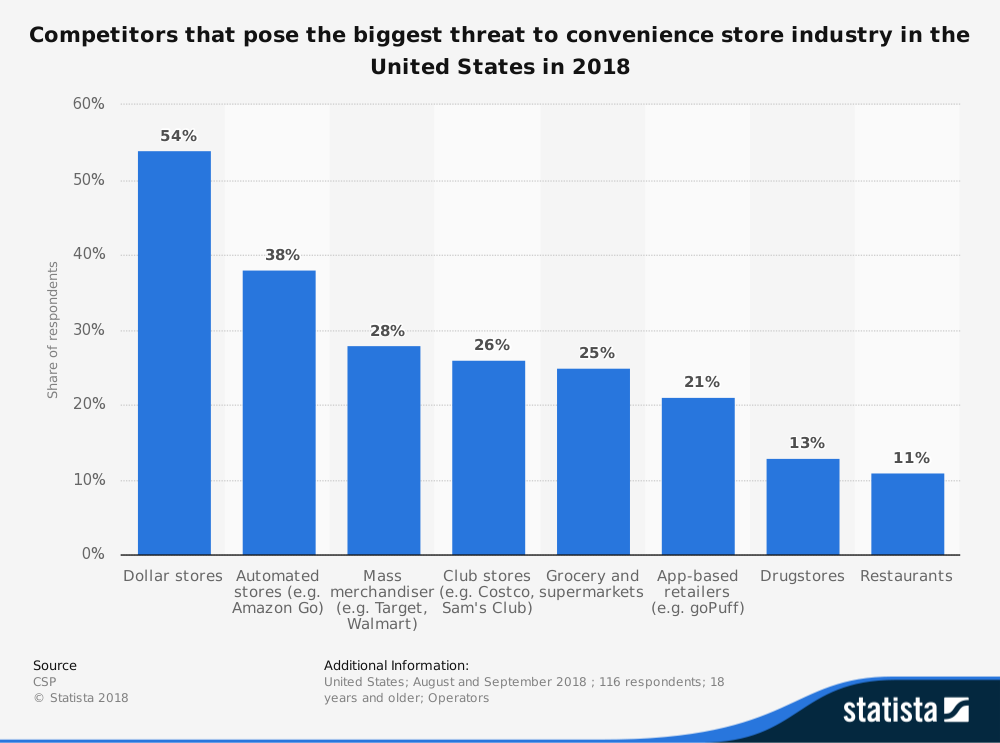 #3. The in-store sales figures for convenience store locations reached $233 billion in 2016, led by strong sales in the food and beverage category. The remainder of the annual revenues come from the sale of fuel products. (NACS)
#4. There are over 122,000 convenience stores in the United States that sell fuel. About 80% of all retail gasoline sales occur through this industry. Over 154 billion gallons of fuel are sold by convenience stores each year. (NACS)
#5. Total in-store sales per location in the convenience store industry reached $1.47 million in 2017. (Statista)
#6. The total value of malt beverage and beer sales through convenience stores reached $21.2 billion in 2017. (Statista)
#7. Hot dispensed beverages sold at convenience stores totaled sales of $7.61 billion. Frozen dispensed beverages contributed another $1.2 billion in revenues for the year. (Statista)
#8. Consumers spend $7.94 billion on domestic premium beer products when shopping at convenience stores in the United States. Another $1.23 billion in sales comes from craft brews. (Statista)
#9. The average consumer in the United States spends about $22 each time they visit a convenience store when fuel costs are included. About 3% of the total purchases a consumer makes each year comes through this industry. (Statista)
#10. Less than 1% of the convenience stores which operate in North America are still owned by one of the five largest oil companies. In July 2017, there were about 300 locations still working with that ownership profile. (NACS)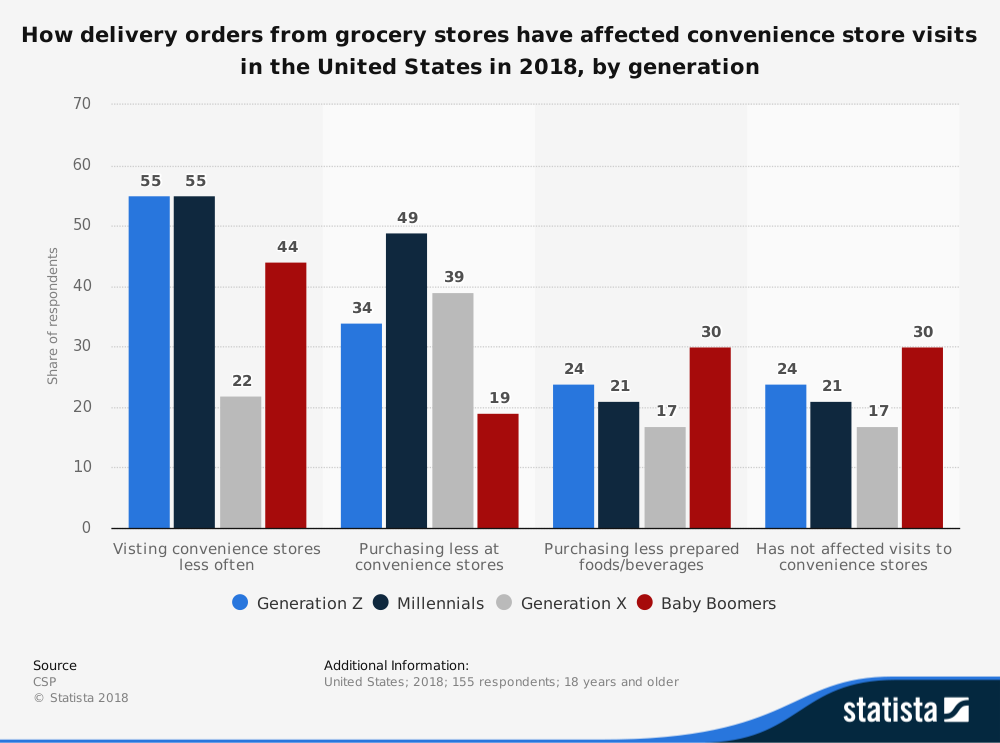 #11. About 160 million people visit a convenience store each day in the United States. The number of visitors who make purchases through this industry has more than doubled since the 1980s. (NCAS)
#12. 34% of all retail outlets in the United States are part of the convenience store industry. Sales within the sector continue to climb at an average of 4% each year. (NCAS)
#13. The convenience store industry is one of the few who sees a surge during the summer months because of travel. Some stores see a 17% surge in profits during the prime traveling window each year. (General Mills)
#14. Food service sales account for 21% of the revenues generated by the convenience store industry each year. That's up two percentage points from 2014 figures released. (Convenience Store News)
#15. Millennials spend 11% of their food and beverage budget each year at their local convenience stores. 87% are more likely to order food at the closest location to their home between the hours of 10pm-2am. (Convenience Store News)
#16. The sale of fresh produce at convenience store locations increased by over 10% in 2014, reaching more than $360 million for the first time. About 60% of current locations stock fresh fruits, vegetables, and dairy products for their consumers to enjoy. (NACS)
#17. 16% of consumers say that the quality of food and beverage products offered at their local convenience stores dictates where they choose to purchase fuel. (Convenience Store Decisions)
#18. 60% of consumers are happy about the fact that the industry is offering products which are healthier and more nutritious, with better serving sizes. That statistic has increased for six consecutive years as of 2018. (NACS)
#19. 59% of customers say that they like convenience stores because they offer foods which they feel comfortable eating. 70% of Millennials feel the same way. (NACS)
#20. Despite the increase in fresh produce and healthier food items, only 44% of Americans say that convenience store choices are nutritious. That is still better than the 30% who felt that way in 2013. (NACS)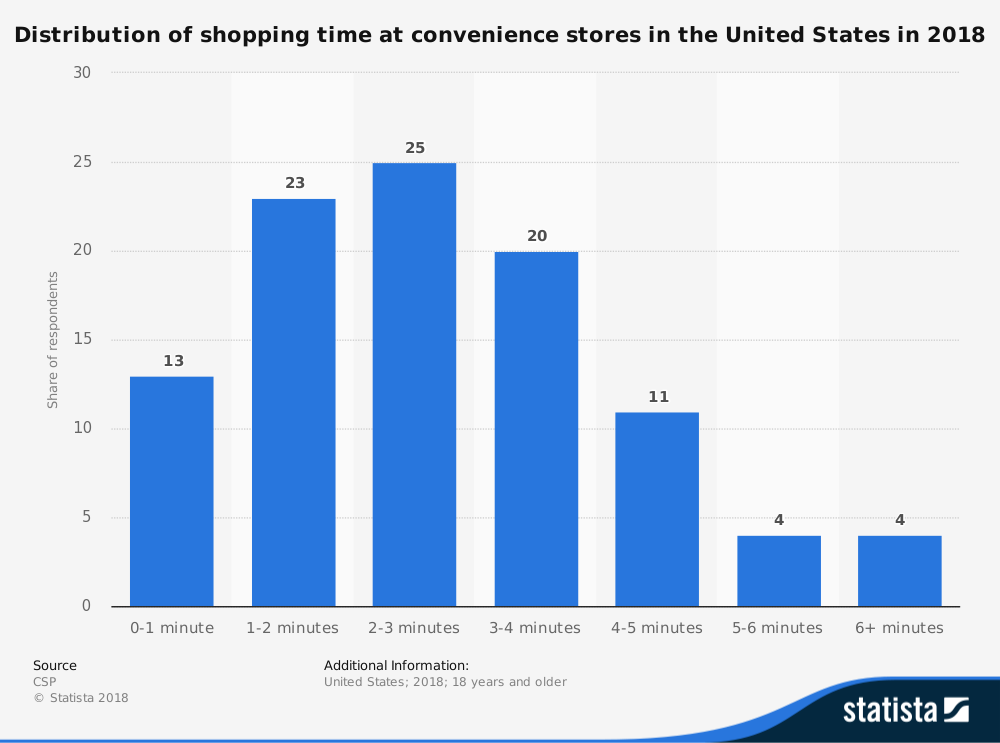 #21. Table wine sales through the convenience store industry rose by 7.1% in 2016, while sparkling white wine sales grew by 13%. Spirits saw a 16% spike in sales at convenience stores. (CSP Daily News)
#22. Only 8% of Americans say that they've purchased a meal or a sandwich at a convenience store, but that figure climbs to 13% in the 18-34 age demographic. (Consumer Store Decisions)
#23. The most popular reason to step inside a convenience store in the U.S. was to pay for fuel at the register, with 50% of customers reporting that activity. 45% said they stop at their local store to buy a beverage. 36% said they went inside to purchase a snack. (Consumer Store Decisions)
#24. 73% of consumers who shop at a convenience store, either for fuel or for the products inside, pay by debit card. (Consumer Store Decisions)
#25. 46% of customers say that they've received a discount on their fuel purchase when using a loyalty card or app at their favorite convenience store. 23% received a discount because they paid for fuel using cash instead of a debit or credit card. (Consumer Store Decisions)
#26. 56% of people who purchase a meal or a sandwich at a convenience store say that they eat their food in the car. 34% report that they'll eat what they bought once they arrive at their destination. (Consumer Store Decisions)
#27. When fuel sales increased by 68% for convenience stores in 2016, there was a 63% increase in food sales at the same location. (NACS)
#28. 84% of customers who stop at a convenience store to purchase fuel say that the cleanliness of the store influences their decision to go inside to make an additional purchase. (NACS)
#29. 95% of the customers who go to their local convenience store to purchase a lottery ticket will also buy at least one other item during their visit. Almost half of all the lottery tickets sold in the United States are through the convenience store industry. (NACS)
#30. Taiwan has the highest concentration of convenience stores in the world today, with over 9,800 stores operating on the small island. The per capita number of visits per person to a convenience store in Taiwan is over 122 per year. (Focus Taiwan)
#31. 20% of the convenience stores operating today are not in compliance with their permanent displays, with 22% not complying with their temporary displays either. Some regions see non-compliance rates of up to 50%. (Convenience Store News)
#32. About 30% of customers say that they visit their local store about two or three times per week. (Trend Source)
#33. 22% of customers who visit convenience stores step inside because they need to use the bathroom. For those who typically visit only when traveling, the cleanliness of those facilities is a substantial factor in whether or not they decide to purchase something during their visit. (Trend Source)
#34. 80% of women rate safety as a significant factor in their decision to shop at a specific convenience store compared to 53% of men. (Trend Source)
Convenience Store Industry Trends and Analysis
Although the price profile of items at convenience stores are higher than other food and beverage locations, customers do see value in the ease of accessibility. Once they fill up their vehicle with fuel, they can step into the store to purchase a variety of items which meet each unique need. Hot breakfasts, fresh coffee, and alcohol products tend to be the most common items purchased at the typical location.
The convenience store industry is in a unique position. Even though the profit margins for fuel are often small, sometimes just a few pennies per gallon, the food and beverage items made available to consumers push profits higher. A successful convenience store owner with a fuel station can easily clear $100,000 in net profits, including the payment of wages, on even a down year.
Location is the primary factor for profitability today. New stores look for properties of up to 3 acres in size to promote more fuel pumps and access because that encourages more consumers to shop inside. Destinations along long-distance highways include restaurants, showers, and other home conveniences which add to their profit margins too.
Expect the convenience store industry to keep setting new records in the coming years, especially if the North American economy remains strong.