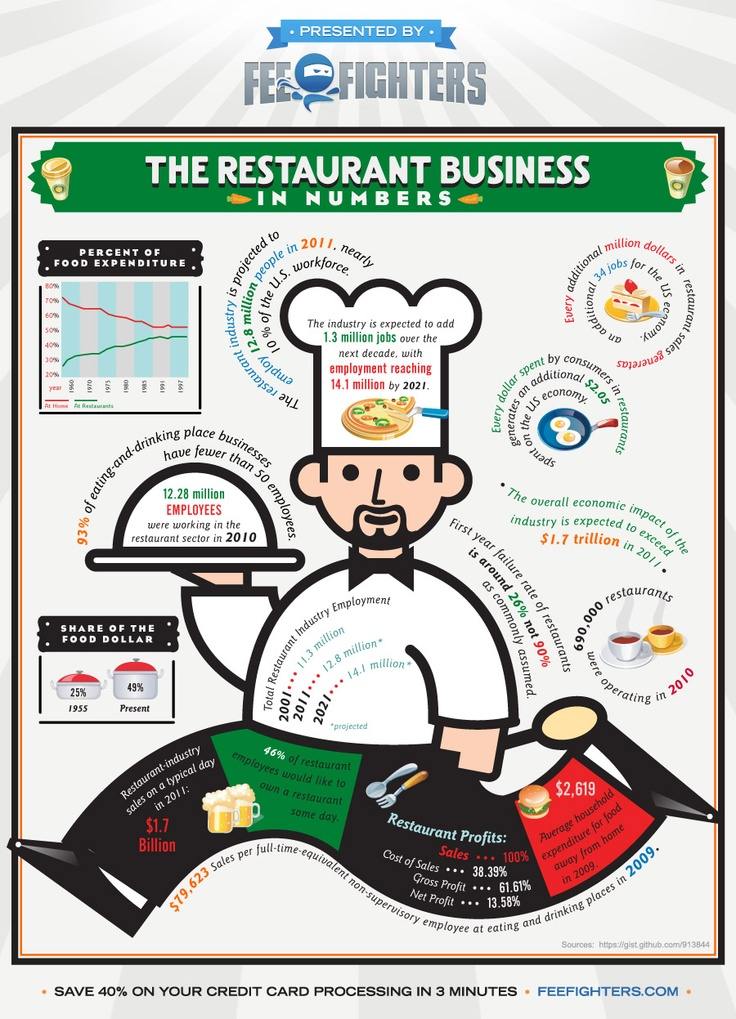 The Restaurant Business and Future Projections
Restaurants have become major economy drivers in many countries, because more and more people appreciate their existence today. This can be measured with the number of fast foods that are being produced every day, and the number of people who use the same. Fast foods have become many people's favorites because most people do not like to cook simply because there is not time, or because one does not feel like cooking. That urge to buy packed lunch or dinner from a restaurant has made most of these business flourish and establish very well. Although profits made from a single meal may be mediocre, selling to thousands of people in a day, every day makes the business cash in more cash than manufacturing companies. This has thus provided a rich avenue for revenue and profit maximization for café operators. Annual sales in the restaurant industry are $783 billion. There are more than 1 million restaurant locations in the U.S.
Employment
With the wake of unemployment among youth in many countries today, the restaurant business is recording a different story. More than 12 million people today are employed under the restaurant line of duty, and make it the highest job creator today. With more and more restaurants opening branches both locally and internationally, more youths are getting employment under the catering sector. The good thing about the restaurant business is that, there are many branches involved with the same, which makes it easier to create multiple jobs at one go. Many restaurants deliver orders to user locations and offices, thus creating more jobs to the delivery boys. Thanks to this business, more youths today can have a decent income which can cater for their day to day lives, thus help culminate crime.
Market Entry
With analysis of how the restaurant business is performing today, it is estimated that, 90% of all newly set up restaurants pick up and generate profits within the first month of operation. This means that, with proper planning and strategizing, the business is successful and a trained person can run it. To help manage a restaurant, any restaurant operator is advised to take managerial courses as well as have a catering crew that can prepare both local and international dishes as per customer requests. In doing this, the restaurant should be able to pick and become someone's favorite over a period of operation.
Expanded Offerings
Business owners and other high ranking persons have also started using restaurants as meeting places to discuss deals and better ways to manage a business. This has led to creation of conference rooms in restaurants where meals can be served as the meeting progresses on, thus benefiting the restaurant. A recent research confirmed more than 1.5 trillion dollars having gone through the restaurant business in one year alone. This means that, if the market is sustained and better modes of operation put into consideration, the restaurant business would be the highest converting business out there.
Although some people despise running a restaurant or a hotel for that matter, it has proven to generate more income and revenue for the American economy in the past few years, and is still growing to date. With proper planning and management, it is very possible for one to make millions with the same.