The mattress industry is one of the oldest continuous industries in the world. The first mattresses are believed to have been manufactured around the 37th century BC in Persia. Those first mattresses were made of goatskins that were filled with water. Over the next 2,000 years, not much would change for the mattress industry.
By 1871, the innerspring mattress had been invented. Since then, numerous innovations have occurred. Foam cores are available for some models. Air beds, waterbeds, and adjustable sleep sets are available. Materials even include latex, polyester, and recycled materials with the industry's new designs.
Interesting Mattress Industry Statistics
#1. The total amount of annual revenue generated by the mattress sales industry in the United States is $7 billion. That is about 25% of the global revenues that the mattress industry is able to generate, across all categories, in any given year. (Statistic Brain)
#2. More than 35.9 million mattresses are shipped each year by the mattress industry. This includes international shipments and online purchase shipments. (Statistic Brain)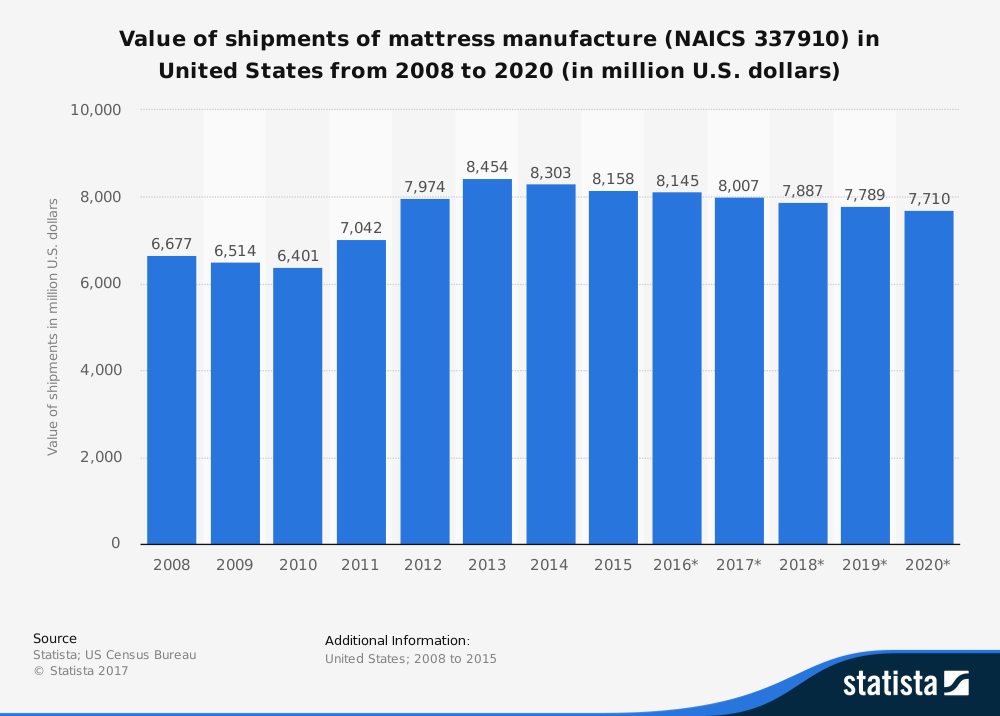 #3. The average household will keep their mattress for 7 years before seeking out a replacement for it. (Statistic Brain)
#4. Sealy is the leading mattress manufacturer in the United States. They average about $1.38 billion in sales every year and control about 19% of the overall market. Serta followed at 17%, while Simmons controls about 15% of the overall market. (Statistic Brain)
#5. In the U.S. bedding industry, there are currently 600 companies currently engaged in the design, manufacture, and sale of mattresses. They are responsible for the direct employment of about 20,500 people. (Statistic Brain)
#6. Twin-size mattresses are the most popular size sold in the United States, accounting for 31% of the market share for the industry. 29% of households purchase a Queen-size mattress. (Statistic Brain)
#7. Despite innovations in mattress technologies, including memory foam, air support, and adjustable features, 90% of the mattresses which are owned in the United States are traditional innerspring products. (Statistic Brain)
#8. Most of the mattresses that are purchased today occur through a specialty sleep retailer. 43% of all new mattresses are purchased from this type of business. Furniture retailers are responsible for another 38% of total industry sales. (Statistic Brain)
#9. Innerspring mattresses may be the most common type purchased from the industry, but they have the lowest levels of consumer satisfaction. Just 63% of owners say they are satisfied with their innerspring mattress purchase. In comparison, 81% of memory foam owners, 80% of latex owners and even 75% of futon owners say they are happy with their mattress. (Statistic Brain)
#10. The wholesale value of mattresses and foundations that were made and sold in the United States experienced a 3.4% increase in 2016, setting a record for the industry. (Bed Times Magazine)
#11. There are an estimated 15,000 businesses that are currently operating within the mattress industry in the United States from a retail perspective. About 85,000 people have direct employment because of these retail locations. (IBIS World)
#12. About $15 billion in revenues is generated from bed and mattress stores in the United States. From 2012-2017, the industry experienced an annual average rate of growth of 5.6%. (IBIS World)
#13. Mattress Firm and Select Comfort combine for over 42% of the industry revenues that are generated by bed and mattress retail outlets. (IBIS World)
#14. In 2017, the estimated value of the online mattress sales industry was $1.5 billion. The online share of mattress sales in 2014 was just 6%. By 2016, the industry share of online sales has risen to 10%. (USA Today)
#15. In 2012, Tuft and Needle was started with $6,000 and no outside investors. In 2016, it generated more than $100 million in revenues and has 150 employees. (USA Today)
#16. Casper is another internet mattress success story. Launched in 2014 in New York, sales in 2016 reached $200 million. (USA Today)
#17. One side effect of the growing online mattress industry is an increase in demand of compression equipment. C3, a manufacturing and engineering firm based in Appleton, WI, has sold more than 40 of their compression machines since 2015 at a cost of $300,000 each. (USA Today)
#18. Globally, the Asia-Pacific region represents the fastest growing market for the mattress industry. A forecast CAGR of 8.1% through 2022 is the foundation of potential revenues that could top $39.4 billion in that timeframe. (Global Industry Analysts, Inc.)
#19. Since 2007, all mattresses in the United States must meet flammability guidelines for sale to American customers. All beds must be able to withstand open flame exposure for up to 30 seconds. (Mattress Inquirer)
#20. The mattress industry may have product markups that are as high as 12 times their overall manufacturing costs, which has helped to drive the influx of 100+ online mattress brands available today. (Cornell University)
#21. The U.S. mattress landscape is highly competitive, creating a total net profit of $378 million annually on revenues of $9.2 billion. Total exports for the industry total $154.2 million. (Cornell University)
#22. Simmons generates 87% of its revenues domestically after emerging from bankruptcy in 2010. Its brands include Beauty Rest and Beauty Sleep, with mattresses priced between $200-$5,000. (Cornell University)
#23. In the United States, the average price per square inch for a twin bed is just over $0.40. Full beds have a similar average price. Queen and King beds are the next best value, priced at $0.80 per square inch. Twin XL beds are priced at $1.10 per square inch, while CA King beds are priced near $1.40 per square inch. (Cornell University)
#24. 73% of advertising expenses experienced by the U.S. part of the mattress industry are spent by Tempur-Pedic. Sealy has 2% of these expenses, while Serta has just 1% of advertising expenses. (Cornell University)
#25. Over 90% of people who consult with a sleep specialist ask for a mattress recommendation to improve the quality of rest they receive. (BBC News)
#26. Just 9% of Americans link the quality of sleep they receive to the quality of mattress that they own. (BBC News)
#27. The National Transportation Safety Board states that 1 out of every 5 crashes they investigate involves fatigue. (McKinsey)
#28. Individuals who consistently get 6 hours of sleep or less per night is 13% higher than those who routinely sleep for at least 7 hours each night. (McKinsey)
#29. In 2018, the ISPA forecasts a 4% increase in the number of units that will be shipped. At the same time, a 5.5% increase in the value of those shipments is anticipated. If this figure is achieved, it would reflect the largest number of mattresses shipped, exceeding records set in 2005. (Sleep Savvy Magazine)
#30. 60% of women and 55% of men in the United States say that they have never seen an advertisement for a direct-to-consumer mattress online retailer. (Statista)
#31. 26% of Americans say that they have seen a direct-to-consumer advertisement for a mattress retailer on TV. Another 14% say they have seen one on a website banner. Just 5% say that they've seen advertising on a billboard or poster. (Statista)
Mattress Industry Trends and Analysis
Since the beginning of modern humanity, people have wanted to sleep on something that felt comfortable. Although mattresses have evolved dramatically over the years, the industry has continued to thrive. As long as humans require sleep, they will want to own a mattress. That means there will always be a place for the mattress industry.
New innovations within the industry will continue to shape it and place pressure on the traditional innerspring market. An example of this is Purple, which creates a unique bed that stands in a design category of its own. It retails for around $1,000. Mattresses shipped in boxes will continue to be a trend that people enjoy as well.
There is no longer a need to try a mattress before buying it. There may continue to be shifts in who has the greatest influence in the mattress industry, but the industry itself will continue to exhibit strong levels of growth.
With a renewed focus on the quantity and quality of sleep people receive, the mattress industry will keep booming.