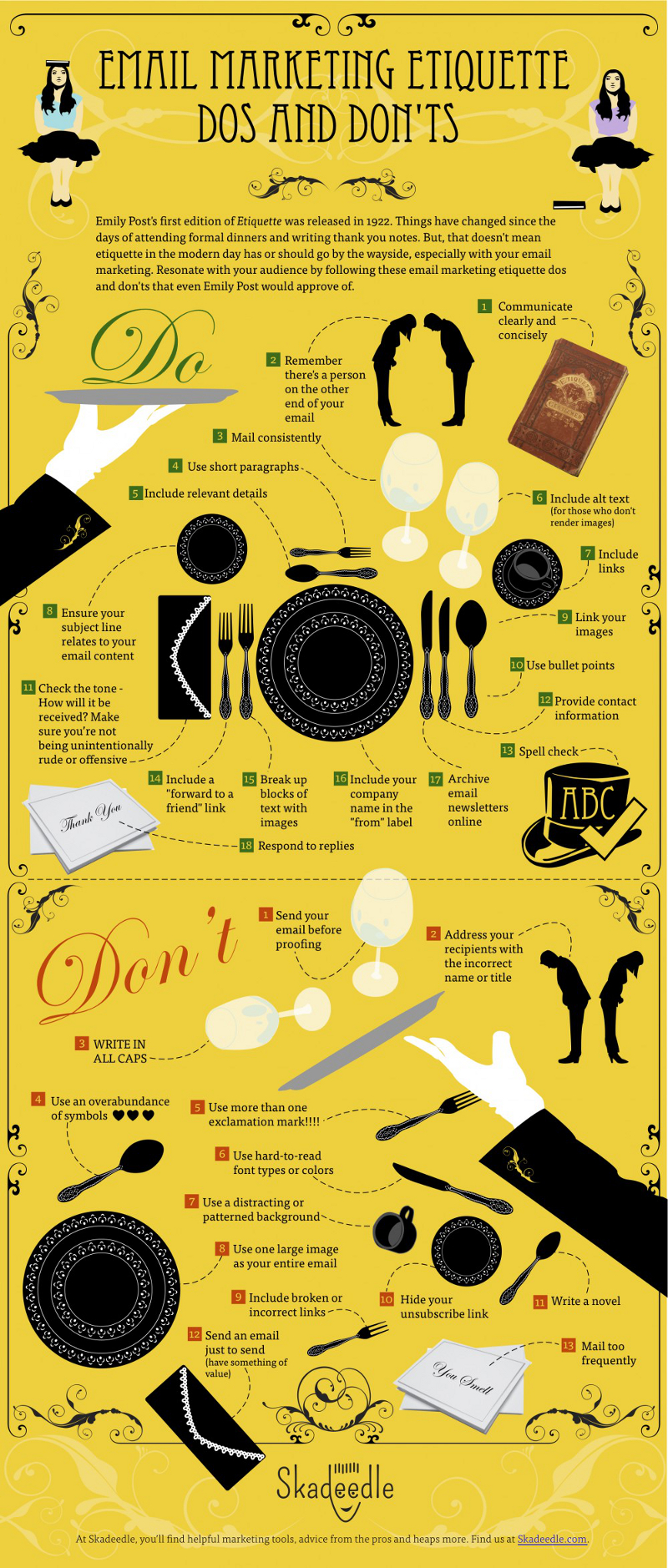 Most Recommended Marketing Posts:
Email Marketing Etiquette Dos & Don'ts
While a lot has changed since 1922 when the first edition of Emily Post's "Etiquette" was published, etiquette in the modern day does still exist. While you may not have to snail mail thank you notes or attend a fancy dinner, it is important that email etiquette is kept in check. One should consider email marketing etiquette dos and don'ts.
This is especially true when utilizing email for the purpose of marketing. There are few more important instances to mind your manners than with your marketing ventures. This seems
Communication should be clear. The point of your email should be obvious. You cannot forget that there is an actual human reading your email. Write accordingly.
If you are going to market via email, the mail should be consistent. It is best to use short paragraphs as most people will not read large blocks of text. Relevant details are also a necessity. Keyword: relevant.
Alt text should be incorporated for people who do not render images. Links, particularly to your images are important as they make your emails more interesting and interactive. It seems obvious, however it is easy to forget: always make sure your subject line matches your email content.
Adding bullet points will break up your content nicely. Images are another way to split up your text. Harking back to what was said earlier about the email going to an actual human, check the tone of your email to ensure you do not come off as rude or inconsiderate by mistake.
ALWAYS remember to spell check. Don't forget your contact info so you can receive replies. Be sure to respond to those replies. Include a share or "forward to friend" link.
Remember to add your company name to the "from" section. Oh, and here's a great tip that is often overlooked: archive your email newsletters on your website. Why let all that extra content go to waste?
Always proofread before sending. Always double check to ensure you address recipients correctly. NEVER WRITE IN ALL CAPS and avoid overusing symbols or exclamation marks. Be sure to choose fonts and colors that are easy to read and avoid the distraction of patterned backgrounds.
Never use an image for your entire email as it will not look right. Always double check for broken and inaccurate links that need to be changed. Never hide your unsubscribe link.
Don't bother turning your newsletter into a novel as no one will ever read the whole thing. Though it was already said that your emails should be consistent, this does not mean you should mail too much or send emails just for the sake of sending something. These are the email marketing etiquette dos and don'ts.