Wearable technology is an industry which produces tech items that are intended to be worn. These devices are usually equipped with smart sensors which are then connected to the Internet to create a data exchange. It is an industry that is relatively new since the first Bluetooth headset was sold in 2000. Since then, more than 325 million wearable devices have been activated around the world.
By 2020, there could be more than 830 million devices active because of this industry. Smartwatches are the primary product that consumers purchase by tech producers, accounting for 52% of the global market. There are roughly 80 million shipments of basic wearables around the world to consider as well, along with another 119 million in wristwear tech to consider.
Although there are practical applications for the average person to enjoy using wearable technologies, medical and military professionals have used ideas from this industry for several decades. Leading vendors in this space include Apple, Lenovo, Garmin, Samsung, and Pebble. Fitbit has held a 45% market share for their segment in 2014, but disruptors have cause that figure to drop to 20%.
Important Wearable Technology Industry Statistics
#1. Revenues earned in the wearables segment totaled $3.09 billion in 2018, which was a 5.3% increase over the year before for the U.S. market. There are currently 38.8 million people who purchased at least one product manufactured by the industry during the last 12 months, which is a 1.1% increase from the year before. (Statista)
#2. The user penetration rate for the wearables market in the United States was 11.8% in 2018, which is a figure that is expected to go down in the next five years as the current consumers are expected to purchase multiple products. (Statista)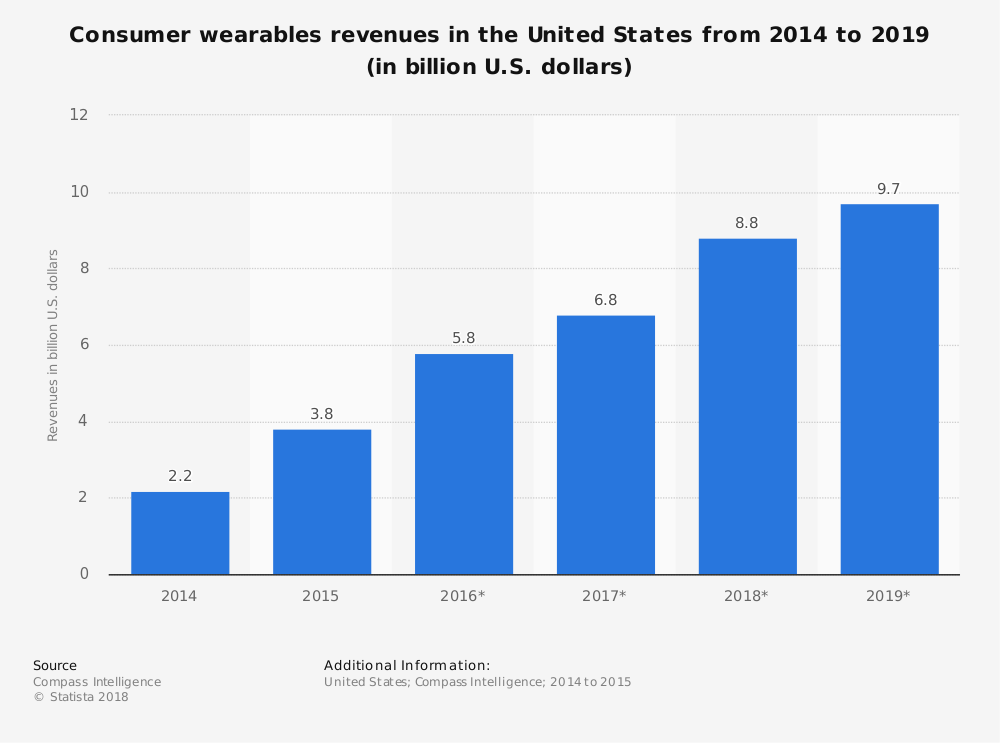 #3. Consumers who decide to purchase wearable tech typically spend $79.75 on the item they buy. (Statista)
#4. China earned $4.5 billion in revenues for the global wearable technology industry in 2018. (Statista)
#5. Consumers are twice as likely to be aware of the Apple Watch and its features when compared to rival products in that segment of the wearable tech industry. (CCS Insights)
#6. Over 16 million Apple Watches were sold in 2017 from its expanding product lines in this field, which is a figure that represents 60% growth from the sales earned in 2016. (CCS Insights)
#7. Wearables for children are a lucrative market in China, where over 25 million units were sold in 2017. That trend has not reached the United States, where only 1 million products were sold to parents for the specific use by their kids. (CCS Insights)
#8. Regulatory issues and privacy concerns about data generation in use in Europe cut the children's wearables market there to only a few thousand units being sold in 2017. (CCS Insights)
#9. Fewer than 5 million units were shipped in 2017 for the Android Wear platform produced by Google, which indicates the brand is shifting to more popular product lines like Google Home and their Pixel smartphones instead of sticking with their wearables division. (Forbes)
#10. The overall ASP of the smartwatch category for the industry reached $223.25 in 2017. That figure is expected to fall to $214.99 because higher volumes will lead to slight reductions in component and manufacturing costs. The average selling price for the category is boosted by Apple, which has an entry-level point of $269. (Gartner)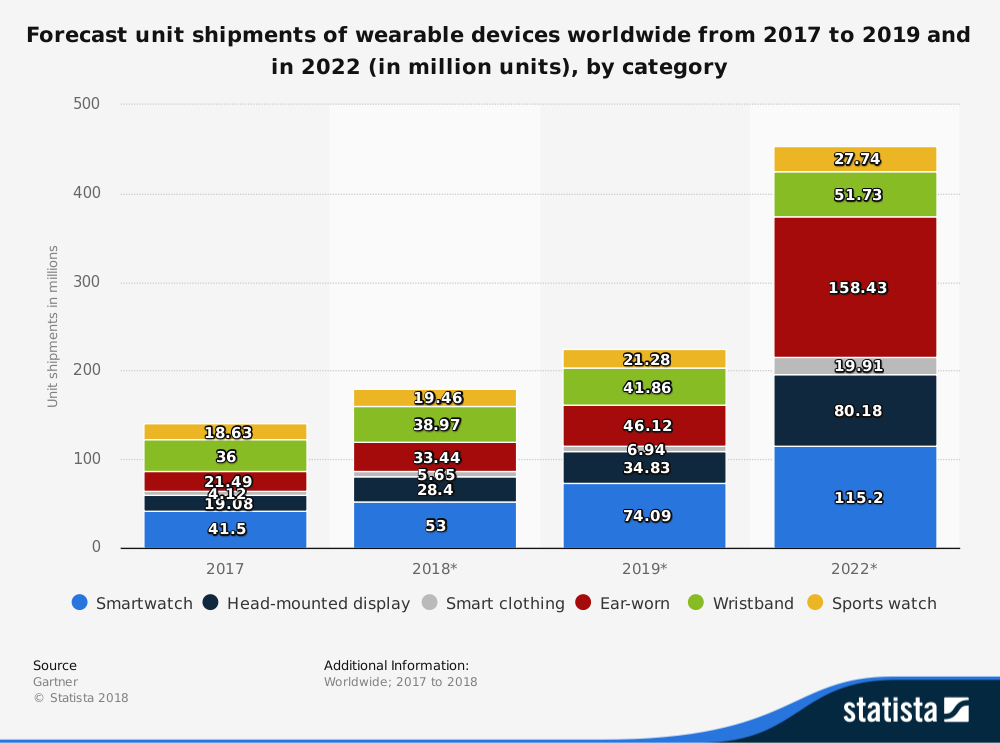 #11. Bluetooth components remain a significant segment for the wearable technology industry, making up 48% of all the products sold in 2017. More than 206 million of these components are expected to be sold in 2021 thanks to a shift in using wireless devices (like AirPods) with mobile products instead of a wired jacked. (Gartner)
#12. Shipments of smartwatches are expected to total 74 million units in 2019, with a total increase in all products to rise by 25.8% when compared to the year before. (Gartner)
#13. There were 19 million head-mounted display units sold by the wearable technology industry in 2017, making it the third-largest category behind smartwatches and wristbands. (Gartner)
#14. Only 4.12 million shipments of wearable smart clothing occurred in 2017, making it a small, but growing segment for the industry to consider as its other segment continue the maturation process. (Gartner)
#15. 40% of users who purchase products from the wearable technology industry say that they feel naked when they're not wearing their device. 1 in 4 consumers admits that they even sleep with the product on throughout the night. (Ericsson)
#16. 70% of wearables users perceive that the manufacturers in the industry are "very serious" about protecting their data. Users are more trusting of their brands with this information than they are with insurance companies, internet providers, and even doctors. (Ericsson)
#17. 43% of wearables users say that they believe smartphones will one day be replaced with technologies offered by the industry. 40% of those who own a smartwatch say that they already spend less time on their phones, treating it as more of a secondary screen. (Ericsson)
#18. 60% of smartphone users say that they believe wearable tech will have numerous uses that go beyond the health and wellness category by 2020. (Ericsson)
#19. 25% of people who say that they purchased a wearable device within the past 90 days have not had their expectations met by the product. (Ericsson)
#20. 74% of people believe that using multiple sensors and wearables will make it easier to interact with items that are around them. Over 30% of industry consumers today expect that they will be wearing at least five products by the end of 2020. (Ericsson)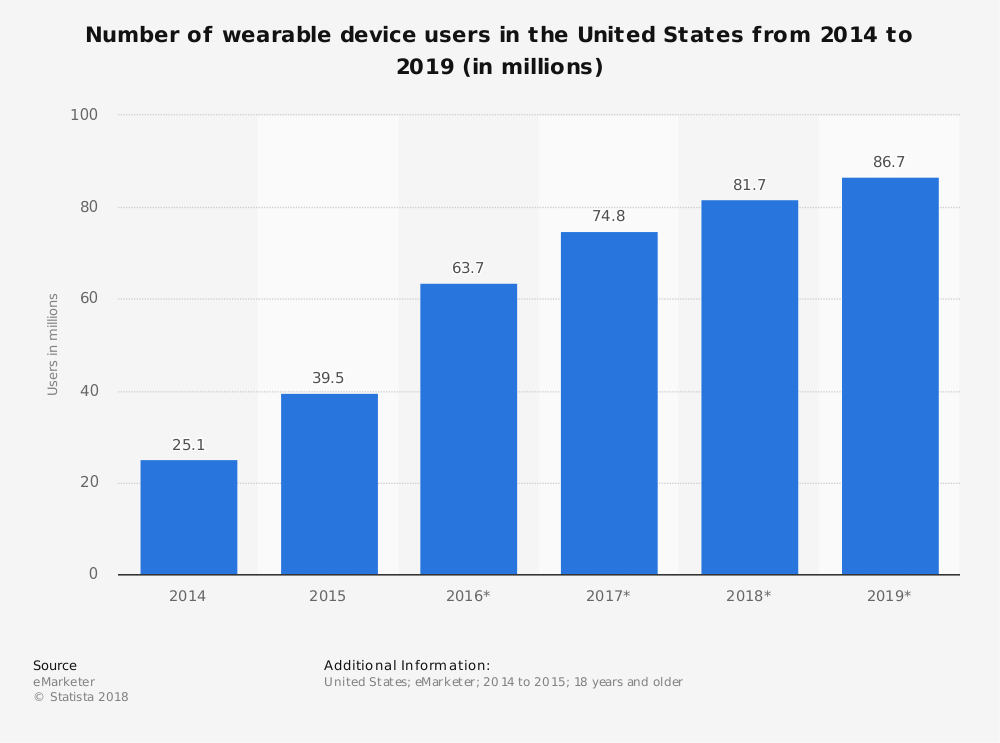 #21. Although women are more likely to own fitness trackers when considering a product from the wearable tech industry, 63% of smartwatch owners are currently men. (Ericsson)
#22. 83% of smartphone users today say that they expect wearable technology to offer some form of standalone connectivity. 40% of owners say that they prefer either cellular or Wi-Fi as this primary option with built-in functioning for it. (Ericsson)
#23. 32% of consumers who purchase wearable technology use it for health and clinical reasons, including fitness use. 24% say that they wear the devices because it's a tech innovation. Only 13% of users say that they wear the device for its experiences, such as payment, safety monitoring, or automatic connectivity. (Quid)
#24. The popularity of fitness bands and smartwatches in Britain rose by 18% in 2017, creating sales that topped 4 million devices for the first time. Smartwatches were up 23% during this period. (Mintel)
#25. The ownership of smartwatches in Britain during 2014 was just 2% of the overall population. That level reached 9% in 2017, while the ownership of fitness bands increased to 16%. (Mintel)
#26. 1 in 3 people say that the overall merits of using wearable technology will make their lives better in some way. (Mintel)
#27. About 20% of the people who are interested in purchasing a wearable device in the next 12 months are interested in how it can help them access the smart technologies of their home. (Mintel)
#28. 38% of parents which children under the age of 16 say that they are interested in the technology of wearables because it can help them track and monitor their kids, including sleep and location monitoring. (Mintel)
#29. Roughly 30% of consumers say that they support the idea of leaving a smartphone at home if their smartwatch could offer the same functionality, including messaging, calls, music, and data access. 40% of those in the 25-34 age demographic support this option, which leads all other age-based categories. (Mintel)
Wearable Technology Industry Trends and Analysis
Although there were some people who were quick to label the Apple Watch as a failure when it was first introduced to the wearable technology industry, the $1 billion in revenue it earned per quarter for its initial sales changed plenty of minds. Look for continued competition to develop in the watch and fitness tracker segments as they continue to hold at least half of the overall market through 2029.
In the next 10-year period, the market for wearables in China could reach three times that of what it is currently in the United States. Western Europe should see a similar level of consumer interest compared to the America market.
Most products that are manufactured for the wearable tech industry will see slow and steady gains as the next generation of each product come to the market. There may be some failures along the way (think Google Glass), but it will see continued interest and user penetration rates from a global perspective. The one disruptor for this field is the wearable cameras, such as GoPro, which could expand or contract based on the strength of the overall economic picture and consumer interest in outdoor activities.
Those with broad distribution, large-scale production, and robust branding will see the most significant success is the next ten years.