The Japan hotel industry is one of the fastest-growing segments in the world today. Tokyo will receive an additional 30,000 guest rooms by the end of 2020. Even with that surge in available accommodations, an expected shortage of 3,500 rooms persists.
With cities like Kyoto, only 41% of travelers stay overnight because there is a lack of accommodation. That means a city like Osaka picks up the slack, where 90% of travelers stayed overnight in 2014.
Total revenues earned by the Japan hotel industry top $5.5 billion per year, with the annual growth rate averaging more than 5%. User penetration with the industry is 18%, with the total average revenue per user topping $245. That ranks the industry as the fourth-largest of its type in the world.
The total number of hotel rooms available in the eight major cities of Japan is expected to reach 330,000 at the end of 2020. If that figure is reached, total availability will rise 32% over 2016's hotel numbers.
This surge in interest comes as Japan gets ready to host the 2020 Olympic Games. Could these growth trends be rising solely because of the international competition? What might happen to the industry after the games conclude in 2020?
Important Japan Hotel Industry Statistics
#1. The RevPAR for the eight largest cities in Japan rose by up to 30% in 2016 from the year before thanks to a surge in the number of tourist visits. 47% more people visited Japan in 2016, reaching a total of 28.6 million people. (Hotel Management)
#2. Occupancy rates in Japan rose 3.2% from 2015 figures to climb above 90% for the entire industry. The average daily revenue in the eight major cities rose by 26.4 at the same time. (Hotel Management)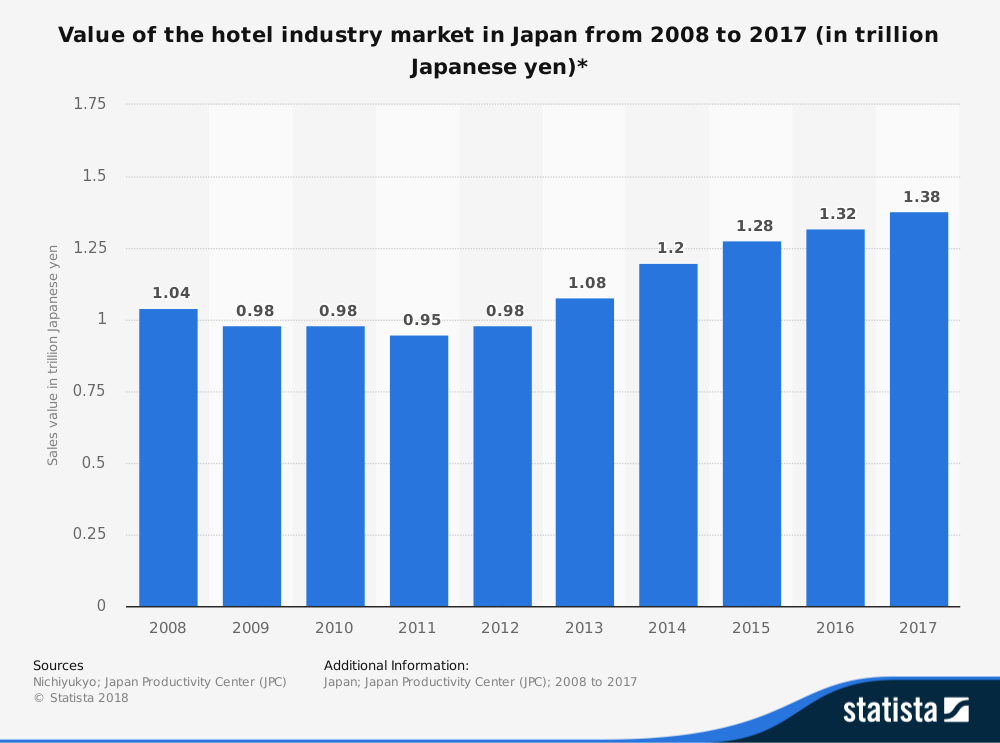 #3. RevPAR and ADRs have been up 4% and 6% respectively each year for the past five years through 2017 for the Japan hotel industry. (Standard Life Investments)
#4. Total spending by foreign tourists in Japan rose by 17.8% in 2017, totaling 4.4 trillion yen for the year. (Savills World Research)
#5. The number of overseas visitors to Tokyo increased by 3.6% in 2017, but it was Osaka, with an 18% YoY increase, that helped to push the hotel industry to new heights. (Savills World Research)
#6. Hotel occupancy rates have increased by more than five percentage points since 2012 for the Japan hotel industry because demand has outpaced the available supply. (Savills World Research)
#7. During a 2012 survey of hotel owners and locations, 40% of the hotels offering rooms were over 30 years old. 43% of the ryokan included with the industry was more than five decades old. (Savills World Research)
#8. 15% of leisure tourists, along with 12% of all travelers, take advantage of minpaku services while staying at a Japanese hotel. That means about 3.6 million are using private lodging opportunities when they travel to Japan. (Savills World Research)
#9. Travelers who stay in private homes when visiting Japan stay almost two days longer than other visitors, but they also spend about 17% less on their lodging requirements. (Savills World Research)
#10. 85% of the minpaku locations supported by the Japan hotel industry are not registered with the government. (Savills World Research)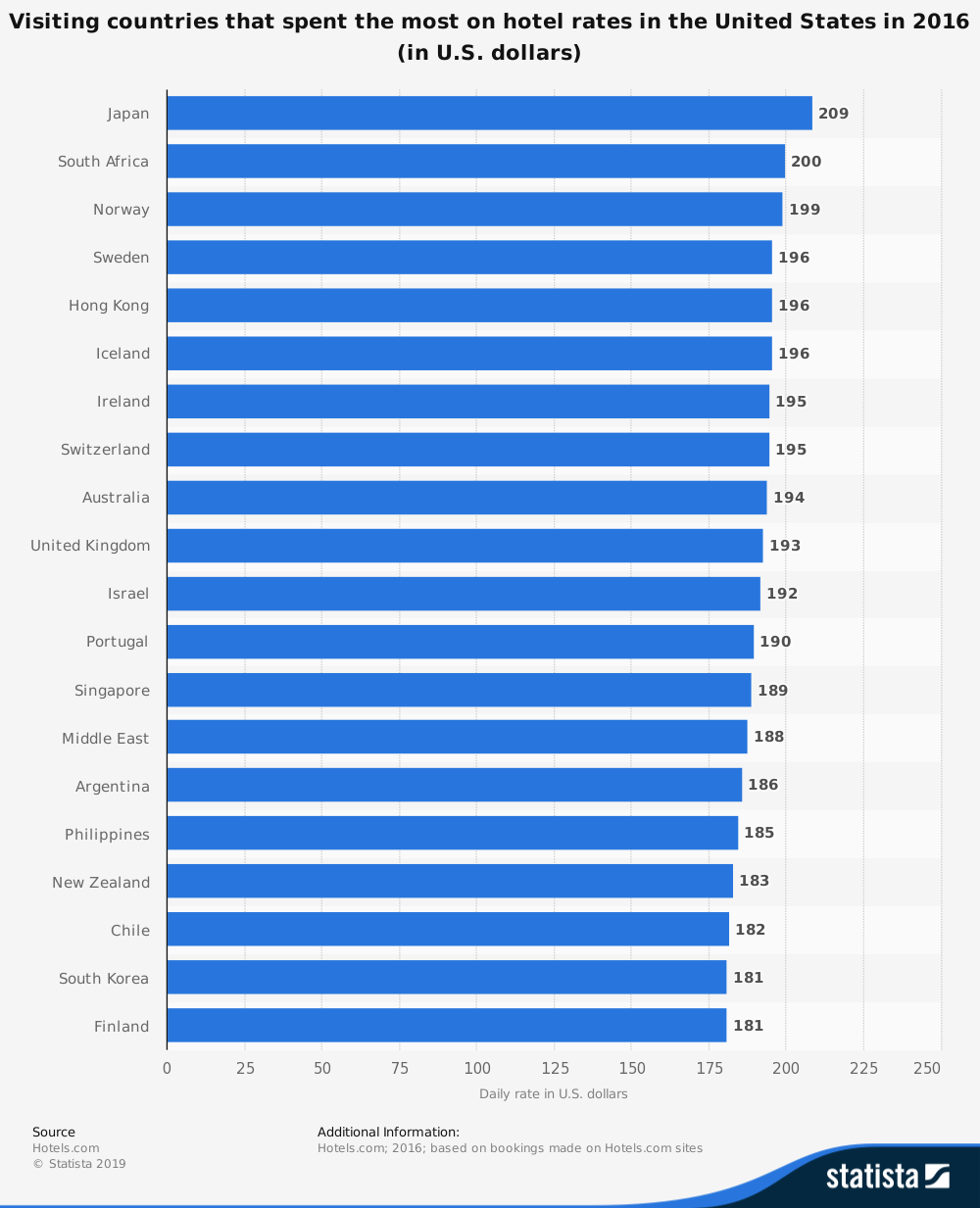 #11. About 4,000 luxury hotel rooms are currently available in Tokyo. Their occupancy rate patterns the overall industry, achieving 81%. (HVS)
#12. South Koreans are driving the number of non-Japanese travelers who stay in Beppu, helping the city see a 130% increase in the number of bookings received. (Japan Times)
#13. The Suginoi Hotel and Resort, which provides 647 rooms, has maintained a 100% occupancy rate for four consecutive years. (Japan Times)
#14. From 2011 to 2015, the inbound tourism rates grew in Japan by 33% each year, making it one of the fastest growth rates in the world. Depreciation of the Japanese yen, combined with China's economic growth, helped to fuel this opportunity. Some one-time changes to airline deregulation and visa relaxation bolstered the numbers too. (McKinsey)
#15. 48% of the tourists who visit Japan each year decide to stay in either Tokyo, Osaka, or Kyoto. Even with the added rooms coming by 2020, simulations of growth suggest the country may face shortages of 50% in these cities and 30% overflow in airport capacity. (McKinsey)
#16. 72% of the international tourists who visit Japan each year come from East Asia. When the entirety of the Asian continent is included in the travel numbers, then 84% of all tourists come from the east instead of the west. (McKinsey)
#17. Only 40% of Western travelers who think about visiting Japan will actually make the journey, but 60% of those who consider a trip to Thailand will purchase travel arrangements. (McKinsey)
#18. Local regions in Japan take in 30% less spending per day from travelers compared to the urban areas supported by the hotel industry. (McKinsey)
#19. Mt. Fuji is the primary major tourism asset which travelers are aware of when planning a trip to Japan, with 53% saying they know of it. 29% of people say they're aware of Okinawa, while 22% say they have heard of the Kyoto area. (McKinsey)
#20. The most significant potential for tourism growth occurs for the Oirase Gorge. Only 1% of travelers surveyed while planning a trip to Japan said they'd heard of the location, but 34% expressed interest in visiting once the attractiveness of the asset was explained to them. (McKinsey)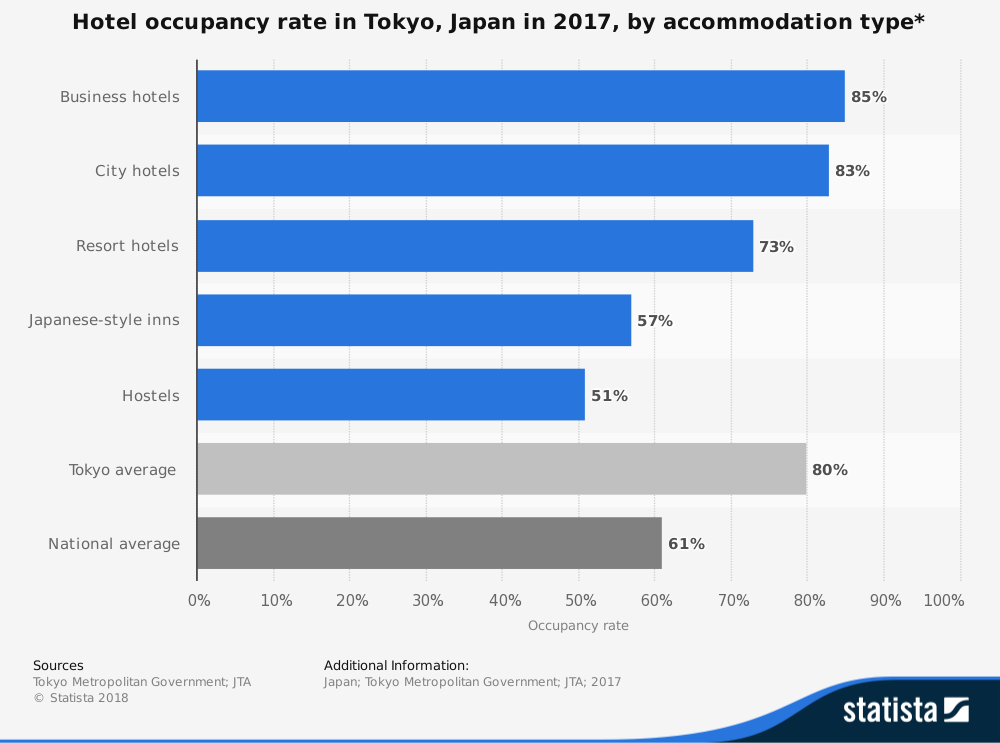 #21. Transaction volumes stood at 270 billion yen in 2017, down 33% from the year before, even though several significant investments took place within the industry. (Savills World Research)
#22. The expected cap rates for economy hotels located in prime spots in Tokyo compressed by 0.2 ppts, reaching 4.5%, which reflects a more robust desire for acquisitions within the Japan hotel industry. (Savills World Research)
#23. Total lodging project costs within the Japan hotel industry reached 900 billion yen in 2017, tripling the volume experienced by the industry in 2015. (Savills World Research)
#24. Hotel construction starts reached an 18-year high in 2016 for the Japan hotel industry, totaling 1.96 million square meters. (HospitalityNet)
#25. Osaka estimates that up to 1/3 of its available rooms each night may be through illegal operations held by quasi-hotel function managed in residential homes. (HospitalityNet)
#26. As a region, Asia-Pacific hotels (including Japan) are experiencing mid-range growth in the global hotel industry at 3.5%. Africa leads the way with 13.4% growth in this sector, followed by Canada at 10%, Mexico at 6.4%, and Europe at 5.6%. (STR)
#27. About 2.6 million people visit Japan each month from overseas. Unlike other countries, there are no seasonal variations experienced by the industry, although April and July do tend to see spikes in visitor traffic compared to the other months. (JTB Tourism Research and Consulting)
#28. Around 144,000 people visit Japan from the United States each month. That places the U.S. in fifth for tourism origination. China sends about 715,000 visitors, followed by Korea (571,000), Taiwan (379,000), and Hong Kong (169,500). (JTB Tourism Research and Consulting)
#29. Even with the downturn experienced recently in the Chinese economy, the number of tourists visiting Japan from the country increased by 7.8% in 2018 monthly figures compared to 2017 numbers. (JTB Tourism Research and Consulting)
Japan Hotel Industry Trends and Analysis
By the end of 2020, the hotel stock in Japan expects an increase of nearly 30%. Construction on about 80,000 guest rooms in the eight major cities of the country should be completed by then. Combined with the strong ongoing performance of the industry, the number of inbound tourists competing for these rooms could top 40 million for the first time within the next five years.
If the current growth trends persist through 2030, then up to 60 million people per year could visit the island nation.
The only circumstance holding back the Japan hotel industry right now is the overall availability of rooms. With ongoing high capacity rates throughout the country, rising average daily revenues across the board, and a robust performance in overnight stays, expect new styles and rooms to differentiate the supply and add even more opportunities for the industry.
There is little risk of oversupply within the industry. Competition should intensify with resort hotels and limited-service arrangements as travelers seek out specific experiences during their stay. About half of the new hotels will accommodate business travelers only. Even with vacation rentals, Airbnb-like services, and the growth of low-cost hostels, expect this industry to continue being a global leader in its field.