Any brand can potentially be a luxury brand, which is why it is important to distinguish certain features that are offered to customers compared to other brands. Luxury brands offer products that are typically at the highest price points in their category. Apple would be an example of a luxury brand for computers and mobile technologies.
Quality is another distinguishing feature followed by its ability to separate itself from the rest of the industry. Deloitte recently projected 99 million millennials versus 77 billion boomers make up the larger segment of the luxury market.
Critical Luxury Retail Industry Statistics
#1. The aggregate net sales of luxury goods from the Top 100 brands in this industry created $212 billion in revenue in 2016. (Deloitte)
#2. The composite net profit margin for the luxury retail industry in 2016 was 9.7%. The composite return on assets was 7.9%. This resulted in sales growth from the year before of 6.8%. (Deloitte)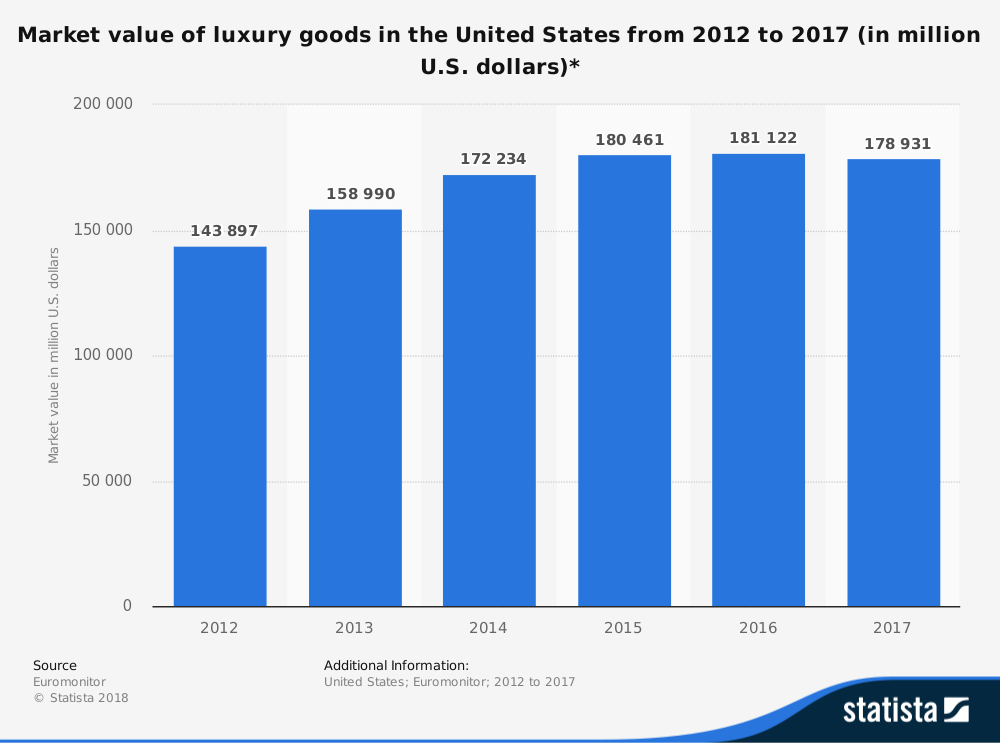 #3. The economic concentration of the Top 10 luxury brands in the industry was over 48%. (Deloitte)
#4. Millennials spend 48% of their money on luxury products domestically. This is compared to 65% of sales from Baby Boomers and 54% from Generation X. (Deloitte)
#5. 88% of consumers who purchase at least one item from a luxury brand during the year agree that they do so because it is a premium-quality product. Another 82% of consumers agree that purchasing a luxury product makes them feel happy or confident. (Deloitte)
#6. Just 56% of consumers who shop luxury brands say they purchase specific items with the intent to show them off. (Deloitte)
#7. About 2 of every 5 sales of a luxury item occurs online. Millennials and emerging markets are the most likely to shop online, while Baby Boomers (28%) are the least likely to shop online. (Deloitte)
#8. Two out of every three companies that reported their earnings in FY 2015 reported an increase in sales revenues. 49% of the Top 100 reported higher sales growth. (Deloitte)
#9. The U.S. market is the largest for the luxury retail industry. Consumers with HHI of $200,000 or more is the fastest growing segment of the U.S. economy. Yet affluent shoppers are moving away from luxury brands because net worth is increased by saving money instead of spending it. That's why one of Walmart's fastest growing customer segments is in the HHI $150,000+ category. (Forbes)
#10. The luxury retail goods market has a global value of $322.74 billion for personal items. Global luxury cars as their own segment of retail sales have a value of $602.37 billion. (Statista)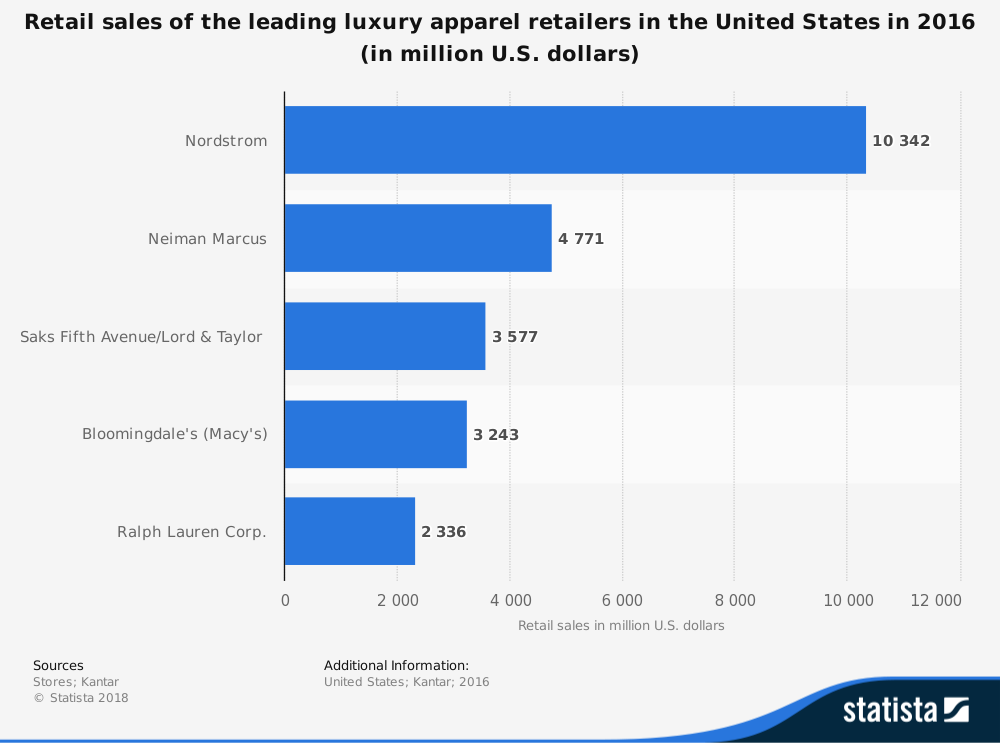 #11. The global value of the Louis Vitton exceeds $35 billion. (Statista)
#12. The market value of Apple as a brand could reach a $1 trillion evaluation by the end of 2018. (Barrons)
#13. The global value of the luxury hospitality market is expected to reach more than $235 billion by the end of 2018. (Statista)
#14. The current value of the U.S. luxury goods market is about $100 billion. (Statista)
#15. The top-performing luxury segment in the retail industry was automobiles, achieving 8% growth. The very high-end market helped to stabilize this growth, with particularly strong sales in China. (Bain and Company)
#16. Luxury cruises saw a 5% increase in sales, while luxury hospitality experienced a 4% increase, because of overall growth in luxury travel efforts. (Bain and Company)
#17. The global luxury retail industry achieved total sales of $1.23 trillion in 2016, which is reflective of a 4% increase in year-over-year sales. (Bain and Company)
#18. Despite the high levels of growth, the personal luxury goods sector contracted by 1% in 2016. (Bain and Company)
#19. The Americas and Asia, if Japan is excluded, contracted in the personal luxury goods market by 3% in 2016. Due to a decline in tourism, Europe experienced a 1% contraction in this segment as well. (Bain and Company)
#20. China's share of the global luxury goods purchases declined by a percentage point to 30% in 2016. Local luxury purchases in China exceeded tourism purchases for the first time in 15 years in 2016. (Bain and Company)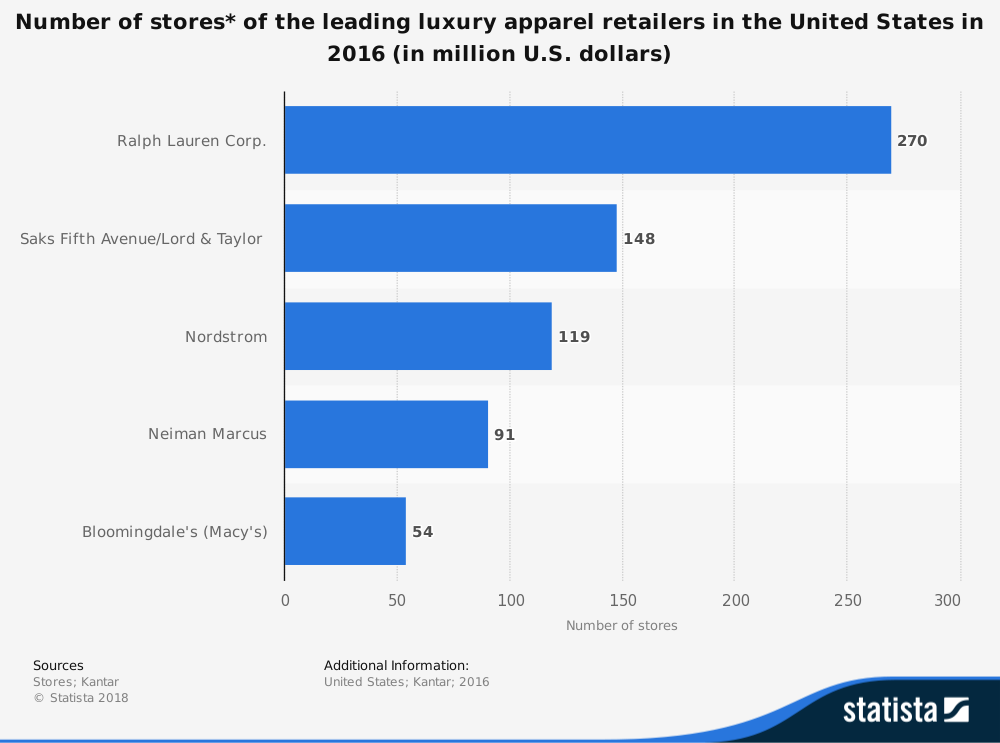 #21. The largest channel for personal luxury goods is wholesale, which accounts for about 70% of all sales. Discounted sales make up 37% of the luxury goods market. (Bain and Company)
#22. E-commerce represents just 4% of all luxury sales, but 40% of luxury purchases are influenced by the digital experiences that customers have with a brand. (McKinsey)
#23. 75% of luxury shoppers own a smartphone and about 50% of them own a tablet. 52% of luxury retail shoppers in the United States do online research before making a purchase. (McKinsey)
#24. In 2016, about 7.6 million Chinese households are believed to have purchased at least one luxury item. Each household spends over $11,000 on luxury items annually. That's double the amount spent on luxury items compared to consumers in France or Italy. (McKinsey)
#25. In 2008, China accounted for just 12% of total global luxury spending. From 2009-2016, Chinese consumers accounted for 75% of the total growth experienced by the industry, with a total value of more than $65 billion. (McKinsey)
#26. Wealthy Chinese households, defined as having an income equivalent to about $50,000, represent half of shoppers in the industry and 88% of luxury spending that happens in China.
#27. The value of the global luxury goods market is forecast to rise 3% annually through 2025, but it is forecast to rise 9% annually within China. By then, Chinese consumers will account for 44% of the total luxury market. (McKinsey)
Luxury Retail Industry Trends and Analysis
For more than a generation, the luxury retail market has seemed like it is impervious to any shifts in the economy. In recent years, this trend has been disproven. Since 2017, as the stock market has dramatically increased in value and the economic picture for families has stabilized, many luxury retail brands based in the United States have struggled to survive.
In 2017, Neiman Marcus looked to restructure its debt. Sak's Fifth Avenue has seen their revenues stall. Nordstrom recently experienced 5 consecutive quarters with declines.
Two contributing factors may be responsible for these struggles. The strength of the U.S. dollar against other currencies has lessened the purchasing power of international customers. A weaker oil market has lessened available cash reserves that can be spent on luxury items as well.
Unless transaction growth and new customer growth can be achieved, the forecast for the luxury retail industry will continue to be unfavorable.