Janitorial services include any task that is used to clean or maintain a building. For most janitors, their primary job duty is to work as a cleaner in a hospital, home, commercial, or educational setting. Employment opportunities are quite varied throughout the industry. Some workers are independent contractors. Franchises are common, even if an individual works on their own. School districts often hire janitors to work full-time with full benefits.
Interesting Janitorial Services Industry Statistics
#1. The janitorial services industry employs over 3.2 million people in the United States. Most are employed in dwellings, buildings, and school districts. (Statista)
#2. Each year, the janitorial services industry is able to generate more than $40 billion in the United States. The industry is forecast to earn over $46 billion for the first time in 2020. (Statista)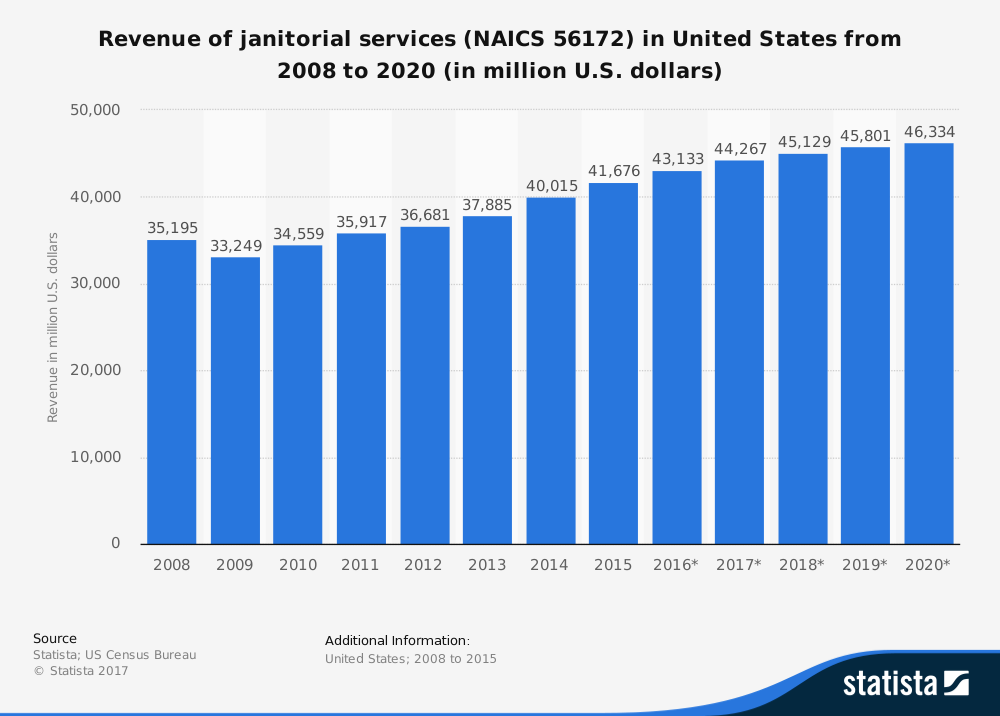 #3. Jani-King is the leading commercial cleaning franchise in the world today, with more than 9,000 franchisees operational worldwide. In the United States, Jani-King holds a 1.2% market share, second only to ABM Industries. It was founded by a student in Oklahoma in 1969. (Statista / Scott-Mason)
#4. Clorox spends more than $104 million each year on advertising for their cleaning products. (Statista)
#5. The average salary for full-time janitors and cleaners employed by the industry in the United States is just over $27,000. If buildings and ground cleaning is included in the job duties, then the average mean salary may increase to about $31,000. (Statista / NY Brite Office Cleaning)
#6. From 2012-2017, the janitorial services industry was able to achieve annual revenue growth of 2%. (IBIS World)
#7. Nearly 900,000 businesses are currently active in the janitorial industry right now in the United States. (IBIS World)
#8. Since 2013, the industry has been able to achieve a 4.3% CAGR. From 2010-2013, the CAGR of the industry was just 2.7%. (Scott-Mason)
#9. Office facilities are the largest market segment for the janitorial industry, accounting for 32% of total janitorial contracts in 2014. Educational facilities were a close second, with 31.7% of total contracts. (Scott-Mason)
#10. The top 4 companies within the U.S. janitorial industry account for just 7.9% of the total revenue generated. (Scott-Mason)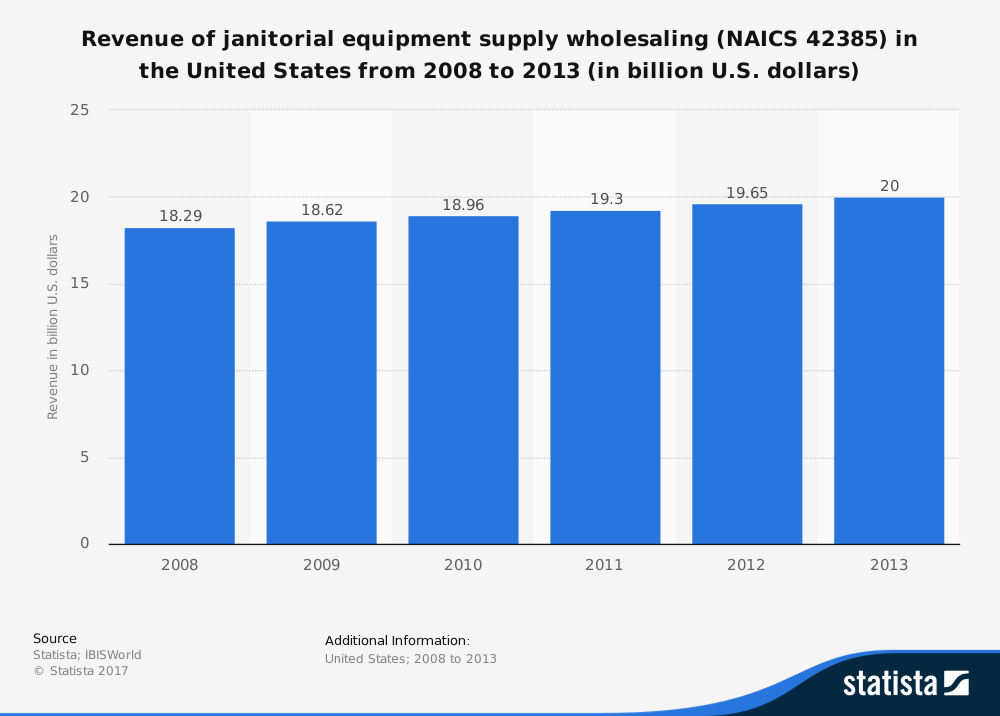 #11. In the products and services segment for the industry, standard commercial cleaning is the largest revenue generator. More than 59% of the work performed fits into this category. Additional commercial cleaning accounts for another 18.6% of the market. Residential cleaning is accounts for just 7% of revenues generated. (Scott-Mason)
#12. About 10% of all cleaning revenues are earned through carpet and upholstery cleaning services. (NY Brite Office Cleaning)
#13. Revenues for all cleaning services in the United States are forecast to rise 3.2% annually through at least 2019 (from 2015 data). If the final revenue forecasts are achieved, the total revenues for non-proprietary cleaning services would total $65 billion. (Freedonia Group)
#14. Average growth increases of 12.61% were experienced by the cleaning industry in 2015 when compared to 2014 numbers. Maine saw the highest levels of growth, at over 78%. North Dakota saw the steepest contraction in the U.S., losing more than 48%. (Service Monster)
#15. The average janitorial industry contractor loses more than half of their total customers in any given year because of non-performance, poor implementation, of cost-savings measures implemented by their client. (Office Pride)
#16. Franchises within the janitorial services industry account for about 10% of the total gross revenue that is achieved each year. (Office Pride)
#17. Commercial franchise cleaning companies have one of the lowest turnover rates in any industry at just 2%. (Office Pride)
#18. Buildings which do not use the services offered by the janitorial industry can experience up to a 5% loss in daily productivity because of unclean surfaces. (AAA Building Maintenance)
#19. The number of active businesses within the U.S. janitorial services industry is expected to increase by 1.7% annually. (Scott-Mason)
#20. Economic health greatly affects the janitorial services industry. During the Great Recession years of 2008-2009, revenues for the industry fell by 5.3% and 6.1% respectively. (Franchise Help)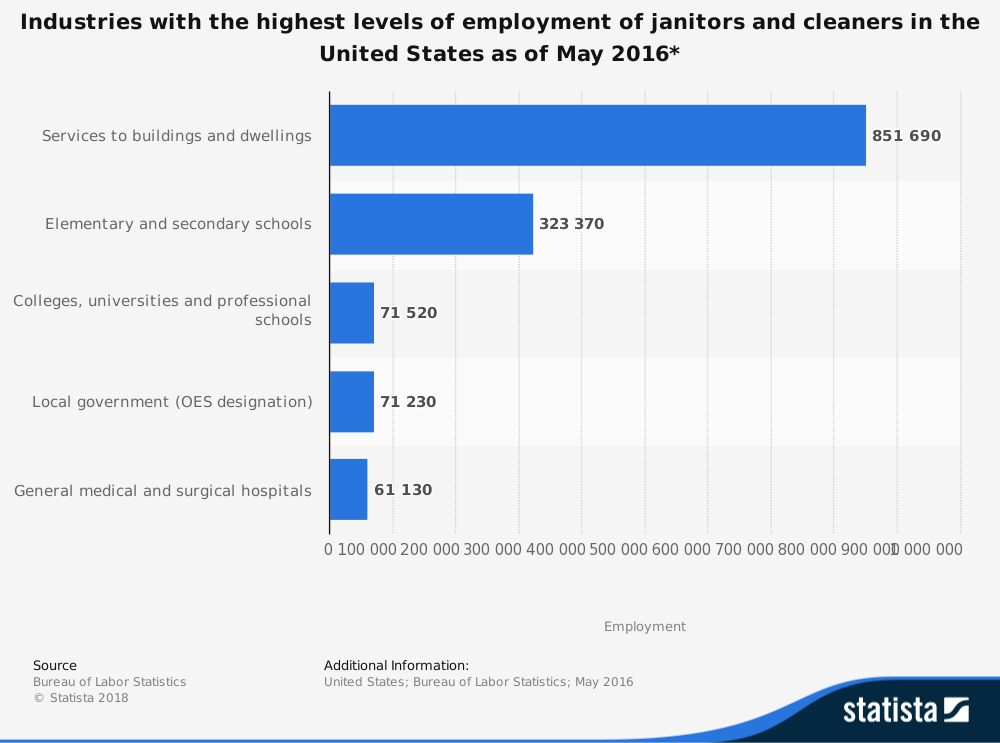 #21. Job growth within the janitorial services industry is forecast at 6% annually through 2020. (Bureau of Labor Statistics)
#22. Air pollution levels within homes can be an average of 5 times higher than outdoor levels. In some buildings, pollution levels may be 100 times higher indoors. That makes poor indoor air quality one of the 5 biggest environmental risks to the general public. (Environmental Protection Agency)
#23. Investments into LEED projects with proper janitorial maintenance can save businesses over $18 billion over the life of a project. (White House Office of Management and Budget)
#24. The annual utilities cost per employee in LEED facilities is more than $675 lower than it is in non-green facilities. (University of Notre Dame)
#25. LEED-certified buildings have operational costs that are 19% lower when compared to the national average. (U.S. General Services Administration)
#26. About 180,000 people around the world have earned LEED credentials that help them be able to design and implement environmentally friendly cleaning and maintenance services. (U.S. Green Building Council)
#27. About 90% of the products and materials that are required to complete janitorial services in the United States are sourced from companies or materials that are within a 500-mile radius of the contractor or organization. (U.S. Green Building Council)
Janitorial Services Industry Trends and Analysis
The future of the janitorial services industry relies on the ability for employers to implement best practices and employees to follow them. This allows for accurate estimations for cleaning contracts and maximizes the productivity of each worker.
Easy access to MSDS information and worker safety stations will decrease downtime and increase worker safety simultaneously.
Janitorial services are often the first cuts that are made when organizations need to take cost savings measures. With new cleaning products on the market that require specialized training, along with LEED and CRI regulatory agencies getting involved to protect indoor environments, the quickness to cut cleaners may soon change.
There will always be a need to clean up in commercial, residential, and industrial settings. Niche segments, such as water damage or crime restoration, will continue to move forward with strength. That makes the janitorial services industry a secure industry which will likely achieve its 5-year and 10-year forecasts.