#1. About 1 million visitors come to Barbados every year. That makes it the 9th-most popular destination for tourist arrivals in the region. (Barbados Tourism Investment Inc.)
#2. The tourism industry in Barbados is responsible for more than 50% of the country's foreign exchange. About 14,000 people are directly employed through the industry, which directly contributes 12% of GDP. (Barbados Tourism Investment Inc.)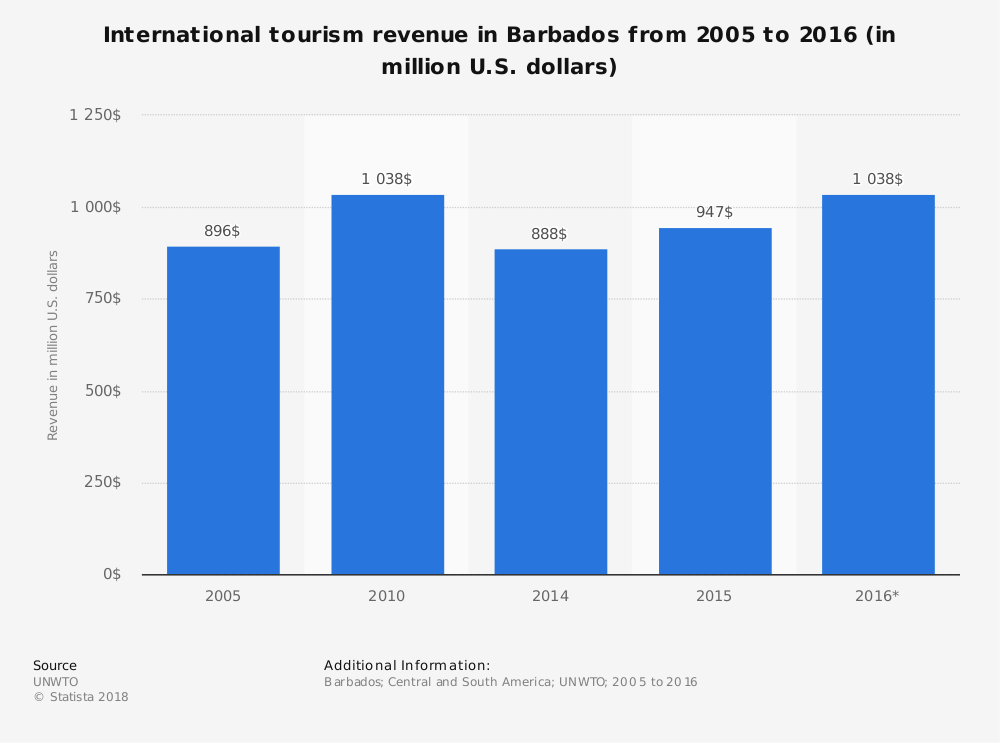 #3. Over the course of a year, the hotel occupancy levels in Barbados are 65%. (Barbados Tourism Investment Inc.)
#4. Barbados is the top destination choice for travelers from the United Kingdom, with over 500,000 long-stay visitors arriving in 2014. Another 550,000 cruise passengers from the U.K. were welcomed in Barbados. (Barbados Tourism Investment Inc.)
#5. Tourism revenues from visitors originating in the U.K. total more than $1 billion annually. (Barbados Tourism Investment Inc.)
#6. In 2017, Barbados saw a 5% increase in the number of stay-over arrivals from the year before, reaching an all-time high of 663,441. That was over 31,000 more stay-over arrivals from the year before. (Travel Agent Central)
#7. There was an increase of cruise arrivals in 2017 for the Barbados tourist industry as well. Over 818,000 cruise arrivals were documented, an increase of 12.9% from the year before. More than 137,500 cruise arrivals stayed over on the island as well. (Travel Agent Central)
#8. The United States is responsible for about 28% of the total tourism arrivals in Barbados each year. Canada provides another 12.8% of visitors. (Travel Agent Central)
#9. The performance of U.S. visitors in 2017, which was an increase of 11.7% from the year before, reached the highest number of arrivals as a source destination since 1987. (Travel Agent Central)
#10. Women are more likely to stay over (52.2%) during their stay when compared to men (47.7%). (Barbados Statistical Service)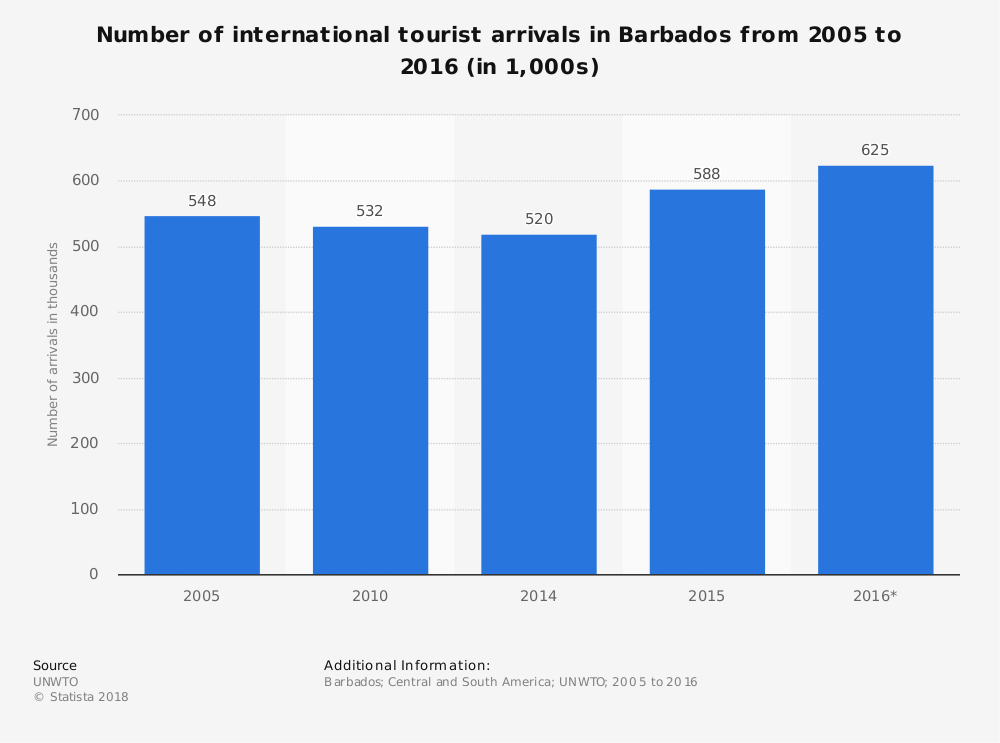 #11 People in the 15-44 age demographic are 40.5% of visitors traveling to Barbados. The 45-64 age demographic provides another 38% of tourists that visit the island. (Barbados Statistical Service)
#12. About 5% of the stay-over arrivals which are documented by the Barbados tourism industry come from non-resident Barbadians. (Barbados Statistical Service)
#13. When indirect contributions are accounted for within the Barbados tourism industry, it is responsible for 51,000 jobs, or almost 40% of the total employment opportunities available on the island. (World Travel and Tourism Council)
#14. In 2016, more than BBD 2.42 billion in visitor exports was generated by the tourism industry in 2016. (World Travel and Tourism Council)
#15. About 65,000 visitors to Barbados originate from within the Caribbean region each year, making it the fourth-largest source for tourists. (Visit Barbados)
#16. There are about 34,000 visitors which originate from Trinidad and Tobago each year that are served by the Barbados tourism industry. (Visit Barbados)
#17. In 2016, there were 424 cruise calls that were served by the tourism industry in Barbados. (Visit Barbados)
#18. The average visitor will spend about $167 per day during their time in Barbados. Total visitor spending contributes about $1 billion each year to the economy. (Visit Barbados)
#19. Out of the 28 available destinations within the Caribbean, Barbados ranked 7th in terms of total growth. The tourism industry achieved a 6.7% increase in total visitors in 2016. In comparison, Turks and Caicos Islands experienced a 17.5% increase. (Visit Barbados)
#20. November is traditionally one of the most popular times to visit Barbados, with an 18.5% in year-over-year arrivals being experienced in 2016. (Visit Barbados)
#21. 87% of tourists who come to Barbados are traveling for pleasure, business, or to visit friends and relatives. Those traveling for pleasure represented 75% of incoming tourists in 2016. (Visit Barbados)
#22. The average length of stay for someone visiting Barbados is 9 days. Two-thirds of visitors stay between 4-14 days, while 33.5% of visitors stay between 7-10 days. (Visit Barbados)
#23. About 22% of people who travel to Barbados prefer to stay with friends or relatives during their time on the island. Just 2.1% of travelers prefer to stay at a luxury hotel. (Visit Barbados)
#24. 15% of the properties which offer accommodations in Barbados have more than 100 rooms. (Visit Barbados)
#25. 13.5% of the business that the Barbados tourism industry generates each year comes from people who live in the greater London area. 83% of the travelers from London visit Barbados for pleasure. (Visit Barbados)
#26. About 9% of travelers who live in the United Kingdom visit Barbados for more 15 days, which reflects a 6.7% increase in long-term stays from figures released in 2015. (Visit Barbados)
#27. 89% of travelers who choose Barbados prefer to have an all-inclusive experience during their stay on the island. (Visit Barbados)
Barbados Tourism Industry Trends and Analysis
Located in the Lesser Antilles, Barbados provides an easy tropical destination for tourists from 3 different continents. With its central location, visitors from North America, South America, and Europe can all benefit from a stay on the island.
Its location also makes the island a natural stopping point for those taking a cruise vacation or holiday as well.
The history the island has with the United Kingdom will continue to make it a top destination option, especially with ongoing threats in Egypt and Turkey reducing resort opportunities. Proximity with travelers from the Americas will also remain strong as Barbados provides an affordable tropical-style opportunity.
Although record levels may not be broken in 2019 or beyond, the number of arrivals and the amount of spending should stay consistent within the industry. The hotel occupancy rates have a long history of being above 60%. At the very least, expect stability for this industry, with the potential for future growth in coming years if a strong global economy continues.