A mortuary is typically a morgue or a funeral home. In some cultures, it may include specific rituals that are included during the burial process. In the United States, there are currently more than 19,000 mortuaries in operation. 86% of the operational funeral homes are operated by families, individuals, or a private organization.
Important Mortuary Industry Statistics
#1. In the United States, the cost of a traditional funeral is between $8,000 – $10,000. In the past 40 years, the cost of funerals has risen by more than 1,300%. (Forbes)
#2. Because of the costs of a traditional funeral, 42% of people are choosing cremation over burial to save on their final costs. (Forbes)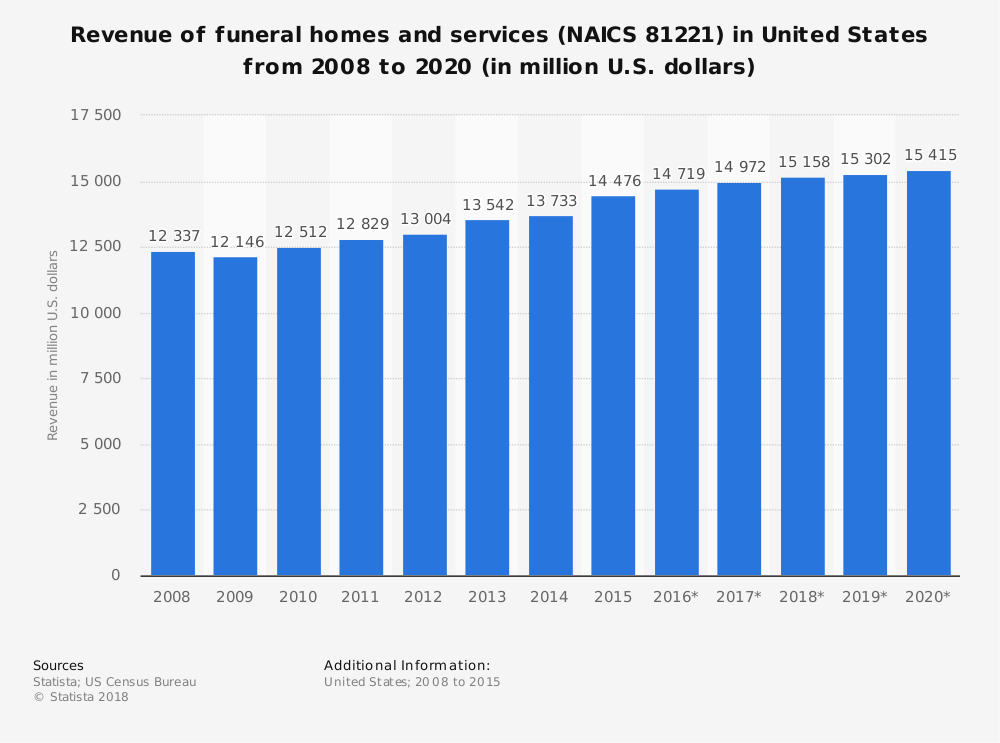 #3. In the United States, the mortuary industry provides about $20 billion in annual economic activities. About 130,000 employees receive direct employment opportunities because of the industry, which helps to serve the final wishes of 1.5 million people annually. (Forbes)
#4. The most expensive cost of a funeral, for most families, is the casket. From wholesale to retail, the cost markup for caskets averages 289%. In many instances, the markup is even higher. (Forbes)
#5. Prices on caskets may have a 200% difference between two different providers in the mortuary industry, but because of the nature of the industry, few consumers actually shop around to compare prices. (Forbes)
#6. The average mortuary in the United States handles 113 calls for service per year. To manage that level of service, three full-time employees and four part-time employees are hired. (NFDA)
#7. About 1 in 4 mortuaries will handle between 151-350 calls per year. Just 3.3% of facilities will handle more than 1,000 calls per year. (NFDA)
#8. About 14% of mortuaries today, in the United States, are part of a publicly-traded corporation. SCI (Service Corporation International) is the largest operation, with a $4 billion market capitalization. (Forbes)
#9. More than half of Americans do not have an active will. That means more than $1 billion in life-insurance benefits remain unclaimed because the information about the policy has been misplaced, forgotten, or does not have a clear beneficiary. (Forbes)
#10. Cemetery services provided in the United States contribute $4 billion in revenues to the economy as well. About 8,300 providers offer this service, about one-third of the general mortuary industry. (IBIS World)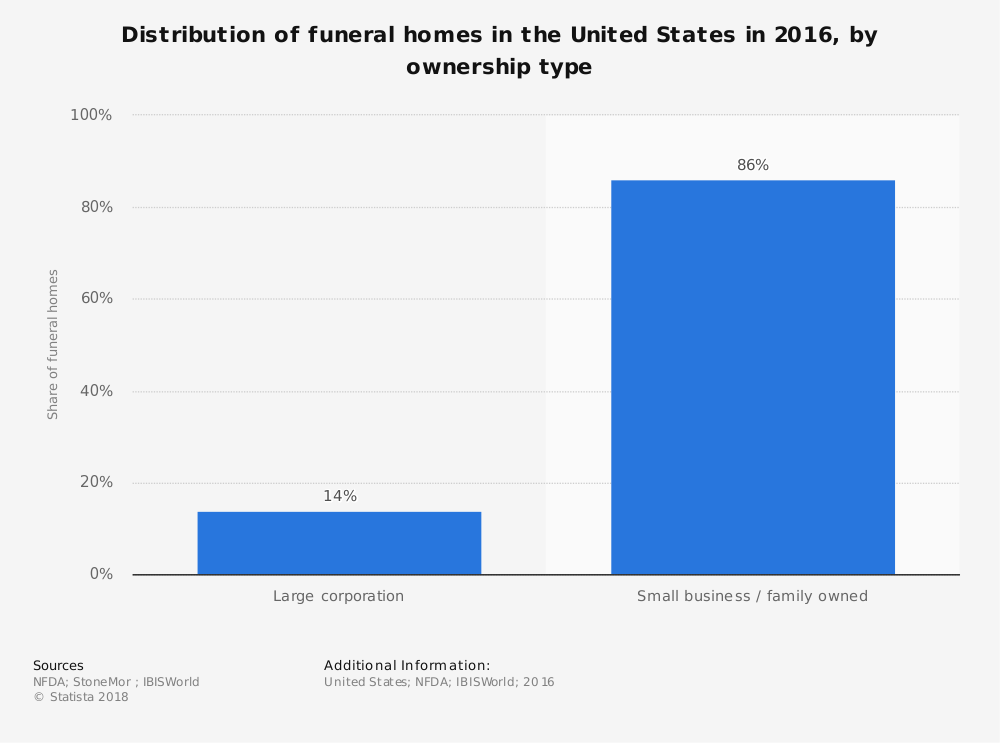 #11. Cemetery services provide direct employment opportunities to about 36,000 people in the United States. For the past 5-year period, the industry experienced an annualized growth rate of 2.2% (IBIS World)
#12. There are an estimated 120,000 cemeteries in the United States that work with the mortuary industry. SCI currently owns almost 500 cemeteries across the United States (Forest Hill Cemetery)
#13. About 24,000 morticians, funeral directors, and undertakers are employed in the mortuary industry. Another 30,000 people are employed as landscaping or maintenance workers. 25,000 people are employed as salespeople. (Forest Hill Cemetery)
#14. The average funeral home director tends to be over the age of 55. In some communities, such as West Palm Beach, FL, 60% of the directors are employed by SCI. (Forest Hill Cemetery)
#15. Although SCI dominates the mortuary industry, it does not own any mortuaries in Wisconsin. The state has a law which prevents cemetery owners from also being mortuary operators. SCI owns 5 cemeteries in the state. (Forest Hill Cemetery)
#16. In 2000, about 1 in 4 people chose to be cremated. In 2012, 43% of people were choosing this option. Assuming that costs continue to rise as they have, by 2030, up to 70% of people may be choosing cremation. (Forest Hill Cemetery)
#17. A casket which sells for $1,295 at a U.S. mortuary will usually wholesale for a price around $325. Even the rental rate for a hardwood casket for a 1-day viewing averages $1,000. (PBS)
#18. Mississippi has the lowest cremation rate in the United States, with just 13% of people choosing the option. Nevada has the highest cremation rates, with 73% of people choosing the option. (PBS)
#19. The average salary for a funeral home director in the United States is between $32,000 to $56,000 per year. Self-employed funeral directors tend to make about $4,000 less per year than those who are employed by a corporation. (PBS)
#20. There are approximately 57 million Americans who are 60 years of age or older. By 2020, that figure is expected to jump to 76 million people. (PBS)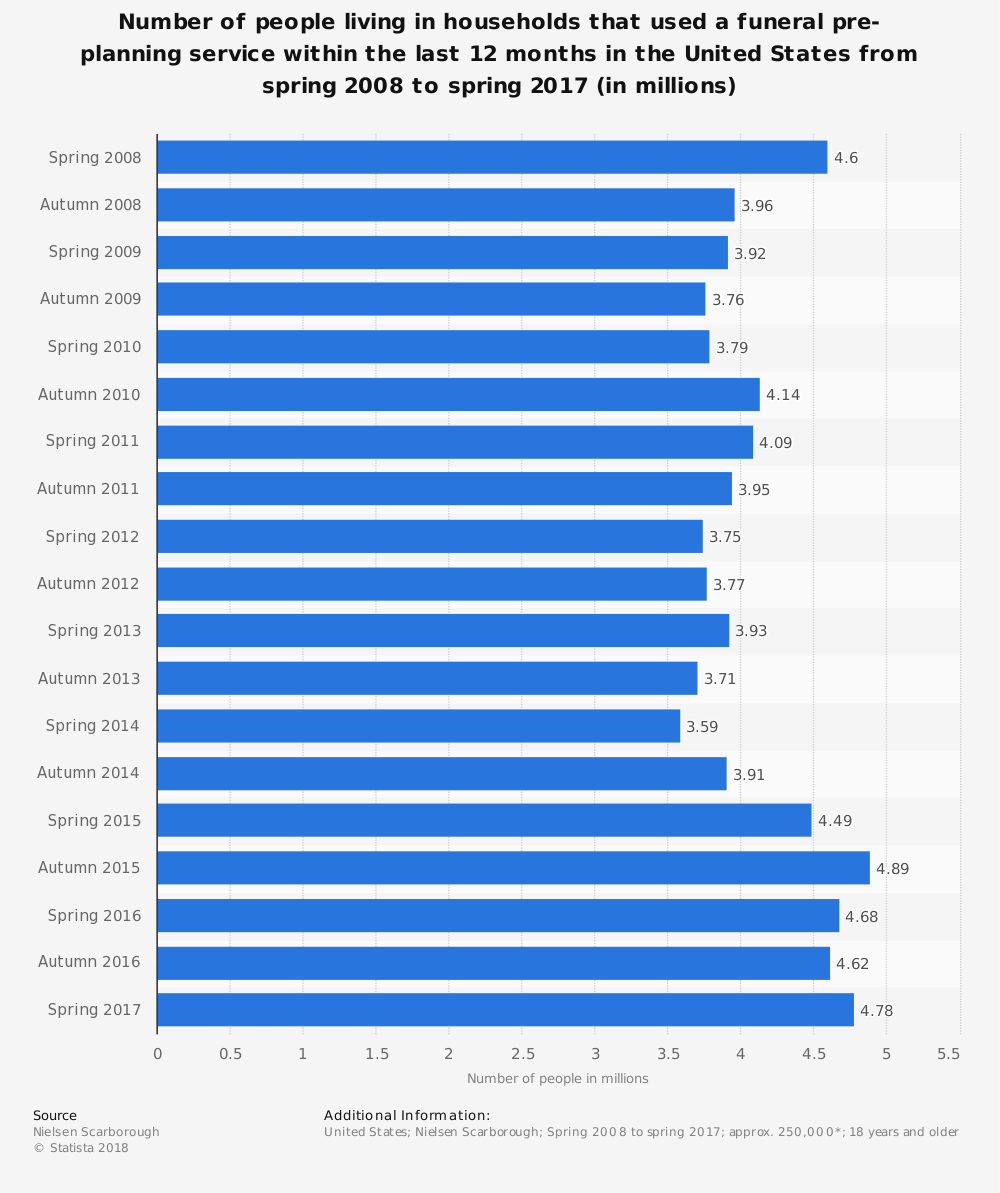 #21. 41% of SCI's business comes from cremations. In total, the company supports more than 21,000 employees and serves the U.S., Canada, and Germany. (PBS)
#22. Funeral homes are permitted to charge basic services fees for specific services, which include death certificates, body storage, and service coordination. Before the actual planning of the funeral begins, a family may be out more than $5,000. (Fox News)
#23. The majority of people who pre-plan their funerals will also pre-pay for their funerals as a way to save on their final expenses. (NFDA)
#24. More than 51% of people choose a specific mortuary because it was one that was used previously by their friends or family. (NFDA)
#25. Advertising only accounts for about 3% of the business that a mortuary receives during the year. Besides being served previously, the reputation of the mortuary is the most important factor for families that are seeking out services. (NFDA)
#26. To avoid the costs of a funeral, 1 in 4 people say that they would consider a "green" funeral, where their ashes are used to plant trees, for example, instead of a traditional funeral. (AARP)
Mortuary Industry Trends and Forecast
Although the mortuary industry is primarily composed of small businesses that are family-owned and operated, there is a trend toward consolidation within the industry. Since 2012, the number of funeral homes owned by publicly-traded corporations has increased by 3%. At the same time, more than 2,000 funeral homes have ceased operations within that time period.
The activities of Service Corporation International have involved purchasing funeral homes for more than 40 years. When SCI moved to purchase Stewart Enterprises, Inc., which was the second-largest provider in the industry, they had to seek antitrust approval to complete the purchase.
Even though SCI is able to use their size to reduce the costs of a funeral, those savings are not passed along to those who are grieving. The savings are fed directly to the shareholders of the company. A funeral at an SCI facility is 42% more expensive than a funeral at a mortuary that is independently owned.
Everyone will have final expenses one day. How the mortuary industry provides services will likely make the decision of burial or cremation for many very straight-forward. The cost of cremation is 90% less than the cost of a traditional funeral.