The word "shampoo" comes from the English colonial era in India. It entered our language in the late 18th century and comes from a Hindi word that means to knead or to soothe. Cleaning one's hair has been a practice in Southeast Asia since ancient times, with herb extracts often being used. By the 19th century, shampoos had traveled to Europe and the rest of the world, creating a global industry that is still thriving today.
Modern shampoos remove unwanted buildup in the hair without stripping a majority of its sebum. Numerous types of shampoos are available, including organic, botanical, and gluten-free options. Shampoos are not just for humans either. Pet shampoos, some of which include medications or treatments that control parasites, are also part of this industry.
Interesting Shampoo Industry Statistics
#1. The shampoo industry is the largest segment of the U.S. hair care market. In 2015, it accounted for 34% of market revenues, valued at over $4 billion. (Ken Research)
#2. About 70% of women are interested in using a hair conditioning product with a co-wash cleaning conditioner for regular use. (Ken Research)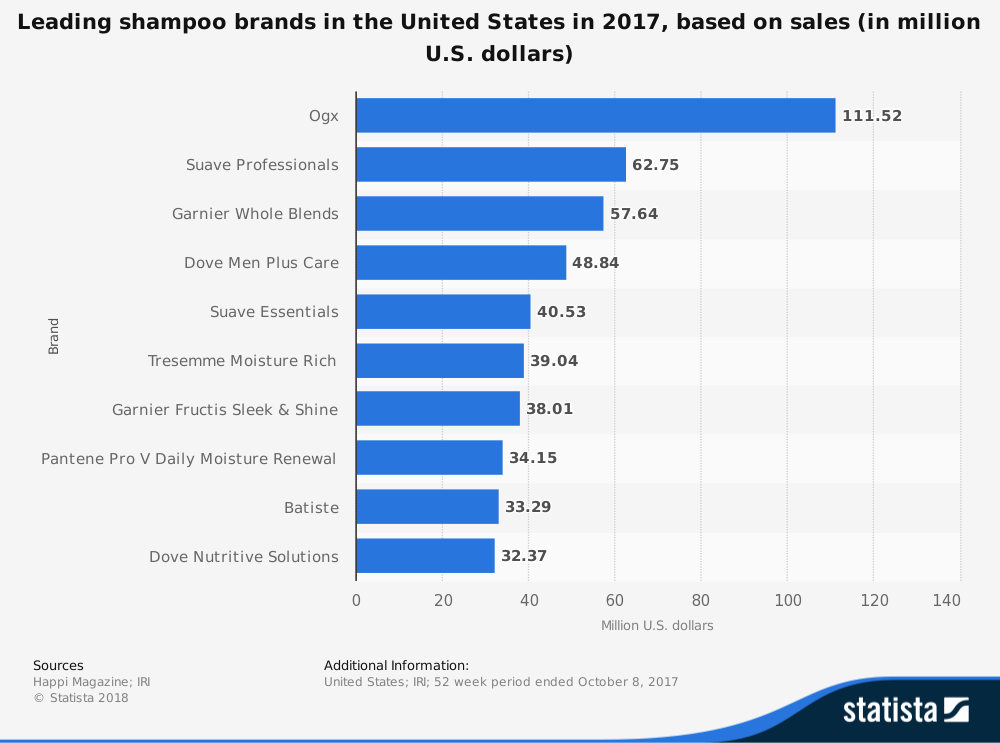 #3. The top 3 manufacturers of hair care products in the U.S. account for 60% of the retail market share. (Ken Research)
#4. When included with the overall toiletry manufacturing industry, worth $35.2 billion, shampoo and hair preparation products account for 12.24% of total annual revenues. (Statistic Brain)
#5. The average person in the United States spends about $325 every year on toiletries for themselves. That means each person spends about $35 every year on shampoo. (Statistic Brain)
#6. About 60,000 people are employed in the United States by the toiletries industry by about 850 total manufacturers. When combined, their average annual payroll tops $3 billion (Statistic Brain)
#7. California leads the United States in toiletry manufacturing, with nearly 200 facilities currently in operation. New Jersey comes in second, with just under 100 manufacturing companies. New York, Florida, and Pennsylvania round out the top 5. (Statistics Brain)
#8. OGX was the leading shampoo brand in the United States in 2017, accounting for 4.9% of total sales in the market. Suave Professionals was the second leading brand, accounting for 2.76% of all sales. These were followed by Garnier, Dove Men, and Suave Essentials. (Statista)
#9. 62% of consumers say that they typically purchase the shampoos they need from a big box retail store, such as Walmart. About 32% of people say that they purchase shampoo regularly at their local grocery store. Another 31% say they also purchase shampoo from their local pharmacy. Just 12% say that they buy shampoo online. (Statista)
#10. Through 2025, the global pet grooming market, which includes pet shampoos, is expected to grow at a CAGR of 4.7%. (Business Wire)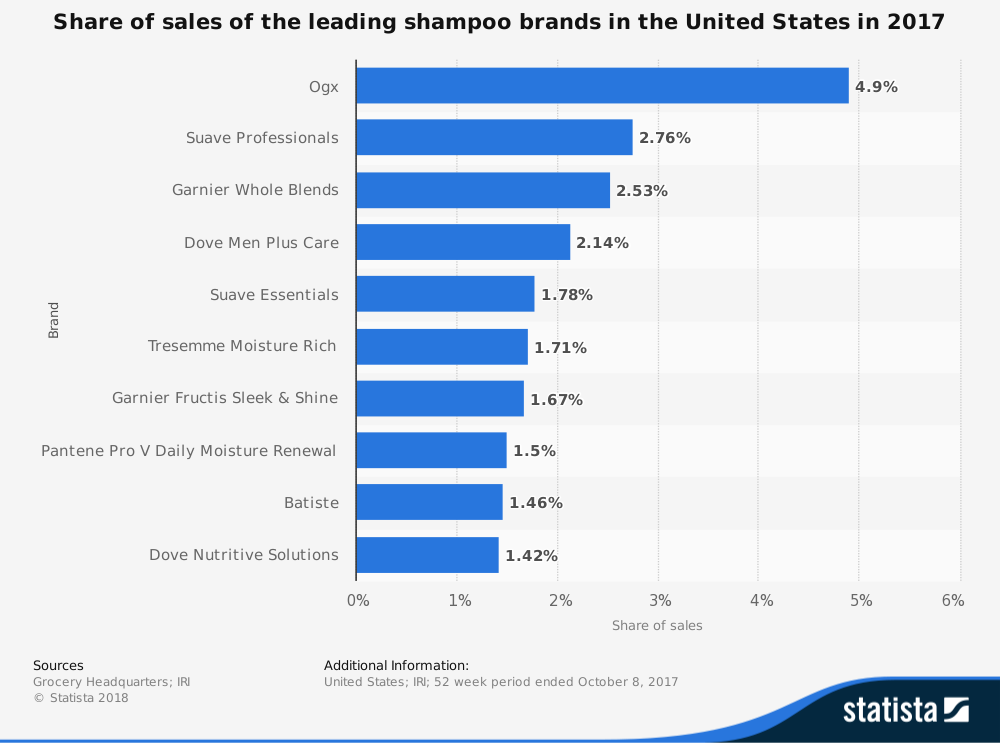 #11. Hair styling aids and hair coloring, both of which are segments of the shampoo industry, are valued at $1.8 billion and $1.7 billion respectively. These figures are not included in the nearly $5 billion value of the shampoo sector. (Mordor Intelligence)
#12. Ethnic hair care products and multicultural hair care represent an 8% share of the current shampoo industry. (Beauty Matter)
#13. In the shampoo industry, about 1 out of every 4 sales is of a conditioning product. Conditioners represent 24% of the overall hair care market in the United States. (Beauty Matter)
#14. By 2022, the global shampoo industry is expected to reach a net worth of almost $32 billion. (Allure)
#15. Specialty stores are expected to be the lead distribution channel for the global shampoo industry. In 2016, specialty stores globally had an overall market revenue share of $21.08 billion. These stores are forecast to grow with a CAGR of 3.2%. (Inkwood Research)
#16. European revenues generated by the shampoo industry in 2016 totaled $17 billion in 2016. Additional brands and options in affordable categories has helped to drive sales to a point where it nearly matches revenues from the North American market. (Inkwood Research)
#17. The value of the Chinese market for shampoos is estimated to be over $6.3 billion. The value of the U.S. market is about $5.2 billion. Japan has the third-largest estimated value, at $2.85 billion. (Mintel)
#18. In the overall hair care category, shampoo leads in every major market except for the United Kingdom and Japan. Shoppers in the U.K. and Japan purchase more hair treatment products than shampoos annually. (Mintel)
#19. Southeast Asia is the strongest market for shampoos, relative to other hair products. In China, 48% of the hair care industry revenues are generated by shampoos. In Vietnam, 56% of revenues are created by shampoos. (Mintel)
#20. Herbal and botanical shampoos are the most popular type purchased in the global industry today. In 2014, these shampoo types accounted for 58% of total sales. (Mintel)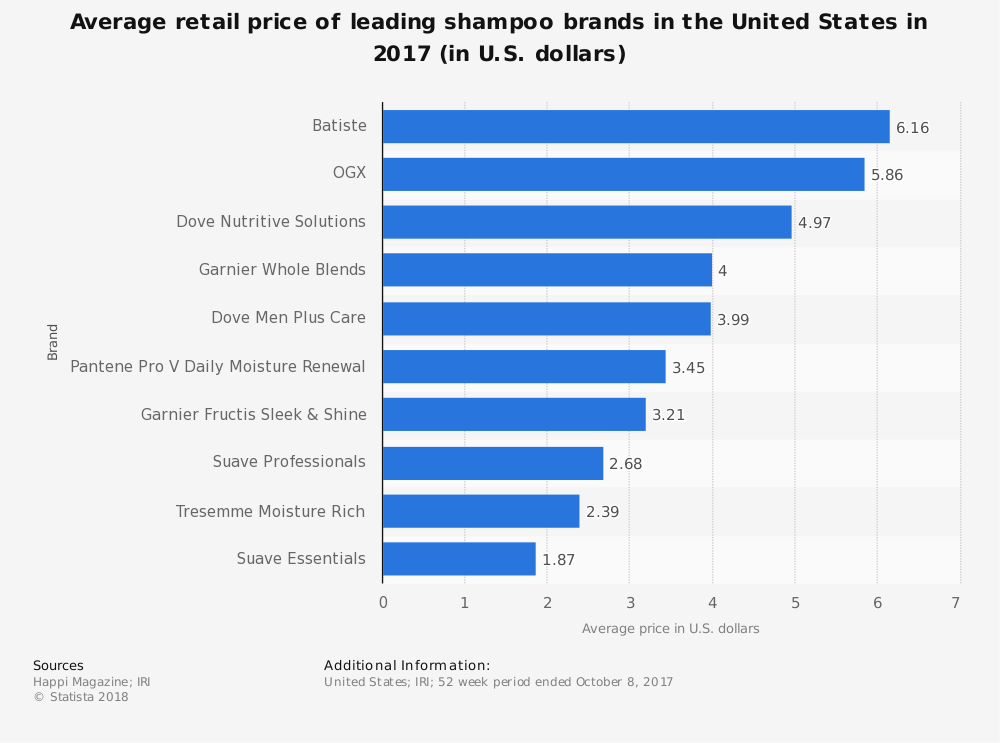 #21. The most popular styling claim that is found within the shampoo industry is the term "long-lasting." Sales of this description reached 41% in 2014. That exceeded the term "brightening" at 36% and "botanical" at 21%. (Mintel)
#22. Dimethicone is the most popular silicone in conditioners, accounting for 36% of sales in the category from 2008-2014. Amodimethicone was the second most popular, accounting for about 25% of total sales. (Mintel)
#23. From 2014 sales figures, 56% of shampoo products contained an oil or a butter. 54% of hair treatments contained one as well. Most shampoos utilize argan oil, but shea butter, coconut oil, and olive oil are popular additives as well. (Mintel)
#24. In 2013, oils accounted for 15% of new product launches in the hair treatment category, (Mintel)
#25. Men under the age of 24 are more likely (29%) then men above the age of 45 (7%) to use hair growth or restoration products that may include shampoos. (Mintel)
Shampoo Industry Trends and Analysis
As long as people will have a need to remove unwanted buildup from their hair safely, there will be a need for shampoo. This industry has over two centuries of experience in its marketplace and is not going anywhere.
What we will see in the future is a continuing diversity of branding from established names in the industry. Garnier, Suave, and Dove account for 60% of the top 10 brands, in sales, from the U.S. market in 2017. As consumers look for niche shampoos that meet their unique hair needs, each brand will look to satisfy that demand with new brands, while keeping their manufacturing branding consistent.
Pet shampoo products will continue to serve a niche area of this industry. Growth may be limited as demand is somewhat statistic, but innovation in this area could lead to large revenue gains.
Look for consumers to research new locations for shampoo purchases in the next 5-year period as well. Consumers will still typically purchase shampoo at local retail or grocery stores, but online purchases will certainly become stronger.