It's not just the culture and landmarks which draw people to the Indian hotel industry and tourism opportunities. This industry invites everyone, no matter their socioeconomic status, to experience the natural wonders of the country with an impressive level of customer service. It is an integral part of the country's economy, with home-stay and rural tourism opportunities increasing in popularity.
Interesting Indian Hotel Industry Statistics
#1. In 2017, 10.1 million tourists visited India, reflecting a CAGR of 7.1% since 2005. (India Brand Equity Foundation)
#2. The total contribution of the hotel industry, which is part of the hospitality segment in India, was more than $208 billion in 2017. That reflects 9.6% of GDP for the country. (India Brand Equity Foundation)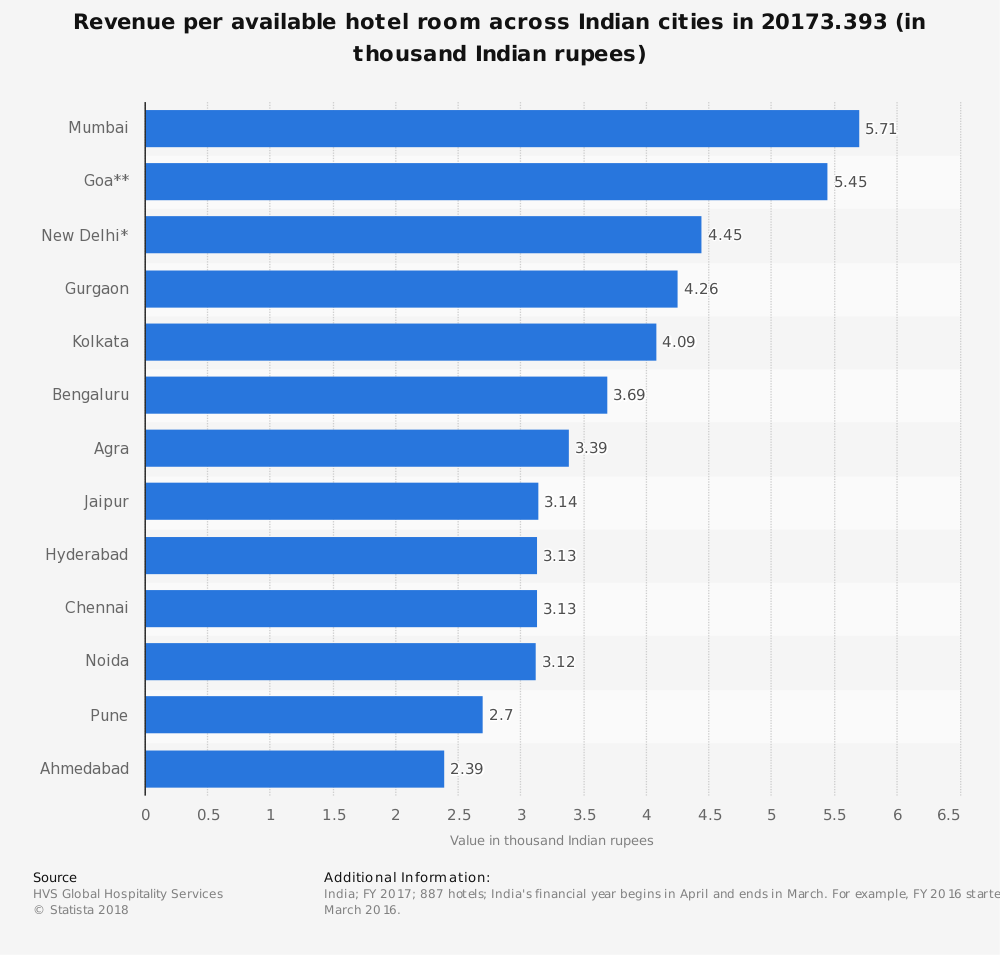 #3. Through April 2018, tourism bookings for the hotel industry in India have increased by 17.4% over revenues generated from the previous year. (India Brand Equity Foundation)
#4. Domestic tourist visits to India increased by 15% in 2017 when compared to the previous year. In 2016, more than 1.6 billion visits were logged by the government. (India Brand Equity Foundation)
#5. The hotel sector, when combined with the hospitality sector, is responsible for 8% of the total employment opportunities available in India during any given year. In 2017, that mean 41.6 million people were employed by the industry. (India Brand Equity Foundation)
#6. The hotel and tourism sector in India attracted $10.9 billion in foreign direct investment in 2017. (Department of Industrial Policy and Promotion)
#7. The government of India has allotted over $183 million for integration and development fo tourism circuits in the 2018 budget. (India Brand Equity Foundation)
#8. For hotel rooms that have an average room rate of R7,500, the applicable GST is 28%. If the average room rate is below R7,500, then the GST is 19%. (HVS)
#9. 15.7% of the visitors which book rooms with the hotel industry in India come from Bangladesh. The U.S. comes in second for total foreign tourists (14.7%), while the United Kingdom comes in third at 10.7%. (HVS)
#10. Delhi is the business airport which works with the hotel industry, with 577 lakh in arrival processed in 2016/2017. (HVS)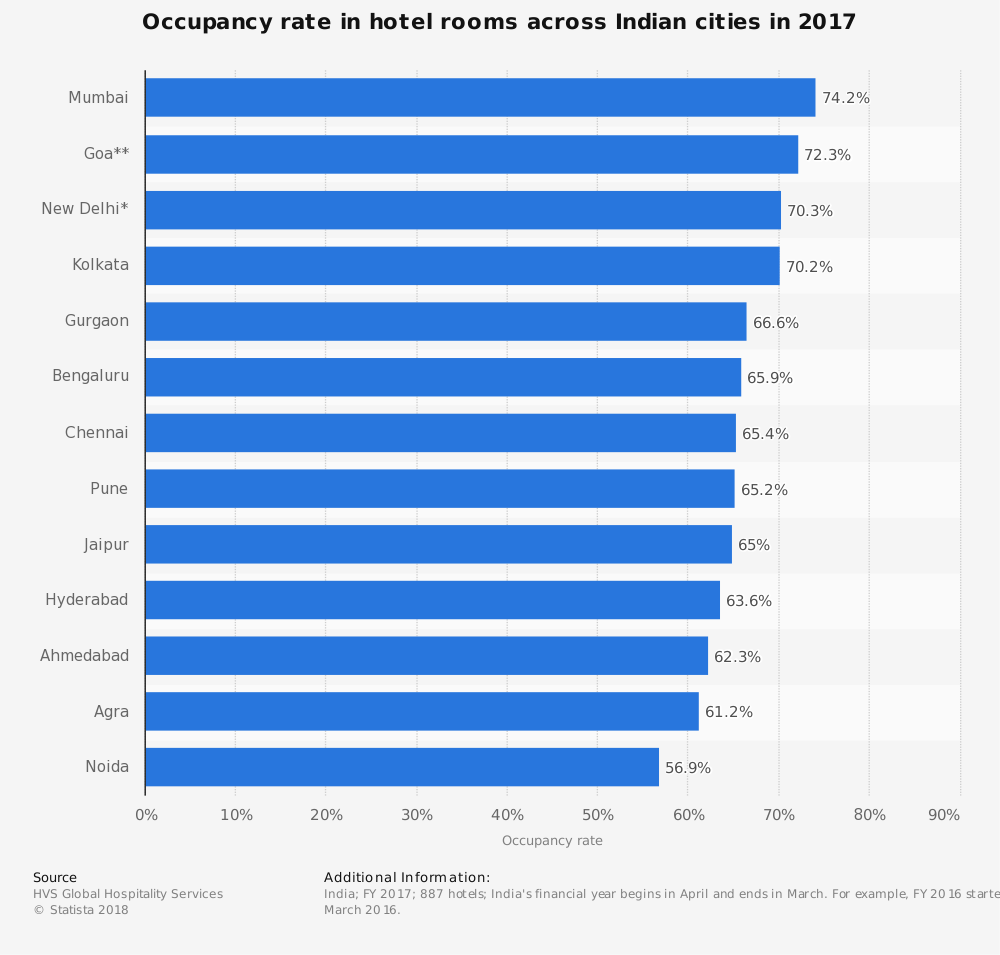 #11. Occupancy rates for the hotel industry reached 65% for the first time since 2007, with a 65.6% occupancy rate achieved for the 2016 tourism season. That reflects a 3.5% increase in occupancy from the year before. (HVS)
#12. The weighted average booking rate for hotels serving tourists in India is R5,658. (HVS)
#13. The Indian hotel industry currently offers a supply of 110,000 rooms that are available for visitors. Another 150,000 rooms are at some stage of development. (Indian Mirror)
#14. About 29,000 rooms in India are classified as being premium which are currently under development. Average room rates within the industry are expected to grow at a minimum of 2% annually. (Indian Mirror)
#15. 51% of total revenues earned by the hotel industry comes from room revenues. Another 41% of revenues are earned through food and beverage sales. (Hotelivate)
#16. Marketing costs within the hotel industry have increased by 23% since 2014 within the industry. Rental and other incomes have increased by 18%, while management fees have increased by 14%. (Hotelivate)
#17. Domestic business travelers within India are responsible for about 35% of the revenues generated by the industry in 2016. (Hotelivate)
#18. Advance reservations through online sources are responsible for about 12% of the total number of rooms booked in Indian hotels in the 2015-16 budget year. (Hotelivate)
#19. 30% of the total revenues earned by the Indian hotel industry are classified as net revenues, driven by increases in the average rates experienced by the industry. (Hotelivate)
#20. New Delhi is the largest branded market for hotels in the industry today. In 2016, local hotels experienced a 4.6% drop in the average booking price. The market grew, however, because the city experienced an 8.2% growth in total occupancy rates. (Hotelivate)
#21. About 2,800 new rooms are expected to be added in New Delhi over the next 5 years to position availability toward mid-market and upscale tourists. (Hotelivate)
#22. In 2016, hotels reported a net income increase of 12% over the year before within the Indian hotel industry. The highest levels of growth were experienced in the 5-star and 4-star categories. (Hotelivate)
#23. The Indian hotel industry reported a 4% decline in the number of skill-based employees with job opportunities in 2016. The only reported increase came from 4-star properties, which reported a marginal increase in positions at the supervisor level. (Hotelivate)
#24. Foreign business travelers are the largest segment of consumers served by 5-star hotels in India, booking 19% of available rooms. Domestic business travelers are a close second, responsible for 18.2% of bookings. (Hotelivate)
#25. Domestic guests are responsible for 54% of hotel bookings in India. (Hotelivate)
Indian Hotel Industry Trends and Analysis
The Indian hotel industry is experiencing a surge of growth thanks to an effort at modernization. That has led to an increase in average revenues earned per room for hotels at every level of service, which has caused the industry to push forward with an increase in overall room availability.
At the same time, the rupee continues to trade favorably with global currencies, creating a value-based tourism destination for many around the world. At the current conversion rate, where a 5-star room would charge R7,500 per night, the price in dollars would be $109.09.
With investments into the infrastructure coming from the government as well, tourists are finding that the history and culture of India is more available now than ever before. With eco-tourism opportunities being developed, along with other forms of rural and cultural tourism available, the hotel industry looks poised to continue growing at a rapid rate.
Over the next 5-year period, a forecast CAGR of 5% is expected, with larger gains possible, depending upon the levels of foreign direct investment which come into the country. Although expenses from development will cut into the net profits over this forecast period, the Indian hotel industry looks poised to be a leading ambassador for their local economies.