Bioplastics are a form of biodegradable plastic. That is because they are derived from materials that are biological instead of being created from petroleum. It is an industry with more than a century of experience. Even in the first American automobiles produced, bioplastics from soybeans and corn were used.
Today, you can find bioplastics in a number of common items that are used around the world. Everything from food containers to grocery bags to plastic silverware has a biodegradable option. These commodity plastics complement engineering-grade products to create a unique and diverse market.
Political interference often affects industry statistics. For example: regulations in Europe require 90% disintegration within 12 weeks for certain bioplastics. Although fully degradable, some plastics in this industry may only disintegrate by 60% within the specific time period. That reduces production capacity because the bioplastic doesn't meet an artificial regulation.
Important Bioplastic Industry Statistics
#1. In Europe, bioplastics represent about 1% of the 320 million tons of plastic that is produced every year, despite rising demands for the product. (European Bioplastics)
#2. In 2017, the estimated global production capacity of bioplastics was 880,000 tons. In 2022, the estimated production capacity of bioplastics is 1.08 million tons. (European Bioplastics)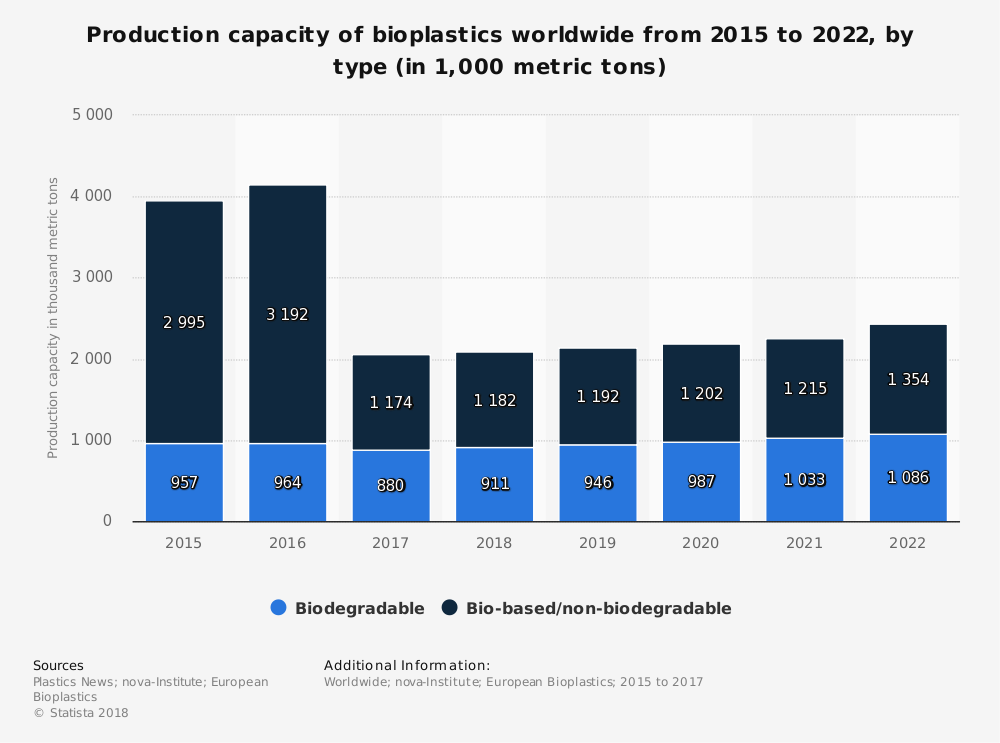 #3. The primary products that are leading the bioplastic industry are polylactic acid and polyhydroxyalkanoates, or PLAs and PHAs. These polymers are 100% biodegradable, bio-based, and have several different mechanical and physical properties based on their composition. PLA growth of up to 50% is expected within the industry by 2022. (European Bioplastics)
#4. 26.3% of the current global production capacity of bioplastics involves PET. Starch blends account for 18.8% of the market. PA and PLA are the only other two materials which have a 10% share or greater of the 2.05 million tons of bioplastics that were produced globally in 2017. (European Bioplastics)
#5. Packaging is the primary market sector which the bioplastic industry generates its revenues. It accounted for 58% of the total products produced in 2017. Textiles made up 11% of the market segment, while consumer goods and the automotive industry accounted for a 7% market segment each. (European Bioplastics)
#6. Asia is the largest producer of bioplastics in the world today, accounting for 56% of the industry's total production. Europe accounts for 18% of current production capacities, while North America contributes a 16% share. (European Bioplastics)
#7. About 0.82 million hectares of land were used to create the renewable feedstocks that were used in the production of bioplastics in 2017, or 0.02% of the total global agricultural area. (European Bioplastics)
#8. Even with expected growth within the industry within the next 5 years, the 0.02% share of agricultural space is not expected to increase. (European Bioplastics)
#9. By 2020, the global bioplastics market may achieve a CAGR of more than 29%. (Technavio)
#10. By 2021, polyurethane bioplastics are forecast to achieve a 39% share of the total production capacity within the bioplastics industry. (Statista)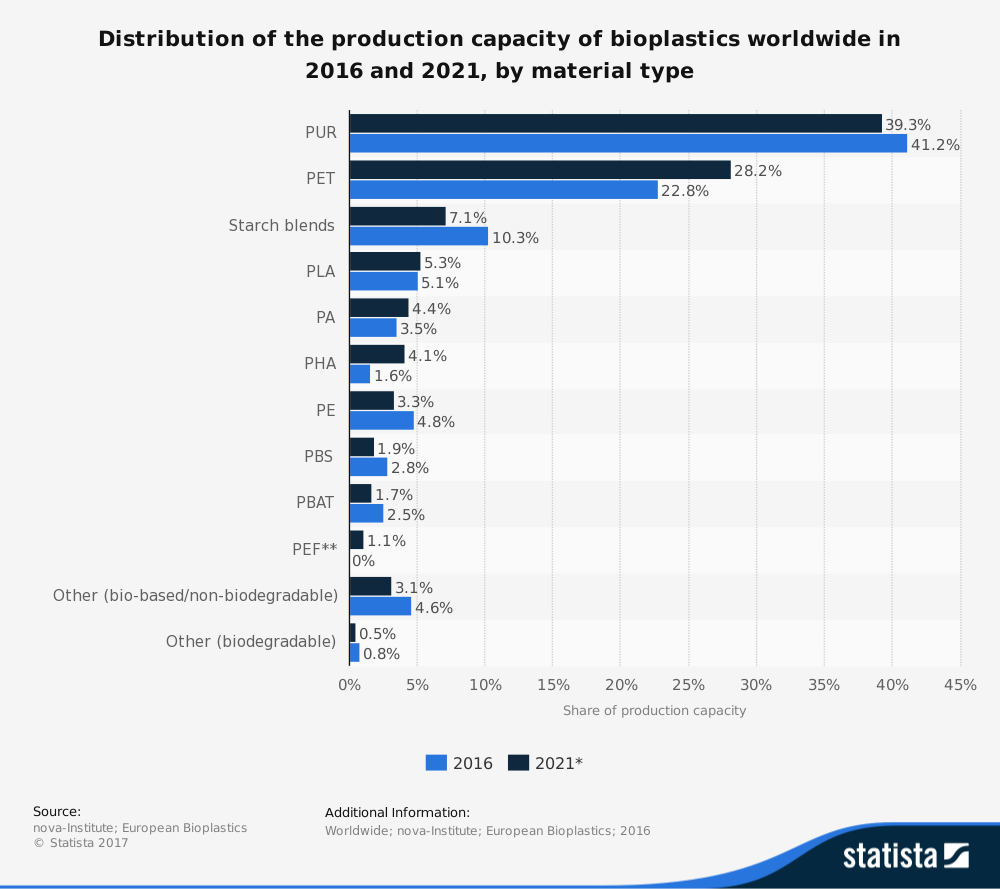 #11. Only 27% of people stated that they were "very familiar" or "somewhat familiar" with bioplastics in an SPI national poll from May 2016. In comparison, 34% of people stated that they were not familiar with bioplastics at all. (Plastics Industry Trade Association)
#12. Half of people, after learning about bioplastics, stated that they would consider purchasing a product made from the materials because it was biodegradable. (Plastics Industry Trade Association)
#13. The U.S. Department of Agriculture offers a certified bio-based seal for products that are made from bioplastics. 86% of people in the United States said they "had not seen" or "were unsure" if they had seen this seal. (Plastics Industry Trade Association)
#14. The bio-economy in the United States contributes about $369 billion to the economy while saving over 300 million gallons of petroleum processing each year. (Plastics Industry Trade Association)
#15. About 4 million jobs in the U.S. are created, supported directly, or supported indirectly by the bioplastics industry. (Plastics Industry Trade Association)
#16. For every 12 ears of corn that are grown, just 1 kernel is the equivalent that is used to create bioplastics. (Plastics Industry Trade Association)
#17. The PET in the PlantBottle package from Coca-Cola is 30% bio-based. That has allowed for a reduction in company-based fossil-fuel consumption without an impact to the bottle recycling process. (Plastics Industry Trade Association)
#18. The United States Department of Agriculture created a BioPreferred program in 2002 through the Farm Bill that Congress passed that year. In 2016, after expansions were permitted, over 2,500 products in 100 different categories are currently certified. (Plastics Industry Trade Association)
#19. For bioplastics to be certified by the USDA as a bio-based product, the packaging must contain 32% of a bio-based product. (Plastics Industry Trade Association)
#20. Just 1mt of polyethylene produced by the bioplastics industry is able to capture 2.15mt of carbon dioxide. (Plastics Industry Trade Association)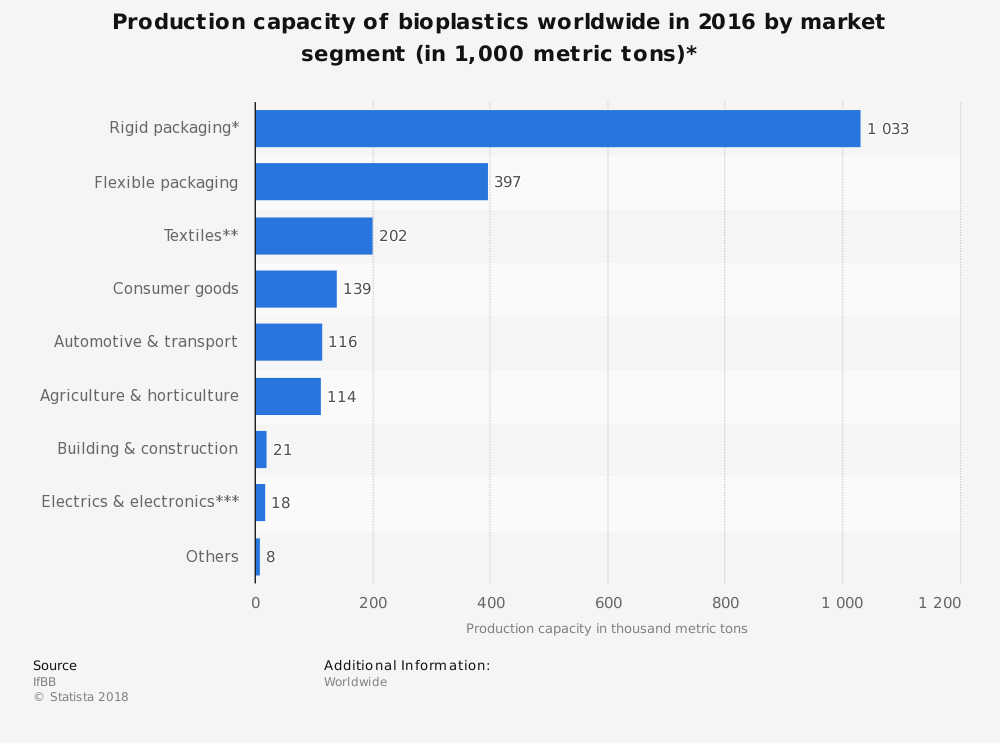 #21. California is leading the effort to transition to bioplastics. Their 75% Initiative is to reduce solid waste through recycling and composting by 75% by the year 2020. (Plastics Industry Trade Association)
#22. In 2020, the estimated demand for bioplastics around the world is 5.3 million tons. If that level of demand is achieved, that would represent more than 6 times the demand for bioplastics that was achieved in 2010. (Statista)
#23. The APAC region is expected to see a CAGR of up to 35% through 2022, thanks to increased efforts to achieve sustainability and plastic recycling. (Technavio)
#24. The global bioplastic packaging market was valued at $6.1 billion in 2015. By 2022, it is forecast to reach a possible $25.3 billion. (Prospector)
#25. Although Australia does produce bioplastics, its level of contribution is minimal compared to the rest of the world. For that reason, it is assigned a 0% market share, even though the country/continent does have bioplastics production. (European Bioplastics)
Bioplastic Industry Trends and Analysis
There is a tremendous potential for growth within the bioplastics industry, especially within the next 10 years. At the same time, however, traditional plastics from petroleum are forecast to have similar growth patterns. That means the low market share of the overall plastics industry will hold back the maximum potential of the industry as a whole.
Gains will be seen as new processes within the industry create stronger and cheaper products. When biodegradable plastics become price competitive with traditional plastics, the industry will see a positive shift in production desire.
In some ways, even though the technology is more than a century old, the bioplastics industry is still in a phase of emerging growth. As the industry matures, it will become more competitive over time and that will be to the benefit of us all.