Some people believe that the installation of carpet in their home leads to poor indoor air quality. The opposite is actually true. New carpet is one of the lowest-emitting products that is installed in renovation projects and new construction. It is even much lower than products like paint that are in the home. Any VOC emissions which do occur from this flooring option will drop significantly in 24 hours – and soon with proper ventilation.
A 15-year study based in Sweden found that there was no link between asthma and allergies with carpet usage. Researchers discovered that when domestic use of carpet flooring dropped by 70%, there was a 30% increase in allergic reactions. Another 18-country study that followed 20,000 people shows that there a statistical reduction in the number of asthma symptoms a person experiences and the carpet that is in their bedroom.
Carpet is also a cost-effective flooring medium when performing routine maintenance and care. Hard surfaces in the home require 2.5 times more cleaning than the average carpet each year. Vacuuming takes away up to 95% of the dry soil that occurs. That's why the average lifespan of the product, which is 22 years, gives the carpet industry a cost-effective investment to market around the world.
Rugs are products that are sold by the carpet industry, but the U.S. does not have a rug association which collects data. Some figures from this segment of the industry are more than a decade old from reports that the U.S. Department of Commerce collected.
Interesting Carpet Industry Statistics
#1. The carpet industry in the United States accounts for 51% of the total flooring market. A significant portion of this industry is located in Georgia, where 14 out of the top 50 manufacturers of all U.S. floor coverings are located in the state and producing carpet. (Carpet and Rug Industry)
#2. There are currently about 30,000 employees gainfully working in more than 220 establishments in Georgia right now for the carpet industry. They combine to create a payroll that tops $3 billion annually, which makes it the largest sector of manufacturing for the state. (Carpet and Rug Industry)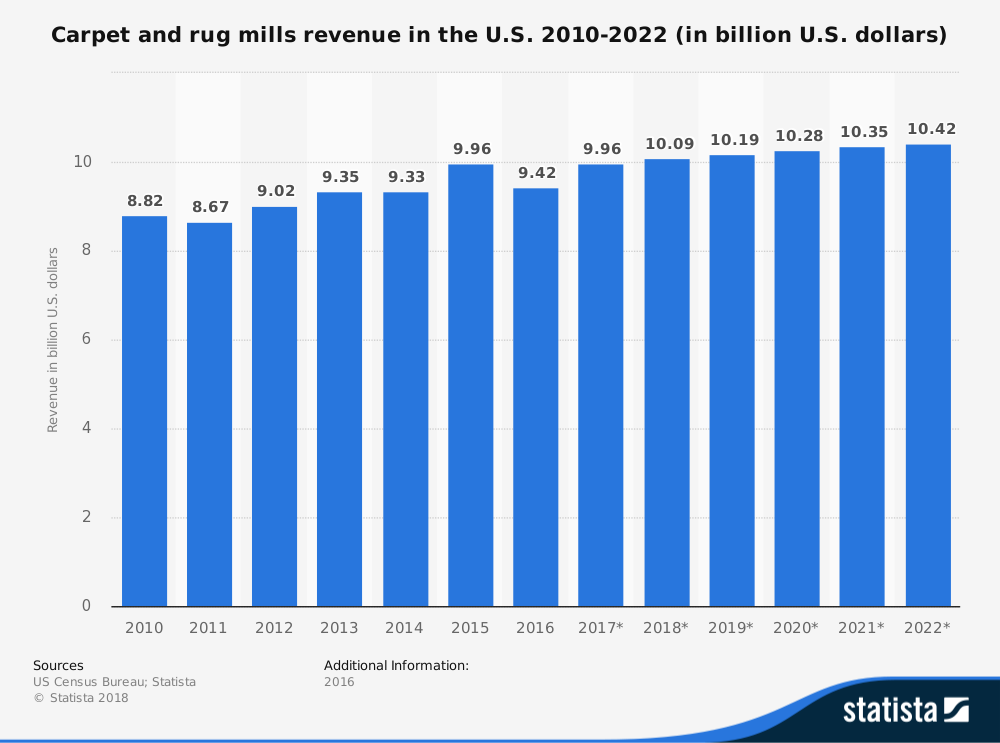 #3. Georgia is also the home to almost 50% of the Top 20 carpet manufacturers located in the United States right now. (Carpet and Rug Industry)
#4. Over 85% of the carpet and rug market is produced by firms that are located within a 65-mile radius of Dalton, Georgia, which helps to create more than $8 billion in economic activity each year. (Carpet and Rug Industry)
#5. Over 520 million pounds of used carpet is diverted from landfills each year, with over 157 million pounds of it being recycled. Since 2002, over 4 billion pounds of post-consumer carpet products have been diverted from landfills across the United States. (Carpet America Recovery Effort)
#6. Flooring sales in the United States reached $21.9 billion in 2017, with over 19.7 billion square feet of product sold. Carpet holds the largest share of the overall floor industry, with 41.5% of revenues earned in 2018. Adding rugs to this figure generates another 12.2% of the market share. (Floor Covering News)
#7. When looking at the share of the square feet that carpeting covered for the overall flooring industry, it was responsible for 58.7% of installations. Resilient flooring came in second, with 20% of installations. Tile followed in third with roughly 12%. (Floor Covering News)
#8. Despite the high numbers in revenues and installations, the carpet industry is seeing a gradual decline of interest in its products. Almost 67% of total installations, with an industry value of 50.7%, occurred in 2007. (Floor Covering News)
#9. Carpet sales in the United States rose 0.6% in 2017 to reach a total of $8.83 billion, with volume going up 0.4% to reach 11.26 billion square feet. Rugs saw an increase of 3.4% for the year, with most of the growth falling outside of the specialty retail channel. (Floor Covering News)
#10. The wholesale value of wool carpets and rugs in the United States is approximately $1 billion per year, with the figure including broadloom products. (U.S. Department of Commerce)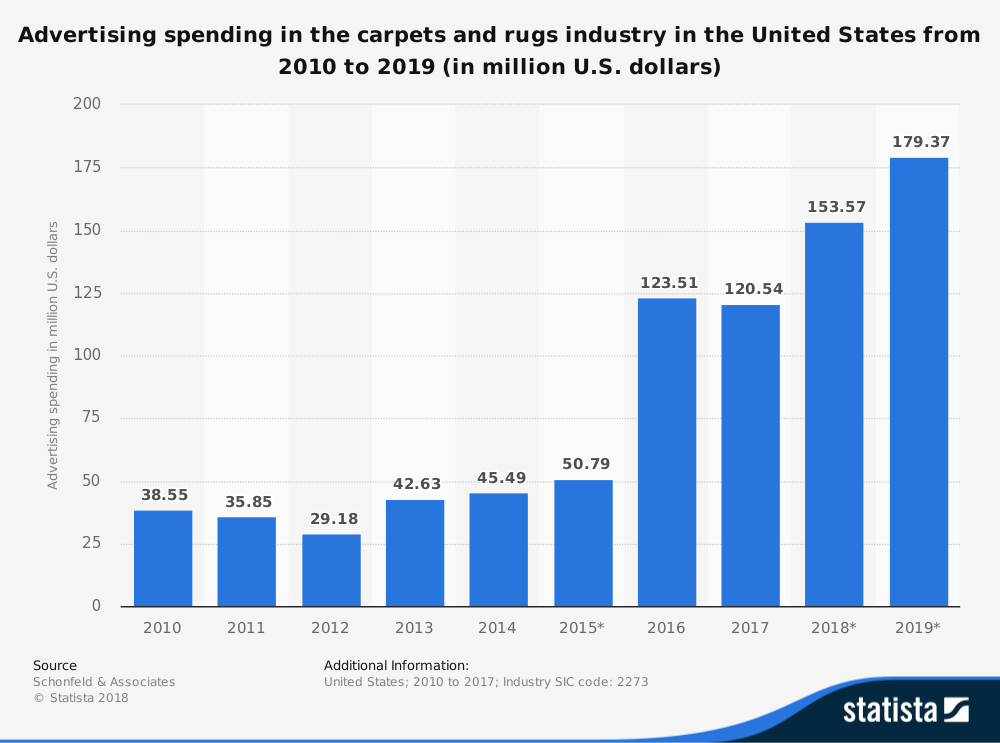 #11. The mill value of carpets and rug shipments from the United States tops $13 billion per year. (U.S. Department of Commerce)
#12. Over $700 million in washable scatter rugs, which have a size of 6×9 feet or smaller, are sold in the United States each year. Hard-backed non-washable accent or area rugs that are 6×9 feet or smaller account for another $560 million in sales. Room-sized rugs bring in about $105 million annually. (U.S. Department of Commerce)
#13. Cleaning carpets professionally is an industry which produces over $5 billion in economic benefits in the United States each year. The growth rate of this sector rose by 1.6% in 2017, with another 70,000 direct employment positions available because of it. (IBIS World)
#14. Carpet cleaning services are responsible for about 10% of the overall home and commercial cleaning sector in the United States each year. (Service Monster)
#15. Residential replacement carpet installations, combined with area rug sales, increased by 1.4% in 2017, while also seeing a 0.6% increase in the number of square feet involved. (Floor Covering Weekly)
#16. Commercial sales in dollars for the carpet industry rose by 0.6% in the United States for 2017, whereas the residential sector saw a 1.9% increase in revenues during the year. Carpet tile now accounts for about 60% of the total revenues which are available for the commercial side of the industry, which is up from 34% in 2007. (Floor Covering Weekly)
#17. Manufacturer sales of rugs and carpets in Canada average about $30 million per month. (Statista)
#18. There are about 26,000 people employed as a carpet installer in the United States right now. They currently earn a median hourly wage of $21.25 per hour. Those in the top 10% of the industry can earn up to $35.99 per hour. (Bureau of Labor Statistics)
#19. California offers the most employment opportunities for carpet installers in the United States, with nearly 6,000 positions available there each year. Pennsylvania comes in second with 1,640 positions, followed by New York (1,220), Illinois (1,170), and Texas (1,050). (Bureau of Labor Statistics)
#20. The average wage for a carpet installed in California is $24.45 per hour, but it is only $17.84 per hour in Texas. (Bureau of Labor Statistics)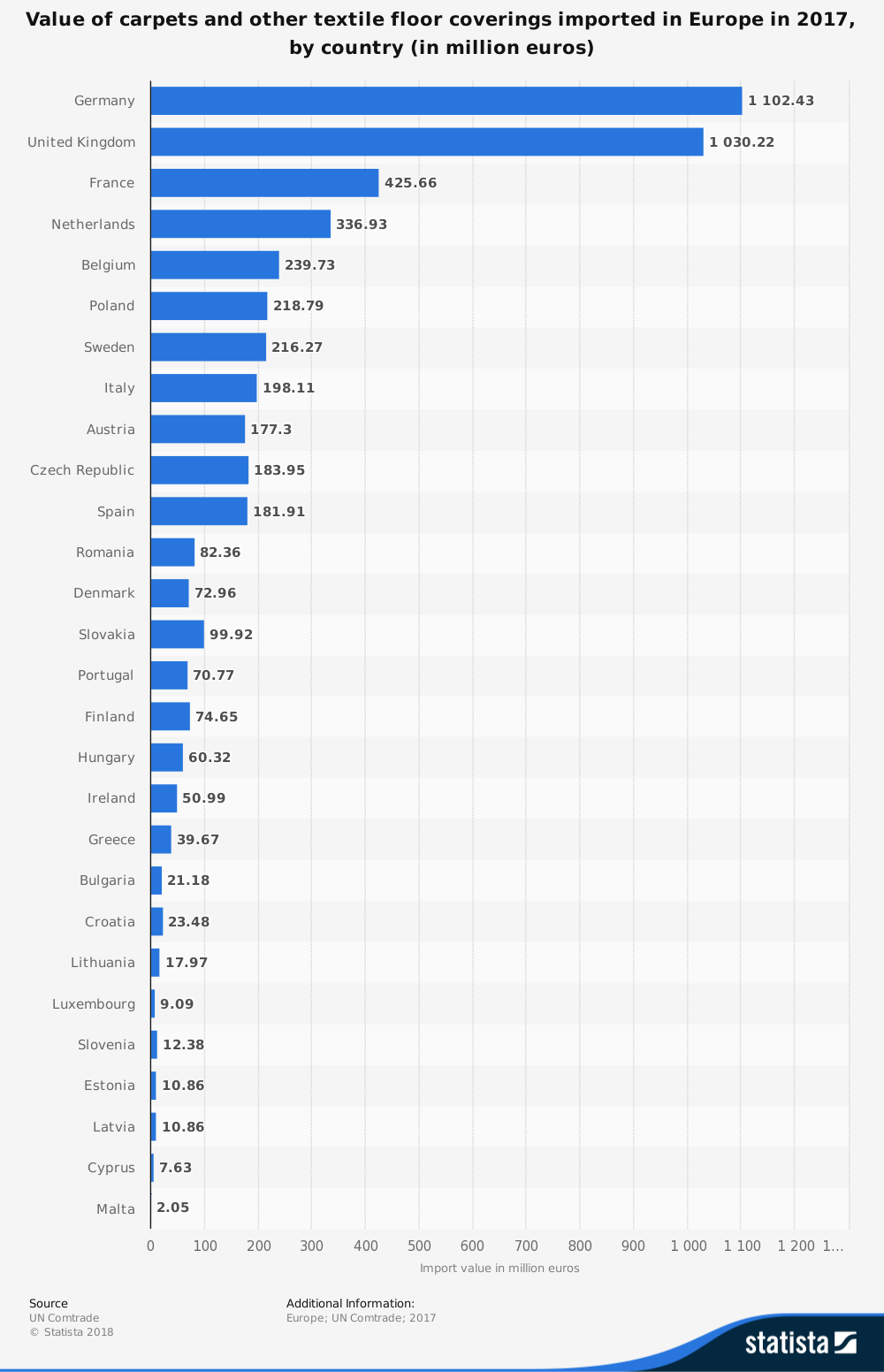 #21. Nevada offers the highest concentration of jobs and location quotients for carpet installation specialists in the United States with a ratio of 3.49. California comes in second with a ratio of 1.94. They are followed by Idaho (1.91), Oregon (1.74), and Washington (1.73). (Bureau of Labor Statistics)
#22. Carpet mills in the United States produce about $10 billion in revenues per year, with the number of businesses growing by 0.3% annually since 2013. The number of employees working in this segment of the industry has grown by 1.2%. (IBIS World)
#23. There are an estimated 448 carpet mills that are currently operating in the United States right now. (IBIS World)
#24. The global market for carpets and rugs reached a value of $84.3 billion in 2017, with the highest levels of growth expected in the world's developing countries as income levels rise and a middle class is able to establish itself. (Zion Market Research)
Carpet Industry Trends and Analysis
The easiest way to sum up the recent 5-year trend for the overall carpet industry is that they had an "okay" year for five consecutive times. Although the trend has been slightly downward for the industry as a whole, there are several segments that are seeing stable or slightly modest gains each year.
As alternative flooring options become cheaper to install, many Americans are looking at different options other than carpet. That is a trend that has been going for 10 years strong, and nothing seems to be changing that right now. Soft flooring still has opportunities in all sectors, with sales expected to be up slightly each year, but never more than 1.5% through 2024 in the context of this forecast.
Look for carpet lines that lean more toward value or luxury to see the biggest gains, while items that offer fade resistance, non-staining, and higher levels of durability to see an ongoing interest. North America will continue to have the most significant share of this industry, with an increase of at least 500,000 installation units expected annually over the next five years.
Although there is a large production segment of the carpet industry based in Georgia, manufacturers are consistently looking toward China as a source for rugs and broadloom. The brands that were early adopters of this strategy are seeing the highest gains in their revenue. Look for the industry to find more ways to include offshoring as a way to push revenues higher should the need arise.