Airbnb was founded in 2008. More than 60 million guests now use this service as a replacement for the traditional hotel or motel experience. The Airbnb hotel industry allows guests to stay in the homes or properties of private owners for a set fee in a way that is similar to the traditional travel experience.
Airbnb is now believed to be worth about $25 billion. The full company name is "Air Bed and Breakfast."
Interesting Airbnb Hotel Industry Statistics
#1. There are currently 4 million Airbnb listings that offer room opportunities in more than 191 countries. (Airbnb)
#2. Since 2008, Airbnb has helped to serve more than 200 million total guest arrivals. (Airbnb)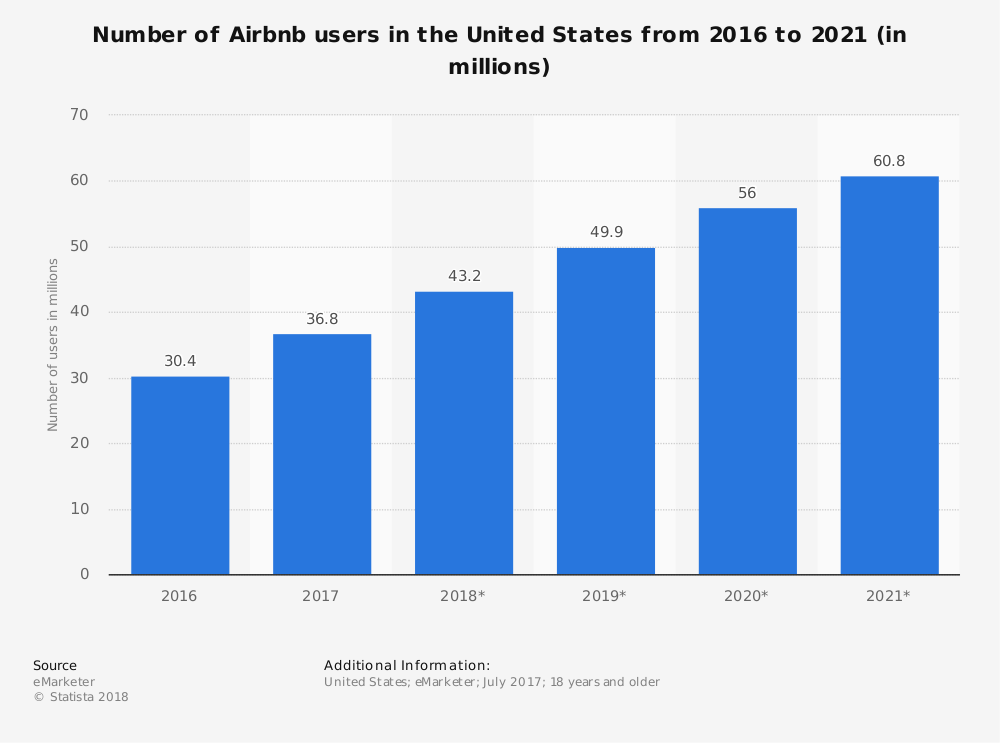 #3. Almost 2 million listings that are available through Airbnb are instantly bookable. That means hosts can offer their homes to be booked without a prior approval for a specific guest. No hotel chain offers more rooms than Airbnb offers instantly bookable rooms. (Airbnb)
#4. The U.S. offers the most Airbnb listings, with more than 660,000 currently available. France comes in second, with 485,000 listings. Italy, Spain, and the U.K. round out the Top 5 nations for listings. (Airbnb)
#5. Since its first listing, there have been over 570,000 guest arrivals for boats and 300,000 arrivals for RVs. There have even been 130,000 guest arrivals for treehouses. (Airbnb)
#6. More than 200,000 hosts on Airbnb are classified as senior hosts, or above the age of 60. Senior hosts receive the highest percentage of 5-star reviews on the platform. (Airbnb)
#7. On any given night, Airbnb helps more than 2 million people to stay in properties around the world. (Airbnb)
#8. Although Airbnb has a growing share of the total accommodation supply in global communities, the market share it achieves from paid consumers is usually below 4%. In terms of revenue share, Airbnb achieves 3% or less in a majority of its markets. (STR)
#9. For the average U.S. market, hotel listings are about 16% higher than the average listing found on Airbnb. (STR)
#10. If Airbnb is compared in the same way as the hotel industry is evaluated, the number of available hotel-like rooms or accommodations available on the platform are reduced to 1.08 million listings. Just 35% of the available listings are effectively available, with a reasonable comparison to hotel-like amenities. (STR)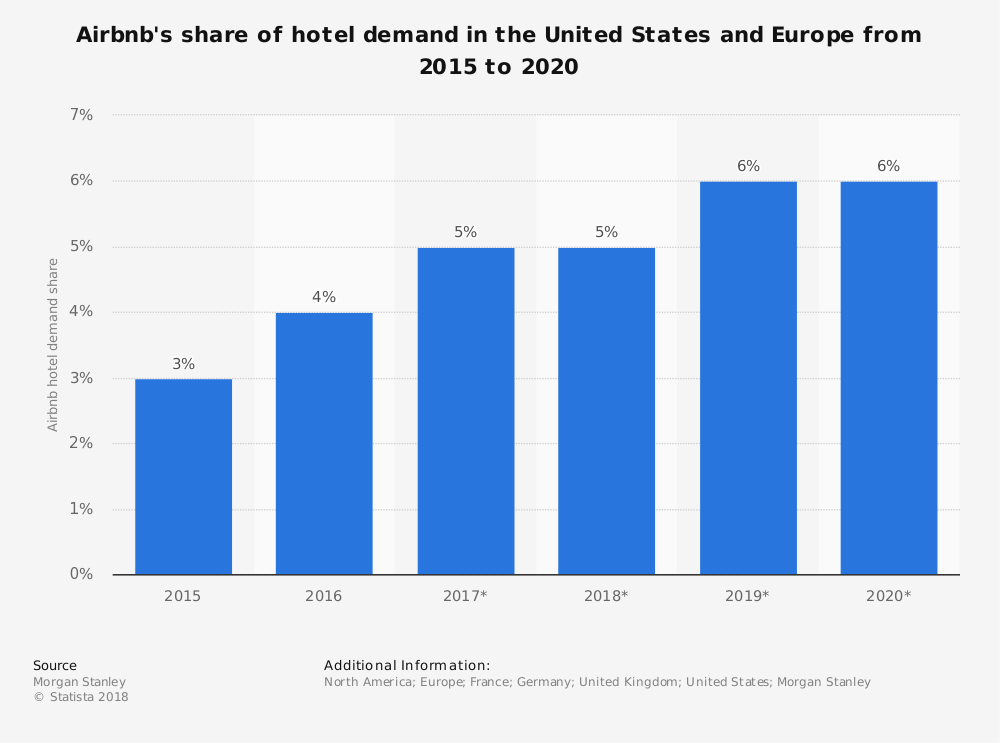 #11. Over the past 12 months, the average age of a guest booking accommodations through Airbnb was 35. 53% of guests on the platform are women. In comparison, half of all hotel travelers are aged 35 or above, with men accounting for 63% of hotel transactions. (STR)
#12. In the United States, Airbnb spends about $23.5 million on advertising each year. Even with that investment, the fastest growing destination neighborhood for bookings is in Osaka, Japan. (Statista)
#13. 18% of Chinese travelers have rented either a private home, apartment, or space through the site in the past year. (Statista)
#14. The average daily rate of renting a private room through Airbnb is about $80. The average number of bedrooms an active Airbnb property in the I.S. offers is 1.6. (Statista)
#15. There are currently more than 22,000 active Airbnb units available in New York right now. (Statista)
#16. Airbnb, on the upper end of valuation estimates, achieves $31 billion in revenues. The average revenues of the U.S. hotel industry are about $200 billion. (Statista)
#17. 28% of Americans spend more than $500 per person on hotels. 88% of those who book hotels say that they prefer to do so online. (Statista)
#18. Airbnb tends to see the most success in communities where hotel occupation rates are generally high. Even in markets that average around 80% hotel occupancy, however, the Airbnb occupancy rate averages about 45% on weekdays and 50% on weekends. (STR)
#19. In the United States, the largest share of the accommodation market for Airbnb in a single large community is Los Angeles, which includes Long Beach. In 2014, Airbnb held a 1.8% weekday demand share. In 2016, they held a 4.7% demand share. (STR)
#20. Over 53% of the room nights sold on Airbnb are for stays between 1-6 days. About 30% of the stays are for 7-29 days, while the remainder fits into the 30-day or more category. (STR)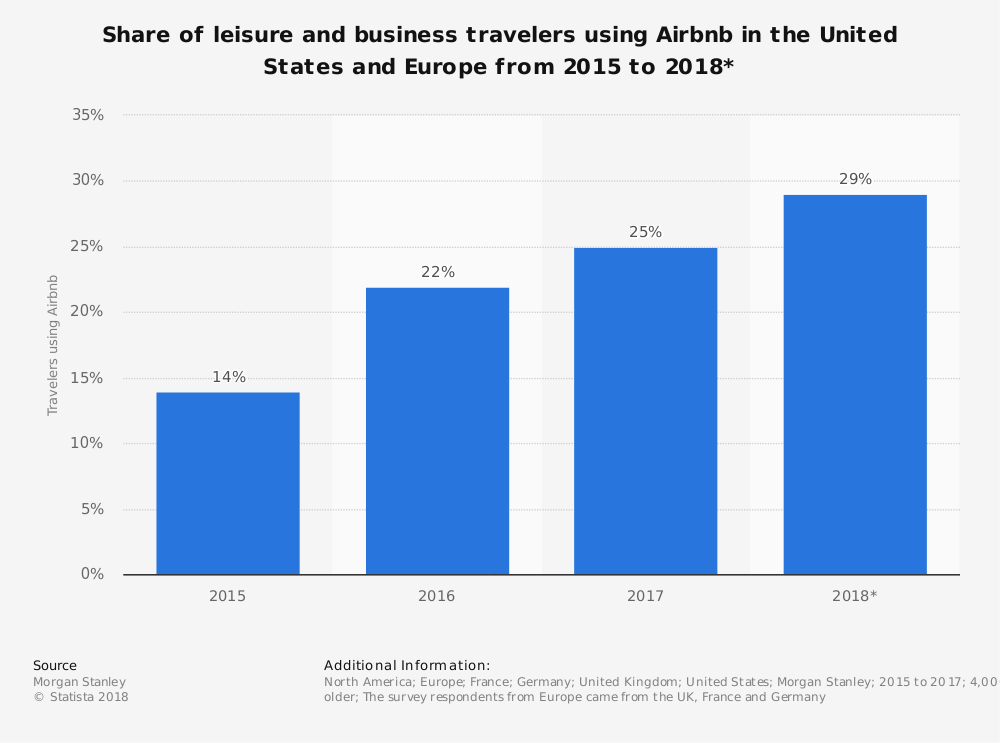 #21. Just 9% of hotel bookings in traditional motel and hotel settings are for extended stay needs. That means Airbnb guests are 4 times more likely to be looking for a long-term stay compared to the typical hotel traveler. (STR)
#22. Airbnb has raised more than $3.4 billion in funding as of June 2017. In return, Airbnb has collected more than $240 million in tax revenues for the 65,000+ communities where there is an active listing. (Expanded Ramblings)
#23. More than 270 different governments have signed tax agreements with Airbnb as of April 2017. (Expanded Ramblings)
#24. About 3,100 employees are part of the Airbnb family. In 2017, their estimated revenues were about $2.8 billion. (Expanded Ramblings)
Airbnb Hotel Industry Trends and Analysis
Although Airbnb has seen reasonable levels of success since its founding, there are some growing challenges that must be countered right away. Morgan Stanley recently downgraded their stock because user adoption rates and growth trends appear to be topping out.
The Airbnb hotel industry is still a niche product. As online travel agencies grow in influence, their ability to recommend alternative accommodations that go beyond the scope of Airbnb are a large threat. Consumers are expected to want a broad selection of hotels and alternatives, along with unique experiences, and the brands that provide such offerings will receive the highest levels of repetitive traffic.
With its Plus program, Airbnb is working toward a transformation. Including dining and experiences is another step in the right direction. If more instantly bookable accommodations can reach the platform, along with a reduction of unexpected cancellations by hosts, Airbnb could continue building toward a brighter future.
Consumers want better beds. They want nicer bathrooms. At the end of the day, a stay at an Airbnb property, or a hotel, is about getting the sleep you need and a good bath or shower. Access to good food is a bonus as well. If Airbnb can bring in hosts that can meet these needs, then continued growth should happen.