In a recent survey by Vashi Dominguez, 80% of women said that they had regrets about their wedding day. One of the top reasons why women were experiencing regret was because of their dress. 30% of brides said that they would have exchanged their dress for a different one after taking a look at their photos.
That's the same percentage of women who would have hired a different photographer. The only other issues which caused more regret for brides was the speech provided by the best man (52%), their hair (40%), and the amount of money that was spent on the wedding (34%).
Although the cost of the wedding dress has been rising in recent years, that is not the only cost associated with the dress. The New York Times reports that the average amount spent by a bride on wedding dress accessories reached $226 in 2015, which was a 1.3% decrease from the year before. The most popular accessory for the wedding dress was the veil.
Fascinating Wedding Dress Industry Statistics
#1. The average cost of a wedding reached more than $32,000 in 2016, which was an all-time high in the United States. (Knot 2016 Real Weddings Study)
#2. Bridal stores saw revenues total $3 billion in the U.S. in 2017. Since 2012, the industry has seen static sales, with an annual growth rate of just 0.1%. (IBIS World)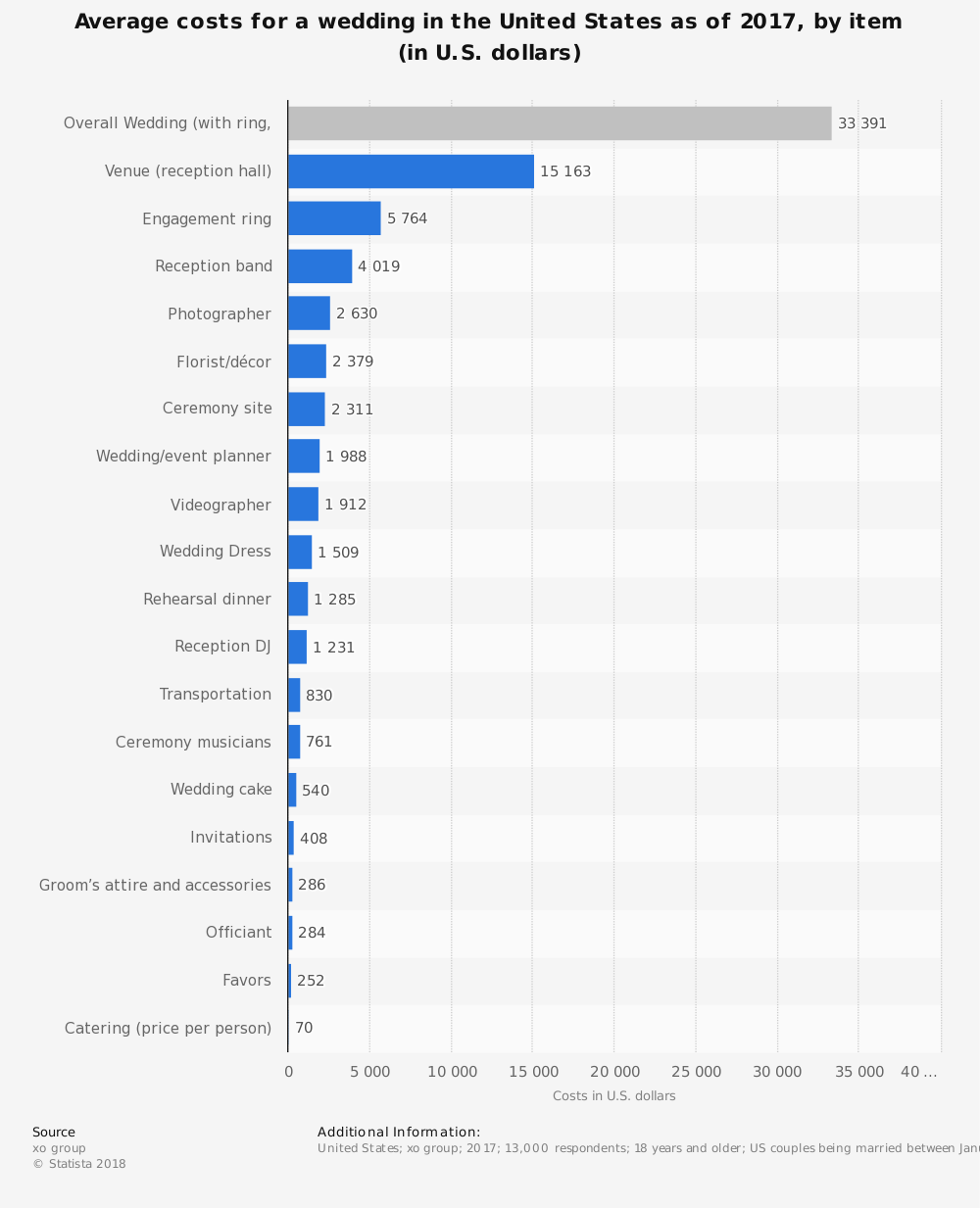 #3. About 6,400 businesses currently operate within the bridal store sector in the United States, providing direct employment opportunities for about 20,000 people. (IBIS World)
#4. David's Bridal is the leading seller of wedding dresses in the United States, holding a 28% market share. Most bridal stores tend to be small, independent, and classified as non-employers. (IBIS World)
#5. The average price of a wedding dress in the United States is $1,100. Planning in advance can save brides more than 50% on the final cost of their gown. Most brides will spend somewhere between $400-$1,700 on their dress. (Fox Business)
#6. For the upper range of the wedding dress industry, the final cost to the bride is $2,600 or more. (Wedding Wire)
#7. 75% of bridal stores charge for their alterations by the piece instead of charging a flat fee for them. Adding sleeves to a dress or reworking the bodice tend to be the most expensive modifications that brides order. (Wedding Wire)
#8. 30% of brides will try on fewer than 3 dresses before they choose the one they want. Only 22% of brides will try on more than 10 dresses while shopping. (POPSUGAR)
#9. 68% of women say that they spent less than $1,000 on their wedding dress in a recent survey of 1,200 married or engaged women. (POPSUGAR)
#10. 75% of women only visited between 1-3 boutiques before finding the wedding dress that they wanted. 6% of women said that they visited more than 7 bridal boutiques before finding the perfect wedding dress. (POPSUGAR)
#11. 31% of women choose an A-Line dress for their wedding, making it the most popular style of dress in the United States. Mermaid dresses were the next option (17%), followed by ballgowns (16%), and then sheath dresses (13%). (POPSUGAR)
#12. 40% of women said that they chose a wedding dress that was ivory colored. 35% of brides chose a white wedding dress, while 15% said that their preferred color was "soft white." (POPSUGAR)
#13. 82% of brides said that they didn't purchase a second dress that would be worn during the reception. That makes options like a removable train a popular feature for the modern wedding dress. (POPSUGAR)
#14. 89% of couples have set a wedding budget, but 35% have spent more than they intended to plan their wedding. 58% of couples say that they're willing to increase their budget to get the wedding that they want. (Brides Magazine)
#15. 11% of brides say that they want something non-traditional with their wedding dress, such as wearing something non-white, a jumpsuit, separates, or a cocktail-length dress. (Brides Magazine)
#16. 54% of brides choose to wear a veil with their wedding dress. (Brides Magazine)
#17. 7% of women will choose 3 dresses for their wedding: one for the ceremony, one for the reception, and the third for an after-party. (Brides Magazine)
#18. Klienfeld Bridal in Brooklyn said that despite price increases, they are selling just as many veils for wedding dresses as they were 4-5 years ago. Although veils at the store typically start at $300, some are now priced at $10,000 or more. (The New York Times)
#19. To counter the costs of a wedding dress, many women are turning toward rentals, much like men do with their tuxedos, as a way to save money. Wedding dress rentals may be as low as $75, with moderate dresses renting in the $250-$500 range. (Cost Helper)
#20. Another reason why brides consider renting dresses is that the dry cleaning cost is often included in the bill. The average cost to dry clean a wedding dress in the United States is around $200. (Cost Helper)
#21. 59% of brides say that they use Pinterest to find inspiration for their wedding dress. (Brides Magazine)
#22. The average bride will decide about their wedding dress 11 months before the actual wedding date. (American Wedding Study)
#23. 18% of brides say that they purchased their wedding dress online, with 32% choosing to make their purchase from a national bridal chain. (American Wedding Study)
Wedding Dress Industry Trends and Analysis
Although couples are becoming more self-conscious about the price of their wedding, they are also willing to spend more on certain items to create the perfect day. For the wedding dress industry, that's good news because the wedding dress is one of those items that is considered a "splurge" item.
Through the next 5-year period ending in 2023, the wedding dress industry is expected to see an average annual growth rate of 6%. Although not all retailers will experience this level of growth, the rise in mass marketing and e-commerce platforms offering wedding dresses will help to support the industry.
The increase in low-cost bridal dresses, priced below $400, will also support the industry, bringing in new customers that would normally stay away from the higher costs of a wedding dress.
North America will continue to be the prominent market for the industry on a global scale. Although revenues from the Asia-Pacific region will be greater than what North America achieves, the U.S. and Canadian markets are expecting growth near 8%.
To make more money for the dress, watch for couples to make cuts in other wedding expenses, such as catering, photography, or even the honeymoon.