Do you ever find yourself waking up first thing in the morning thinking about your girlfriend? If so, have you sent her a message letting her know that she crossed your mind? The following good morning quotes for girlfriends are perfect examples of the types of messages you may want to consider sharing when the moment warrants. This will provide your girlfriend with a nice positive start of the day and let you maintain a good form of communication and intimacy.
A morning greeting does not only mean 'Good Morning,' it has a silent, loving message saying, 'I think of you when I wake up.'
As I awaken each morning, my dreams of you fade as thoughts of you flood my mind with sensual assault.
Being in love with you makes every morning worth getting up for.
Come let us take our fill of love until the morning: let us solace ourselves with loves.
Even in a total eclipse of the sun, you brighten my life.
Even though I am not completely a perfect boyfriend at all but what had I done is the best for me and that is a real love for you for the whole life.
Every day I catch myself looking at your pictures, sharing jokes and news, as well as support during good and bad times. I am also happy to have you among my best friends.
I could say that you complete me…but that would be a lie, because every morning when I wake I long for you more than the day before.
I know you are in your little bed dreaming of a beautiful world where it is just you and me, but it is time that you have to open your eyes and start this new day, everything will go well today.
I want you around in the morning and I want to know you're legally required to be there.
I went to sleep last night with a smile because I knew I'd be dreaming of you … but I woke up this morning with a smile because you weren't a dream.
Like the sunshine in the morning, may this brighten your day, and remind you that you're thought of in a very warm way.
Love is not needing a snooze button on your alarm clock, because when it goes off for the first time in the morning, the thoughts of your loved one makes it impossible to fall back asleep.
Morning is a wonderful blessing, either sunny or stormy. It stands for hope … giving us another start of what we call Life.
Seeing the beautiful sun illuminating the sky I feel the luckiest man on earth because with your love you light up my life every day. Have a nice day my baby girl.
She makes me feel good she makes me smile she completes me she's my everything and I'm going to be her best boyfriend ever and I love her.
They say the one that loves less controls the relationship, maybe that's why you have so much power over me.
When I wake up, turn over, and see you lying next me, I can't help but smile; it will be a good day simply because I started it with you.
When you wake up in the morning, kiss your loved one on the forehead and wish them a good day.
Wishing you a sweet morning greeting, may you stay as loving, caring and not forgetting the sweetest person that I know, I love you so much and I can't wait to see you. Enjoy the rest of your day.
You are the first thing to enter my mind in the morning and the last thing to leave my heart at night.
You have found true love the day you realize that you want to wake up beside your boyfriend/girlfriend, every morning, even though you have your differences.
You have no idea how good it feels to wake up every morning knowing you are mine and I am yours.
The below infographic illustrates the importance of having a balanced morning and breakfast. This provides extra health benefits ranging from increasing energy, extra focus, and more muscle. Achieving a decent amount of sleep can also contribute to the type of day you will have. Many nutritional options for breakfast are toast, bacon, eggs, and cereal followed by a drink such as milk, orange juice and other juices.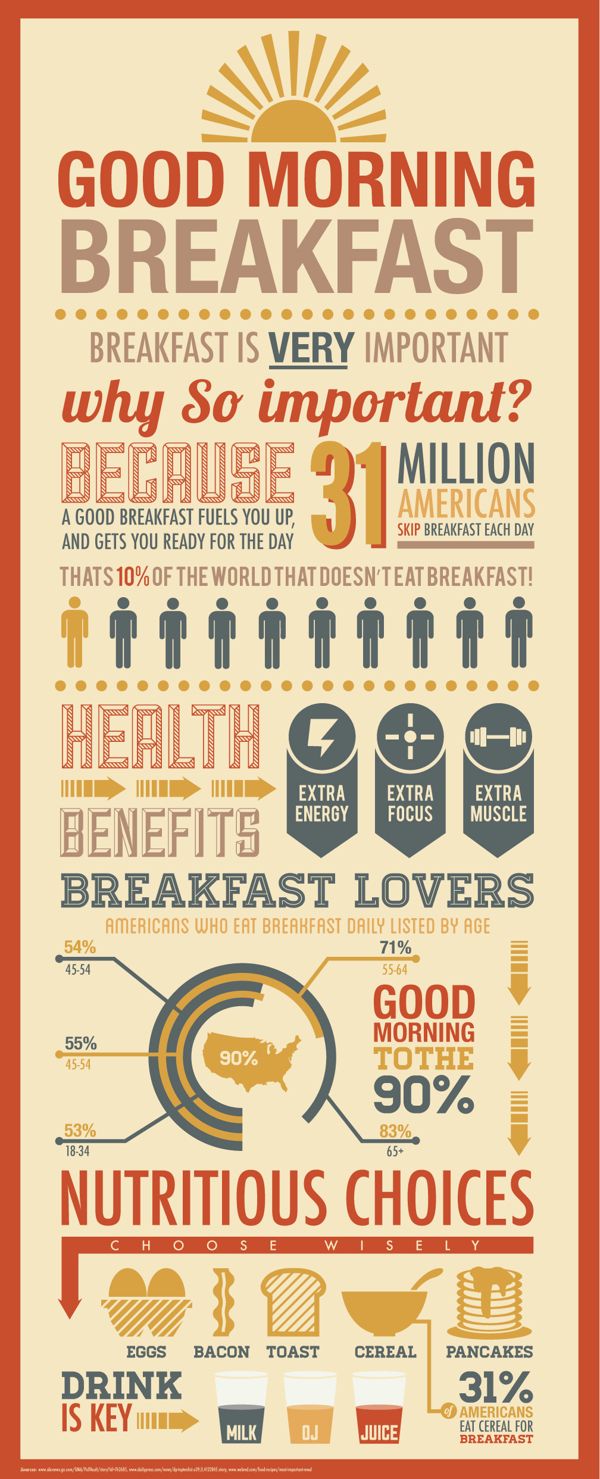 Here our most popular
message posts
that cover just about every occassion.