The modern fishing lure industry reached the market in the late 19th century in the United States, thanks to the efforts of the Enterprise Manufacturing Company and a handful of dedicated fishing pioneers, such as W.D. Chapman. From the first days of the modern lure to the early 1900s, metal spoons and spinners were the top products made and sold.
Today, there are many types of fishing lures. Jigs, surface lures, plugs, poppers, swimbait, and fish decoys are all readily available. LED lures are one of the latest innovations from the industry, using flashing and strobing patterns, with multiple colors, to attract a fish to bite.
Fascinating Fishing Lure Industry Statistics
#1. 98% of anglers have made at least one fishing-related purchase within the past 12 months. (Bassmaster)
#2. 56% of regular anglers in the U.S. have an annual household income of $50,000 or more. 16% of anglers have an HHI of $100,000 or more. (Bassmaster)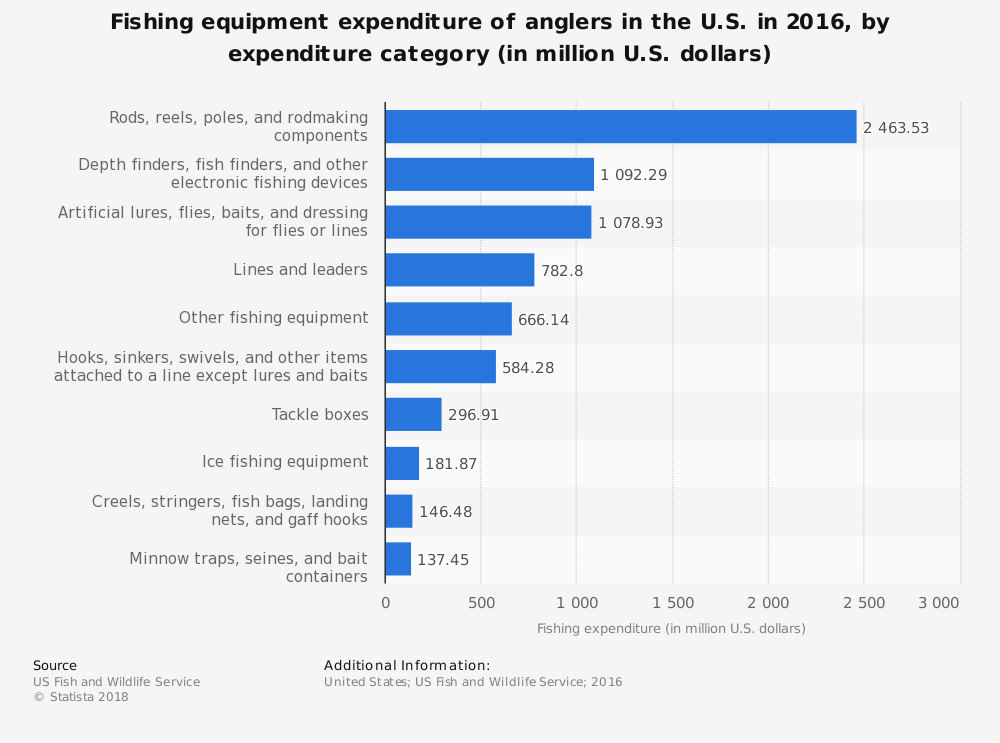 #3. More than half (56%) of anglers fish from the shore, relying on fishing lures to help them bring in their catch. (Bassmaster)
#4. 77% of anglers use some type of an artificial bait or lure when they are fishing. (Bassmaster)
#5. Annual fishing expenditures in the United States total $45 billion. More than $16 billion of that is dedicated solely to bass fishing equipment and accessories. In total, anglers in the U.S. create an economic impat of more than $115 billion annually. (Bassmaster)
#6. For the 5-year period ending in 2017, the overall fishing industry experienced a market contraction of 0.6% annually. Most businesses within this industry are sole proprietors. (IBIS World)
#7. More than 33 million Americans say that they went fishing at least once in the past year. When combined, they helped to provide direct employment opportunities for more than 828,000 people. (American Sportfishing Association)
#8. More than $15 billion in tax revenues was generated by fishing activities, which includes the purchase and use of fishing lures. (American Sportfishing Association)
#9. Out of the $45 billion generated by the U.S. fishing industry, about 15% of the revenues come from tackle expenditures. In total, tackle brings in about $6 billion in retail sales each year. (American Sportfishing Association)
#10. Two-thirds of the tackle that is purchased for fishing in the U.S. is for freshwater species. Bass is the most popular species that is fished, followed by trout, crappie, panfish, and catfish. (American Sportfishing Association)
#11. Bass is also the most common saltwater species fished in the United States. It is followed by flounder/halibut, redfish, shellfish, and bluefish. (American Sportfishing Association)
#12. The most common time fishermen describe themselves as an "avid angler" is between the ages of 35-44, which is also when they have the most discretionary income to spend on this activity. (American Sportfishing Association)
#13. 76% of the revenues which are generated by the fishing lure industry come from people who describe themselves as "average anglers." Avid anglers, however, spend 2.5 times more on the tackle they require. (American Sportfishing Association)
#14. 22 out of 30 tackle categories have seen spending increases in the past decade. Leaders have seen the highest increase, at 45%. Hard bait spending increases are at 8.5%. Soft bait, on the other hand, has experienced a spending increase of just 0.4%. (American Sportfishing Association)
#15. Independent marine recreational bait and tackle retails stores contribute $2.3 billion to the U.S economy. That includes $796 million in income and about 16,000 direct employment opportunities. (National Oceanic and Atmospheric Administration)
#16. The average retailer who only specializes in bait and tackle generates about $426,000 in revenues each year. (National Oceanic and Atmospheric Administration)
#17. Almost 11 million youth in the United States participate in fishing and are participate with the fishing lure industry in some way each year. (Statista)
#18. About 12% of households in the United States say that they participate in hunting or fishing activities on a regular basis. (Statista)
#19. About 70% of people say that they would go fishing more often if they had easier or more affordable access to boats that would help them enjoy a recreational experience. (Statista)
#20. 1 in 5 Americans purchased a fishing license within the past year. The average household which purchases a fishing license will spend about $52 on the tackle they need for a positive experience. (Statista)
#21. 36% of people in the United States that they fish between 4-11 times each year. (Statista)
#22. 45% of women say that the least appealing part about fishing are the times when no fish are caught. (Statista)
#23. When residential and commercial fisheries are combined, they create a total impact of $208 billion in sales. Florida sees the bulk of this impact, with $28.7 billion in sales generated annually. (National Oceanic and Atmospheric Administration)
#24. More than 1.62 million jobs are created, directly and indirectly, because of the commercial and recreational fishing industries. More than 177,000 jobs are generated in Florida alone. (National Oceanic and Atmospheric Administration)
#25. The most valuable species caught through fishing efforts in the U.S. is the American lobster, generating $618 million. This is followed by walleye pollock, shrimp, Pacific salmon, and sea scallops. (National Oceanic and Atmospheric Administration)
Fishing Lure Industry Trends and Analysis
We've been fishing for virtually all of our recorded history. There is no doubt that the fishing lure industry will continue to serve those who love the sport, pastime, or hobby.
There are certain factors that may put the health of this industry into doubt in the coming years. Many fishing habitats are being overfished. Over 30% of the world's fisheries have already been pushed beyond their natural biological limit of sustainment. Some commercial fishing has pushed species to the point where some fish have become endangered.
Over 55% of the world's reefs are over-fished as well. Some regions, such as Southeast Asia, have up to 95% of their reefs over-fished.
Without sustainable practices in these critical areas, there may be fewer chances to go fishing for future generations.
The fishing lure industry makes it possible for almost everyone to enjoy a day of fishing if they wish. With good practices and affordable tackle, this industry will continue to meet the needs of avid or average anglers, no matter what type of fish they prefer to pursue.