Nail salons in the United States are earning more money without dealing with more competition. That doesn't mean there isn't any competition out there. In 2017, there were 56,300 nail salons in operation, which is about the same number that was in business in 2006. To get there, however, the industry has seen numerous salons come and go.
In 2013, 48,900 nail salons were operating in the United States. By 2015, there were almost 130,000 nail salons in operation. By 2017, all the gains business gains had reversed themselves.
95% of nail salons offer polish changes and pedicures, which makes this service the most common one that is requested by customers. Foot massages are the least common service that is provided by the industry, with just 26% of nail salons promoting it. Acrylic toenails are not very popular either, a service which is offered at 37% of U.S. locations.
Important Nail Salon Industry Statistics
#1. About $8.5 billion was spent on nail salon services in the United States in 2017. Beauty salons, which may offer nail care services at some locations, contribute another $5.16 billion to the industry. (Statista)
#2. The average price for nail salon services in the United States is $20.93. That is the highest price average for the industry since 2005. An increase in deluxe manicure pricing, averaging $31, is partially responsible for this increase. (Statista)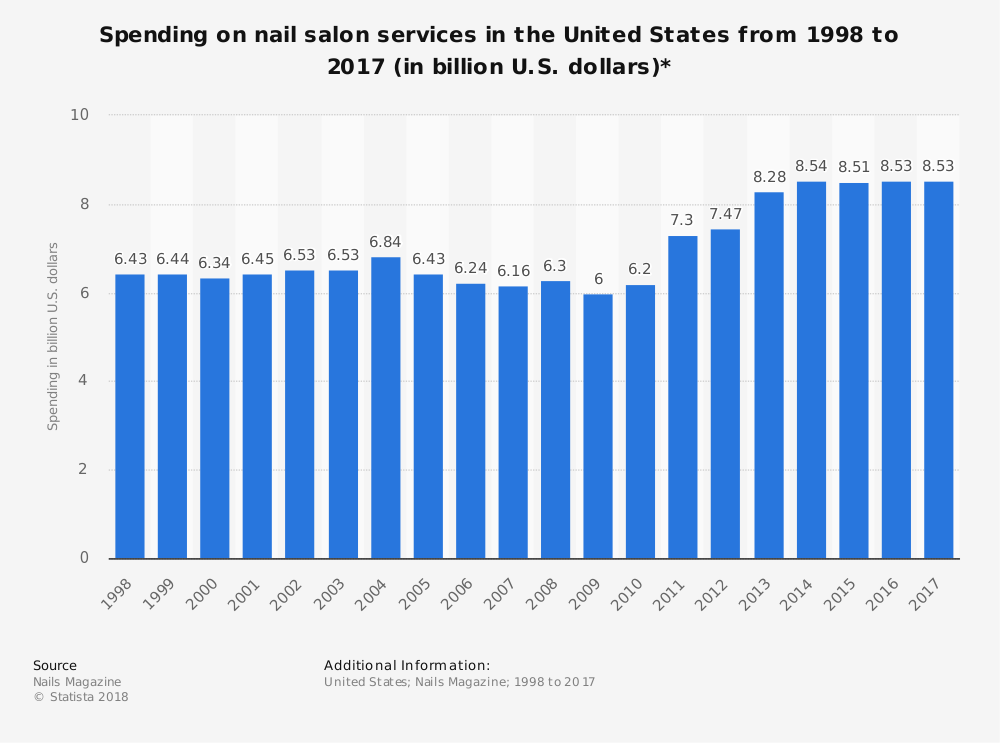 #3. Service pricing in Vietnamese-American salons tends to be up to 40% lower than the published averages for the overall industry. That is because these salons tend to be commission or employee salons, whereas other salons require booth rentals. (Nails Magazine)
#4. There are over 439,000 nail techs currently working in the nail salon industry in the United States. Although the number of salons is down dramatically, the number of workers employed has risen by 11.7% from 2016 to 2017. (Nails Magazine)
#5. California leads the U.S. in the number of employed nail techs and in total nail salons, with 100,000 workers and 7,900 locations respectively. Texas is the only state which comes close to California, with 48,000 workers at 5,100 sites. (Nails Magazine)
#6. 97% of the customers who visit a nail salon on a regular basis are men. 49% of the customers are between the ages of 36 and 50. Only 2% of the customers for the average nail salon are 25 years old or younger. (Nails Magazine)
#7. 49% of the women who visit a nail salon say that their home life is best described as being married with children. Another 14% of the customer base says that they are married, but they don't have any children as of yet. (Nails Magazine)
#8. 45% of the nail techs currently active in the United States report having more than 12 years of experience doing their line of work. (Nails Magazine)
#9. 61% of nail techs have either gone on to college, earned an AA degree, or finished an undergraduate degree. 7% report that they've completed graduate school. (Nails Magazine)
#10. 68% of workers in the nail salon industry report having a manicurist or nail tech license or certification. Another 22% report having a cosmetologist license, while 10% are licensed estheticians. About 11% of workers say that they don't have a license or their state doesn't require one. (Nails Magazine)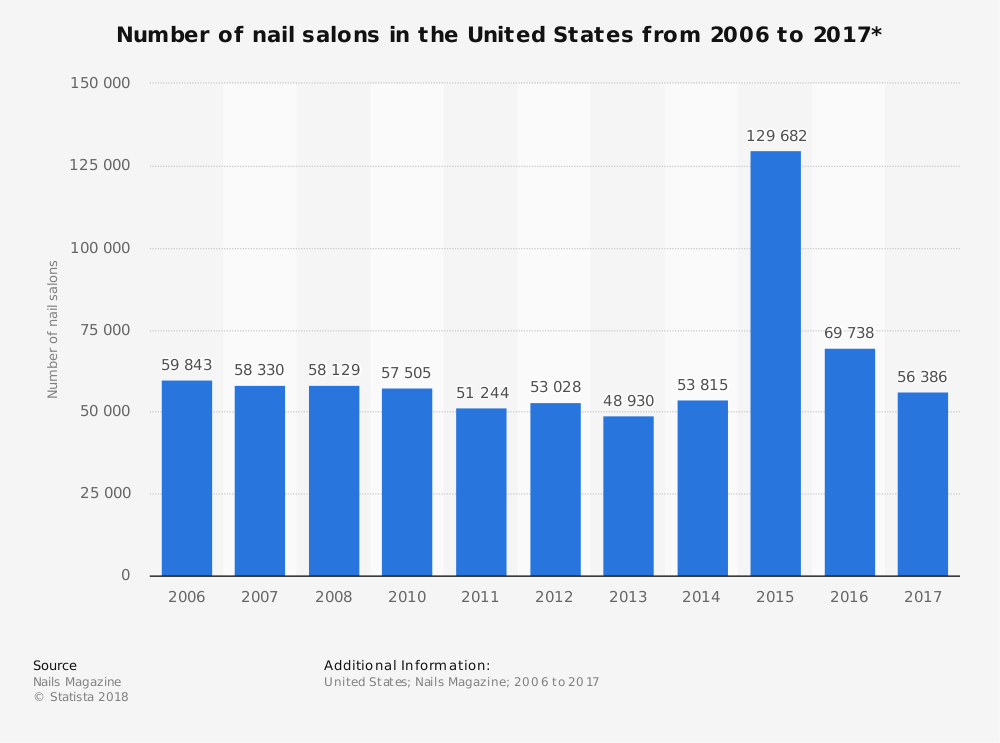 #11. On the average week, about 10% of nail techs will work fewer than 5 hours, with only 13.7% working between 36-40 hours per week. (Nails Magazine)
#12. The average annual wage for a pedicurist or a manicurist in the United States is just $24,980. That equates to an hourly wage of only $12.01, which is just $0.51 above the minimum wage in Washington State as of 2018. (Statista)
#13. Over $605 million in nail polish is purchased in the United States each year. (Statista)
#14. 16% of the nail care services industry in the United States is owned by the beauty salon industry. (Statista)
#15. The average price for a full set of acrylics within the nail salon industry was $45.56 in 2017. The only service which was more expensive was a specialty or deluxe pedicure, which had an average price of $45.96. (Nails Magazine)
#16. 30% of nail salons say that they raised the price on at least one of their services within the past 12 months. Another 23% say that they've increased their prices within the past 12-24 months. In comparison, 0.8% of nail salon owners say that they've recently had a price decrease. (Nails Magazine)
#17. The average nail tech in the United States provides personal services to 20 clients per week. About 40% of those clients will make regular appointments, while another 25% create standing appointments for services. (Nails Magazine)
#18. Only 16% of nail salons use a computer software program to book client appointments. Another 13% use an online booking app or program while 9% use a smartphone booking app. (Nails Magazine)
#19. 51% of the nail salons in the United States say that they don't take walk-ins. For those who do, the average wait time to receive services is 15 minutes or less. (Nails Magazine)
#20. 74% of nail techs within the industry say that they provide their own equipment, tools, and supplies. Only 8% say that their employer offers everything that they need. (Nails Magazine)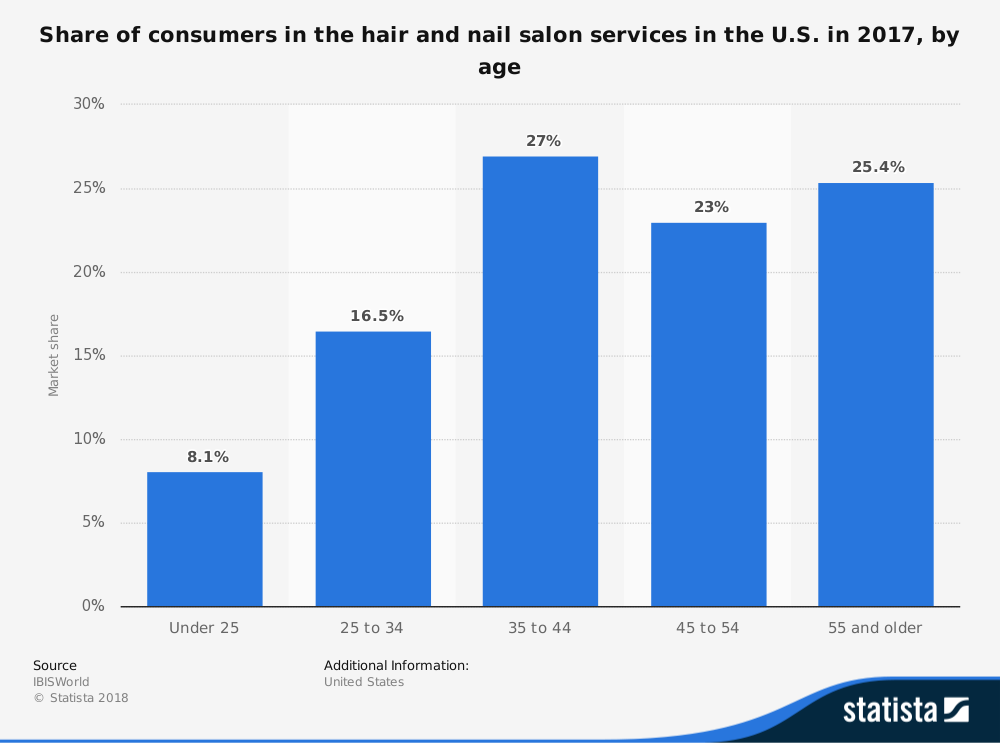 #21. Although the U.S. nail salon industry is more significant, the market in Russia is larger, with a total value of $14.6 billion. Canada comes in third, with a reported market size of $5 billion. (Nails Magazine)
#22. 23% of women say that they have received a gel manicure at a nail salon within the past year, while 14% of women say that they tried to do one on their own at home. (Mintel)
Nail Salon Industry Trends and Analysis
The nail salon industry has seen a lot of ups and downs in the past 10 years. Explosive news reports have discovered that some nail salons in large cities have underpaid or failed to pay their workers, sometimes for several years. Many customers are cost-conscious about the services they do use and are opting to do some of this work on their own.
Since 2013, industry revenues in the United States have been relatively constant. The one area of good news for the industry is that despite a loss of over 100,000 locations, the overall industry has seen static revenues. That means the nail salons which are still working are doing a great job.
Only time will tell how stable the industry will be in the next 5 years. If the economy remains strong, the revenues will remain strong. If households begin to struggle to pay their bills, however, watch for states where there are few, if any, licensing rules see a surge in nail salons being opened.