Here are some Christmas messages for your husband that are perfect to put in your Christmas card or as daily notes to him leading up to Christmas day.
1. If this Christmas, all I got was a kiss from you, I would be the happiest person on earth. Your love is unlike anything else. It keeps my world revolving, and I couldn't imagine my life without you. Merry Christmas, husband. I can't wait for my kiss!
2. The holidays are so full of stress: shopping, last-minute gifts, busy mall hallways. Everything is worth it when I come home to you. All I want to do is make Christmas special for my perfect husband. You deserve the world!
3. If Christmas is a time for being honest and true, then I should tell you a few things: I love you. I think you're the most incredible husband. When we're together, I'm at my happiest. Thank you for everything you do for me and our family. Those are my truths!
4. Dear husband, my love for you is timeless. When we're together, you make me feel like a teenager again. I can't keep my eyes or my hands off you: not when we're out, not when we're working, and especially not at Christmas! All I want to do is kiss your whole body and make you feel loved. Merry Christmas to the cutest husband in the world.
5. My mom has offered to host us this Christmas. I knew how much you'd want to go there, so I told her we already have our own plans this year. I didn't tell her those plans involve you, me, a bottle of bubbly, and a whole lot of holiday fun just the two of us!
6. The flurry of snow outside is nothing compared to the snowstorm of love in my heart for you. You thaw me out every time we're together.
7. It's cold and bleak outside our window this winter, but inside our home, it's bright and cheery. Together, we've built such a wonderful life. You're an incredible husband and life partner. Merry Christmas!
8. You're just like the Grinch sneaking to steal presents, because you stole my heart. But I've never been more glad about anything else! This Christmas, you're the reason I feel merry. My heart is yours forever.
9. If you're real good this year, I might let you dress as Father Christmas and ring my Christmas bells – just don't get stuck in the chimney!
10. Santa's elves must have been working hard this year, because this Christmas, I have everything I've ever wanted. I have you as my husband, I have our lovely home, I have our life together. I hope we both stay on the nice list so we can keep this magnificent dream alive.
11. Bah, humbug! All I want to do this Christmas is skip the presents, skip the formalities, and spend all of my time with you. You are the best thing that's ever happened to me, and if we could stay by the fire forever, I would. Merry Christmas, husband!
12. My husband, you are my other half. There's nothing more exquisite than when you hold my hand, kiss my cheeks, or when our bodies melt together to become one. We are truly meant to be together. I'm so glad I found you, and that we get to spend every Christmas together.
13. You're gonna be happier than Santa Clause when all his presents are delivered, and you see the Christmas outfit I've got lined up. It's strictly for your eyes only!
14. I love every part of you. I love your strong arms that hold me when I'm feeling sad or stressed. I love your soft lips and the way they kiss me at night. I love your bright, dazzling eyes, and the way they meet mine. To me, you are the most perfect man in the world. I feel so lucky to spend another Christmas with a husband like you.
15. Don't worry about stacking all my presents under the Christmas tree, leave them in the bedroom and we'll get to them right after I've shown you how much you mean to me.
16. I've a special Christmas candy, that's only out once a year, and I'm saving it for you, my love. Enjoy!
17. When the work for the year is done, and the holidays are started, let's show Father Christmas what it means to have the best night of the year!
18. I love the quiet moments with you, like when the extended family all go home and we have the house to ourselves again. Those silent Christmas nights, just the two of us, are the most enchanting moments of the holidays. Merry Christmas.
19. If you want to save money this year and give me a gift that money can't buy, I certainly won't complain. In fact, I'd be happy to return the gift!
20. As I wrapped your presents on Christmas Eve, I thought of all the times you've shown me how much you care – showing you love me in every possible way. I wouldn't trade them for the world.
21. I know that Santa's sack is bursting with goodies – I hope there's something special for me in there!
22. I thought I'd pin some mistletoe on my top and in my hair, just in case you want to cover me in kisses this Christmas day. Are you ready?
23. Thank you for always being by my side at every special moment. Thank you for telling me everything will be okay when I'm down. Thank you for leading me on this wonderful journey of life. There's nobody I'd rather spend it with than you. Merry Christmas to the best husband in the world.
24. Christmas is such a busy season, let's take time out to slow the pace and celebrate our love awhile. The best gift we can give ourselves is each other.
25. I just talked to Santa, and he says you're on the naughty list this year. You've been bad! Maybe this Christmas you can do some good deeds to make it up to him…Or we can keep being naughty, together.
26. Meet me under the mistletoe this Christmas. When we kiss, I forget about everything else in the world: the holiday stress, the family drama. All I want is you and your sweet lips. I'll be hanging mistletoe in every doorway for you!
27. A little robin told me that Christmas is your favorite time of year. Let me whisper slowly in your ear my plans for us this season, and see if we can make it one the best ever!
28. When I make my Christmas wish every year, I wish for things to stay exactly as they are. I already have everything I need in my life, and it's you. You're the most extraordinary man, and I can't believe I get to have a husband like you by my side.
29. Everyone knows that Christmas spark, like the magic in a child's eyes as they watch the Christmas tree sparkle. With you, my husband, I feel that sense of wonder every day. I can't believe I have the most perfect man to spend the rest of my Christmases with.
30. If I closed my eyes in the Christmas crowd, I could still find you in a heartbeat. There's nobody I know better than you. I know the shape of your mouth, the crinkles of your eyes, the strength of your arms. To me, you're the perfect husband. Thank you for spending another Christmas with me!
31. Let me brush the snowflakes from your hair and bring you in out of the cold. The fire is blazing, the chocolate is hot, and my hands are ready to warm you up.
32. I haven't asked for much this Christmas because you are already the perfect gift. All I want is you: your smile, your hands, your body. I hope I get to see you under the tree this year! Let's celebrate this Christmas.
33. The day we met, I never could have imagined how miraculous our life together would be. If I had known all the amazing times we would have together, the beautiful days, the sensual nights, I would have married you so much sooner. Merry Christmas, my love.
34. A wise woman once told me that Christmas is about the people. The decorations can go hang, the turkey can get stuffed, and the songs can be muted, but relationships are what count. I'm counting on the best season ever with you.
35. We've done our fair share of snowball fights and skating in the park, but there'll never be enough winter nights snuggled up to you, resting my head on your chest and listening to you breathe.
36. There's a Father Christmas in the mall that reminds me of you – hearty laugh, cheesy lines, and a perfect lap to sit in. Is he available?
37. Santa's elves have written me a note to say that I'm on the naughty list this year. It's okay, I think it was inevitable given the times we've shared! Naughty girls have much more fun!
38. Another holiday season, another passionate kiss under the mistletoe. The years may be passing, but our love is as fresh as the day I met you.
39. To my husband, my best friend, my soulmate, my life partner: Merry Christmas. I can't wait to spend the rest of my life with someone as special as you.
40. When you're decorating the tree this year, remember to save some ribbons for me. You can dress me up however you like, and unwrap me at your leisure.
41. Just like Rudolf guiding Santa's sleigh, you guide me through life. You shine bright and lead the way when I feel lost. You make all the coldest nights feel warm and safe. I love you, husband. Merry Christmas!
42. To my husband: You're sweeter than eggnog. You're cuter than Santa. You're more tasty than Christmas cookies. You're better than every holiday combined. Thank you for being you this Christmas!
43. Let's take a moment to appreciate all we've got this Christmas – eyes for smiling, lips for kissing, hands for loving – and a whole lot of time to enjoy them.
44. You cook the turkey and I'll drink the wine. You close the curtains, and I'll pull back the covers. We've always been a perfect team!
45. When I was a kid, I would rush downstairs every Christmas morning to see what presents were under the tree. But now, the greatest gift of all is waking up to a husband like you. When you wake me up with a kiss, when you caress my body, everything feels perfect and right. Merry Christmas, my love!
46. To my husband on Christmas day: You are the reason I do it all. You're the reason I wake up in the morning, the reason I keep breathing. You're the reason I smile, and the reason I laugh. I hope that I can give you the same joy you give me. Merry Christmas.
47. When I saw you for the first time, I was in awe of you. I could never believe that someone like you even existed. You are the most caring, goofy, kind, handsome, sexy man I could have asked for. I'm so happy you're my husband!
48. There's a party at the neighbors and a festival in the square, but I'm content to lie here with you and celebrate Christmas in our own special way. Merry Christmas, my love.
49. Christmas carols on the radio, a glass of eggnog in my hand, and a whole evening ahead to share my Christmas treats with you. Let's enjoy the slow pace of this holiday season, and really take our time!
50. Cold noses, long kisses, cold hands, and hot bodies, a perfect combination for this holiday season with you. Let's ramp up the temperature between us!
Best Quotes for Your Christmas Message for Your Husband
"Baby it's cold outside."
Dean Martin
"I accept you, every single thing that makes you who you are, from now until the end of time."
The Fosters
"The Christmas spirit – love – changes hearts and lives."
Pat Boone
"To be fully seen by somebody, then, and be loved anyhow this is a human offering that can border on miraculous."
Elizabeth Gilbert
"It is Christmas in the heart that puts Christmas in the air."
W.T. Ellis
"I am catastrophically in love with you."
Cassandra Clare
"At Christmas, play and make good cheer, for Christmas comes but once a year."
Thomas Tusser
"If equal affection cannot be, let the more loving be me."
W.H. Auden
"Sometimes I can't see myself when I'm with you. I can only just see you."
Jodi Lynn Anderson
"Christmas is the season for kindling the fire of hospitality in the hall, the genial flame of charity in the heart."
Washington Irving
"A little smile, a word of cheer, A bit of love from someone near, A little gift from one held dear, Best wishes for the coming year. These make a merry Christmas!"
John Greenleaf Whittier
"May you have the gladness of Christmas which is hope; The spirit of Christmas which is peace; The heart of Christmas which is love."
Ada V. Hendricks
"In all the world, there is no heart for me like yours. In all the world, there is no love for you like mine."
Maya Angelou
"Christmas is like candy; it slowly melts in your mouth sweetening every taste bud, making you wish it could last forever."
Richelle Goodrich
"You could have had anything else in the world, and you asked for me."
Cassandra Clare
"In case you ever foolishly forget, I am never not thinking of you."
Virginia Woolf
"I swear I couldn't love you more than I do right now, and yet I know I will tomorrow."
Leo Christopher
"Christmas is the season of joy, of holiday greetings exchanged, of gift-giving, and of families united."
Norman Vincent Peale
"Each moment of a happy lover's hour is worth an age of dull and common life."
Aphra Behn
"Then the Grinch thought of something he hadn't before! What if Christmas, he thought, doesn't come from a store. What if Christmas…perhaps…means a little bit more!"
Dr. Seuss
"'Tis the season to be jolly!"
Deck the Halls
"The way you spend Christmas is far more important than how much."
Henry David Thoreau
"Morning without you is a dwindled dawn."
Emily Dickinson
"It's not what's under the Christmas tree that matters, it's who's around it."
Charles M. Schulz
"You meet thousands of people and none of them really touch you. And then you meet one person and your life is changed…forever."
Jake Gyllenhaal
"As long as we know in our hearts what Christmas ought to be, Christmas is."
Eric Sevareid
"Sometimes your nearness takes my breath away, and all the things I want to say can find no voice. Then, in silence, I can only hope my eyes will speak my heart."
Robert Sexton
"I love you without knowing how, or when, or from where. I love you straightforwardly, without complexities or pride; so I love you because I know no other way."
Pablo Neruda
"Christmas day is a day of joy and charity. May God make you very rich in both."
Phillips Brooks
"Gestures, in love, are incomparably more attractive, effective and valuable than words."
Francois Rabelais
"A merry Christmas to everybody! A happy New Year to all the world!"
Charles Dickens
"So, I love you because the entire universe conspired to help me find you."
Paulo Coelho
"I love you begins by I, but it ends up by you."
Charles de Leusse
"I never want to stop making memories with you."
Pierre Jeanty
"Love is a smoke made with the fume of sighs, being purged, a fire sparkling in lovers' eyes, being vexed, a sea nourished with lovers' tears. What is it else? A madness most discreet, a choking gall and a preserving sweet."
William Shakespeare
"I love you more than I have ever found a way to say to you."
Ben Folds
"May peace and plenty be the first to lift the latch at your door, and happiness be guided to your home by the candle of Christmas."
Irish Christmas Blessing
"For small creatures such as we the vastness is bearable only through love."
Carl Sagan
"I cannot imagine a life in your absence. You are like the breath of air that I need to live, the drop of water in a thirsty desert. I need you like a bird needs the skies to go higher."
Constantine Jake
"Happy, happy Christmas, that can win us back to the delusions of our childhood days, recall to the old man the pleasures of his youth, and transport the traveler back to his own fireside and quiet home!"
Charles Dickens
"City sidewalks, busy sidewalks, dressed in holiday style, in the air there's a feeling of Christmas."
"Silver Bells" lyrics
"My idea of Christmas, whether old-fashioned or modern, is very simple: loving others. Come to think of it, why do we have to wait for Christmas to do that?"
Bob Hope
"Christmas will always be as long as we stand heart to heart and hand in hand."
Dr. Seuss
"Christmas is not a time or a season but a state of mind. To cherish peace and good will, to be plenteous in mercy, is to have the real spirit of Christmas."
Calvin Coolidge
"Christmas, my child, is love in action. Every time we love, every time we give, it's Christmas."
Dale Evans
"Real love doesn't meet you at your best. It meets you in your mess."
J.S. Park
"If I had to choose between breathing and loving you I would use my last breath to tell you I love you."
DeAnna Anderson
"Christmas Day will always be just as long as we have we."
Dr. Seuss
"Happiness is anyone and anything at all that's loved by you."
Clark Gesner
"When love is not madness, it is not love."
Pedro Calderon de la Barca
"There are three stages of man: he believes in Santa Claus; he does not believe in Santa Claus; he is Santa Claus."
Bob Phillips
The following infographic provides some interesting statistics and facts about Christmas, including about some US towns that are named after Christmas-related themes. The top Christmas tree producers are located in the states of Washington and North Carolina, accounting for just a portion of more than 350 million trees currently growing.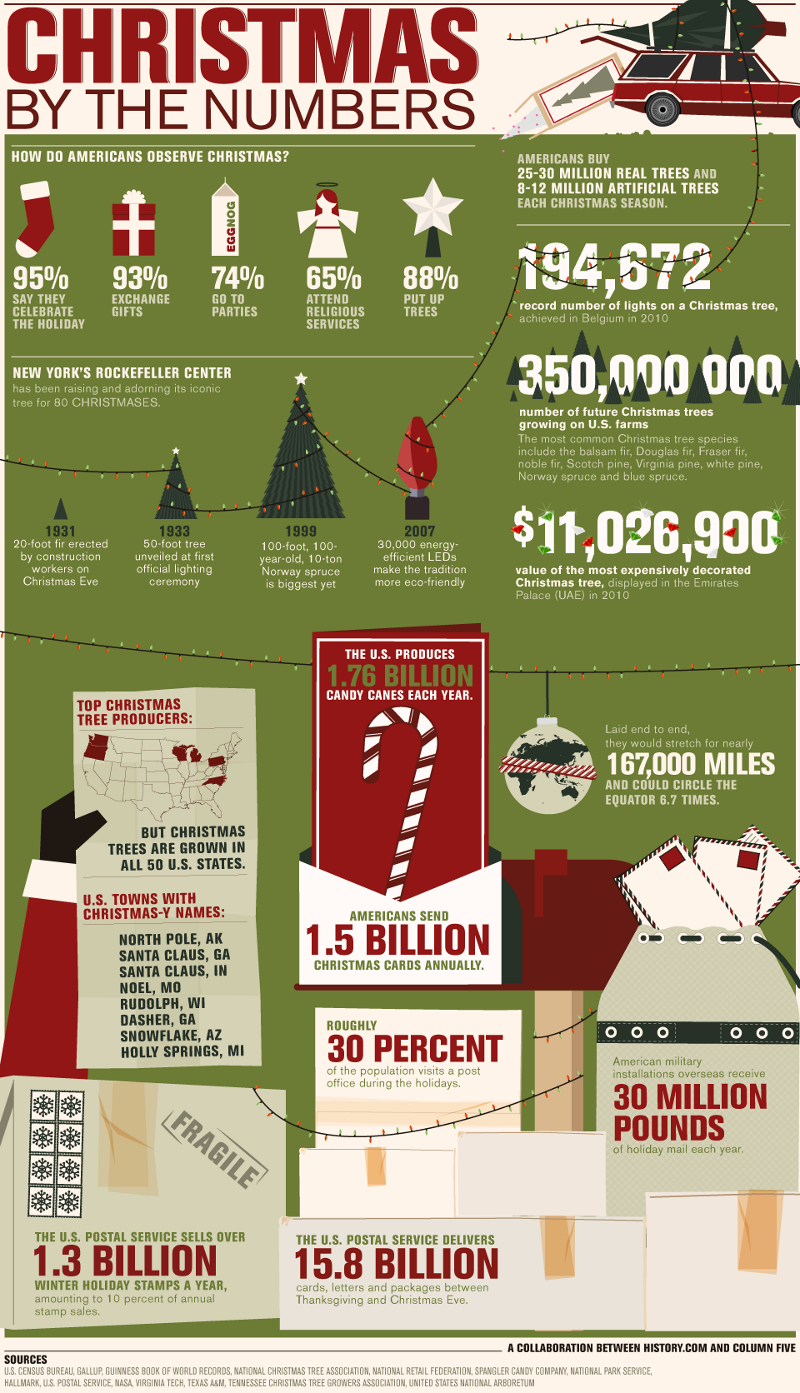 Here our most popular
message posts
that cover just about every occassion.