Almonds have been grown for more than 2,000 years. They were very popular in Egypt. Explorers who would travel the various trading routes would often snack on almonds during their journey. Although almond trees flourished along the Mediterranean, their original home was likely somewhere in Central Asia.
California would get its first almond tree in the middle of the 18th century. Since the 1980s, the almond yield generated by the industry in California has quadrupled. There are now more than 500,000 acres of almonds planted in the Fresno, Sacramento, and San Joaquin valleys. In 1995, there were only 418,000 bearing acres available in the entire state.
Important California Almond Industry Statistics
#1. In 2016, the crop year report for almonds notes that California growers were able to generate $5.16 billion in revenues. That made almonds the third-most value commodity in the $46 billion agricultural sector. (California Department of Food and Agriculture)
#2. Almond milk represented about 16% of the California almonds that were sold in the United States in 2016. Between 2011-2015, the sales of almond milk in the U.S. grew by 250%. (Almond Board of California)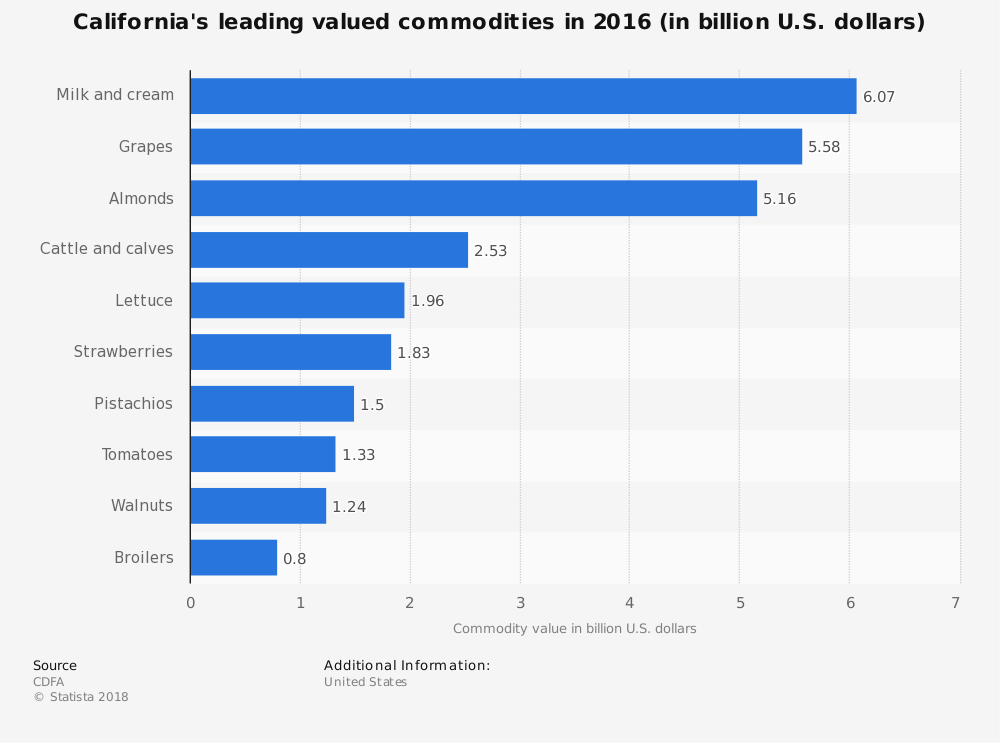 #3. In 2016, there were 320 product launches that were with plant-based claims. (Almond Board of California)
#4. For the first time, 2 billion pounds of almost were exported in 2017. That also marks the 8th year in a row that the California almond industry was able to export more than 1 billion pounds of almonds. (Almond Board of California)
In the past 20 years, the amount of water required to grow 1 pound of almonds has been reduced by 33%. About 4 out of every 5 almond growers uses a system of micro-irrigation. (Almond Board of California)
#5. Current farming practices by the California almond industry offset their carbon emissions by up to 50%. The shells of the almonds are turned into bedding products for livestock, while the hulls are used for feed at dairy facilities. (Almond Board of California)
#6. 91% of the almonds produced in California are grown on family farms. 61% of the farms are fewer than 50 acres in size. (Almond Board of California)
#7. Domestic shipments for the 2017 growing season reached 676 million pounds, making it the largest shipment in the industry of the industry. (Almond Board of California)
#8. 32% of the almonds grown in California are destined for U.S. locations, making domestic consumption the top destination for the industry. (Almond Board of California)
#9. Spain is the top importer of California almonds in the world today, although 90 different countries order shipment each year. (Almond Board of California)
#10. 80% of the almonds grown in the world today come from the United States. The next largest producer is Australia, at 7%, followed by the European Union at 5%. (Almond Board of California)
#11. California is just 1 of 5 places on the planet with the precise climate required to grow almonds effectively. (Almond Board of California)
#12. 94% of almond growers work with beekeepers to use natural pollination methods for growth. About the same percentage of growers will set out clean water for the bees to use while they pollinate the almond trees. (Almond Board of California)
#13. For the 2017 season, the California almond industry products 2.13 billion pounds of kernels. Another 4.26 billion pounds of hulls were generated, along with 1.49 billion pounds of shells. (U.S. Department of Agriculture)
#14. More than 104,000 people are directly employed because of the California almond industry. In total, about $11 billion is contributed to the state's GDP and $21.5 billion is generated in output to the state's economic activity. (University of California)
#15. About 97% of the jobs that are created by the California almond industry are located in the Central Valley. (Almond Board of California)
#16. Since 2009, the price of almonds has nearly doubled. With prices at $2.58 per pound, many farmers are switching from cotton to almonds. As almond acres have expanded, cotton acres in California have been cut by 75%. (Los Angeles Times)
#17. Paramount Farming Company is one of the largest producers of almonds for the industry in California. They currently farm over 46,000 acres and produce about 6% of the average crop each year. (Los Angeles Times)
#18. Nearly 3 billion bees are required to fully pollinate the almond trees each year to maximize the crop potential of all farms. (Los Angeles Times)
#19. About 40% of the almonds produced are eventually sold to various food companies, which will use the products in cereals, flours, and other baking products. (Los Angeles Times)
#20. If almonds are stored under cold-storage conditions in their whole state, then the half-life of the product is about 24 months without a significant loss in quality. (Almond Board of California)
#21. In 2017, about 1.33 million acres was designated in California as acreage for almonds. About 1 million of the acres were listed as bearing. 73% of the total bearing acreage is found in just 5 counties: Kern, Fresno, Merced, Madera, and Stanislaus. (California Department of Food and Agriculture)
#22. Kern County has the most bearing acres of almonds planted, with more than 138,000 acres registered. Fresno County has the largest number of non-bearing almond acres registered, at almost 20,000 acres. (California Department of Food and Agriculture)
California Almond Industry Trends and Analysis
The California almond industry is poised to continue is record-setting levels of growth. In 2017, there were 4 new markets that were approved for exports: Mexico, Italy, Germany, and Japan. There were 7 current markets which experienced double-digit growth percentages as well, with India leading the way at 32.1%. As snack cultures change and people look for healthy alternatives to sugary snacks, the almond is a natural and affordable alternative.
In 2016 and 2017, almonds were the top nut for new product introductions in Europe. Almonds have also been the top nut product for new introductions since 2007 globally.
As new products come to the market, the popularity of almonds will continue to grow. They are ranked highly for baking, snacking, and one of the most popular nuts to consume for general purposes. Since 2012, the preference to eat almonds as a snack has grown from 28% of the population to 59%.
The California almond is a versatile product with plenty of staying power. Expect the industry to continue reinforcing its position as a global leader for some time to come.