Even though weddings are reaching an all-time high in their expense, many couples are still choosing to tie the knot in a traditional way. Thanks to the presence of a stronger economy and a higher level of discretionary income, people are finding ways to balance the expense of the event with DIY ways to lower costs in strategic ways.
63% of brides today say that they paid for their hair and make-up before their wedding with the average expense being £177. The remainder are doing their own or having a friend help, which can shave a significant expense from the budget.
12% of couples are deciding to skip the expense of a foreign honeymoon after they get married, choosing to stay at home as a way to enjoy the glow after the event. For those that do travel internationally after their UK wedding, 24% are deciding to stay in Europe.
Although the average cost of a bridal gown is £913, grooms are only spending £84 to rent their tuxedos for the event. Only 31% of grooms actually purchase their apparel as another way to save some cash. Brides actually spend more on their shoes than grooms do on their tux rental.
Interesting UK Wedding Industry Statistics
#1. The wedding industry in the United Kingdom has a value of £10 billion each year. When couples plan an engagement and take the costs all the way through the honeymoon, the average event will cost roughly £36,000. (Hitched)
#2. Couples will spend over £12,000 on their wedding day alone to host the event, but they will only spend £2,700 on their honeymoon. (Hitched)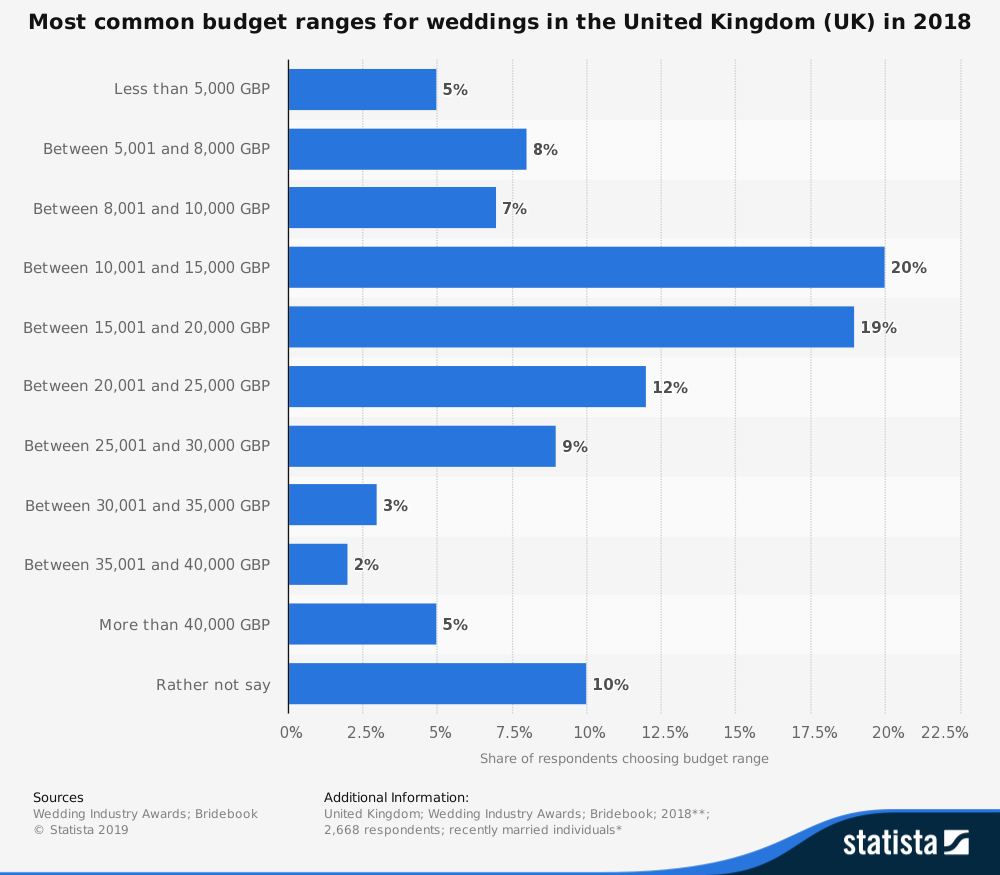 #3. The clothing costs in the UK wedding industry are currently responsible for over £6,300 in the average wedding expense. That is roughly £2,000 more than the guests will spend on gifts for the happy couple. (Hitched)
#4. The average couple in the UK will invite 96 guests to their wedding. 17% said that they invited over 100 people to their event. 4% said that they invited less than 20 people. (Hitched)
#5, The average wedding insurance cost in the United Kingdom is £24.23. Despite the low cost of this policy, only 47% of brides decide to purchase it. (Hitched)
#6. 74% of brides in the United Kingdom reported wearing either white or ivory as the primary color of their dress. (Confetti)
#7. Outside of the shades of white, pink was the next popular wedding color with a 36% preference in the UK. Blue had a preference rate of 34%, while purple was part of the event 20% of the time. (Confetti)
#8. Couples included black as part of their wedding colors 4% of the time in the United Kingdom. (Confetti)
#9. 61% of couples getting married in the UK report that they made their own wedding favors as a way to save money. 56% said that they did their own stationary as well. (Confetti)
#10. Over 50% of couples who are getting married in the United Kingdom say that they ask for the gift of cash from those who are invited to their event. (Confetti)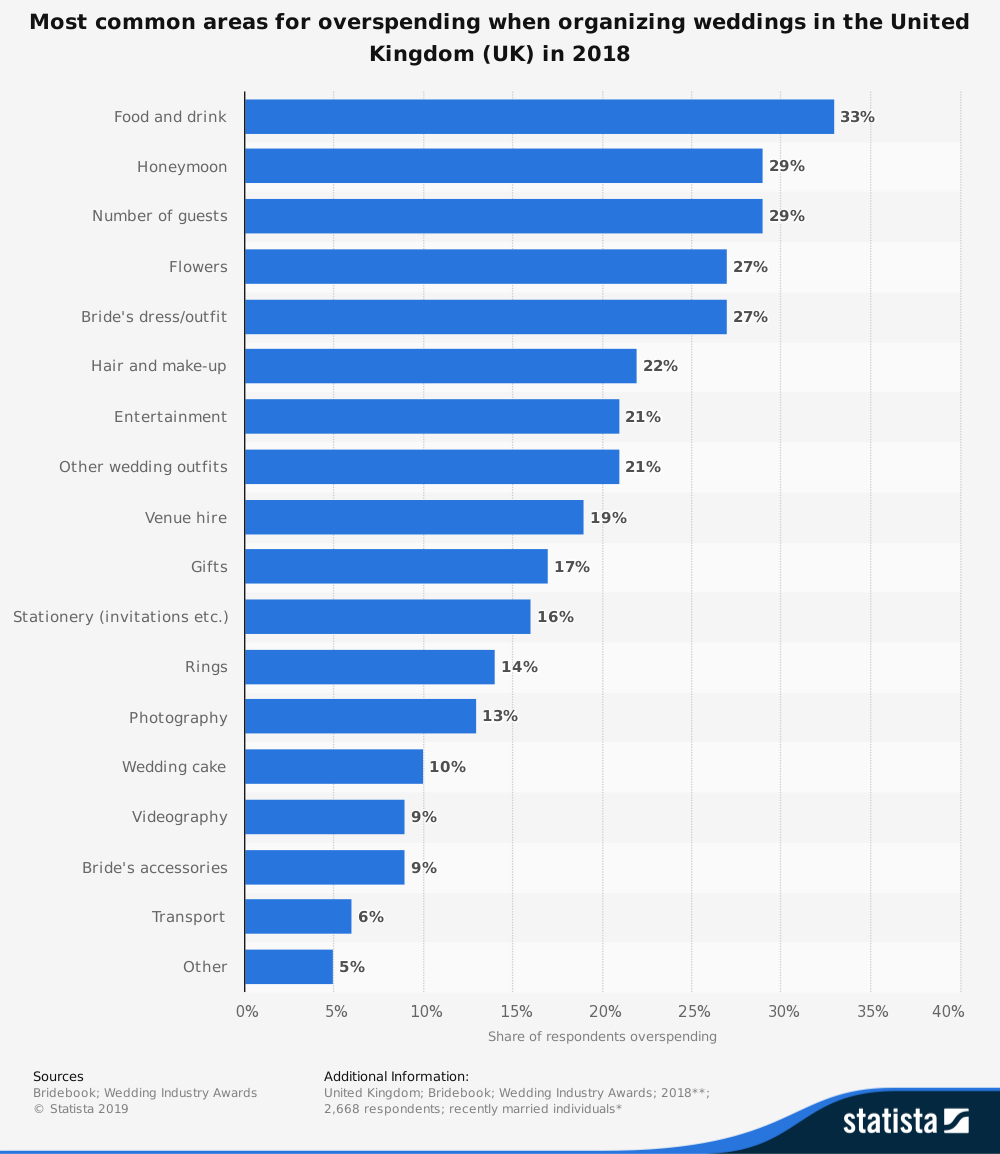 #11. 35% of people in the UK change the relationship status within 24 hours of getting engaged. The average time that the couples were together before they decided to tie the knot was 4 years. (Confetti)
#12. The average cost of a wedding photographer in the United Kingdom is £748. Some couples are opting for videography instead, as that services carries an average price of £360. (Hitched)
#13. There were over 239,000 marriages between opposite sex couples in 2015 for the UK wedding industry. This figure is a decrease of 3.4% from the year before and was 0.8% lower than in 2013, making it the lowest rate for marriages on record. (Office for National Statistics)
#14. There were also about 6,500 marriages between same-gender couples in the UK in 2015. 56% of these events were between female couples. Another 9,100 households decided to convert their civil partnership into a marriage that year as well. (Office for National Statistics)
#15. Only 44 religious ceremonies were performed in the UK for same-gender couples getting married in 2015. (Office for National Statistics)
#16. Only 7% of brides say that they save money by not having flowers at their wedding. The average expense for this decoration is currently £392. That's about the same price as the wedding cake for the event. (Hitched)
#17. 61% of couples said that they decided to get married in a civil ceremony in the UK. 20% of these couples chose a hotel for their event, followed by 18% who got married at a manor house or country estate. (Confetti)
#18. Only 5% of couples in the United Kingdom decide to get married abroad. (Hitched)
#19. 71% of weddings hire a DJ to help entertain guests during the reception. 47% of the ceremonies include a musician or a live band. Only 13% book a traditional toastmaster to be part of their day. (Confetti)
#20. 25% of couples say that they will spend between £200-£500 on their wedding entertainment. 16% said that they would spend up to £750, while 13% said the expense could go up to £1,000. (Confetti)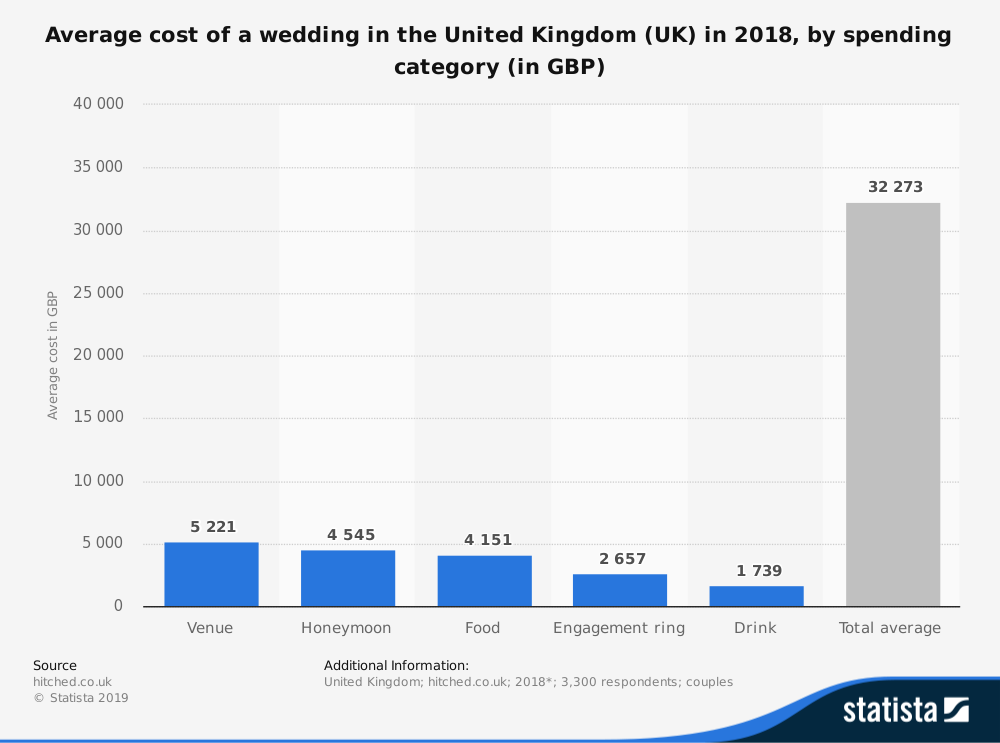 #21. Only 26% of couples in the UK wedding industry say that their preference is to have a religious ceremony that takes place in a church or some other place of worship. (Confetti)
UK Wedding Industry Trends and Analysis
Because of the cost of a wedding in the UK, many couples are entertaining the idea of having a DIY wedding. There are several different ways that you can personalize this event today using online tutorials and craft accessories that it can cut several costs from the experience. Couples can also use this experience as a way to bond with their family and close friends.
Because of this shift in preferences, the UK wedding industry is shifting gears. Although they are still offering the full-service event that many couples want, from the rental of a facility to the cost of catering, businesses are also supplying couples with the supplies they need to pull off an event on their own. 40% of brides say that they made their own wedding cake to celebrate their event. Even 10% said that they did their own catering.
People will continue to get married, just as they have done for numerous generations before. The UK wedding industry will thrive as it always has. The only difference is in how the services are provided for couples. Instead of offering a full-service solution to everyone, look for the industry to provide more ways to support couples who want to tackle this challenge on their own.