Skateboarding was born from the sport of surfing. Although the actual invention of the skateboard is not truly known, people in the 1940s were found skateboarding in towns when the waves to surf were flat or uninviting. Some of the first skateboards were old surf boards that had wheels attached to them.
In 1958, the first skateboard with roller skating wheels was created, which helped to smooth out the ride. It is around this time that the term "sidewalk surfing" became popular. Just a year later, the first skateboard with all-metal wheels was introduced.
By the 1960s, the surfing industry had taken note of the popularity of skateboarding within its community. Brands like Hobie and Makaha began making better casters and trucks for the boards, reducing the wear and tear that skateboarders experienced. In 1963, Hermosa Beach in California would host the first skateboarding contest.
Since then, the skateboard industry has seen a number of improvements. Urethane wheels have opened up many new environments for skateboarders to explore. Since 1995, skateboarding has become part of popular culture thanks to the X Games, ABC's Wide World of Sports, and similar broadcasts.
Kids as young as 2 can safely skateboard today.
Important Skateboard Industry Statistics
#1. In 2016, there were about 6.4 million people who participated in skateboarding in the United States. With the exception of 2011, where only 5.8 million people identified themselves as skateboarders, the U.S.-based industry has been relatively stable in participants since 2009. (Statista)
#2. In 2006, over 10 million people in the United States said that they participated in skateboarding. (Statista)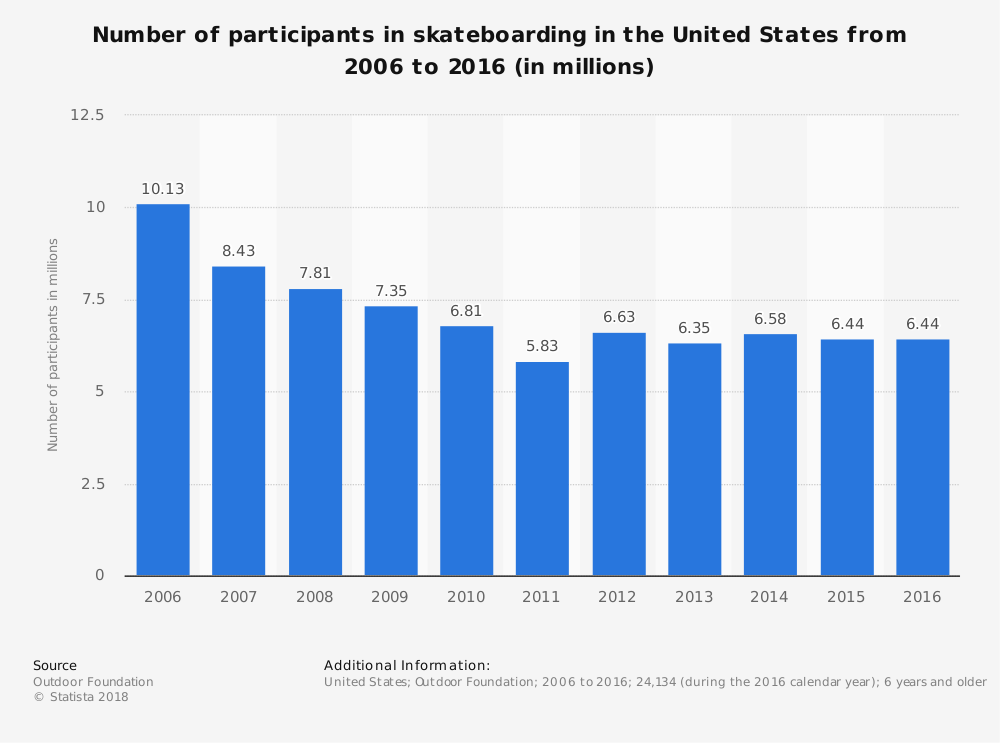 #3. The X Games, a sporting event focused on action sports like skateboarding, has seen a similar pattern in attendance. The first X Games had almost 200,000 people attend the events. In recent years, X Games events have drawn about 115,000 people to them. (Statista)
#4. About $80 billion is spent in the United States each year on urban streetwear, which is the preferred fashion for those in skateboarding culture. (Statista)
#5. The current value of the skateboarding industry, from an equipment-based standpoint, is $4.8 billion. (IBIS World)
#6. Almost 80% of skateboarders say that they prefer to shop for small brands or independent manufacturers for their equipment instead of shopping for the bigger name-brands in the skateboarding industry. (Go Skate)
#7. In 2006, over 70% of skateboarders were identified as being between 12-17 years of age. In 2017, just 45% of self-identified skateboarders were found to be in the same age group. (Go Skate)
#8. About 3% of skateboard sales typically occur within a sporting goods or sports supply store. (Go Skate)
#9. Profits at the retail level tend to be quite small within the skateboarding industry. A store selling skateboards and industry supplies might achieve a 5% profit on each sale. (Go Skate)
#10. Since 2006, the number of skateboarding-related searches has declined by more than 90%. A similar trend is being experienced within the sport of snowboarding as well. (Google)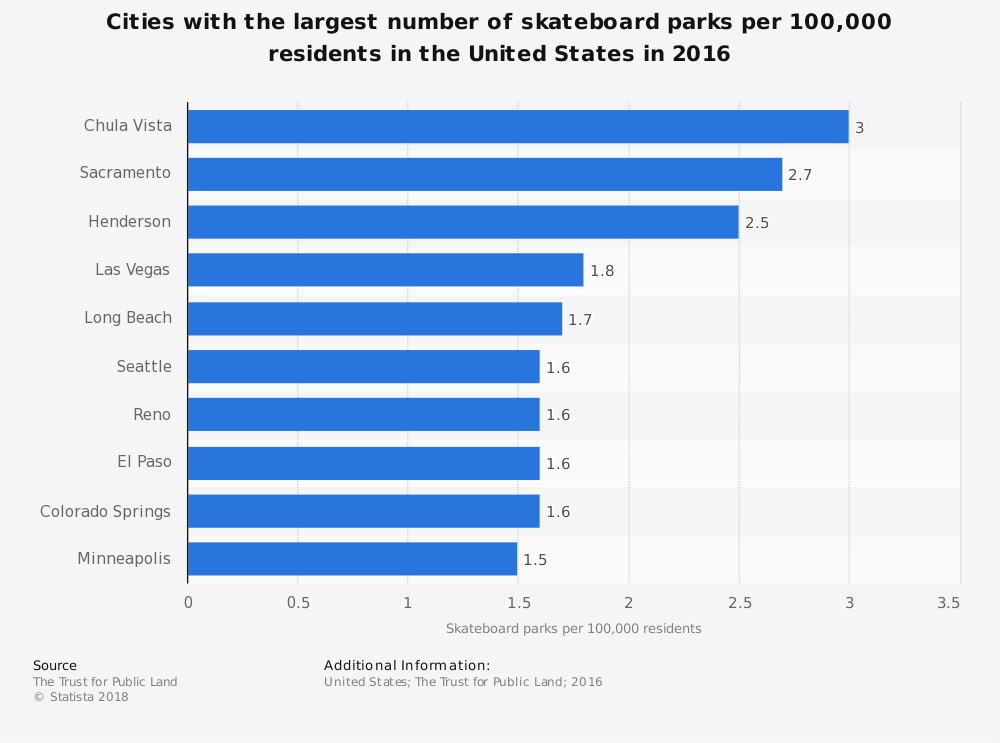 #11. Skateboarding sales have been declining at an annualized rate of 2% each year since 2006. Part of the reason for this is the cost. A professional-quality skateboard retails for more than $250. (Go Skate)
#12. Fewer than 10% of children in the United States say that they have ridden on a skateboard at least once in the past year. (Grind TV)
#13. The average skateboarder in the United States is a white male, 14 years old, and comes from a household with an average income level of $50,000 or more. (Grind TV)
#14. Skateboarding is also on the decline because of the dangerous nature of the sport. More than 1250,000 people per year go to an emergency room in the U.S. for an injury that is related to skateboarding. (National Safety Council)
#15. Just 16% of the skateboarding industry involves women or girls who describe themselves as a "core skater." A core skater is defined as someone who rides their skateboard a minimum of 26 times during the year. (Grind TV)
#16. Head injuries account for 20% of the treated injuries that are directly connected to skateboarding. About 3 out of every 4 injuries occurs to the extremities. Broken wrists and ankles account for 30% of the injuries treated. (National Safety Council)
#17. In 2010, about 3% of the U.S. population stepped onto a skate park to use it in some capacity. That means about 1 in 3 skateboarders in the United States uses their equipment for street purposes. (Public Skatepark Development Guide)
#18. About 3.1 million youth in the United States are described as being a core skater. That means about 1.7% of kids in the U.S. ride their skateboard a minimum of 26 times throughout the year. (Public Skatepark Development Guide)
#19. The number of core skaters, when defined as those who ride their skateboards 52 times per year or more, has been steadily rising when other demographics have been follow. About 40% of skateboarders meet this definition. (Public Skatepark Development Guide)
#20. 40% of skateboarders will ride long boards for transportation and trick boards for parks and recreational use. (Public Skatepark Development Guide)
#21. Just 1% of skateboarders who identify themselves as part of the industry are above the age of 55. If the age demographic is expanded to 45+, then 2% of the population identifies as being a skater. (Public Skatepark Development Guide)
Skateboard Industry Trends and Analysis
The skateboard industry may see some growth from innovative products that are beginning to filter down to consumers. Motorized skateboards, boards of different designs, and flexible boards have all helped to create new attention within an industry that has matured since 1995. Because the number of people who identify as being a skateboarder has remained stable, the trends of sales growth that have occurred from specific industry segments will likely be temporary.
That means the industry is forecast to contract over the next 10-year period, as a reduced number of youth participate in this sport.
There is some hope on the horizon for the industry, however, as the youngest skateboarders begin to grow up. Children in the 5-9 age demographic are still interested in skateboarding. If that interest continues, the customer base for the industry will begin to broaden over time. There will just be a few growing pains to endure until it gets there.
What makes the skateboard industry so inviting is that there is only one expectation: to improve personal skills within the sport. All other factors, such as race, gender, culture, weight, or interests matter within skateboarding culture. For some, that is why this sport is such an inviting option.
If the interest in skateboarding wanes within the youth demographics, then the skateboard industry will likely return to a niche industry once again.