#1. From 2011-2016, the outdoor apparel industry in the United States grew with a CAGR of 7.1%. For 2016, the industry saw growth levels of 6%. (Euromonitor)
#2. More than 2 million additional people joined in with at least one outdoor activity in 2016 which required the need for some type of outdoor apparel. That equates to about 48% of the U.S. population. (Outdoor Industry Association)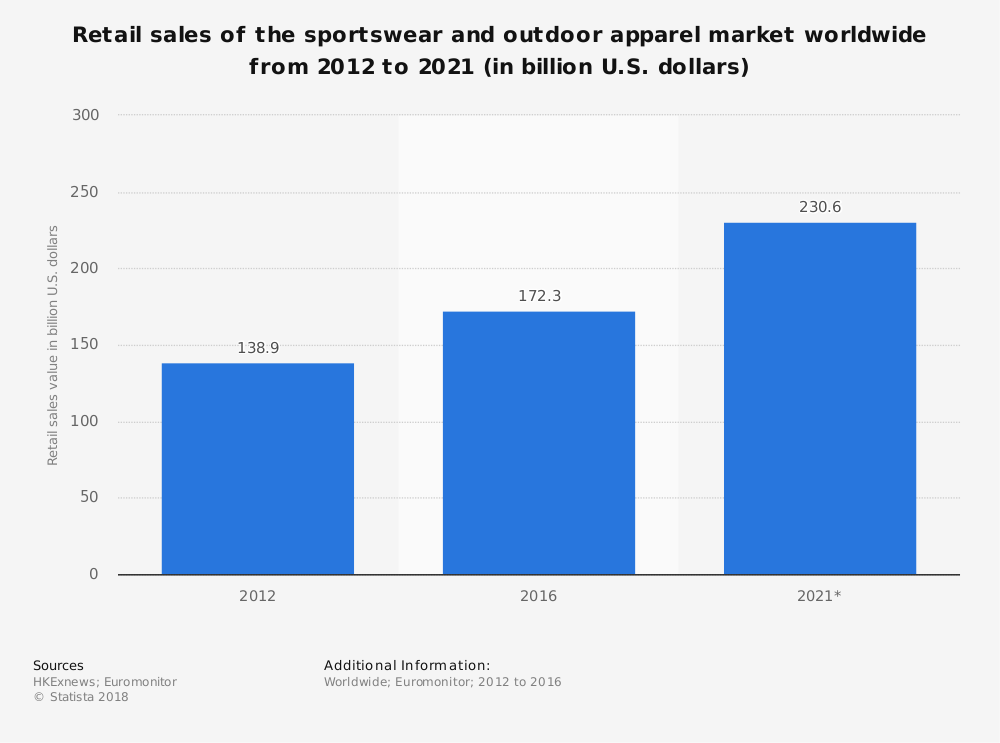 #3. The European market for outdoor apparel is valued at EUR 11.5 billion, which sales growing at 4.2% over the previous year in 2016. (European Outdoor Group)
#4. The outdoor apparel industry in the United Kingdom grew at the fastest rate for large European markets, experiencing a CAGR of 3.6% in 2016. (European Outdoor Group)
#5. Outdoor apparel in China sees tremendous growth in the e-commerce segment. The CAGR in some areas of China for online sales is expected to be above 30% through 2020, with further gains seen afterward with the Winter Olympics being held there in 2022. (Euromonitor)
#6. In 2016, the total value of the outdoor apparel market, from a global perspective, was $43.6 billion in 2016. Growth in local currencies was highest in China, with the industry achieving a growth rate of 18.8%. The U.S. was second globally for industry growth, at a rate of 7.1%. (Euromonitor)
#7. In the United States, total sales in the outdoor apparel category totaled $9.5 billion. (Euromonitor)
#8. Athleisurewear, which is a combination of comfortable and casual workout gear for exercise or daily needs led the growth in Europe. 80% of outdoor apparel industry professionals believe that the next 12 months will be better than the previous year. (European Outdoor Group)
#9. 37% of those participating in outdoor activities in the United States were in the 45+ age demographic. (The Outdoor Foundation)
#10. At current exchange rates, the value of the Chinese market for outdoor apparel is more than $7 billion. Sales of outdoor apparel through online retailers in China has grown by more than 60% since 2014. (Euromonitor)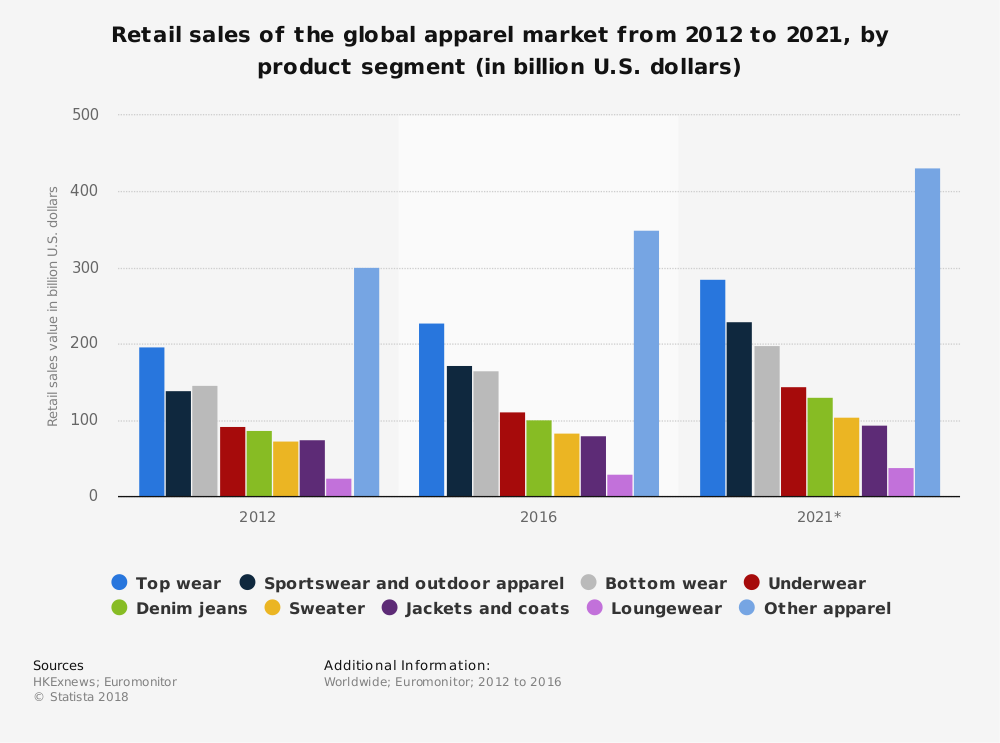 #11. Although outdoor apparel is growing rapidly as an e-commerce solution, more than 63% of sales still occur at shops in a mall in China. (COA)
#12. In 2019, user penetration within the outdoor apparel industry is expected to reach 19.4%. By 2022, the user penetration is forecast to reach 22.5%. (Statista
#13. The average revenue per user within the outdoor apparel industry is over $330 in the United States. (Statista)
#14. From November 2016 to November 2017, the top-selling outwear item was a re-tool fleece over from Patagonia. The average selling price for this pullover was $93.51. (The Street)
#15. About 40% of the sales generated by the outdoor apparel industry are in November and December each year. That means a later winter can dramatically reduce sales for the year for an outdoor retailer. (NPD Group)
#16. Insulated shell and fleece jackets and pants are the two most-popular items purchased within the industry. In the U.S., these two item categories are responsible for 68% of the revenues which are generated each year. (NPD Group)
#17. In 2017, total footwear sales within the industry declined by about 10%. (NPD Group)
#18. Sustainability is a major issue within the outdoor apparel industry right now. In 1998, when The North Face launched its Denali Jacket, it was produced using oil. In 2014, the company shifted to using recycled products, which now uses 25% less energy and 50% less water and chemicals to make the jacket. (VF Corporation)
#19. VF Corporation continues to lead in industry sales, achieving $7.53 billion in 2016. They were followed by Columbia Sportswear with $2.37 billion, then Anta with $1.92 billion. (S&P Capital IQ)
#20. Anta dominates the Chinese market, with $1.73 billion in sales. The North Face is the next closest brand, achieving just $161.8 million in sales. (Euromonitor)
#21. Even though brick-and-mortar stores are still quite popular in China, the total number of physical retail outlets selling outdoor apparel dropped by 1% in 2014, to just over 12,000 units. (COA)
Outdoor Apparel Industry Trends and Analysis
There are two primary trends which are driving the outdoor apparel industry right now: athletic leisure clothing and online sales.
As people shift toward a lifestyle that is more active, they are seeking multipurpose clothes which allow them to accomplish their needs. That allows the outdoor apparel industry to design clothing options that are more attractive in function than fashion at competitive prices for the average household.
With online sales strengthening due to an increase in try-before-you-buy opportunities, look for a shift away from the traditional brick-and-mortar stores in the next 5 years globally. Some businesses are already seeing the effects of this trend.
Cabela's reported more than a 4% decline in revenues in Q2 2017, with a 9.3% drop in comparable store sales. Gander Mountain closed more than 30 stores in March 2017. Academy Sports saw a 23% drop in its EBITDA in 2016.
The brands which are able to shift toward more of an e-commerce solution will see more success. Companies willing to let customers return online purchases without cost if the fit or finish doesn't feel right will see more overall traffic.
Growth will continue to happen in the next 5-year and 10-year forecasts for the outdoor apparel industry, through 2028. That growth will just be focused within the e-commerce segment.