The mango is a fruit which is native to southern Asia and India. There are two primary types which are sold on the global market: Philippine and Indian. Both come from the same species, but because of their geographical separation, they have different characteristics.
David Fairchild is responsible for introducing mangoes to the United States in the early 1900s. In 2013, data released by the Economic Research Service arm of the U.S. Department of Agriculture reported that fresh mangoes were being sold at $1.38 per pound. Dried mango was sold at $8.50 per pound that year.
The climate requirements to grow mangoes make it difficult (if not impossible) for some countries to be involved with this industry. Using the United States as an example, there are growing areas in Florida, California, Hawaii, and Puerto Rico. About 200,000 mango trees are currently being worked in Florida, on 2,000 acres, producing about $2 million worth of product each year.
Important Mango Industry Statistics
#1. In 2016, the global mango market was able to produce 46.5 million metric tons of fruit. Since 2000, growth within the industry has nearly doubled from the 24.7 million metric tons that were produced in that year. (Statista)
#2. The United States imports more mangoes than any other country in the world. Over 860 million pounds of mangoes are imported each year, which is valued at $400 million. Mexico is the primary supplier of mangoes shipped to the United States. (AGMRC)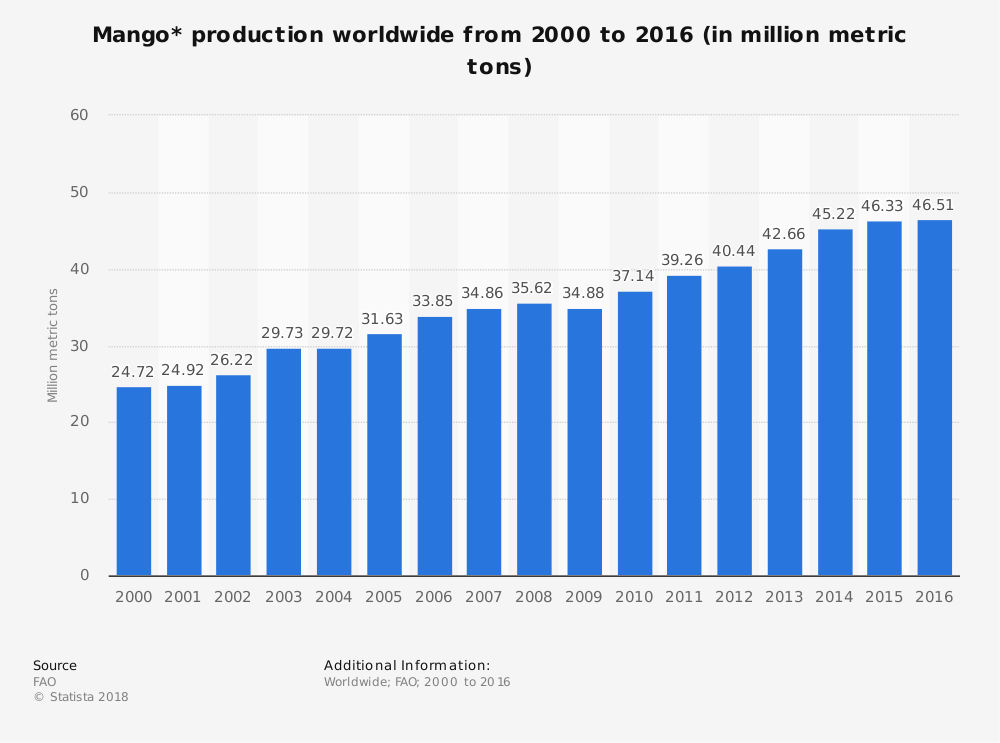 #3. Almost 20 million pounds of dried mango is imported by the United States each year as well, with a total value of $82 million. Thailand and the Philippines join Mexico as the primary suppliers for this industry product. (AGMRC)
#4. The U.S. imports about 200 million pounds of preserved or prepared mangoes too, which is valued at $125 million. (AGMRC)
#5. Over 2 million gallons of mango juice is imported by the United States as well, worth a total of $8.5 million each year. (AGMRC)
#6. Mango trees that are grown in favorable conditions may reach a height of more than 20 meters, while the trunk size can grow to be over 1 meter in diameter. (UNCTAD)
#7. Depending on the source of the mangoes and the variety being grown, the fruit may weigh anywhere from 130g to over 1 kg. (UNCTAD)
#8. High-altitude production of mangoes is possible if temperatures do not drop below 5 degrees Celsius at its growing location. Because of its sensitivity to cold weather (the tree dies almost immediately in freezing conditions), an altitude of 1,300m is believed to be its limit. (UNCTAD)
#9. After a mango tree flowers, the fruit will be ready for harvest in 120 to 130 days. Most harvests are manual, even in industrial orchards. (UNCTAD)
#10. About 60,000 tons of mangoes are produced in Australia each year, mostly in Queensland and the Northern Territory. These two regions produce 95% of the domestic crop each year, which is valued at $180 million. (Australian Mangoes)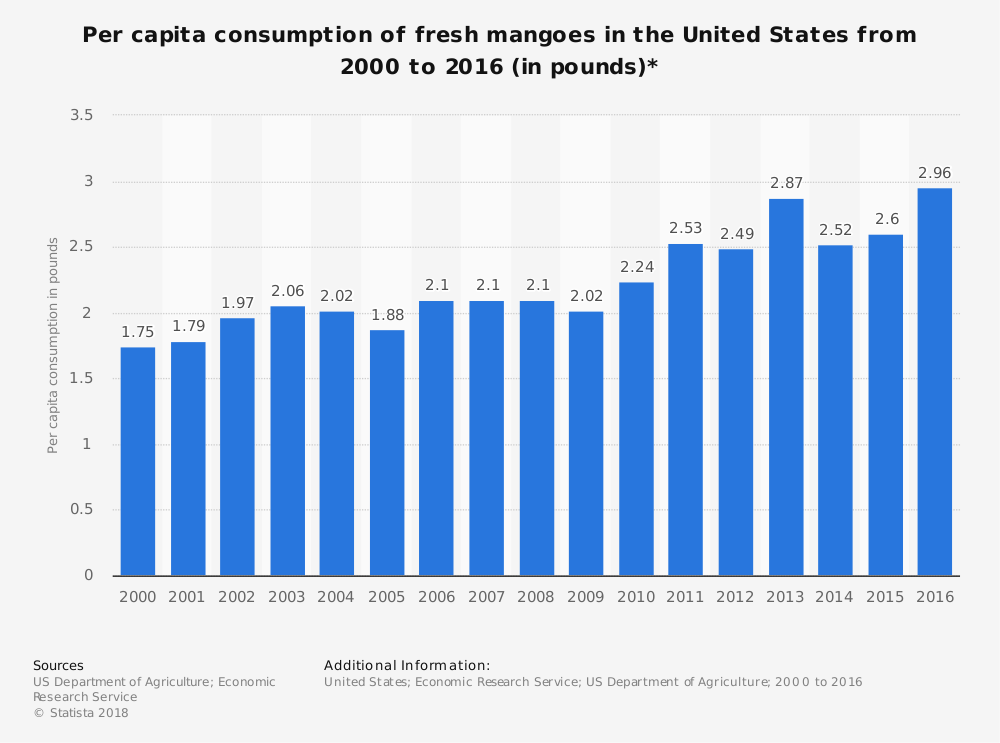 #11. 47% of the mangoes which are grown in Australia are of the Kingston Pride variety. Calypso mangoes make up 23% of the market, while the R2E2 variety accounts for 13% of the market. (Australian Mangoes)
#12. Since 2005, the consumption of mangoes in the United States has almost doubled. In 2017, the average person ate 3.42 pounds per person, per year. In 2005, the average person ate just 1.88 pounds of mangoes. (Fresh Plaza)
#13. About 4,000 acres of mango trees are managed in Puerto Rico, with a majority of the crop going to Europe instead of being sent to the continental 48 of the United States. (The Mango Factory)
#14. California has around 200 acres of mangoes that are being produced, with about 50% of the state's crop currently certified as being organic. (The Mango Factory)
#15. Hawaii currently has 300 acres of space devoted to growing mangoes. Almost all of the mangoes that are produced in the state are sold to local customers. (The Mango Factory)
#16. India is the top producer of mangoes in the world today. Over 18 million tons of mangoes are harvested each year, which represents 50% of the total global market. Over 2.3 million acres are set aside in India for mango farming. (World Atlas)
#17. China is another major producer of mangoes for the global market, with 4.7 million tons produced during the average year. South Korea, Japan, and Russia are the three primary importers of mangoes that are grown in China and Taiwan. (World Atlas)
#18. Another 3.4 million tons of mangoes are produced in Thailand each year on more than 750,000 cultivated acres. Most fresh mangoes in Thailand are sold at local markets, while frozen, canned, and dried mangoes make it to the export market. (World Atlas)
#19. Mangoes represent 0.5% of total produce sales in the United States, with over 223 million pounds of the fruit sold. At the retail level in the U.S., mangoes produced $346.7 million in 2016. (Produce Market Guide)
#20. Only 22% of consumers in the United States said they purchased at least 1 mango in the past 12 months, with Hispanic and Asian consumers more likely to make a purchase. (Produce Market Guide)
#21. Consumers under the age of 50 are more likely to purchase mangoes in the United States when compared to consumers who are older. (Produce Market Guide)
Mango Industry Trends and Analysis
The mango industry is built on an infrastructure where the threat of cold weather cannot be an impact to the harvest. That is why most major mango producers are close to the equator and have good shipping networks that can take the fruit to its local or international destination right away.
Although some countries have started producing their own mango crop, most notably Australia, the major producers rely on importer orders to continue generating revenues for the global mango industry. Mangoes are one of the few crops where Cuba is even able to crack into the Top 20 producers because of its location.
As demand for this fruit continues to grow in the U.S., expect producers to continue cultivating more acreage to produce more fruit. Demand in the United States is year-round, which creates a seasonally-based import market for consumers. That benefits the industry because profits are available all year. It also means that in one poor weather spell, an entire source of revenue could be wiped clean off the books.