The Asia-Pacific region is the fastest growing geographic area for airline travel in the world today. The third-largest market in this region is Malaysia. Even though average fares have been decreasing for the industry since 2010, there has been a surge in passenger traffic growth that has compensated for lost revenues.
Between 2010-2015, the Malaysia airline industry contributed RM5.10 billion to the domestic economy. Carriers are expected to increase their total capacity by more than 14% to accommodate the surge in traffic, which may top 100 million passengers served within the next decade.
As for 2014, the Malaysia airline industry employed 44,000 full-time workers with the various services it provides the general public. This support gives the industry an opportunity to generated twice the output for the economy for each RM1 of output that is produced. This output multiplier is ranked 28th out of the 122 industries which are officially recognized by the Malaysian government.
Interesting Malaysia Airline Industry Statistics
#1. Air passenger traffic for the Malaysia airline industry grew by 6.5% in 2018, supported by fleet additions which saw the major airline providers expand by more than 8.6%. (DBS Bank)
#2. Malaysia Airlines announced a load factor of 77.8% for Q2 2018, with the yield up to 21.4 sen from 21.2 sen. (Flight Global)
#3. Carrier loads for Malaysia Airlines grew by 16.9 percentage points to reach 78.8%. To achieve this result, however, the average fare charged for a flight decreased by 4.5%. (Flight Global)
#4. Growth for the Malaysian airline industry was fueled by a 14.5% increase in international traffic. Domestic increases in passenger traffic also occurred but at a rate of 4.3%. (DBS Bank)
#5. AirAsia is the airline that passengers prefer the most in Malaysia. Over 57% of respondents to a Cint survey stated that they fly with AirAsia most frequently. (Statista)
#6. In 2017, the Malaysia airline industry reached a total ASK (available seat kilometer) level of 135.5 million. In 2010, the ASK level was just 87.5 million for the industry. (Malaysia Aviation Commission)
#7. Revenue passenger kilometers have grown at a steady pace for the industry as well. In 2010, the RPK for the sector was 66.7 million. In 2017, the industry achieved an RPK of 110.2 million. (Malaysia Aviation Commission)
#8. There were over 907,000 aircraft movements charged by the Malaysia airline industry in 2017. In 2010, the sector recorded 628,000 aircraft movements. (Malaysia Aviation Commission)
#9. Although passenger movements are multiplying for the industry, cargo movement has remained relatively static since 2010. There were 922,000 tons of cargo moved by the industry in 2010 compared to 997,000 tons of freight moved in 2017. In 2014, the industry topped 1 million tons of cargo. (Malaysia Aviation Commission)
#10. Passenger loads have almost doubled for the Malaysia airline industry since 2010 when 31.08 million passengers were served. In 2017, the airlines in Malaysia served 58.64 million people. (Malaysia Aviation Commission)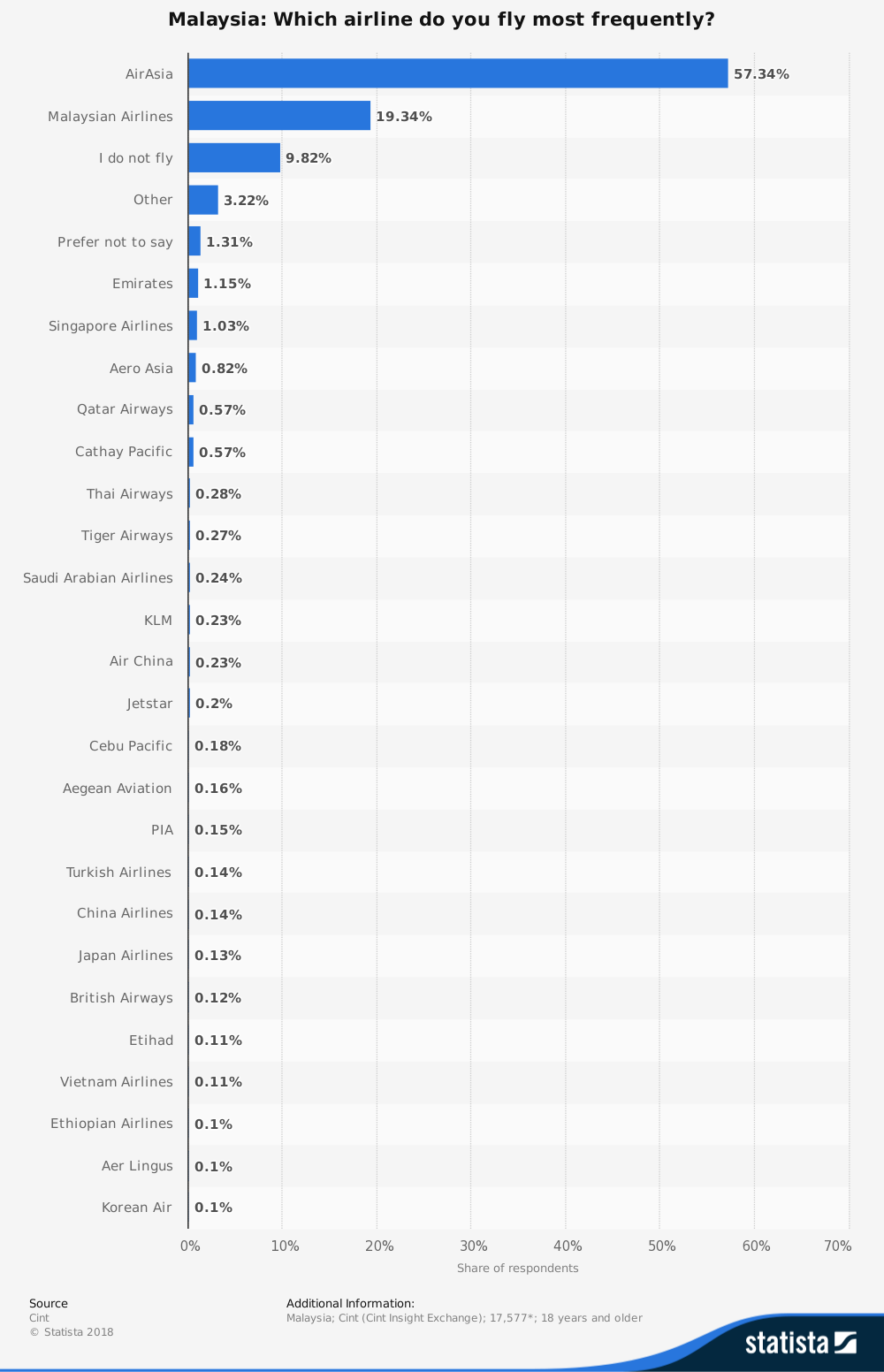 #11. Only 2 markets for non-scheduled services were profitable in 2016, despite RM 1.6 billion in revenues. (Waypoint)
#12. Over 460,000 jobs are indirectly supported by the Malaysian airline industry, which creates a gross value-added contribution to the GDP of $11 billion each year. Almost 50% of the indirect jobs supported by the airline industry involve tourism. (IATA)
#13. 3.3% of Malaysia's GDP is supported by the airline industry and foreign tourists who arrive in the country by air. (IATA)
#14. Over $250 billion in exports are received because of the presence of the Malaysia airline industry. Another $140 billion in foreign direct investment has been collected by the industry, along with an average of $6 billion in tourism expenditures annually. (IATA)
#15. Flights to Indonesia are the most popular direct flight links which are supported by the industry. Singapore ranks second, followed by Thailand, China, and India respectively. The ten most popular direct-link flights are all within the Asia-Pacific region. (IATA)
#16. There are 56 direct flight destinations supported by the industry to the 10 fastest growing countries in the world. When the 20 fastest growing countries are considered, the Malaysia airline industry supports 99 direct flights. (IATA)
#17. The industry also provides 183 direct weekly flights to the 10 fastest growing cities in the world today, including 44 direct flights to Dhaka and 70 direct flights to Ho Chi Minh City. (IATA)
#18. The Malaysia airline industry handles more arrivals from Africa (200,000) than South America (15,000) each year. Europeans are 5 times as likely to travel to Indonesia as people who live in North America. (IATA)
#19. Malaysia has 1 airport in the Top 100 in the world, based on the number of passengers that are served. In 2014, Kuala Lumpur International Airport carried 50.9 million passengers. (IATA)
#20. There are 77 airlines which currently operate in Malaysia thanks to extensive infrastructure services and quality. Malaysia ranks 7th in the Asia-Pacific region and 25th globally for its airline infrastructure. The country also ranks 5th for cost competitiveness. (IATA)
#21. Only two other airports in Malaysia serve more than 5 million passengers per year: Kota Kinabalu and Penang. (IATA)
Malaysia Airline Industry Trends and Analysis
Despite the expansion of the Malaysia airline industry in recent years, only certain segments of the industry are experiencing profitability. Firms who are operating in the on-demand charter segment or support the local oil and gas industry experienced a positive operating margin. Non-scheduled services within the industry collectively registered operating profits of RM 158.9 million.
Expansion into international flights has helped the industry sustain its passenger growth since 2010, although it has come at the expense of profitability. The goal of the industry is to slowly raise prices to have them fall in line with global providers of similar quality. Over the next 10 years, this should help airlines achieve net operating profit growth once again, which will likely be invested back into new equipment, aircraft, or maintenance requirements.
There are many opportunities for the Malaysia airline industry to expand as the local economy continues to grow. If passengers stick around as prices rise, then the future looks to be very bright for this industry.