Greek yogurt is a type of yogurt that is heavily strained to remove most of the whey contained in the product. This creates a yogurt that is thicker without changing the somewhat sour taste that it is known for. Strained yogurt is marketed as Greek yogurt in the United States and Greek-style yogurt in other countries. Several nations eat strained yogurt products, however, and they are offered under a wide variety of names and descriptions.
What makes strained yogurt a popular option for consumers is the lower sugar counts found in the product. In 2012, almost all of the growth achieved within the overall yogurt market in the U.S. came from strained yogurt products. It should be noted, however, that there is no legal definition of Greek yogurt in the United States. Companies can add thickeners to a standard yogurt and market it as this yogurt type, even though it has not been strained.
Interesting Greek Yogurt Industry Statistics
#1. Greek yogurt holds a 52% of the overall U.S. yogurt market as of 2016. The United States is also responsible for 50% of the global strained yogurt sales which occur each year. In 2001, Greek yogurt or strained yogurt products represented just 1% of total yogurt sales in the United States. (Statista)
#2. In 2016, yogurt retail sales fell to $7.6 billion, due to a 4.4% contraction of the Greek yogurt market. Over 632 million pints of Greek yogurt were still sold in the United States. (Statista)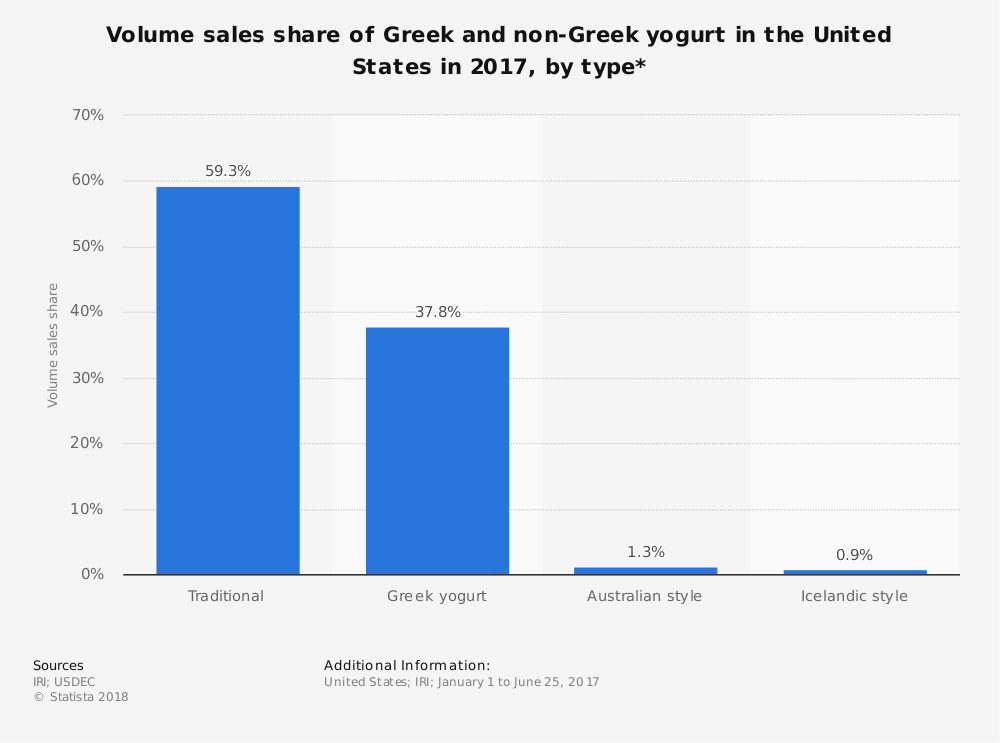 #3. Out of the $3.7 billion in sales created by Greek yogurt products in the United States, about $2 billion is directly attributed to the Chobani brand. (Statista)
#4. Just two brands control over half of the Greek yogurt market in the United States. Chobani is responsible for 37.6% of sales, while General Mills controls a 28.9% market share of the industry. (Statista)
#5. 65% of Americans say that they consume Greek yogurt products on a regular basis. (Statista)
#6. 760,000 Americans say that they have had 8+ servings of a Greek yogurt product within the past week. (Statista)
#7. Despite the gains created by the Greek yogurt industry, Yoplait is still the most-consumed yogurt brand in the United States. Almost 4.5 million Americans say that they have had at least one serving of a Yoplait product in the past 30 days. (Statista)
#8. Europe, Africa, and the Middle East are responsible for another 37.4% of global Greek yogurt sales each year. Just 9% of sales come from the Asia-Pacific region, although product classification issues may affect this statistic. Strained yogurt in the APAC region is not always classified as a Greek yogurt product. (Statista)
#9. Just 159 firms are currently operating in the yogurt production industry in the United States. Combined, these companies provide employment opportunities for about 15,000 workers each year. (IBIS World)
#10. In 2016, the U.S. yogurt market saw total revenues slip by 0.3%. During this contraction, even with a 4.4% slip in Greek yogurt sales, Chobani posted double-digit percentage growth. (Dairy Reporter)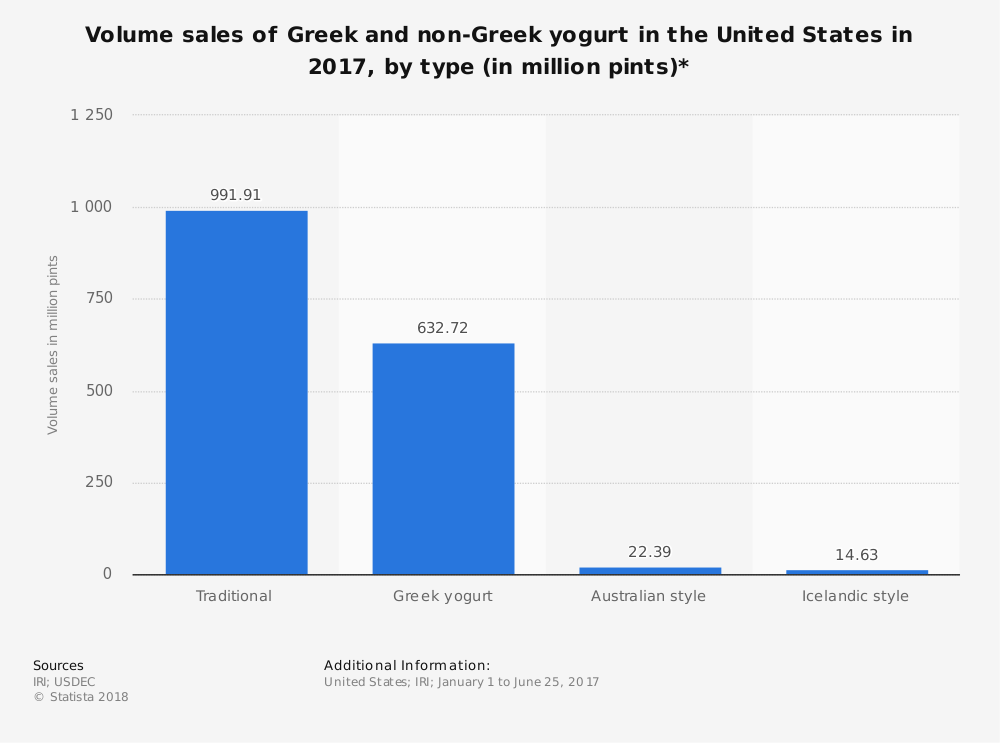 #11. Yogurt drinks may account for up to 40% of the current yogurt category, which has helped Chobani be able to achieve double-digit gains when other brands, including Yoplait, have been experiencing double-digit losses. (Dairy Reporter)
#12. In 2013, Greek yogurt sales recorded a year-on-year (YOY) growth rate of 41%. In 2010, Greek yogurt sales experienced a YOY of 162%. (Statista)
#13. The global yogurt market is currently valued at $77 billion. By 2023, it could achieve a total value of $107.2 billion, which would represent a CAGR of 4.6%. (Allied Market Research)
#14. Although the U.S. leads the world in strained yogurt product sales, the per capita consumption of yogurt products by Americans is quite low compared to global rates. The average American consumes less than 10kg of yogurt per year. In comparison, residents of Germany, the Netherlands, France, and Turkey all consume more than 30kg of yogurt products annually. (Allied Market Research)
#15. Even though per capita dairy consumption rates stayed the same from 2001-2013 in the United states, annual yogurt sales have risen by 113%. (Huffington Post)
#16. Between 2006-2011, Greek yogurt sales grew by 2,500%. During that time period, strained yogurt products went from having an almost 0% market share to becoming one-third of the yogurt products sold in the country. (Huffington Post)
#17. Simple ingredients are the primary driver of yogurt sales within the industry today. 84% of consumers choose yogurt because it is a healthy afternoon snack. That rate has doubled compared to those who use yogurt as a snack in 2014. (Mintel)
#18. From 2011-2016, the sale of yogurt drinks has risen by 62%. They now represent an industry segment that is valued at almost $900 million. (Mintel)
#19. 30% of Americans report that they purchase some type of yogurt drink on a regular basis. This is compared to the 66% of U.S. adults who purchase spoonable yogurt, in which Greek yogurt on a regular basis. (Mintel)
#20. 45% of consumers say that they purchase yogurt products to serve as a breakfast item. That makes yogurt the fifth-most popular breakfast item in the United States. (Mintel)
#21. About 40% of American consumers say that they purchase Greek yogurt products for digestive health. Another 23% of consumers say that they use yogurt products as a way to help them lose weight. (Mintel)
Greek Yogurt Industry Trends and Analysis
Rising incomes and changing consumer preferences show promise for the Greek yogurt industry. Since 2012, the yogurt industry has grown at an average annual rate of 2.5%, led by brands like General Mills and Chobani. Strained yogurt has become the primary yogurt product consumed in the United States.
Continued growth is expected within the industry as innovation helps to drive the market forward. New flavors, concepts, and eating experiences will bring consumers back for repetitive purchases. For that reason, an annual rate of growth averaging 1.9% is forecast through the next 5-year period. That puts yogurt growth on the same curve as the overall GDP of the United States.
There is some uncertainty that the Greek yogurt market must face. Changes to household income will directly affect yogurt sales. When disposable incomes are lower, yogurt sales tend to decline.
In general terms, however, revenues are expected to increase because the health awareness of consiumers drives industry revenues.