#1. In the United States, French wines dominated drinking trends in 2017. In total there was a 14.2% value growth for the industry, which far surpassed the domestic value growth of less than 2%. (Wine Industry Advisor)
#2. Prosecco was the most popular wine in 2017 in the United States, reporting 23% value growth in the sparkling wine category. French Champagne achieved 8.4% value growth, which exceeded the 5.3% value growth achieved by U.S.-based sparkling wine. (Wine Industry Advisor)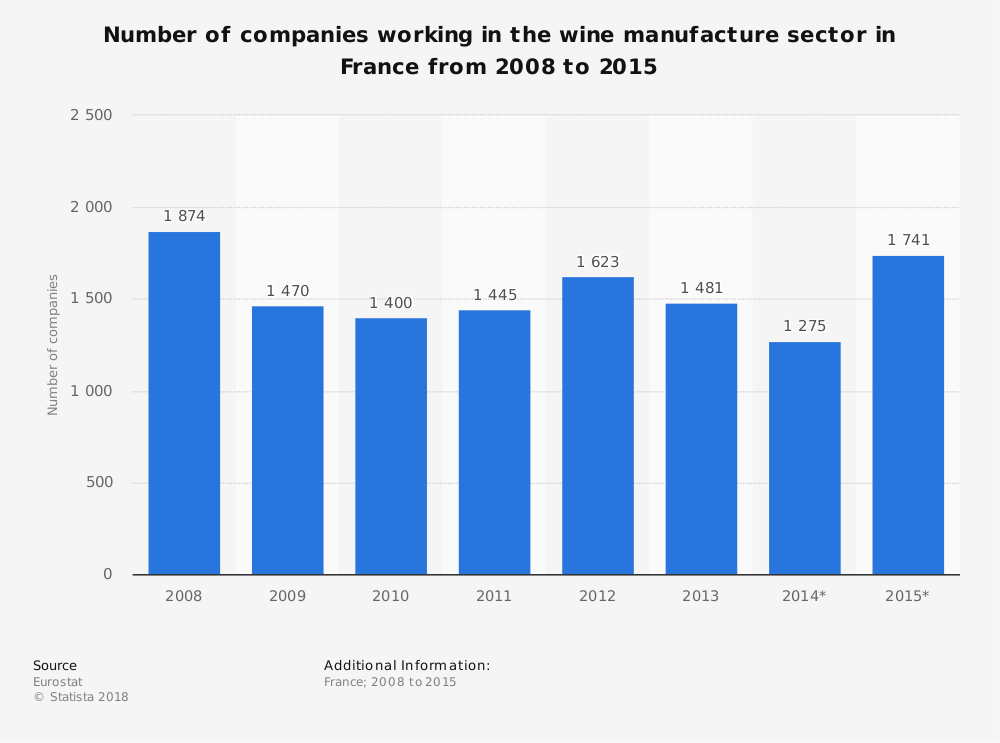 #3. The average price of a 750ml bottle of French Champagne in the United States is $52.35, while the average bottle of Prosecco retails for about $12.27. (Wine Industry Advisor)
#4. Premium rosé saw some of the highest levels of value growth for the French wine industry in history within the U.S. market in 2017. Total growth was over 56% in the over $7.99 per bottle category. (Wine Industry Advisor)
#5. Despite the high levels of growth, premium rosé is still just 1.1% of the sales found in the U.S. market. Champagne is the largest import category for French wine, making up 41.7% of total U.S. imports from France, by value. (Wine Industry Advisor)
#6. In 2017, wines that were priced above $9 captured almost 53% of the total retail market in the United States. The average price of a bottle of wine from France in the U.S. is $12.71. (Wine Industry Advisor)
#7. Just 5 countries in the world represent 50% of the vineyards that are currently planted. France is ranked third, providing 10% of the global vineyard acreage. Spain leads the way at 13%, while China holds 11%. (U.S. Department of Commerce)
#8. Virtually all of the vineyards in France are dedicated to wine grape production. China, however, leads the world in total fresh grape production. (U.S. Department of Commerce)
#9. France currently has 785 hectares of land dedicated to vineyards. In comparison, the United States, which is the 6th-largest producer of grapes, has 443 hectares of vineyards. (U.S. Department of Commerce)
#10. In most European countries, grape production has been steadily decreasing since 2000. Only France and Spain have seen stable levels of grape production. (U.S. Department of Commerce)
#11. France is the second-largest producer of wine, producing 45.2mhl in 2016. Only Italy produced more, at 50.9mhl. In 2014, the French wine industry actually outperformed Italy to take the top spot for a year. (U.S. Department of Commerce)
#12. Five countries in the world today consume about half of the wine that is produced globally each year. France consumes 11% of the global wine supply, which is just behind the U.S., which consumes 13% of the global supply. (U.S. Department of Commerce)
#13. In 2016, France consumed about 27 mhl of wine, which is a rate that has been slowly decreasing since 2012. (U.S. Department of Commerce)
#14. France also comes in second when comparing the per capita consumption of wine, at 51.8 liters per person. Only Portugal drinks more wine, at 54 liters per person. The average person in the United States only consumes 11.9 liters of wine per year. (U.S. Department of Commerce)
#15. France continues to lead the world in terms of total wine value exports, with a total value of EUR 12.91 billion. Wine sales rose 6% by volume for the industry, which was the first rise in sales since 2012. (Reuters)
#16. France exported 14.1 million hectoliters of wine in 2016. When combined with Italy and Spain, these three countries are responsible for 55% of the wine exports, in volume, on the world market. (U.S. Department of Commerce)
#17. Sales in Britain rose to EUR 1.33 billion, an increase of 2.7% in 2017 from the year before. Sales of Champagne, however, fell by up to 5%, driven by a rise in currency value against the pound because of the Brexit vote. (Reuters)
#18. About 8 billion bottles of wine are produced by the French wine industry each year. (Culture Trip)
#19. Red wines account for about 60% of wine sales at French groceries and supermarkets each year. Rosé accounts for about 25% of sales, with the remainder going to white wines. ((Food and Wine)
#20. Languedoc-Roussillon is the large wine region in France, with over 500,000 acres planted with vineyards. Bordeaux has more than 300,000 acres planted, while the Rhone valley has fewer than 200,000 acres planted. (Food and Wine)
#21. Just 75,000 acres of vineyards are planted in the Champagne region. Only 34,000 acres are planted in Alsace. (Food and Wine)
French Wine Industry Trends and Analysis
The French wine industry has experienced a nice surge in 2016 and 2017 because of strengthening economies in top-consumption markets around the world. The total value of the market has risen by more than EUR 4 billion in just 24 months. Boosted by favorable trade conditions and strong production runs, reversals of recent declines experienced in recent years have finally been achieved.
That doesn't mean the industry is out of the woods. Far from it, in fact. Changing weather conditions, shifting political climates, and added strength of the euro against the pound and dollar have created unexpected consequences for the industry. Although this has driven the value of wine upward for the industry, it has also shifted consumer purchasing trends.
It is for that reason that the French wines around the purchase average, about $13, are finding the most success. Consumers can purchase 4 bottles of a good Prosecco, for example, or they can purchase one bottle of French Champagne.
Look for sales in the value categories to continue increasing, with sales of premium rosé continuing an upward trend. Watch for premium wines to continue seeing a slippage in popularity, though actual revenues may continue to rise.