Many businesses have carpet flooring installed. About once every 1-2 years, these carpets typically need to be professionally cleaned to remove ground-in soil and debris that is generated by foot traffic.
In the United States, the carpet cleaning industry is not regulated. Firms voluntarily work with organizations like the International Institute for Cleaning and Restoration to be certified in the best practices of the industry. Despite the lack of regulation, carpet cleaners are required to provide a warranty on their workmanship.
When carpets are regularly cleaned, they tend to last longer. The materials of the carpet also tend to look better when compared to those that are not cleaned regularly.
Interesting Carpet Cleaning Industry Statistics
#1. The carpet cleaning industry in the United States generates an average of $5 billion in revenues annually. (IBIS World)
#2. For the 5-year period ending in 2017, the industry achieved an annualized growth rate of 1.6%. About 37,000 firms are currently operating within the U.S. industry, employing almost 70,000 people. (IBIS World)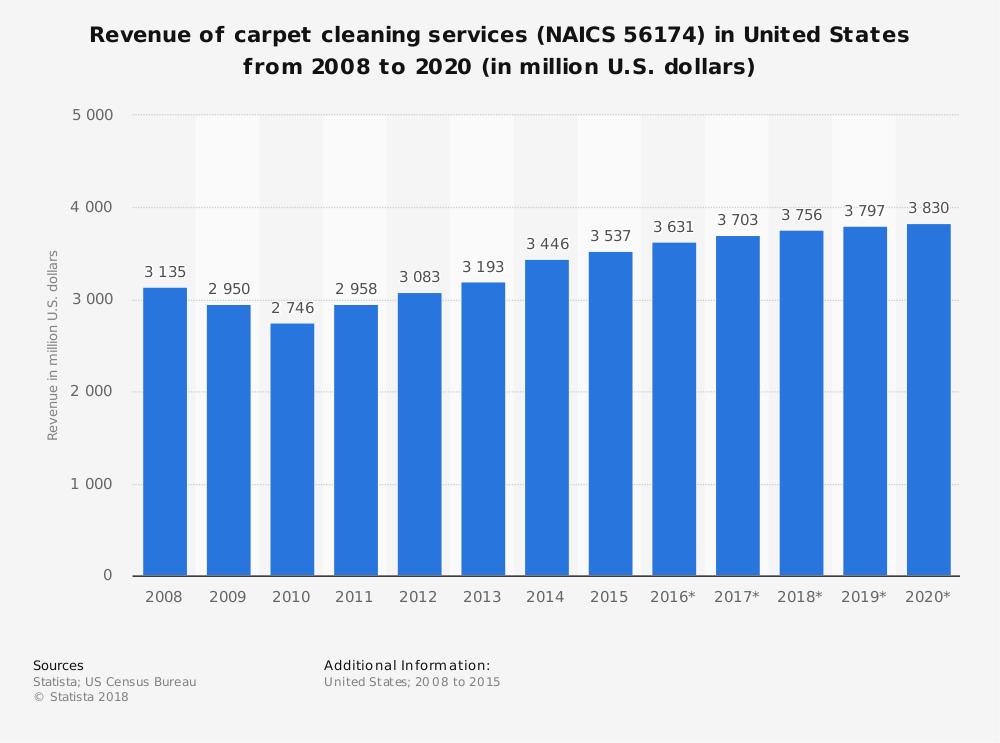 #3. The carpet cleaning industry is considered a segment of the overall cleaning industry, combined with cleaning and janitorial services. The carpet cleaning industry is responsible for about 10% of the overall cleaning industry revenues. (Service Monster)
#4. In the United States, the average carpet cleaner earns less than $35,000 per year. Service providers in Boston and Alaska tend to be paid the most, while in Louisiana, Arkansas, and Texas, they may earn less than $21,000 per year. (Service Monster)
#5. 77% of the firms which are currently operating in the carpet cleaning industry in the U.S. employ 4 or fewer employees. (Service Monster)
#6. 4 out of 5 firms that are currently working within the carpet cleaning industry are either sole proprietors or work as the only employee for their business. (Service Monster)
#7. The average cost per residential service within the industry is highest in Rhode Island, with the average invoice being more than $403. North Dakota, Massachusetts, Maryland, and Vermont all have average invoices above $300. (Service Monster)
#8. Residential carpet cleaning services in South Dakota are the cheapest in the U.S., with an average invoice of just $194. Hawaii, Delaware, Louisiana, and South Carolina all had average invoices below $200 as well. (Service Monster)
#9. In total, the commercial cleaning industry in the U.S. loses up to 55% of its total customer base annually. The top two reasons why customers stop using a local carpet cleaning service is poor quality of work and a refusal to show up for a booked appointment. (Office Pride)
#10. Office buildings provide the largest segment of services for the overall commercial cleaning industry, responsible for about one-third of total employment opportunities. (Office Pride)
#11. Carpets in the United States account for 51% of the total flooring market. (Carpet and Rug Institute)
#12. More than 85% of the carpets and rugs that are manufactured in the United States are created within a 65-mile radius of Dalton, Georgia. The mills found within this region account for about $8 billion in business activities annually. (Carpet and Rug Institute)
#13. The State of Georgia supplies more than 45% of the carpets and rugs that are sold in the world each year. (Carpet and Rug Institute)
#14. Since its founding in 2002, the Carpet America Recovery Effort, or CARE, has diverted over 4 billion pounds of used carpets from landfills in the United States. In 2015 alone, the organization was able to divert over 520 million pounds of carpet. (Carpet and Rug Institute)
#15. In 2015, members with CARE were able to recycle over 150 million pounds of carpet for reuse. (Carpet and Rug Institute)
#16. There are 227 firms in Georgia which are currently operational within the carpet and flooring industry. The state is home to 9 of the top 20 manufacturers in the United States and has a local payroll which tops an estimated $3 billion each year. (Carpet and Rug Institute)
#17. In the overall cleaning sector in the United States, there are only 150 companies that produce annual revenues of more than $10 million annually. The industry is very fragmented as well, as the 50 biggest companies control about 30% of the total market. (Business Wire)
#18. The average annual revenue per employee within the U.S.-based cleaning industry is $20,000 per person. With the percentage of carpet cleaning revenues generated within this industry, the average cleaning worker generates about $2,000 in carpet cleaning revenues for a company each year. (Business Wire)
#19. The need to care for carpets through cleaning is very clear. More than 43 million tons of dust falls over the U.S. each year, with indoor air receiving two-thirds of that amount. That amount of dust allows for up to 2,000 dust mites to live on just one ounce of carpet dust. (Fact Retriever)
#20. A person will also shed about 1.5 million skin flakes in 60 minutes. Most of the skin flakes that are lost by a person become embedded into their carpeting. (Fact Retriever)
#21. Anything smaller than 40 square feet in size is classified as a rug instead of a carpet. Anything larger than 40 square feet is classified as a carpet. (Fact Retriever)
Carpet Cleaning Industry Trends and Analysis
Carpet cleaning is something that almost every home and business does on their own on a daily, weekly, and monthly basis. This regular maintenance helps to extend the life of a carpet. Then, once per year, the carpet cleaning industry can provide a deep-cleaning service which further extends the potential life of the carpet.
As long as homes and business continue to install carpet, there will be a need for professional carpet cleaners. Because some communities are installing different flooring types, however, some professionals within the industry have started offering alternative services as well, such as hardwood floor cleaning, to maintain their overall revenues.
The cleaning industry sees strength when the overall economy sees strength. It sees sharp declines during times of recession because professional cleaning services are usually one of the first cost-savings measures that families and businesses take. That means forecasting the overall success of the industry is somewhat difficult, as the economics of a society can rise or fall unpredictably.
As a general trend, however, the carpet cleaning industry is continuing to see strong revenue generation and growth opportunities. These trends are expected to continue.