A timeshare is an arrangement where there is a joint ownership over a specific property. Each owner would have the right to use the property as a vacation home. The owners would be able to equally share their time within the property and take advantage of amenities that may be available on the grounds, resort, or neighborhood.
In most timeshare situations, the minimum available purchase is a one-week ownership. Depending on when the time in the property is desired, the pricing for the timeshare can be quite high. Most timeshares are sold as a lease or under a right-to-use agreement, which means the timeshare owner has no actual ownership rights over the property in question.
Important Timeshare Industry Statistics
#1. The total sales volume of the timeshare industry exceeds $14 billion, on average, each year. There are about 20 million households around the world that own at least one timeshare. (Timeshare Consumer Guide)
#2. The largest number of timeshares that are available for the industry are located in the United States. Europe has a 25% share of the timeshare industry, while the Asia-Pacific region has about 15% of the total available locations. (Timeshare Consumer Guide)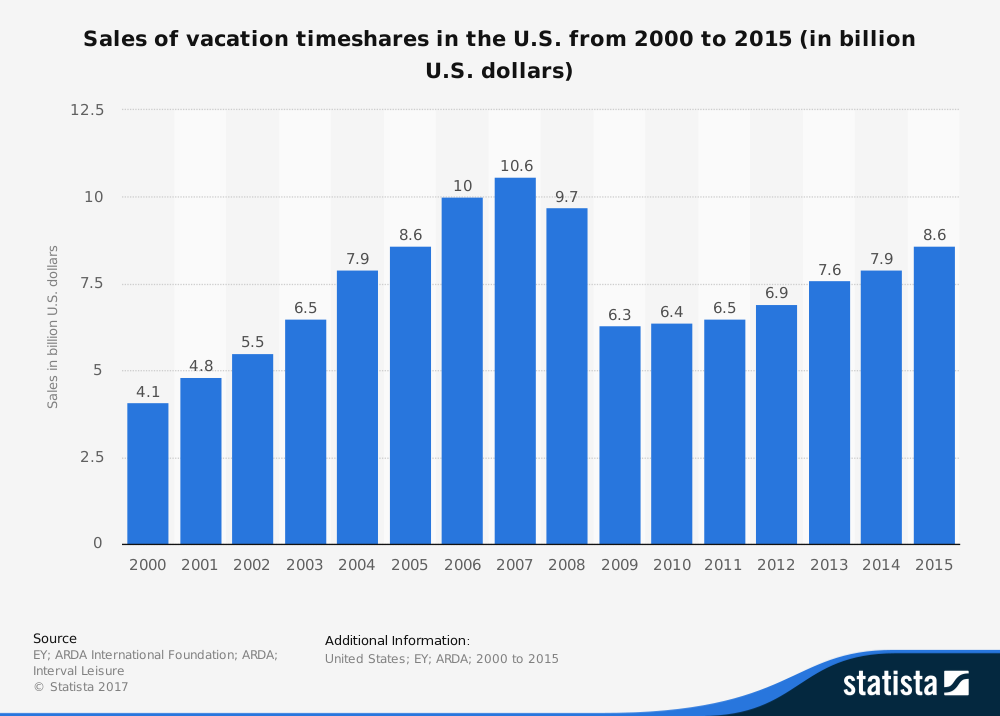 #3. There are more than 7,400 resorts in about 180 countries where timeshare options are currently available. (Timeshare Consumer Guide)
#4. About 11 million weeks, owned by 500,000 households in the United Kingdom, are a driving force for the European segment of the timeshare industry. (Timeshare Consumer Guide)
#5. In the Canaries and Spain, there are more than 500 timeshare resorts that have opportunities for investment available right now. In comparison, there are fewer than 150 timeshares in the United Kingdom. (Timeshare Consumer Guide)
#6. In a 2016 survey of timeshare owners, the most popular activity on a timeshare vacation was shopping (66%). 53% of respondents also marked that they went sightseeing. 48% stated that they went swimming, sunbathing, or enjoyed a water sport. Just 1 in 5 said that they took advantage of a children's activity organized by their resort. (American Resort Development Association)
#7. 74% of timeshare owners who accumulate points stayed for 5-7 consecutive nights. Just 5% stated that they stayed longer than 7 days. (American Resort Development Association)
#8. Timeshare owners in the United States spend more than 13 hours per week online for personal reasons and 8 hours per week online for professional reasons during their timeshare stay. Another 6 hours per week is used for social media interactions, with 88% of owners saying that they spend time on Facebook during their vacation. (American Resort Development Association)
#9. The timeshare industry supports over 1 million jobs each year. Industry operations account for about half of all direct jobs that are created. In total, the economic impact of the industry, when all direct and indirect impacts are evaluated, is about $114 billion. (American Resort Development Association)
#10. About 70% of the global economic impact of the timeshare industry is located within the United States, with nearly 500,000 full and part-time jobs created by the industry. In 2011, almost $8 billion in tax revenues was generated by the U.S. segment of this industry. (American Resort Development Association)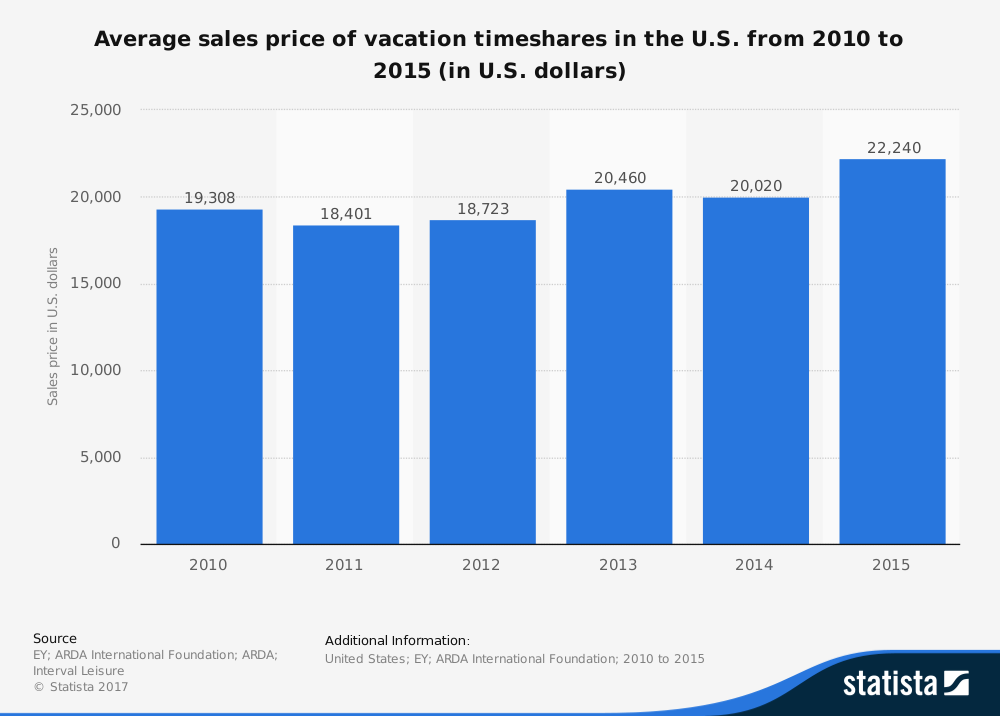 #11. The average traveling party spends about $1,500 on a vacation that is based on a timeshare, which equals about $500 per person. For a family of 6, that means a timeshare vacation would average about $3,000 in total costs. (American Resort Development Association)
#12. 46% of the timeshare sales in the U.S. are classified as being point sales. The remainder are classified as being interval sales. (American Resort Development Association)
#13. About 90% of timeshare resorts in the United States operate on a fee-simple ownership structure. That means each owner receives a 1/52 interest in a specific apartment, condominium, or unit that is tied to one specific week of the year. These are deeded interests, so timeshare ownership can be privately sold as well. (SF Gate)
#14. 23% of the vacation resorts that are located in Florida offer a type of timeshare ownership, creating a sales volume for the industry that averages $2.4 billion per year. Hawaii is next, with $600 million in total sales. South Carolina and California contribute $400 million each in sales every year. (SF Gate)
#15. The average sales price of a timeshare transaction in 2011 was $18,401. Timeshare owners were also responsible for an annual maintenance fee, which averaged about $800. (SF Gate)
#16. The average occupancy rate for the timeshare industry is about 79%, which is about the same occupancy rates for hotels in popular vacation areas. About 15% of the occupancy rate for any timeshare location involves a visitor or renter who is taking advantage of a promotional opportunity. (SF Gate)
#17. About 60% of timeshare owners have a 4-year college degree and their median household income is just over $81,000. Despite the high average cost, only about half of timeshare owners actually spend more than $10,000 on their purchase. (The Timeshare Authority)
#18. Timeshare owners take an average of 3 vacations per year, with 77% planning at least one vacation around their timeshare package. (The Timeshare Authority)
#19. The most common feature wanted with a timeshare purchase is Wi-Fi, with 48% of owners stating it is a critical component of their time away. 46% also say that nearby restaurants are an important part of their vacation.
#20. In total, 70% of timeshare owners say that they would recommend their ownership experience to others, with the entire process being easy and hassle-free. (American Resort Development Association)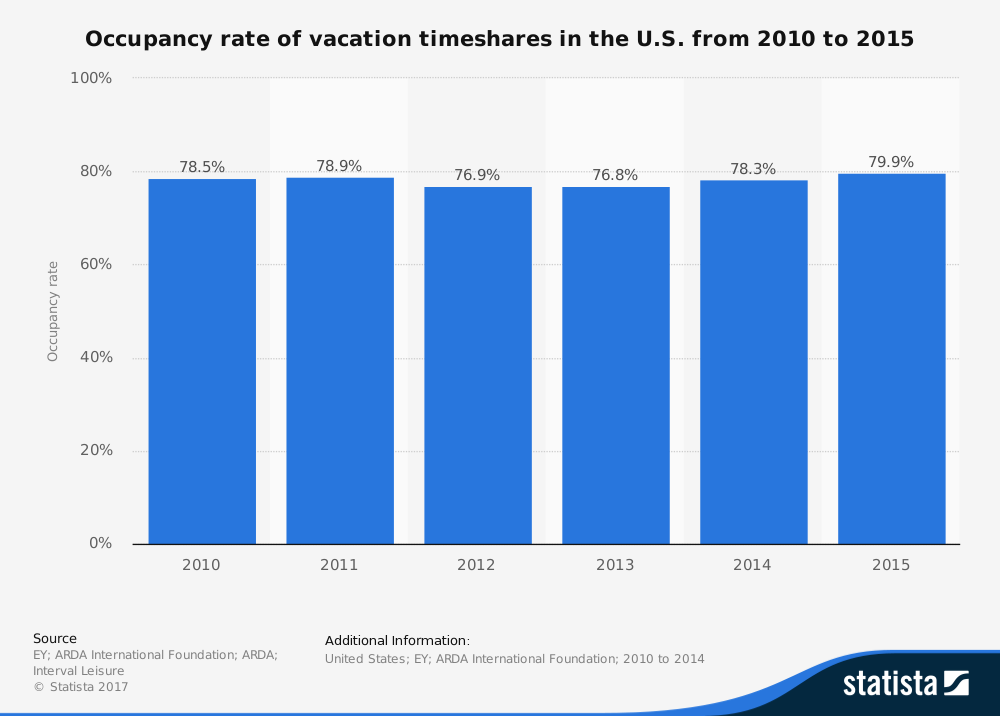 Timeshare Industry Trends and Analysis
The timeshare industry is one of the most adaptable industries in the world today. Each timeshare tends to focus on specific activities and geographical benefits as a way to promote ownership. That makes industry information somewhat difficult to track over long time periods, as each segment of the industry shifts as vacation preferences shift.
Although golf is not one of the most common activities enjoyed during a timeshare vacation, it is the leading segment for activity-related timeshare resorts. More than $1 billion in timeshare sales is based on golf resort locations.
Timeshares make sense for households that prefer to take a vacation in the same spot every year. Floating timeshares that allow for a week to be booked in multiple locations may be a viable option as well. The issue that this industry faces is its high costs compared to the services provide.
It will always make sense for a few households to participate in this industry. For the majority of vacation seekers, however, the timeshare industry is an investment that does not make sense. For that reason, the growth potential for the industry will always be somewhat limited.