As the 19th century came around, the popularity of skiing began to spread around the world. As skis became more affordable, people began to experiment with various recreational snow sports. Cross-country skiing, downhill skiing, and other industry sports joined with other winter activities to create the formation of a resort segment within the industry.
In the United States, the ski industry is centralized with about 45 resorts. These resorts combine for about 40% of total industry revenues within the U.S. and are the only areas where revenues are climbing for the industry.
Important Ski Industry Statistics
#1. About 80% of skiers and snowboarders wore helmets when participating in activities in a designated ski area. Overall, about 83% of all skiers wore helmets during the season in 2016-2017, setting a U.S. record. (National Ski Areas Association)
#2. There were 33 catastrophic injuries reported to the U.S. ski industry in the 2016-2017 season, which was below the industry's 10-year average. (National Ski Areas Association)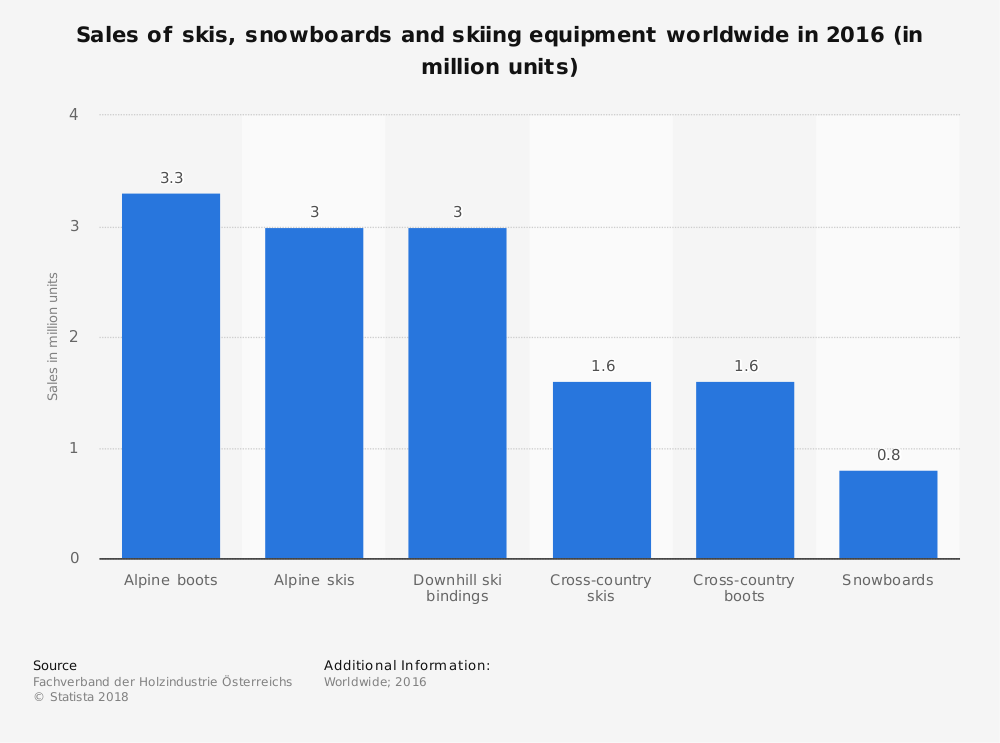 #3. Almost 55 million skier visits were tallied in the United States in the last season. A visit is defined as an individual visiting a ski area for any, or all, of a day or night. (National Ski Areas Association)
#4. There are currently 481 ski resorts which are operating in the United States right now. About 13.9 million people say that they are active participants with the ski industry each season. (Statista)
#5. New York has the most ski resorts currently in operation, with 48 active resorts during the 2016-2017 season. (Statista)
#6. The total retail sales for snow sports products in the United States generated $4.69 billion in revenues. The retail sales of Nordic ski equipment in the United States totaled $30.16 million. (Statista)
#7. There are currently 23 member resorts in Colorado's ski country. The 10-year average for snowfall ranges from 170 inches at Howelsen Hill to 430 inches at Wolf Creek. (Colorado Ski Country USA)
#8. In the U.K., the ski industry has a value of GBP 3 billion. More than 67% of those who participate in the industry are between the ages of 43-65. (BBC)
#9. The number of overnight stays has been increasing in Europe for the ski industry in recent years. Arrivals for the Austrian segment of the industry reached 18.82 million in the 2016-2017 season, an increase of 2.5%. The total number of overnight stays was also up slightly, to 68.57 million. (Statistics Austria)
#10. About 75,000 people are currently employed at ski resorts within the U.S. segment of the industry today. Since 2012, the annual average rate of revenue growth for the industry has been 2.6%. (IBIS World)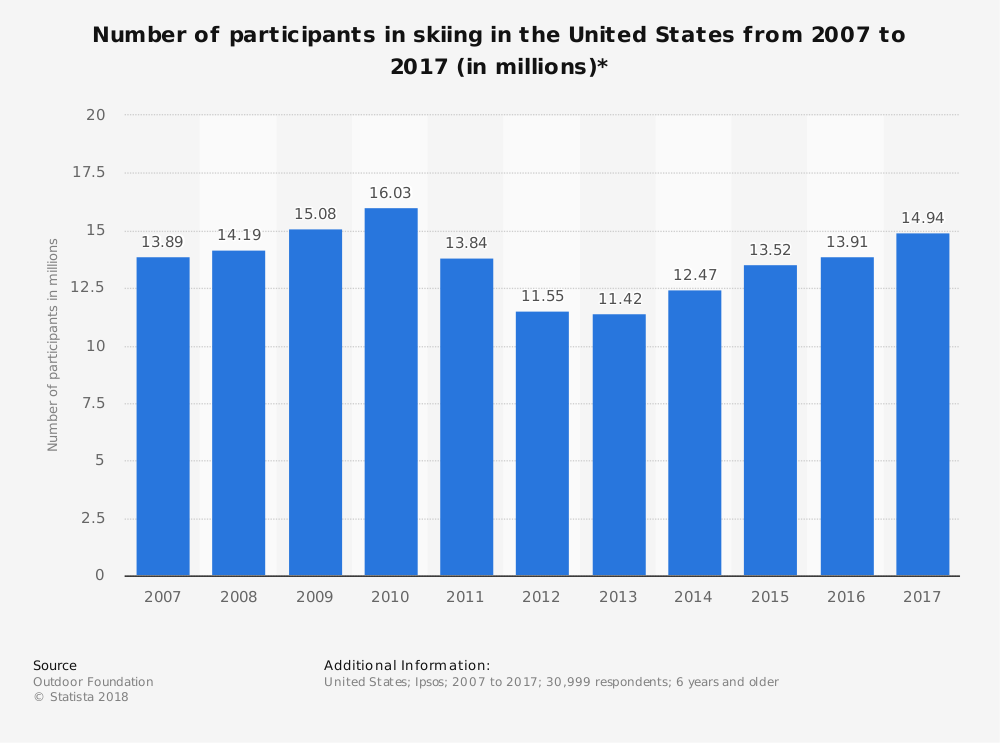 #11. 52% of operators experienced an increase in overall spending in 2016-2017 compared to the year before. Another 41% of operators said that spending was at the same level as the year before. (Consensio)
#12. 60% of operators are reporting an increase in booking volumes in the 2016-2017 ski season compared to the year before. 21% of operators said that they experienced a drop in their bookings. (Consensio)
#13. 48% of skiers who prefer resorts in Europe say that they have not experienced any change in their activities due to recent referendums. 50% of operators say that recent referendums have had a negative impact on their business. (Consensio)
#14. Weather patterns in the 2016-2017 season created a 60% drop on operator bookings in Europe. (Consensio)
#15. 28% of people who travel to France to ski prefer Val D'Isere. That beats Meribel (22%), Courchevel (14%), and Morzine (9%). (Consensio)
#16. 31% of skiers in Switzerland preferred a visit to Verbier. Another 30% said that they preferred Zermatt. Just 8% said that they wanted to go ski at St. Moritz. (Consensio)
#17. In the United States, up to 150 ski areas are failing to thrive and may not survive more than 5 seasons. That represents over 30% of the current industry. Top reasons include minimal investments, no destination traffic, and a reliance on natural snow. (Curbed)
#18. In Colorado, the ski resorts within the state generate an economic impact that reaches $4.8 billion annually. More than 46,000 year-round FTE positions are created by the industry, generating $1.9 billion in labor income for the state as well. (Colorado Ski Country USA)
#19. State retail sales have grown by 62% in the 6 leading skiing counties in Colorado since the 2002-2003 seasons. There has been a 75% increase in food and beverage services, along with a 106% increase for rental, real estate, and general leasing services. (Colorado Ski Country USA)
#20. About 8% of the arrivals at Denver International Airport came from skiers, a total which involved 588,000 total deplanements. (Colorado Ski Country USA)
Ski Industry Trends and Analysis
Despite its popularity, skiing is still a sport that is typically enjoyed by those with wealth. There are more retirees participating in skiing than other population demographics in most communities. That creates an issue for the ski industry in the future, especially in the United States, as more than 40% of households have not saved enough to fully retire as of yet.
There are several strategies the ski industry could introduce to encourage higher levels of participation within the sport. Skis have become more affordable, while at the same time, the cost of lift passes and skiing activities has risen.
To counter this issue, many resorts have begun selling season passes, multi-day products, and other resort access products to encourage multiple visits. In the 2014-2015 season, the sales of season passes were up by 6%, even though the total number of visits was actually down 5% from the year before.
Although weather does play a role in resort access, there are several other challenges that place pressure on the viability of this industry. It will continue to succeed, though it may be a struggle to maintain visitor levels. Skiers are looking for shorter vacations, with more variety, instead of taking an entire vacation at a single resort.