Fast food is more than a U.S. tradition. It has been a staple of the Canadian diet for more than 100 years as well. The first fast food burger was served by A&W in Canada, with operators opening a location in Winnipeg in 1956. Over the next 10 years, the fast food franchise would expand to more than 200 locations.
In the 1980s, A&W would also become the first burger chain in Canada to open restaurants in shopping centers for consumers.
What really drives Canadian fast food, however, isn't burgers, fries, or even poutine. It is doughnuts. Canada has more doughnut shops per capita than any other country in the world. Part of the reason for that is the fact that after water, coffee is the most popular beverage purchased in the country.
That is why Tim Horton's is such a popular franchise. Horton opened his first shop in 1964. He sold just two items: doughnuts and coffee. Each was just 10 cents.
Interesting Canadian Fast Food Industry Statistics
#1. There are currently more than 19,000 fast food restaurant locations throughout Canada. Combined, they generate $26 billion in revenues each year. (IBIS World)
#2. Despite changing consumer tastes, increased internal competition, and legislation governing food quality, from 2013-2018, the fast food industry in Canada saw an average annualized compound growth rate of 4.1%. (IBIS World)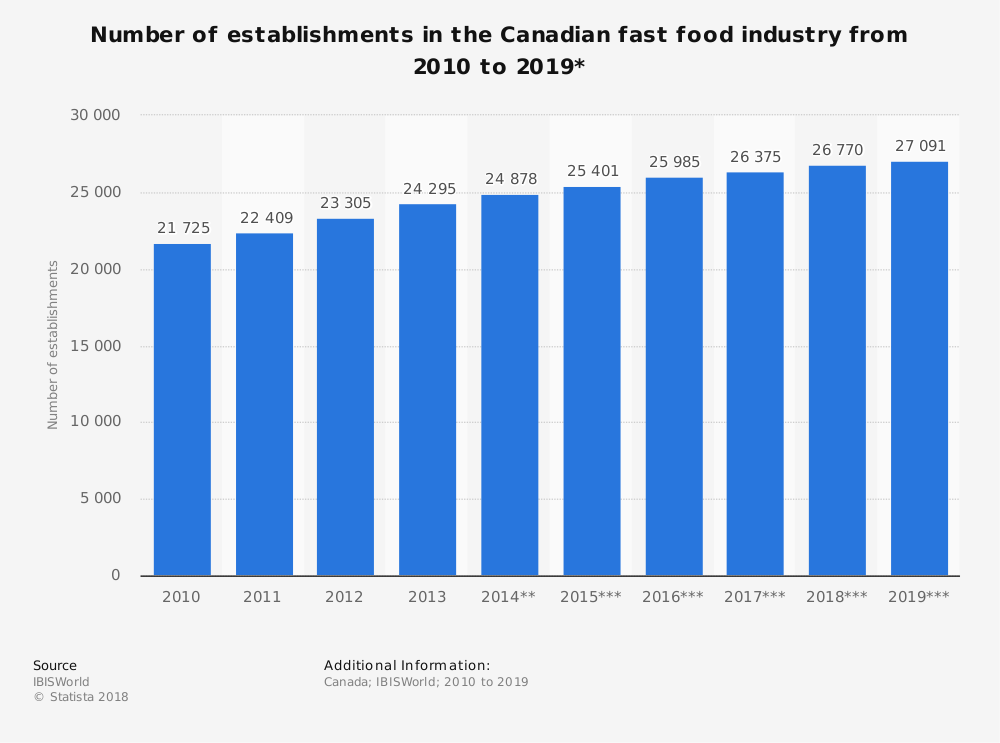 #3. More than 425,000 people have direct employment opportunities because of the Canadian fast food industry. (IBIS World)
#4. More than 2.5 billion cups of coffee are served at fast food locations throughout Canada each year. (Franchise Direct)
#5. Tim Horton's is the largest franchise with fast food options available in Canada, with over 4,600 active locations throughout the country. Subway is the global fast food franchise leader, yet only comes in second in total Canadian locations, with over 3,200. (Franchise Direct)
#6. Tim Horton's also leads the Canadian fast food industry in total gross sales. In 2016, the company pulled in C$8.4 billion. McDonald's came in second, with C$4.5 billion in sales. Subway came in third, with C$1.72 billion in gross sales. (Franchise Direct)
#7. 14% of consumers who regularly visit Canadian fast food locations report that they are influenced by digital messages before making a trip. This includes online flyers, coupons, apps, or emails. (Franchise Direct)
#8. 9% of Canadian consumers say that the information on a fast food location's social media platform helps to influence their choice of restaurant. (Franchise Direct)
#9. 78% of restauranteurs in Canada report that they use social media as a way to build awareness for their location. Top channels are Twitter, Facebook, and Instagram. (Restaurants Canada)
#10. 1 out of every 5 quick-service restaurants in Canada report using delivery services to reach customers that do not wish to travel to their location. Full-service restaurants are even more likely than fast food locations (24% vs 20%) to use delivery services. (Restaurants Canada)
#11. 40% of fast food restaurants are expected to add payment with mobile phone apps as part of the point-of-sale options that are available for consumers. 26% say that they will accept payment from stored wallets. (Restaurants Canada)
#12. Sales at quick-service restaurants in Canada rose by 5.3% in 2017, which was just 0.2% lower than the sales gains experienced by full-service restaurants in the country. (Restaurants Canada)
#13. Menu prices rose by 2.6% within the food service industry in 2016, pushed upward, in part, by $15 minimum wage legislation, a 6% meal tax in Saskatchewan, and other legislative actions. A 3.3% increase is expected in Ontario in 2018 alone. (Restaurants Canada)
#14. Through 2022, existing household debt is expected to increase the preferences of fast food when dining out for consumers by as much as 4%. (Restaurants Canada)
#15. About 4 out of 5 meals that Canadians consume throughout the year are prepared at home. (NPD Group)
#16. Operating margins within the fast food industry, despite coffee being the top item ordered, has consistently been above 3% since 2008. In some years, the QSR segment has seen operating profit margins as high as 5%. (Statistics Canada)
#17. Compared to 2016 figures, all locations which serve food and beverage products in Canada saw an industry-wide revenue increase of 6.3% when compared to figures from the year before. That was the largest single-year increase in revenues in 15 years. (Statistics Canada)
#18. The average location in the restaurant industry generates over $620,000 in revenues each year. Only 1.3% of these locations employs 100 or more people. (Statistics Canada)
#19. Thanks to the influence of Tim Horton's, beverage-only locations have higher revenues per location than combined establishments, reaching nearly $650,00 per location in 2015. About 2 out of every 3 of these locations was profitable, according to tax filings from the year. (Statistics Canada)
#20. Locations which offer catering services are the most profitable within the QSR segment in Canada. About 80% of locations which offer mobile food services, catering, or employ food service contractors were profitable. (Statistics Canada)
Canadian Fast Food Industry Trends and Analysis
Through 2023, the GDP of Canada is forecast to rise at an annualized rate of about 2%. Over the same period, the Canadian fast food industry is expected to grow at an annualized rate of 3.4%.
Like other countries with a high prevalence of fast food locations, there is a desire to have healthier eating options available for consumers. People are willing to spend more on food products they feel are healthier for them. That is one reason for the rise of fast casual dining. The average cost of a fast food meal in Canada is C$8.50. For fast casual dining, the average price is C$12.
The restaurants which have adapted to the healthy eating changes consumers want to see have experienced the best sales opportunities. A&W, for example, was an early adopter of fruits, salads, and similar healthy menu choices. Despite having fewer than 1,000 locations, the chain achieves over C$1 billion in sales each year.
From 2012-2013, Canada saw 52 new chain outlets while losing 905 independent restaurants. This is why the growth of the fast food industry in Canada is expected to be almost double what the expected overall economic rate of growth in the country will be.